Freedom of Speech in Denmark
---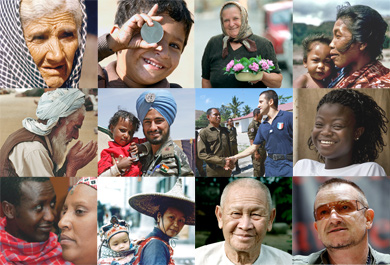 December 5, 2012 Photo from Web:  It was only when searching out photos of the Jyllands-Posten that I noticed the sign on the facade of the building (Photo below). Is that the Star of David in the upper right corner and are those crosses on the windows?  If they are, the printing of the caricatures of Mohammad takes on a whole new religious/political aspect that would not have been absent if the magazine was considered to be a secular organization.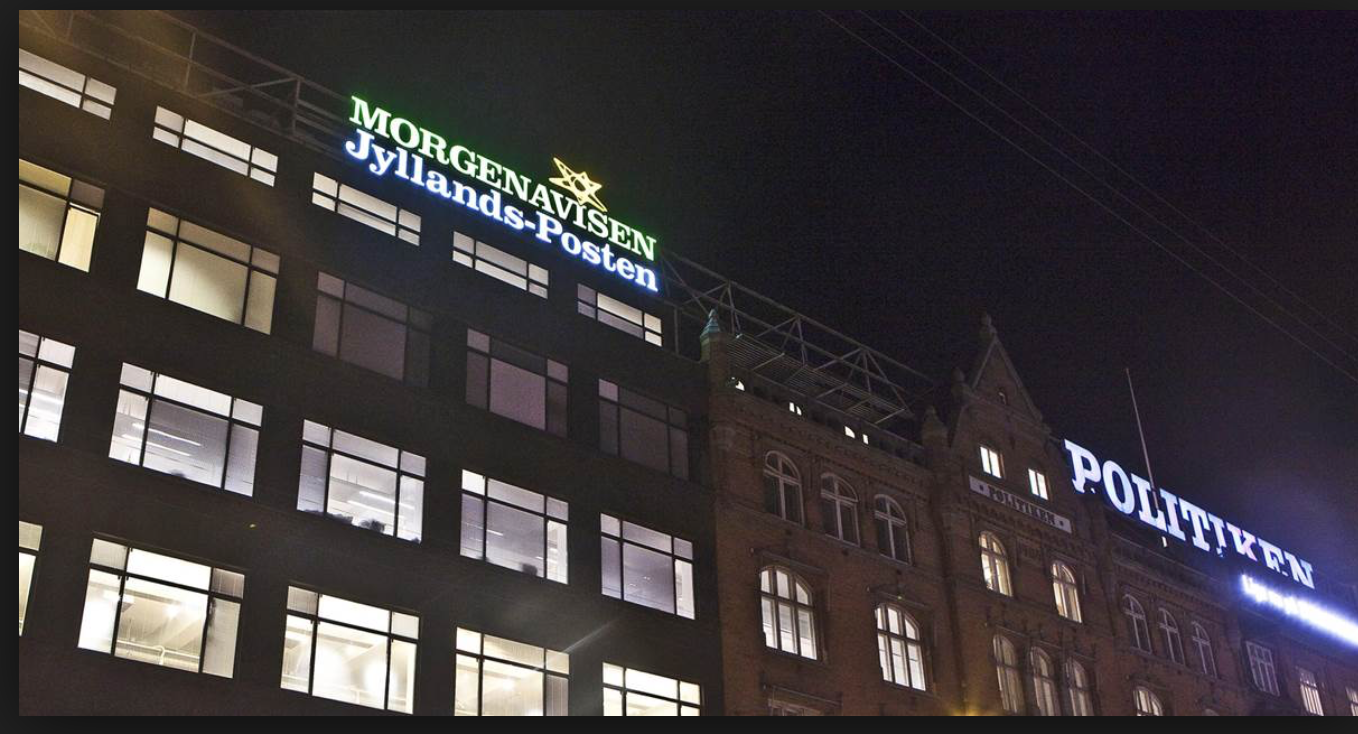 A few comments made in the 21st Chromosome Leads to Enlightenment post, provoked some lively discussion regarding Freedom of Speech in a democracy. Did the Danish newspaper Jyllands-Posten, overstep the bounds when it published those caricatures of the Prophet Mohammad? Most would agree they had the right, but the question – did they have an obligation – is at the core? I staked my position by stating the actions were "stupid, petty and mean spirited," however they did have an absolute right.
Yet, how could a mainstream newspaper editor possibly think that publishing a caricature of the Prophet Mohammad with a bomb in his turban to be more acceptable than publishing a caricature of Jesus Christ holding a blood-covered sword while standing over the dead body of a homosexual? Both caricatures would have an aspect of truth, but, at best, they would be reprehensible vilification of an entire group of people and their chosen religion.
Do you think for a moment any news editor of a mainstream paper, in any country that was 80% Christian, would have permitted the latter caricature to be published? Doing so might not lead to riots, but it seems doubtful the newspaper would remain a mainstream supplier of news and editorials for very long.
In Denmark, the editor stated there was an obligation to publish as pushback against those seeking to limit freedom of speech through implicit (perhaps explicit) threats. A disingenuous defence at best! More likely the editor was scrambling to defend himself, his paper and his country after becoming embroiled in a controversy that rapidly spun out of control around the world.
The Danish Imams and others who carried that message to the Muslim world were equally as guilty. They used the publication to create dissent they knew full well would go beyond peaceful protest, as that is often the outcome of promoting hatred. In addition, both parties were well aware that large portions of the Middle East were a tinderbox as people continued their struggle to gain freedom from vicious dictators, theocrats and extremist Ayatollahs.
Neither is North America, Europe and other democracies free from intolerance, hatred, and violence. Right up to the present day, those caricatures of Mohammad might well be caricatures of any the other cultures or groups represented by the epithets listed in the Chromosome article. That was the point of that post.
Perhaps if the Danish newspaper had published a thoughtful series of editorials about aspects of Islamic intolerance as practiced by some who claim to be Muslims, just as discussing aspects of Christian intolerance as practiced by some who claim to be Christians, would have helped to move things forward in a more reasonable fashion. If that had been the case, open conflict and bloodshed might have been averted and, perhaps, the discussions would have lead to a greater understanding.
Instead, in Demark today, there is likely less freedom of speech (caused by the fear factor) than existed before the publication. Also, there will certainly be more distrust between Danish citizens in the Muslim minority (6%) and those in the Christian majority (80%), than existed before. One only needs to Google "Pictures of Freedom of Speech in Denmark" and scan the attached blogs to get a sense of the rot that festers just below the surface. It would be hard, perhaps impossible, to find any upsides of the decision to publish those caricatures.
Harold McNeill
Victoria, BC
Late November, 2012
Note:  This post begs for further discussion as to how religious intolerance, is responsible for a large portion of the conflict that exists in the world today. That will be the subject of a future post in what it appears will become a series.
Link: 21st Chromosome Leads to Enlightenment
Link: Culture of Peace Blog
Collage: November 16th, International Day of Tolerance
(Link Here)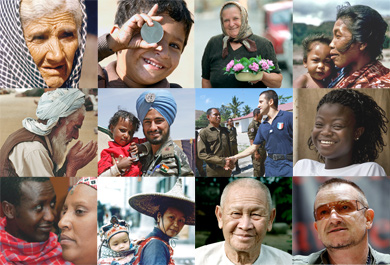 (326)
(Visited 143 times, 1 visits today)
Tags: Christianity, Christians, Danish Newspaper, Denmark, Imams, Intolerance, Islam, Jesus Christ, Muslims, Prophet Mohammad, Star of David, Tolerance
Trackback from your site.