Halloween 2022 at the McNeill's
---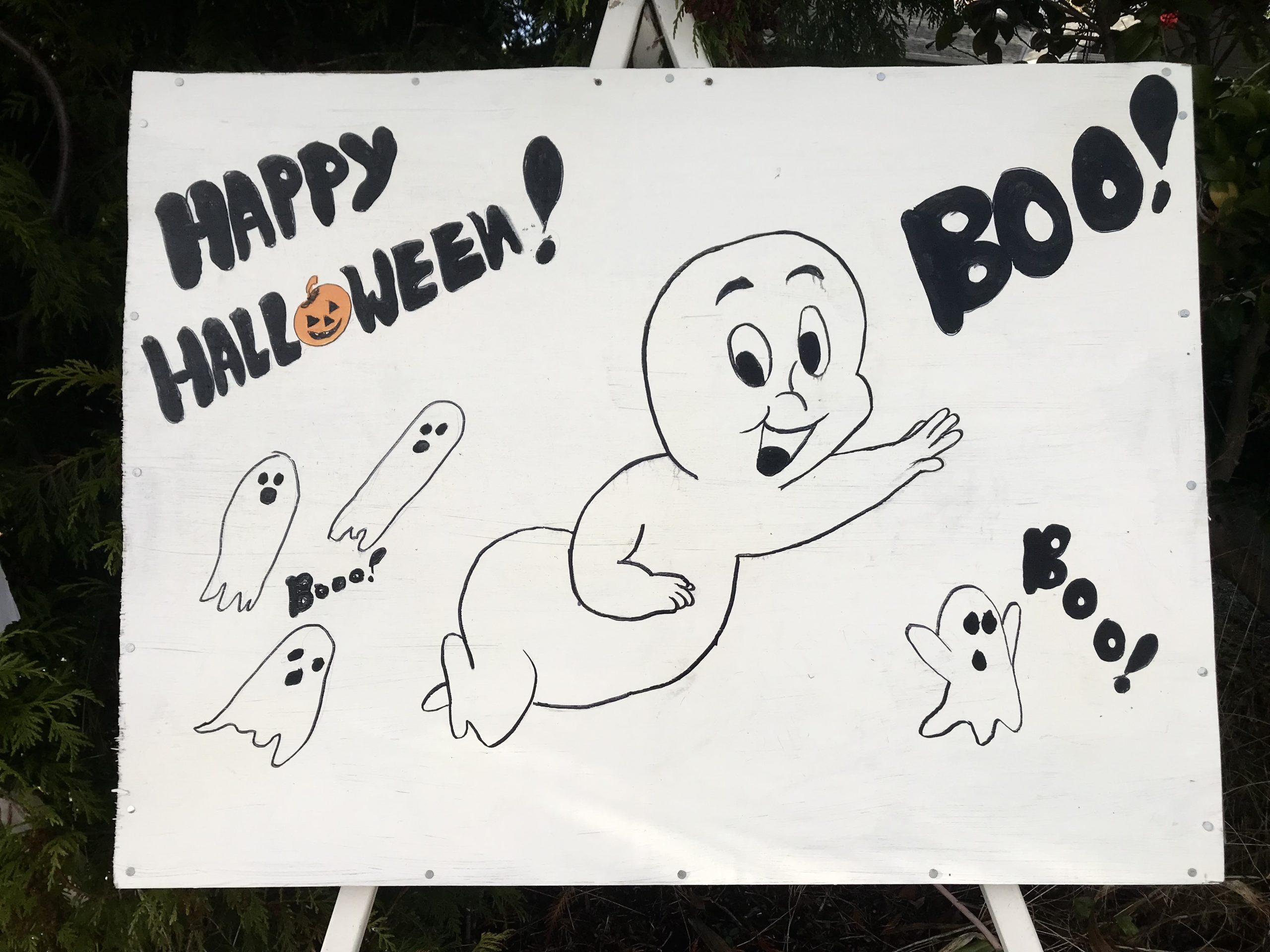 Lynn sketched this welcoming sign
October 31, 2022
Over the course of the afternoon and evening we received a hoard of kids and adults (estimated at 150-200), all in a variety of great costumes. To get to the treats, they had to travel through the yard to reach the front door where they were greeted by a "schoolmarm" who questioned them about "have you completed you homework?" to which she was given all manner of answers (mostly yes, as they knew that likely meant an immediate treat). For the younger ones, perhaps intimidated by the sights and sounds, mom or dad supplied a reassuring hand to the front door. It was fortunate we purchased all those extra treats as by 8:45 the well was dry.
This was "Year 1" of expanding the Halloween scene to the full front and side yard.  The whole family, including Jay and Jeff, Avery, Lynn, shared in creating many of the new caricatures and ghostly scenes.  For some supplies Jay and I made a couple of trips to the Salvation Army on Quadra where we collected costumes and masks as well as other miscellaneous articles used for the various scenes. At home we used straw to stuff the body costumes, with the pumpkin heads being attached to a small shoulder board before being attached to a support pole driven into the ground.
To hold the black pumpkin ghosts, we used the same method to attach the pumpkin head, then placed the head over an inverted wire garden trellis (we forced the three wires into the bottom of the pumpkin, then rolled down a heavy-duty black plastic garbage bag. The inverted trellis was pushed down over a large, inverted plastic plant pot (photo description in the album). For the white ghosts we attached a stiff wire circle to a shoulder board and secured the wire head with two screws. We then folded over white sheets (purchased from the Salvation Army).
We completed the night scene by placing red, white, and yellow bulbs of various sizes in and around the scenes.  This gave the entire yard an eerie feel when accompanied by Halloween music found on YouTube and played moderately loud on the external trailer speakers.
As you might guess from the scenes, over the summer and fall, the front yard was transformed into a summer camp spot for family and guests, complete with trailer, gas campfire and BBQ, swings, swing ropes, sandbox (the Pirate Ship), a well as a tree house and lookout tower attached to a 30-foot slack line.
We rather expect this will become an annual practice back by popular demand.
Link Here to Facebook Photo Album
Cheers,
The McNeill's
(35)
(Visited 46 times, 1 visits today)