45th and 80th Birthdays
---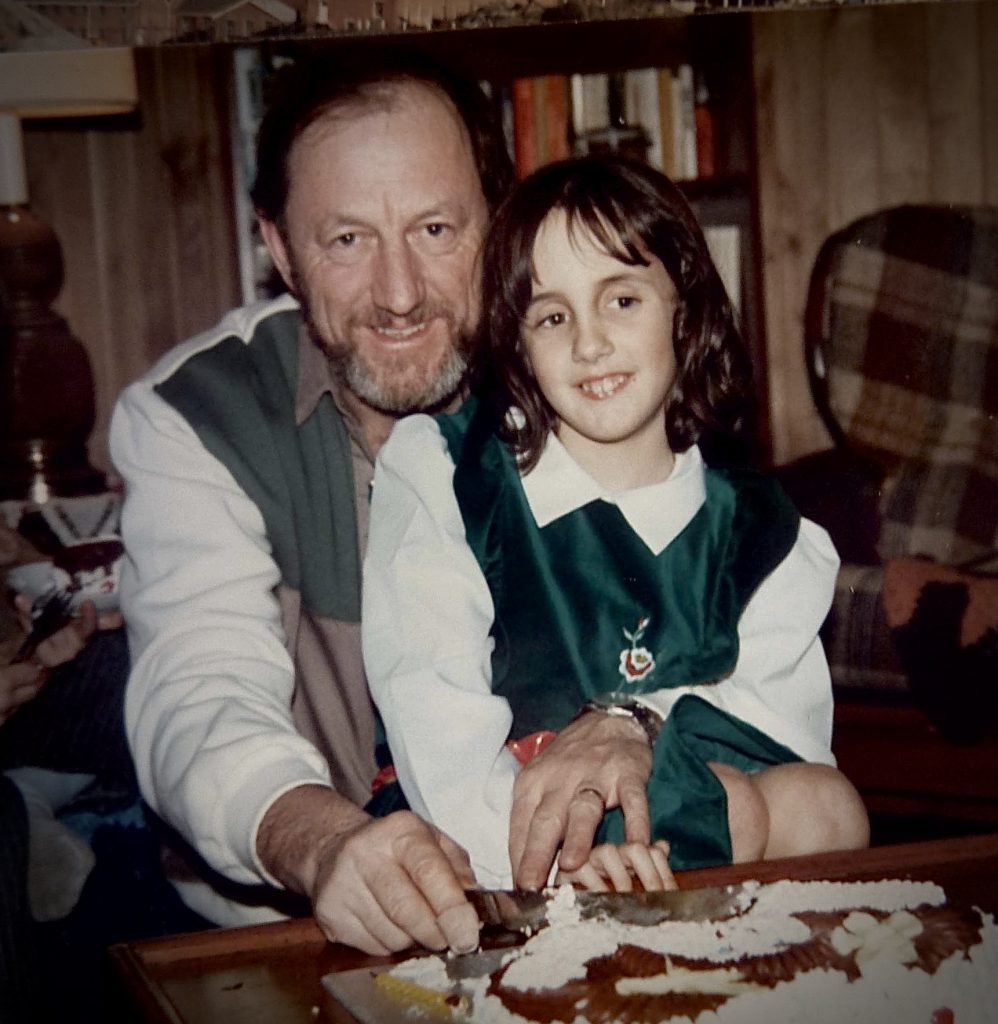 Christine McNeill LeClair and her Daddy, Harold
While we have four children, Jay, Kari, Christine and Sean, along with three grandchildren, Grayson, Audrey and Avery, it was my good fortune to have shared a birthday with the youngest daughter, Christine. That birthday bundle arrived in the wee hours of the morning at the Royal Jubilee Hospital.  Happy Birthday, Christine.
Heartfelt thanks to family and friends who phoned, sent texts or posted birthday wishes on Facebook. Many things happened that made this one memorable day, and part of it was due to the Covid.   I'll take the day one item at a time.
A Surprise Cruise
As many of you are aware, we have a new grand-daughter (now 19 months) and we maintain close contact with Sean and Alysha as we provide intermittent grandparent care (thank you, Avery). When the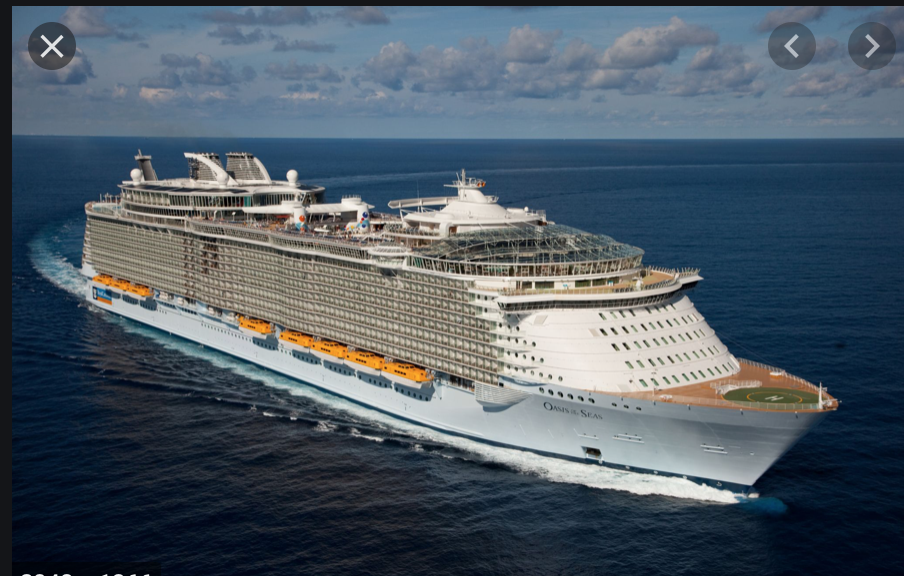 three came over today for a birthday lunch, and among other things, Lynn and the kids told me about the frustrating path they had followed in planning for this day.  Their story gave me insight into some of the stress I remember Lynn being under as the travel business crashed in March 2020.
At that time, Lynn had dozens of clients whose trips were cancelled and getting refunds was the order of the day. While most cruise companies and airlines were pretty good, others were only willing to apply future cruise or flight credits. What I did not know, a few dozen 'clients' included family and friends who intended to surprise me aboard the Royal Caribbean's, Oasis of the Sea. Oh well, the best-laid plans, as they say. Now, on to Plan B.
An Island Retreat
Because families were still allowed to gather for events, the smaller family group decided to rent a retreat home on one of the Islands for a family get-away as we have done for past trips.  Alas, towards the end of the year, Covid again intervened, and it was back to the drawing board.  During all this, Mr Clueless had no idea any of this was on the planning books. When we arrived on January 13th, the birthday party had slimmed down to Mom, Dad, Jay, Sean, Alysha and Avery.  Ah, but again, I was in for a surprise.
A Neighbourhood Birthday
During the birthday morning when cleaning up from some of the wind damage caused by the previous overnight storm, I noted birthday wishes pinned to the Christmas tree that is a single remaining item from the array of Christmas street decorations. It was clear someone was-being mischievous.  While on our walk to the park, various neighbours had wished me happy birthday, but just after Sean and Alysha left, more neighbours and a half dozen young kids started gathering out front.  Here is a slideshow with a couple of short video clips. (Harold and Christine's Birthday)
All physically distanced as per the current rules, they sang happy birthday as the kids came forth with flowers and cards.  It was a touching moment as this neighbourhood (as with the more rural one we lived on when on West Viaduct), is one of close-connection between neighbours. We are also so fortunate to have families with young kids surrounding us, and during this time of Covid, the kids are often on the street and in yards playing.  Our street is back to a time when Sean was a pre-schooler, but now we are the seniors and so lucky to be surrounded by neighbours who care about each other.
A Surprise Gift
As family members know, Lynn often squirrels herself away as she makes handcrafted gifts for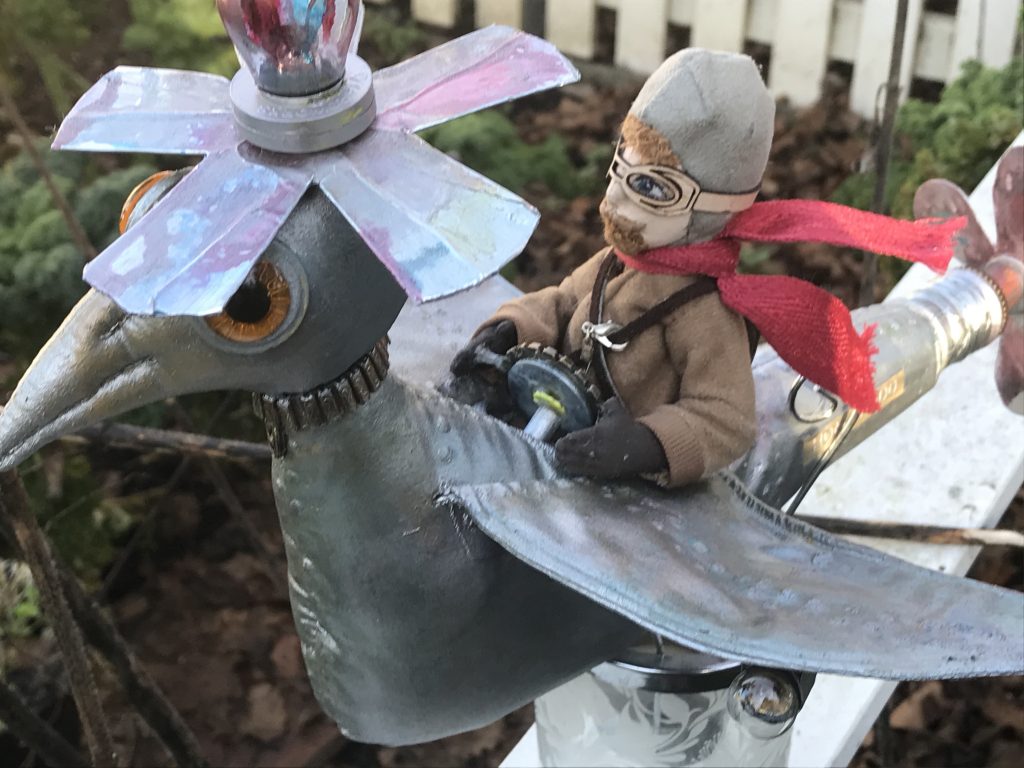 birthdays, Christmas, and other special days or events.  So it was over the past couple of weeks as she carefully crafted a unique aeroplane for Papa Bear – a touch of Around the World in Eighty Days.  The clock base is still being completed but here is the main body of the aeroplane and pilot, all finely crafted from scratch by Lynn. Photos included as soon as the base is complete.
How Does it feel as I start my eighth decade?
I'd say each decade of my life has proven to be even better than the one before. Not only am I surrounded by loving family and friends, but I also wake up each day with an immense number of things I look forward to doing.  My challenge is, how to stuff them all in the time I have left in this amazing world we call home.
Hopefully, the things I do and say over the next decade will help make the world a better place. I also hope my extended family and friends will succeed in keeping things on an even keel in their lives as the world continues to change at a breakneck pace.
Love,
Harold
PS  Thank you to everyone and especially the grandkids and neighbourhood kids: Grayson, Audrey, Avery, Michael, Felix, Clara, Vienna, Jaifa, Zidan, Jahan, Lucia and many others sprinkled through their teens. Each of you and your families makes the world a brighter place.
(174)
(Visited 286 times, 1 visits today)
Trackback from your site.