A Moment in Time
---

Laura Isabel Skarsen (Wheeler)(McNeill)
This photo was taken sometime around 1998 when mom was in her early 80's. Always the adventurer she travelled to Victoria to stay with us for a few months at our home on Leney Place to see if a move to Victoria might suit her.  She loved it, but her roots in Cold Lake were so deep it was impossible to fully settle in.  She returned to her home in Cold Lake where she would spend the rest of her life.
December 29, 2008, 10:00 am.
Cold Lake Healthcare Centre
Cold Lake, Alberta
I remember the hour and minute as clearly today as I did a decade earlier. Each time I tell the story, it brings a pinch in my chest and a tear to my eye. That pinch and the tears are not ones of regret for opportunities lost or an "I love you" left unsaid, it comes from the fond memories of the two persons responsible for creating, then setting, the boundaries that shaped my life. For the genes they gifted me, and in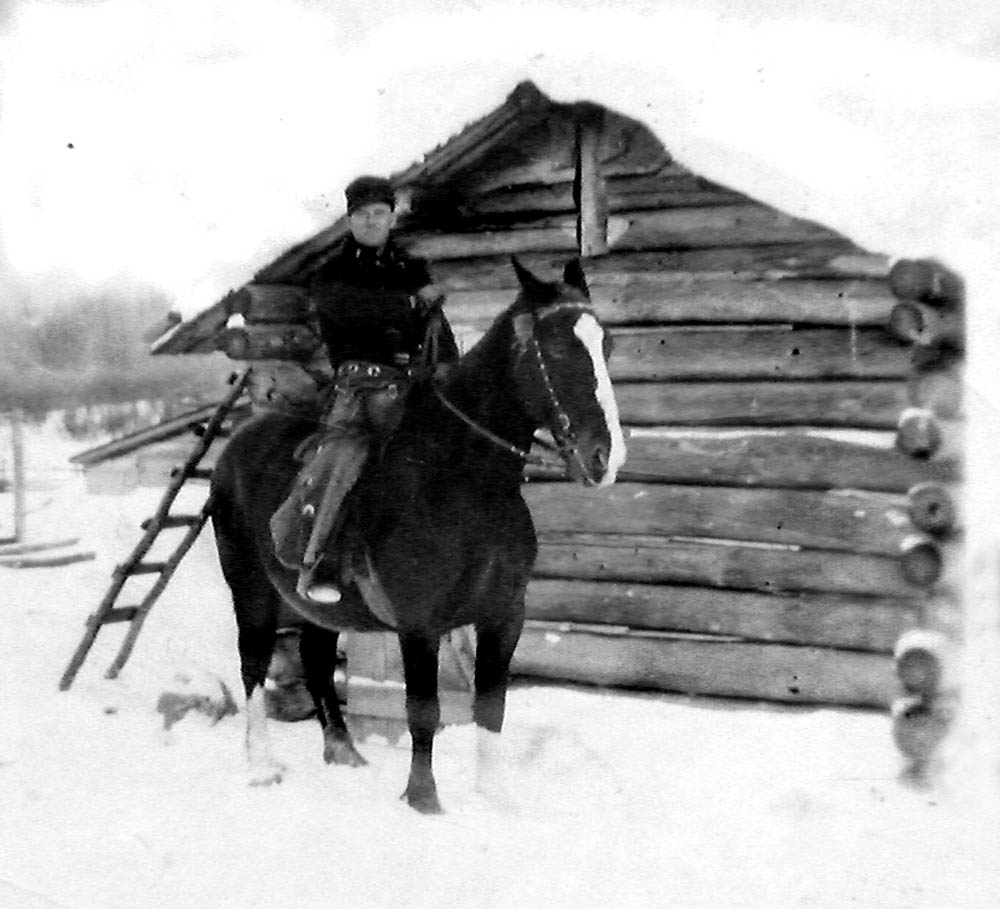 the nurturing love provided, I am eternally grateful to my Mother, Laura Isabel Skarsen (McNeill)(Wheeler), and Dad, David Benjamin McNeill.
Photo (c1944).  Dad was a horse lover, first, last and always.  He was nearly born on a horse, and he died of a heart attack at age 55, while on his horse.  Due to a number of health issues and life events, it seems likely he also choose the time of his exit from this world.
While Dad predeceased mom by forty-three years, the memories of him remain close, however, that extra forty-three years with Mom provided an abundance of opportunities to see and experience the immense depth of her motherly, grandmotherly and great-grandmotherly instincts and her steadfast pioneering spirit. Over the years I have written dozens of stories about Mom and Dad and the life they (and we), along with their parents, brothers, and sisters, carved out of the raw wilderness of Saskatchewan and Alberta.
Now, at this moment in 2008, my sister, Louise Yochim, at sixty-four and two years younger than me, watched and waited as our mother slept peacefully, after having a short nap after her breakfast. When she awoke, the conversation we were about to have, would impact the remainder of her life. Even though the surgery was successful, mom knew her life would be unalterably changed and this might well include moving to an extended care facility where reliance on others to perform many day-to-day personal care needs, could well become a daily ritual.
In Edmonton one month earlier, with her three children and several family members nearby, Mom underwent life-saving femoral bypass surgery, a complicated procedure for a person half her age. Needless to say, after discussing the pros and cons, this fiercely independent woman, who had just turned ninety a month earlier, opted to give the operation a shot.
To this point in her life, she was relatively free from major medical problems, save for one fire-related accident that left her hovering near death (Explosion) for a couple of weeks while in her late twenties, then later in Edmonton after nearly dying following a natural gas leak in a rented basement suite. (Near Death Chapter 4).
The challenge at this moment was a blood clot in the femoral artery of her right leg. That the sudden onset of this life-threatening clot that was left undiagnosed for nearly ten days is another story for another time. Although in great pain, never, for one moment, did Mom let her positive attitude slip.
Louise, Dianne (the baby of the family at 52) and I, had earlier in the week talked with mom about the decisions she would need to make, knowing full well the final decision would rest in her hands. Whatever path she chooses, we knew her thoughts would be mostly about the welfare of her children, grandchildren, and great-grandchildren. Because, her recovery to this point had taken some weeks, our younger sister, Dianne, had to return to her family and job in British Columbia.
On this morning, as Louise and I continued the vigil while Mom slept, we watched in silence, contemplating the path that led to this moment. That the world had gone through seismic changes over the ninety years of her life was traced in the books, stories, and anecdotes presented at Mom's her 90th birthday party we had celebrated just a few months earlier. The party included all but two of the immediate family of three children, thirteen grandchildren, fourteen great-grandchildren, and two great-great-grandchildren, along with dozens of other family and friends.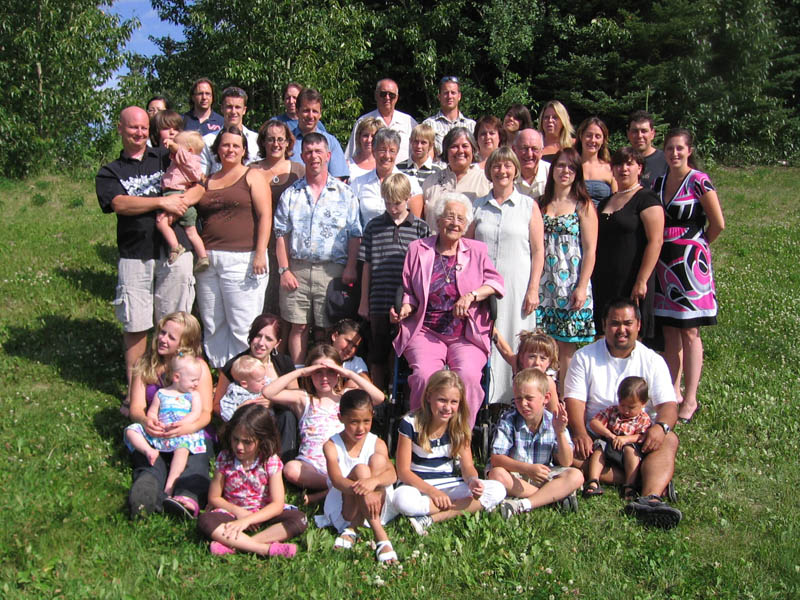 July 2008 Birthday Party (Link to Post with Names)
Now, over the Christmas period, while in the Cold Lake Hospital, and in spite of the pain and challenges faced, mom was filled with good cheer. She spoke jokingly of one leg that was largely disabled due to the clot, "Yep, when I walk down the hall, I take one step with my good leg, then drag the other."
That was the story of Mom's attitude towards life, no matter how bad things became, she never seemed to let it get her down, and on those occasions when she let her guard slip, she would quickly rebound for the sake of her family.
Over the holiday period, we would spend some time singing Christmas Carols in mom's room and other locations in the hospital. Most often this included our little band of six-eight kids who ranged in age from five or six to their mid-teens.  Sometimes two or three of us would just sit in the room with mom strumming the guitar and singing. Between those carols and the story-telling of which mom so well known, the days before and after Christmas passed quickly.
Now, with Louise on one side of the bed and I on the other, Mom's eyes suddenly fluttered open. She took a moment to focus, first on one of us, then other as she awoke from a sound sleep. After a few minutes of exchanging morning greetings, mom looked intently, first at my sister and then at myself, then asked: "Son, would you put in my teeth?" Mom never liked being without her false teeth when others were present. Then she then turned to Louise and asked: "would you put on my glasses?" After this was done, she again took a few moments to focus on each of us as she expressed her deep love for us and the lives we shared.
Mom then laid back, closed her eyes, shuddered a few times as her spirit slowly departed, she then stopped breathing. After having accomplished all that was possible in this life, she chose to pass quickly and quietly to the next, to a place that promised the rest and peace of mind we knew she so richly earned.
After having spent a full ninety years in this life, we knew mom had chosen a time to depart that not only suited her but that she also felt was right for her children and all the loved ones in her life. From that moment forth I have never missed my mother as she lives with me in spirit as she did in life.
As the Christmas seasons continue to pass, our thoughts are with you Mom and Dad.
Love, Harold, Louise, and Dianne
Link to the full Biography of Laura Isabel Skarsen.
(246)
(Visited 305 times, 1 visits today)
Trackback from your site.