Open Letter to Mr. Paulson
---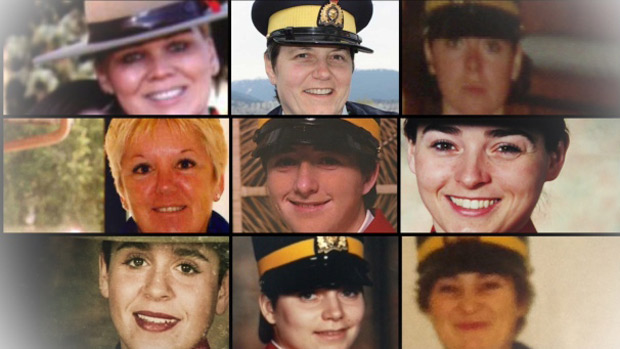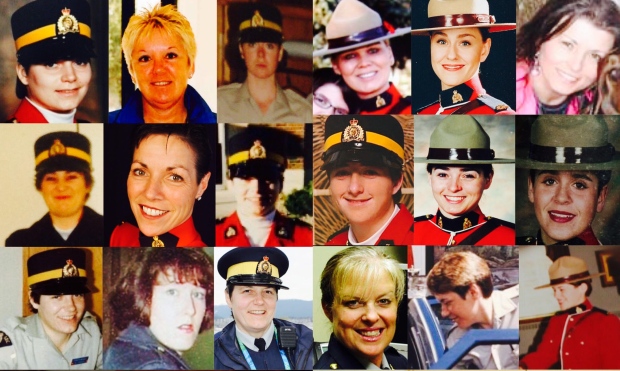 Photos (Web Source)
October 6, 2016: The twenty-five faces above is just a small sample of the 500 female RCMP members who joined in a Class Action Lawsuit against the force. Since the first woman was sworn in as a regular member in 1974, she and many hundreds who followed were subjected to unrelenting harassment and sexual misconduct up to and including rape. In light of the $100,000,000 settlement announced this week, which in effect is Government acknowledgment of that harassment, RCMP Commissioner Bob Paulson should do the honourable thing and resign.
Releases from government sources state the Commissioner was forced to accept this settlement as well, was required to make an unambiguous apology. The alternative would have been an extremely costly and ugly trial in which the sins of RCMP senior management would be put on full display for all Canadians to witness. Such a trial would have spelled the death of the RCMP in its present form. Will this settlement reform the RCMP, or is it just a means to protect senior officers who were part of the coverup and quite likely a large part of the problem.
We can only hope it's "Goodbye to Mr. Paulson" and that the next Commissioner
will quickly establish the ways and means to end this shameful period in the history of the force.
Dear Mr. Paulson,
First, we must all thank you Krista Carle (photo right), Janet Merlo, Catherine Galliford (Audio Link) and all those brave women from the RCMP, who stood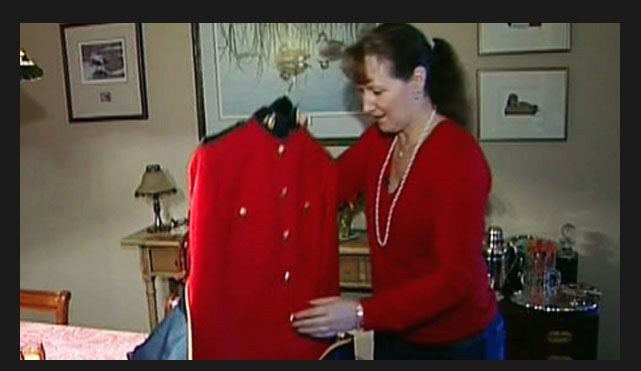 against an old boy's you lead and whose network had closed ranks against them at every turn (1) since women were accepted into the Force. Mr. Paulson, you condoned this during your career, and as Commissioner you allowed it to continue as no one would dare question your good judgment.
Like the old saying goes about changing a man if it were cast in terms of the RCMP, "you can take the man out of the old school, but you can't take the old school out of the man." You are clearly an old school guy steeped in a tradition that viewed women as lesser officers in a force created for men.  Times might chance, but many older officers, as well few younger men will to tow the party line, preferred the old ways.
I clearly recall a favourite expression of one of the Chief Constable's in my early career, a former military Regimental Sergeant Major, when dressing down a junior member in his office: "when I say jump, you just ask, "how high SIR." Over the course of my career which ran from 1964 – 1994, my force along with the most other Municipal and City forces, changed in hundreds of ways, including fully accepting women as equals. It was a long struggle, but that change was fully accepted at twenty years ago.  A few of the old dogs still resisted, but they, not those who harassed, were soon drummed out of the service.
During the same period I worked with a number of members of your force and even by 1994 when I left, those attitudes were still deeply entrenched by the Senior ranked members who controlled the very lives and well being of rank and file members. There are thousands of good women and men in the RCMP who only wish to do a good job, but the top-down, authoritarian approach used by management has resulted in the force facing a crisis of considerable proportion as we move through the first two decades of this century. 
Now, concerning the ongoing complaints made by the women of the RCMP, did you, Mr. Paulson, help those women by seeking to bring about change even after hundreds of complaints?  Of course, you didn't.  It took a massive lawsuit and a looming crisis of confidence in your leadership to get things moving.
A spokesperson for the Prime Ministers office summed if up fairly well: "the government made it clear (to the Commissioner) that the government wasn't prepared to send out litigators to fight these cases in court. It was clear which way the winds were blowing."  (National Post, October 7, 2016, p. A4).
What troubles me is that $100,000,000 was hush money.  The litany of offences (both civil and criminal) was so long and so dreadful, the force and many of its officers would be tied up in court for the next 20 years, and the revelations might well have brought the RCMP to its knee's as happened during the 1970's Quebec Crisis outlined in Oversight of the Police and Security Service – begin at Part 4)
Actions of the present day force are not much different from the scandals permeating the Catholic Church over the past 100 years. Officers closed their doors and shut their eyes when individual cases became too hot to handle (perhaps a poor choice of words), where victims and offenders alike were shunted away to protect the 'good name' of the (church) force. Many of those responsible for the most egregious acts harassment and abuse in the church and your force, were promoted.
As for those 'tears' shed during the apology Mr. Paulson, you've never to the time to understand the challenges faced by rank and file members, both male and female, to a depth that would bring you to tears.  My God man, you are old school. No, you were too busy cementing your control over CSIS, the CBSA and other government agencies as you sought to return the RCMP returned to the preeminent position the force held back in the 1970's.  Perhaps you may accomplish that, but at what price to the pride of the men and woman of the force?
Over the years many good RCMP members (men and women) with whom I worked during my career, left the force after having dared to express a contrary opinion about the manner in which the force was being administered. Many joined a City or Municipal force with Police Association that helped to maintain a balance of power between the rank and file and senior administration. It is by no means a perfect system, but it does provide the rank and file members with a powerful voice, something that has been lacking in the RCMP throughout their history and that has inexorably lead to the present state of affairs.
The rank and file of the RCMP, along with a good many senior officers, have dedicated their lives to keeping Canada safe, yet you and the senior members stonewalled, belittled, threatened and harassed them at every turn when they sought to bring about change.
There was a single chance for change when a civilian, William J.S. Elliott (2), was appointed to head the force, but that chance was lost when regular force, senior RCMP members, closed ranks and had him unceremoniously drummed out as he was 'not one of yours.' At that time you, Mr. Paulson, became the 23rd Commissioner (in 2011) with a stated declaration of delivering results to Canadians through a renewed emphasis on leadership and accountability.
The $100,000,000 settlement makes it clear that burying the matter is a top priority, it is back to business as usual until another batch of complaints begins to surface over the next five to ten years.
We can only hope that with your departure, the government will find the ways and means to promote officers into the ranks who truly believe in bringing about systemic change.
Harold McNeill
Detective Sergeant (Retired)
Oak Bay Police (1964 – 1994)
Listen to the following song Bob Dylan as you scan the photos of the women shown at the top of this post:
The Answer is Blowing in the Wind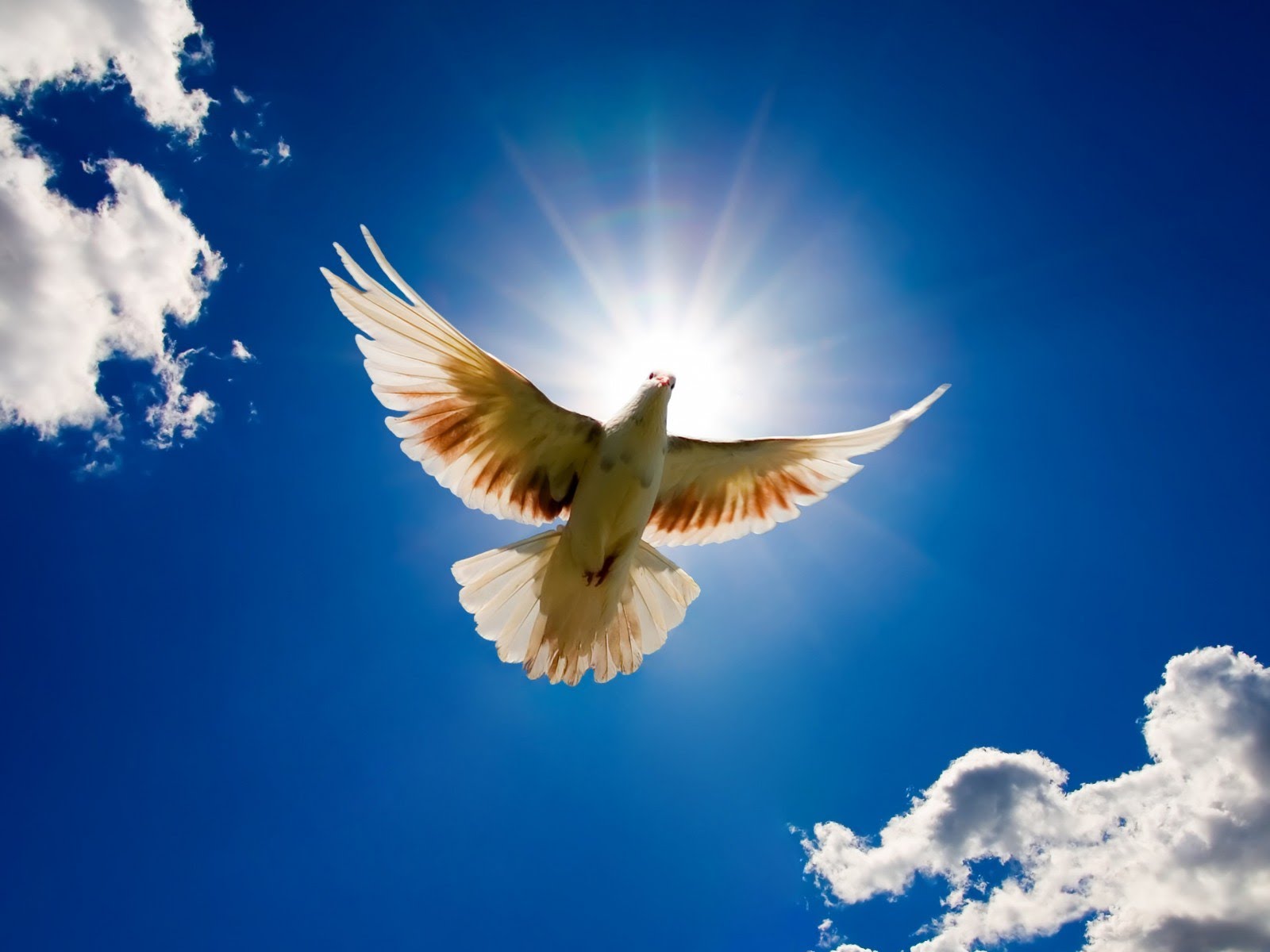 (I)  Five hundred men should commence their own class action suit against a force that, in terms expressed in a 2013 investigation titled: Public Interest Investigation Report into Issues of Workplace Harassment within the Royal Canadian Mounted Police, read:
"While in no way wishing to minimise the impact of sexual harassment, it is my experience that other (non-sexual) forms of harassment are far more prevalent; and are often severely damaging to the individual officer, whether male or female. But they have an additional and pervasively negative impact on the police force itself: they create a climate of mistrust and intimidation, and they deprive the tax payer of the services of individuals who, because they feel the need to take extended periods of leave from their jobs, would otherwise be usefully employed in serving their communities."
(2) (Wikipedia) William J.S. Elliott was announced as the 22nd Commissioner of the Royal Canadian Mounted Police on 6 July 2007, by Prime Minister Stephen Harper, making him the first commissioner that had not previously served in the police or military. He formally assumed command on July 16, 2007.[2][3]
His appointment came after the resignation of Giuliano Zaccardelli, who left the force rocked by scandal and in crisis. Reaction to Elliott's appointment was mixed. Public perceptions are that the force's problems are rooted in its institutional culture and many felt that someone from outside the Canadian policing milieu and "free of loyalties" was necessary to effect necessary change. Many on the force, however, believe that one of their own, someone "who understands the force's unique culture and structure was needed to clean up the organization."[4] On February 4, 2011 the Prime Minister's Office announced that Elliot would step down as commissioner in the summer of 2011.[5]
As a civilian appointment, Elliot never wore the RCMP uniform during his time as Commissioner except while in Afghanistan where he wore the uniform as well as the RCMP service pistol after a short and very basic training. This was not a popular move within the RCMP. He normally only wore a business suit, and never wore the iconic Red Serge.
(3)  Comment of FB Post (October 9, 2016):
Have any of my friends happened to notice that when an MP (any side of the house, but particularly Ministers), or any member of the Senate (again, of any political stripe), or some minority group be accused of a crime or of abusing the system (e.g. Bev Oda's glass of orange juice), the news cycle will run for not just months, but for years? Who could ever forget that glass of orange?
However, when senior management of the RCMP are finally taken to task for the gross mismanagement of their workforce (particularly as related to women) over the past four decades — mismanagement in which members were forced to quit and others going off on sick leave or LTD after having reported sustained harassment, perhaps even criminal acts that were never investigated, the victims (not the perpetrators) were being drummed out of the service for doing nothing more than lodging a complaint.
Granted, the RCMP is now being forced pay $100,000,000 (possibly much more) in damages as well as making apologies, but other than that senior leaders of the force will walk quietly off the stage as if nothing ever happened and the Canadian public will never learn of the gory details. Why? Because a non-disclosure clause ensures it will all stay behind closed doors. Perhaps some criminal charges will eventually follow, but given what has happened thus far, that seems highly unlikely.
Now, what makes one series of relatively minor events (e.g. that glass of orange juice) so news worthy and the other, an endless stream of serious allegations over several decades, just a blip on the media radar?
A litany of abuse (CBC News)
Oversight of the RCMP and Security Service
Index to Police Related Stories (Editorials and Police Investigations)
March 1, 2017 (316)
(451)
(Visited 266 times, 1 visits today)
Tags: Commissioner Bob Paulson, Commissioner William J.S. Elliott, Barn Burnings, RCMP and Sexual Harassment, RCMP Staff Sergeant Caroline O'Farrell, Catherine Galliford, Krista Carle, Janet Merlo
Trackback from your site.