Interlauken: Soaring with Eagles
---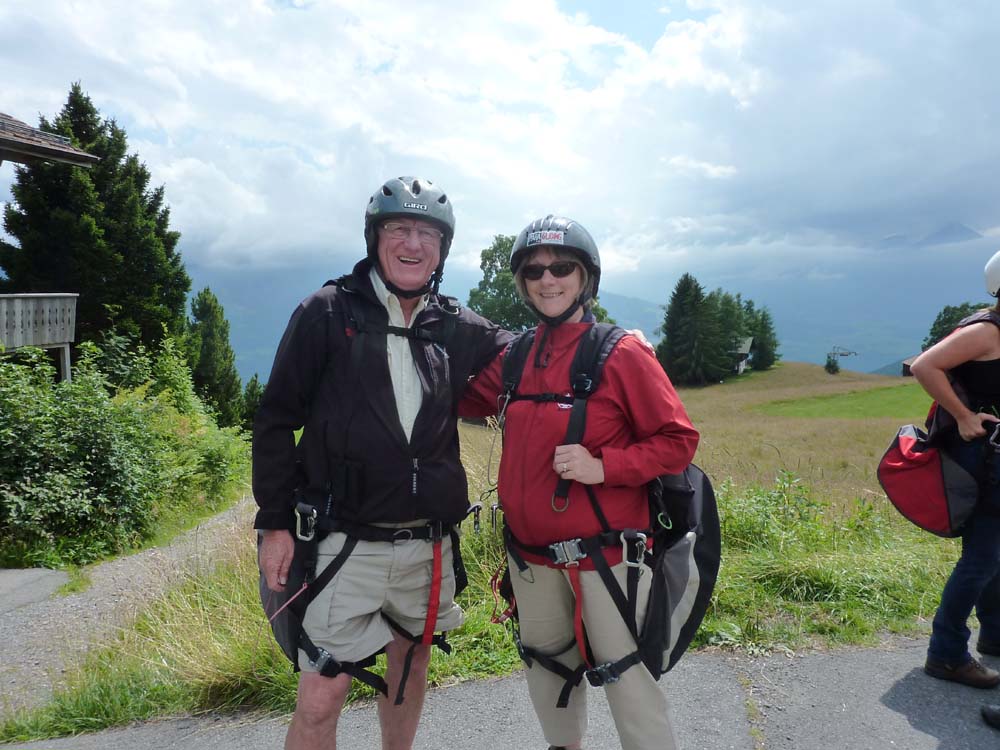 The Eagles Hatch a Plan
On impulse, something that is very much a part of our lives these days, Lynn and I booked a flight with a paragliding group. Over the past few days in Interlaken, Switzerland, we watched as dozens of paragliders soar like Eagles through the mountains, then touch down in the middle of the city.
It was something we did not want to miss as neither of us had ever hung in a parachute. Perhaps this statement speaks more for Harold than Lynn, as Lynn was quite happy to keep her feet on good old terra firma. Well, being the adventuresome life partner she is, the answer was 'sure', although to be truthful, it was given in less than convincing manner. We booked a flight for noon the next day, but as luck (very good luck from Lynn's point of view) would have it, the next morning found the mountains shrouded in heavy cloud.
Lynn noted the dismal conditions but the transparently of her message conveyed a different though: "Well, we could just laze around and catch up on our reading. That would be fun, wouldn't it?"  Sorry Lynn, not to be, as by noon the clouds were clearing and our adventure was re-booked for 3:00 pm.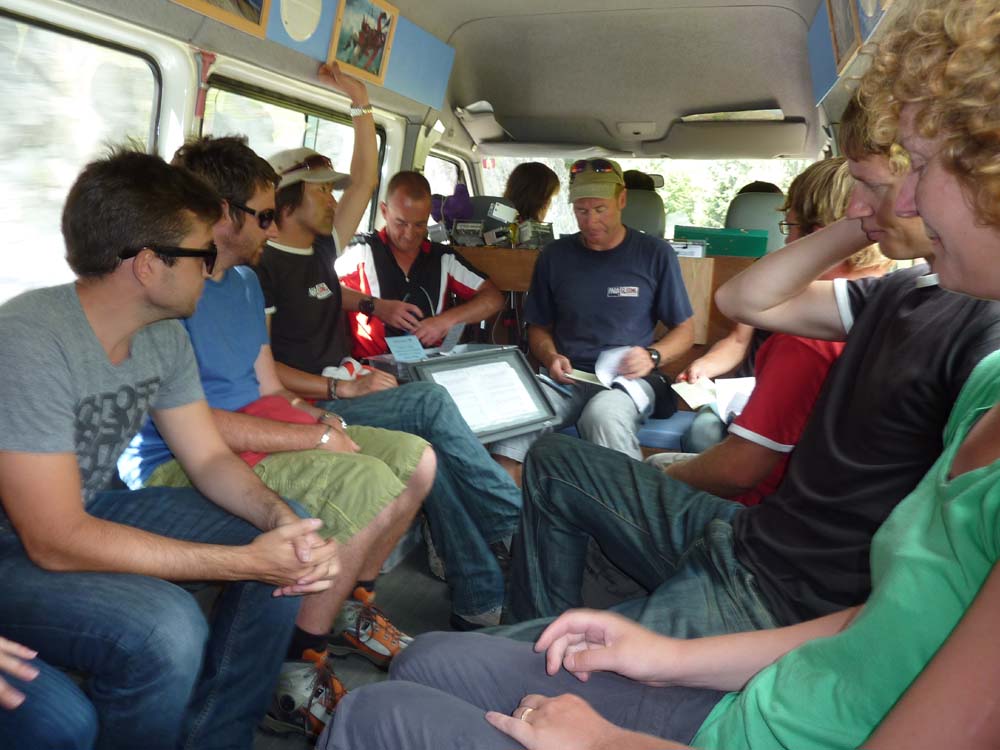 After being assigned our gear, we joined ten other hearty soles, climbed in the bus and snaked our way up the mountain road. As the city faded, the lakes and distant mountains, including Jungfraujoch (The Top of Europe), came into view. While there are many wonderful mountain scenes throughout Switzerland, Interlauken (spelt both with and without the "u", so this would be the English form) must be amongst the most scenic, as you will note in other travelogues from this region.
Of the ten flyers, Lynn was the second readying for takeoff. Standing back about three places and looking her bundled up in crash helmet and gear, my heart went out as on her face she had that look of 'what in hell am I doing here!"
On her turn, and being the trooper she is, she and her guide were off and running – one, two, three and away.  The two looked as a papa eagle with a chick on its first flight. As they ran down the hill and the parasail gained lift, you could hear the squeals of delight coming from Lynn. Or, was that her screaming with terror?
Lynn had picked her pilot well as he was an extremely understanding man in his late twenties whose soothing words and encouragement turned her flight into an experience of a lifetime. Quite honestly, the in-flight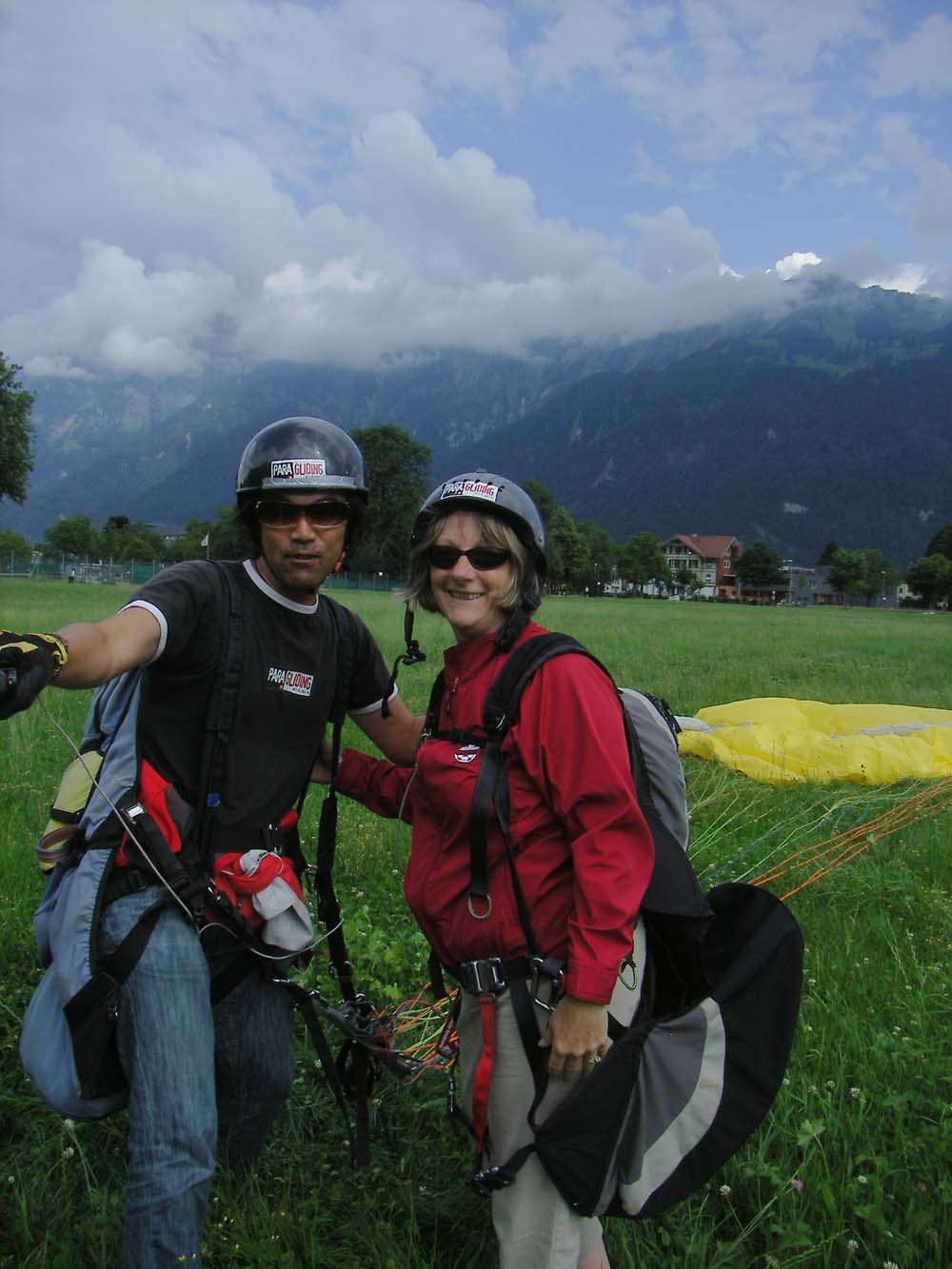 pictures revealed Lynn to be much more relaxed than me.  She claimed the camera could work miracles.
High in the air, when strapped in, the passenger is seated in front of and below the pilot, held in place by a snug fitting sling seat that can only be felt and not seen. Looking down between one's legs, there is nothing but a few thousand feet nothing and then the ground (something hard I suppose).  Each time the pilot completed a leisurely sweeping turn, it felt as if one could simply slip out of the harness and begin that long fall.
While trepidation more than fear, was our companion of the twenty-minute flight, the stunning beauty of the Alps surrounding Interlauken was breathtaking. On two occasions, our pilots glided in so we were side by side so we could wave tentatively towards each other. Although we both have many dozens of hours of flight time in light aircraft and helicopters (big jets don't count), there is no comparison to hanging in that small sling seat while suspended high above the earth. It was an awesome moment to be treasured (if not repeated!).
Later that day, when I mentioned the possibility of doing a tandem parachute drop from the Top of the World Jungfraujochh, Lynn dug in her heels. If we return, and someday I think we shall push that 11,400-foot peak a little further up our Bucket List.  In the meantime, we shall take a day to travel to the top by cog train.
Lynn and Harold McNeill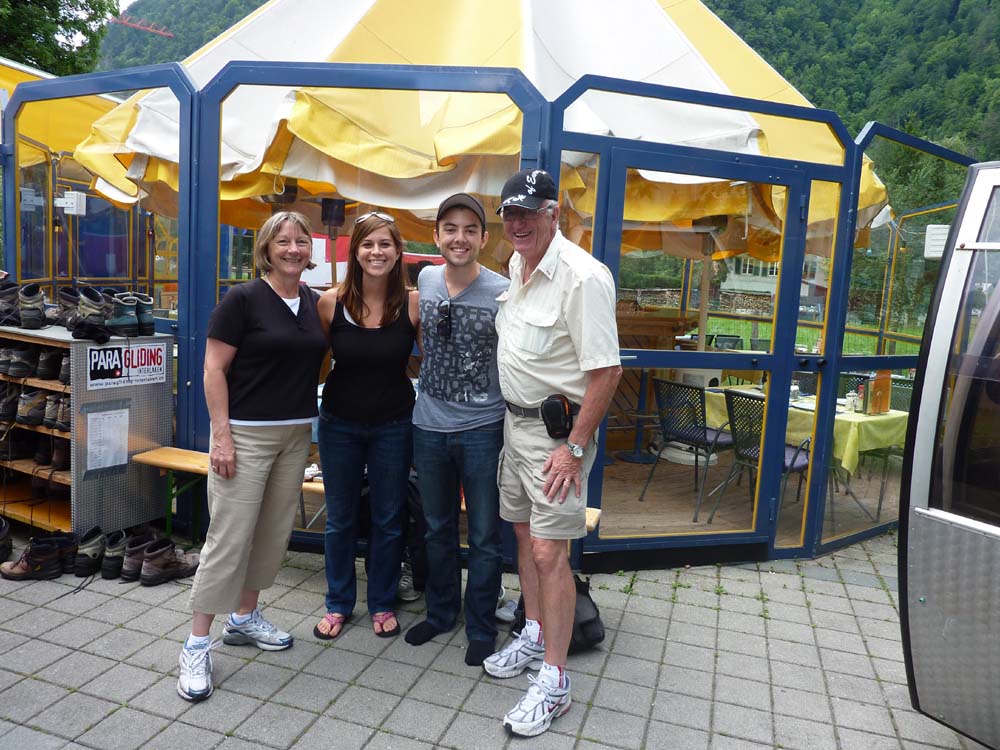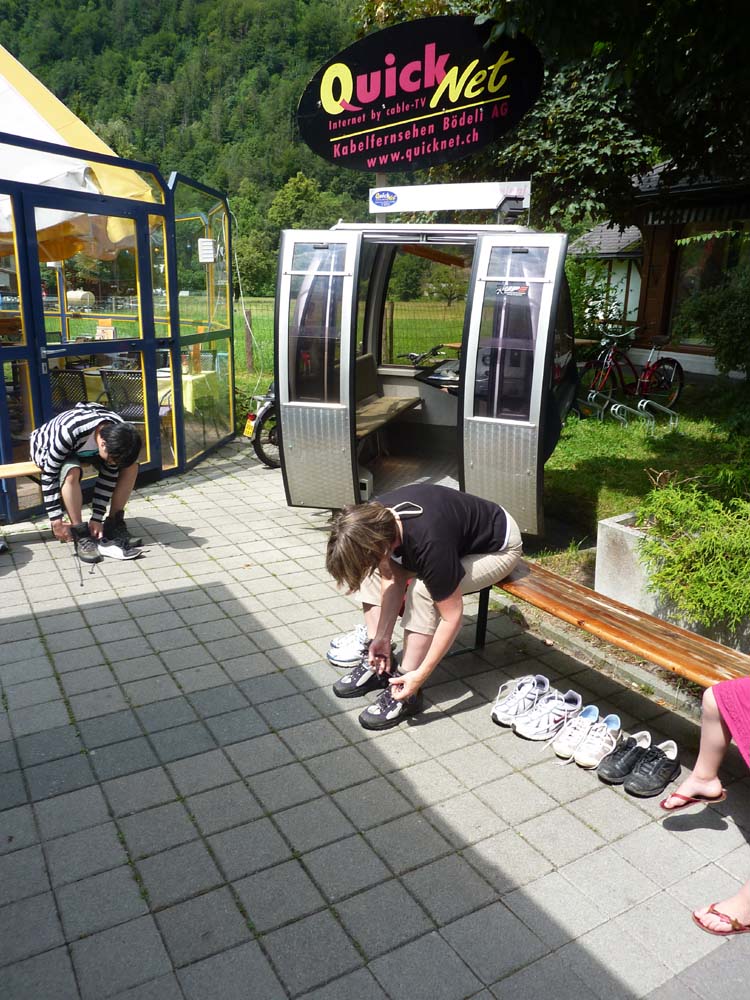 Scenic Mountains and Lakes Surround Interlauken
(Above Photo) Interlauken sits below several of the paragliders in our group. At the bottom left is the landing area smack in the middle of the city. There is little room for pilot error.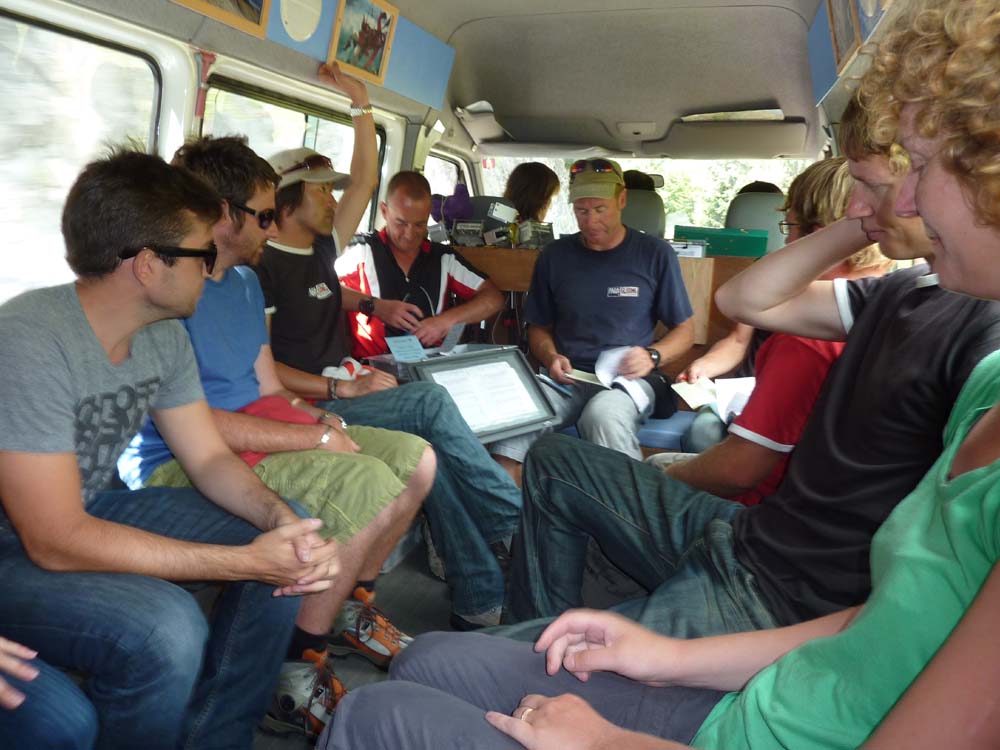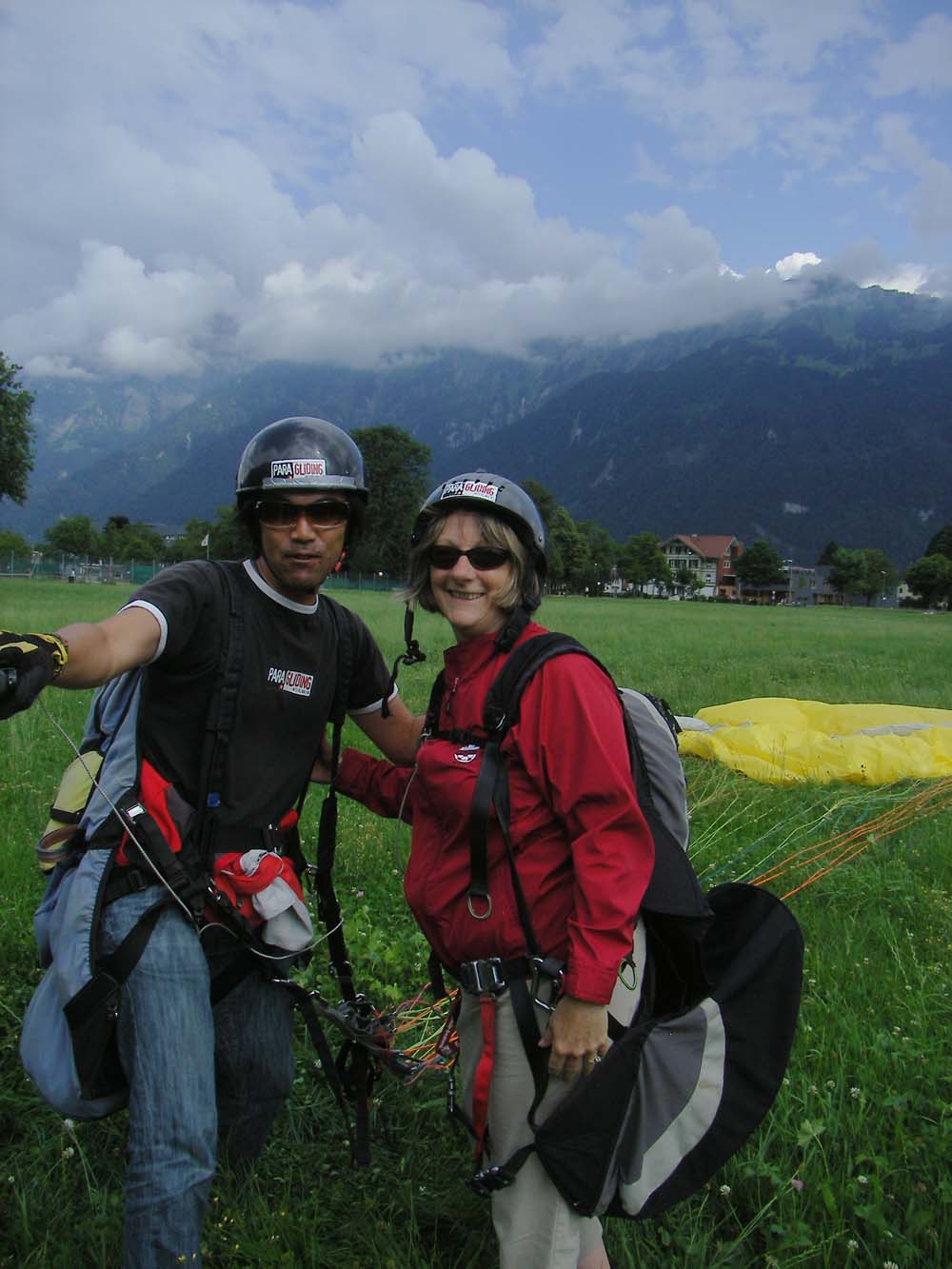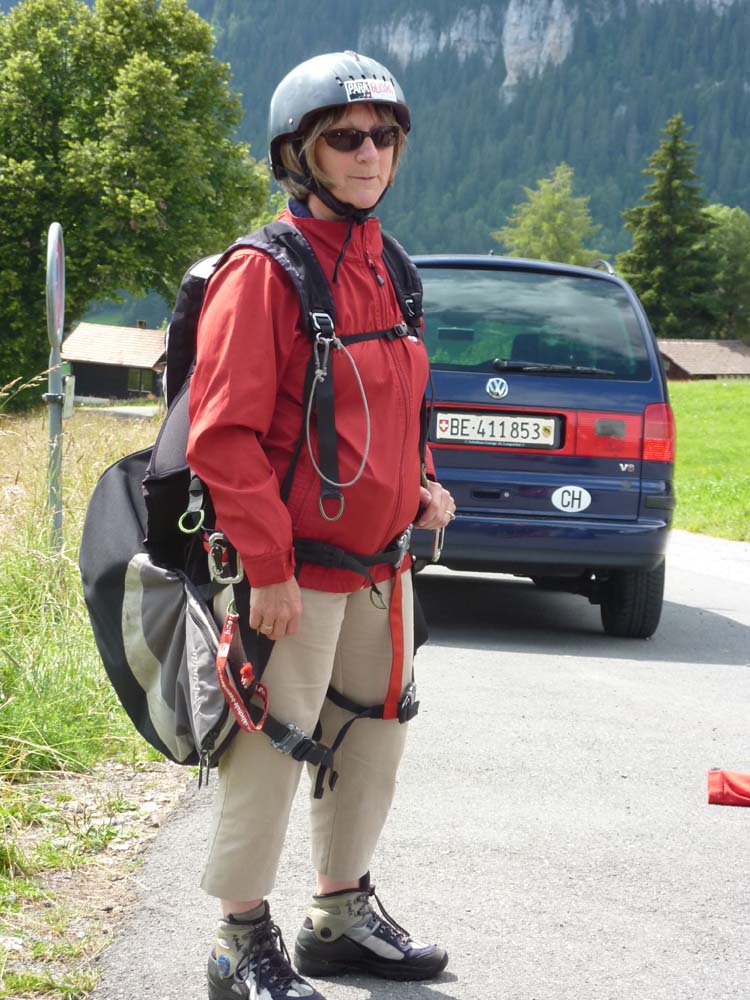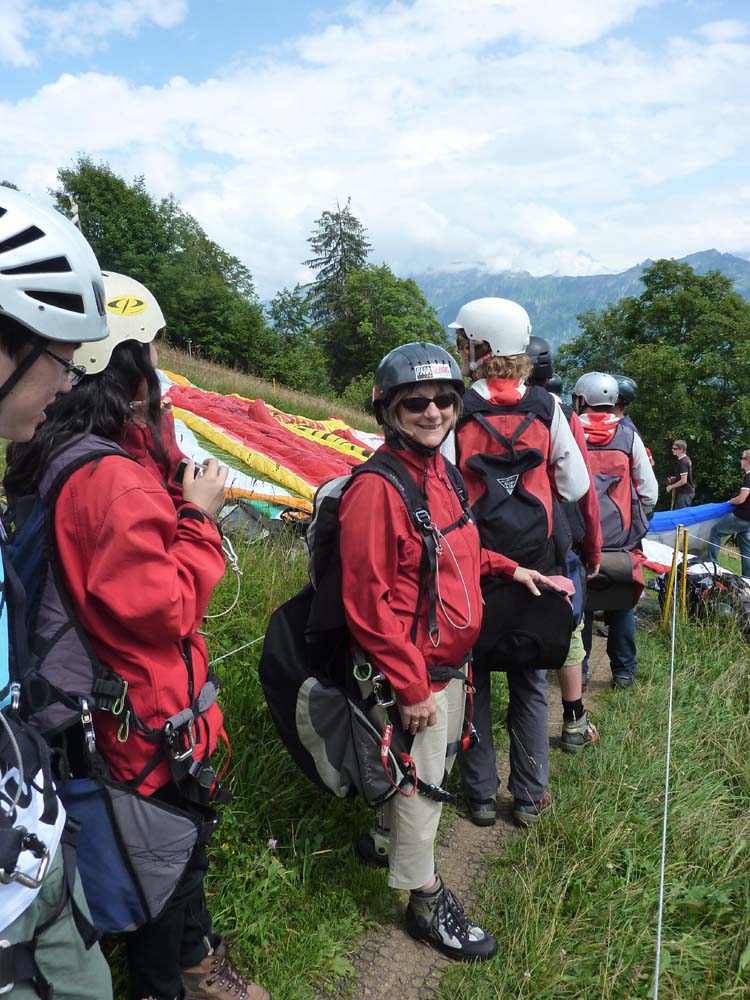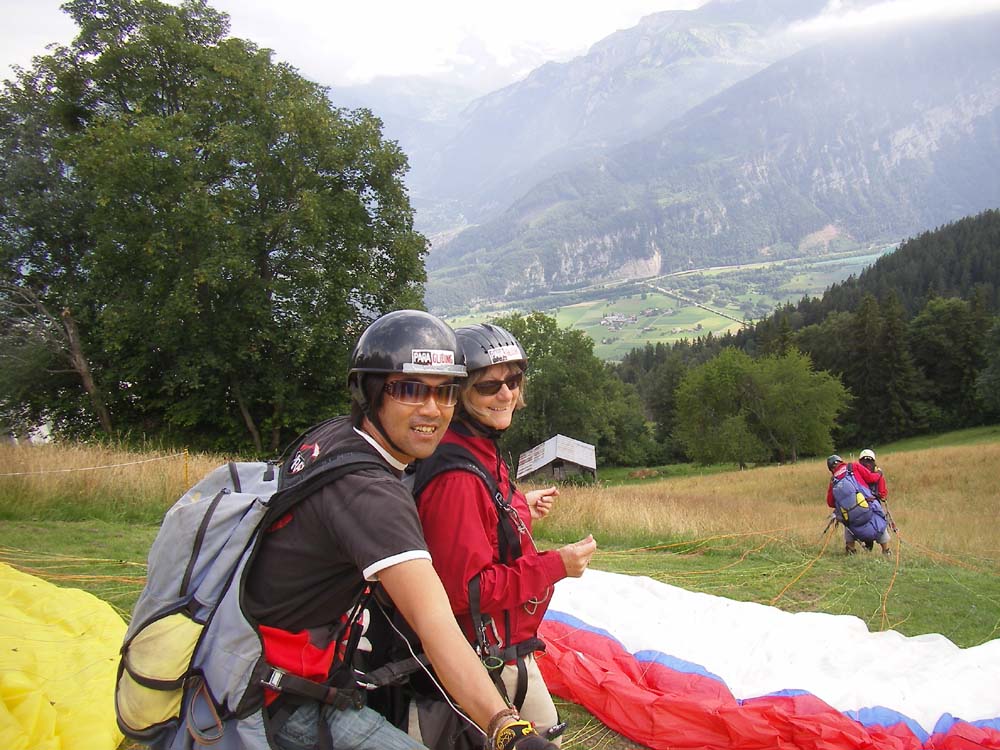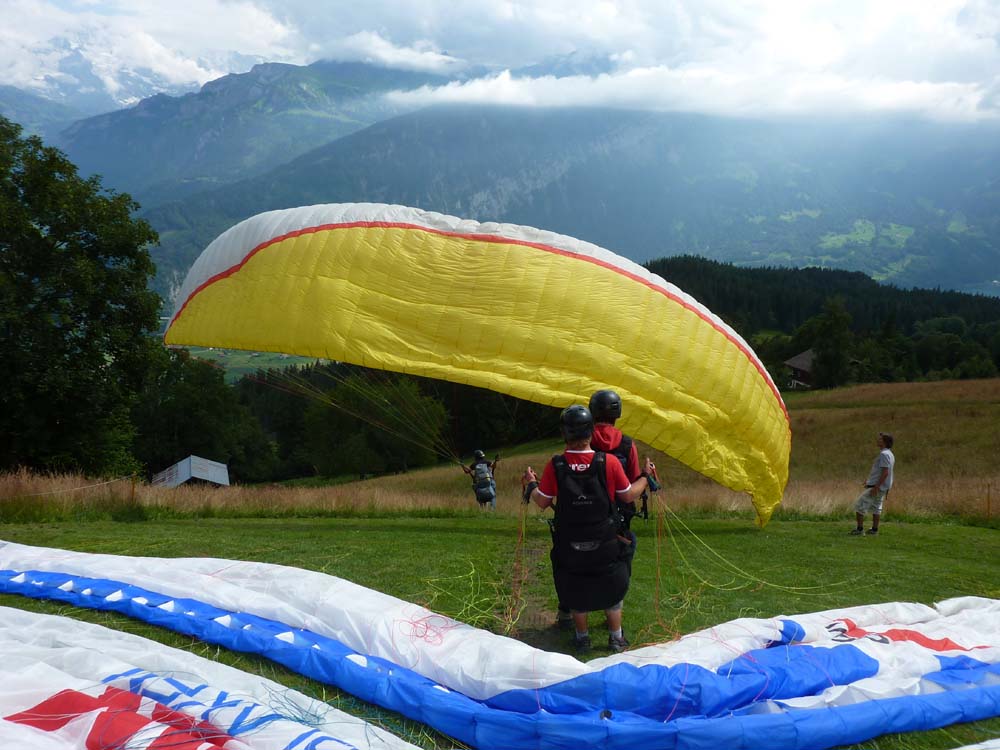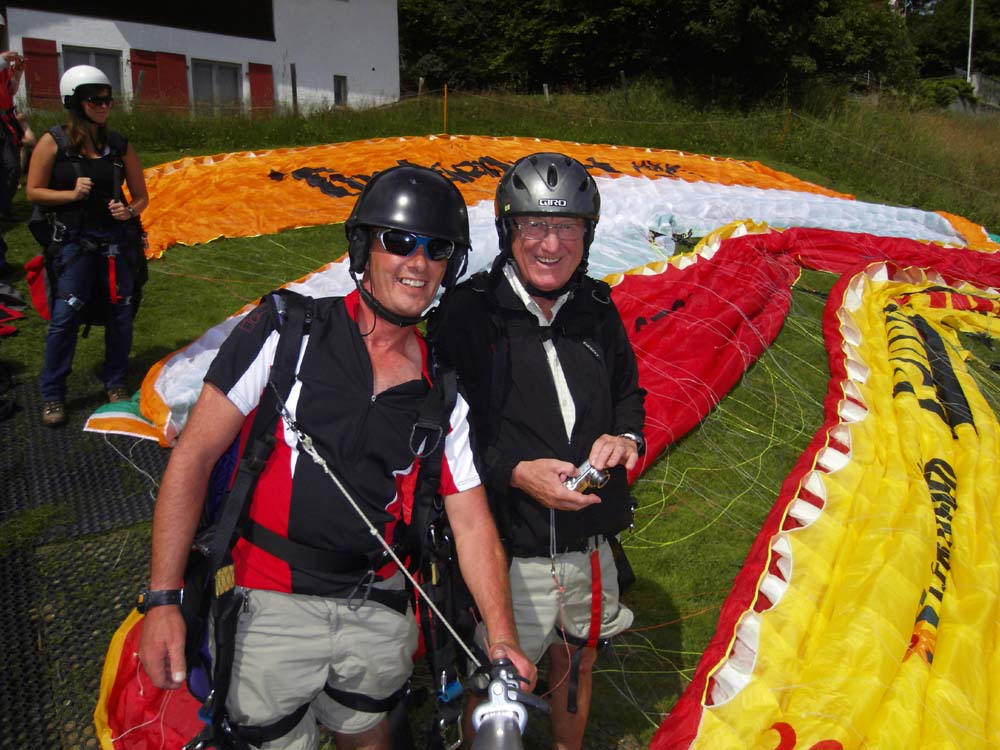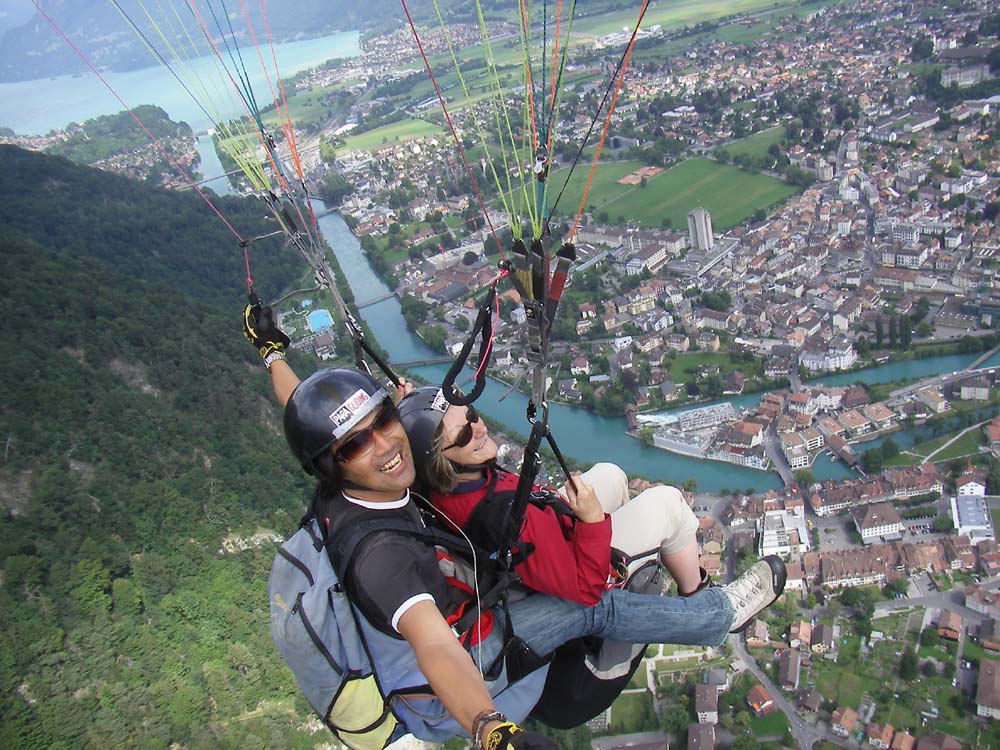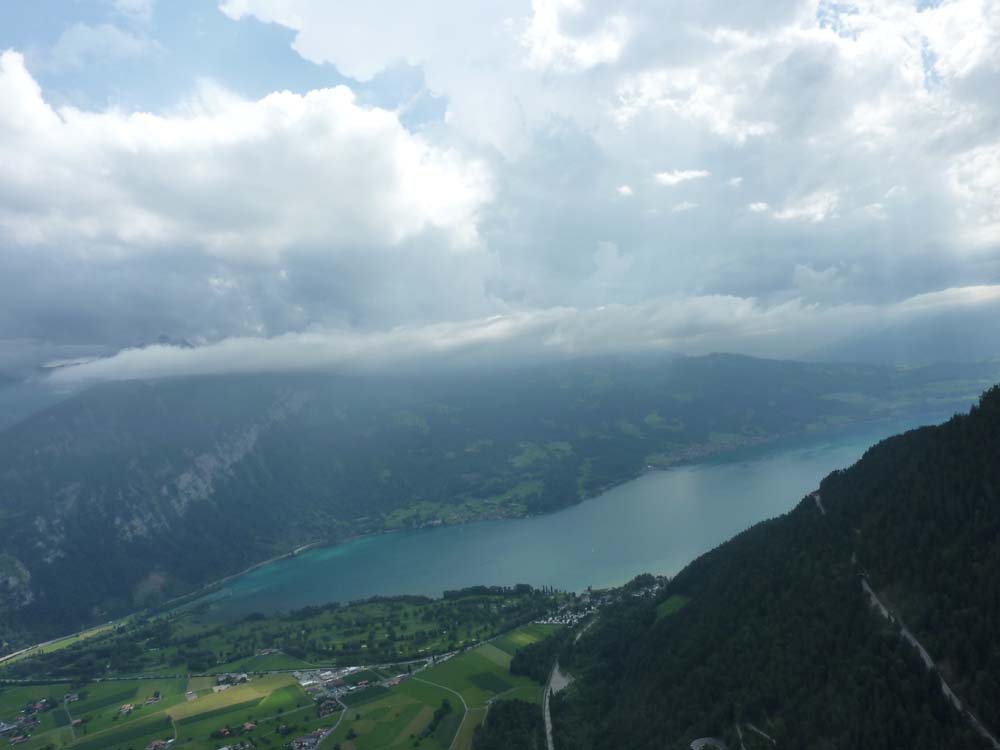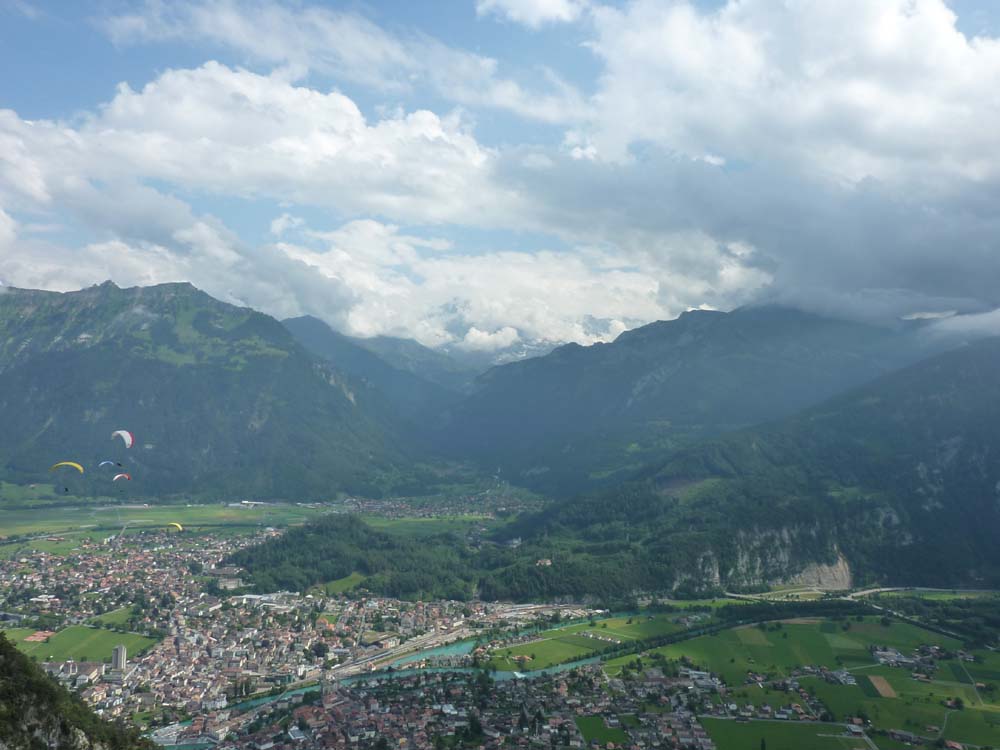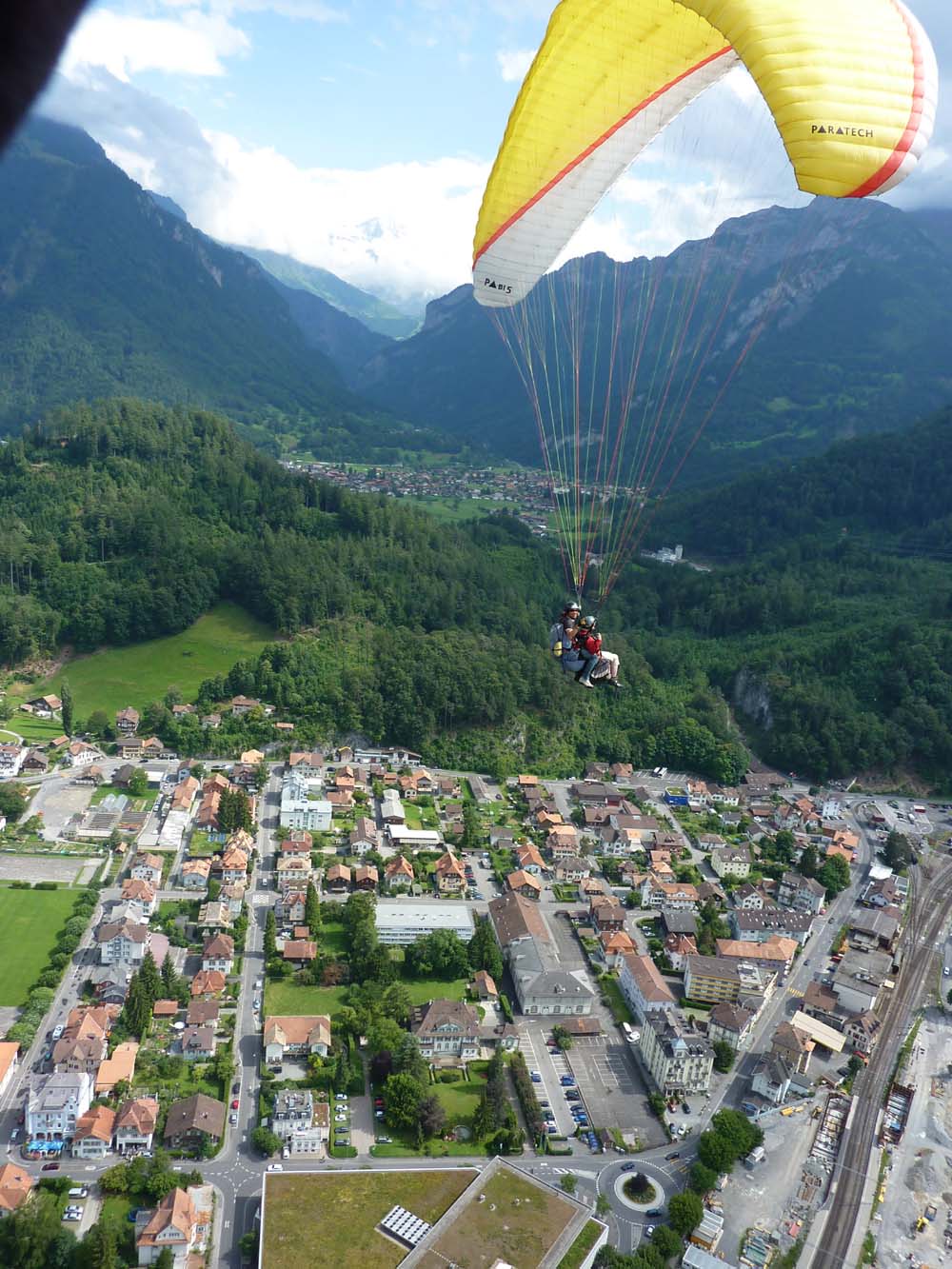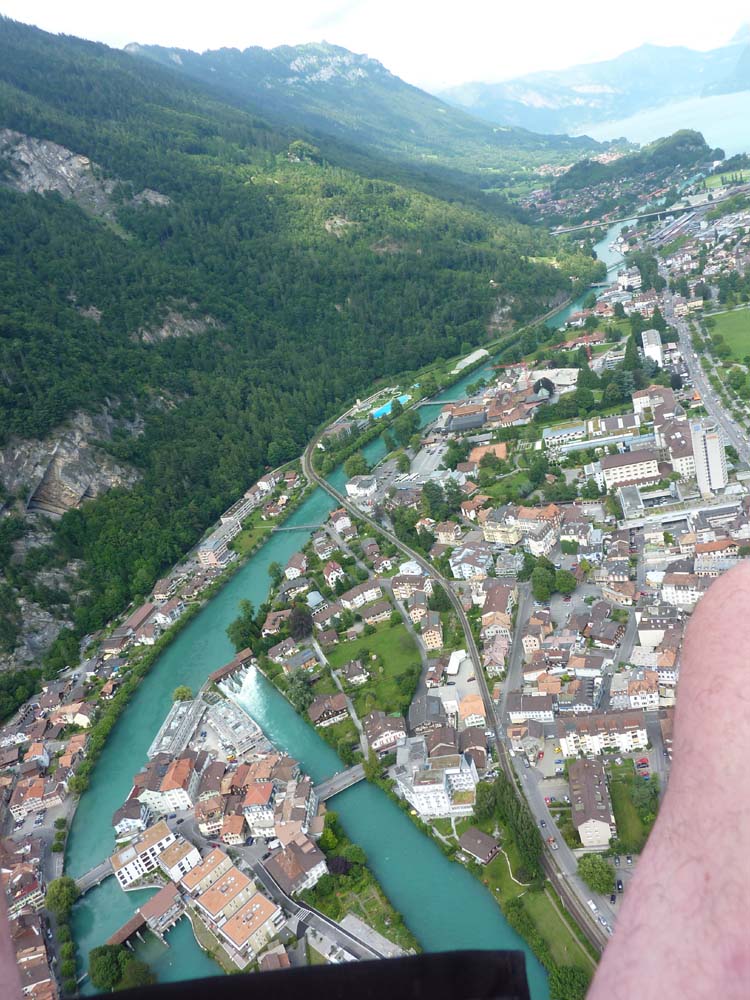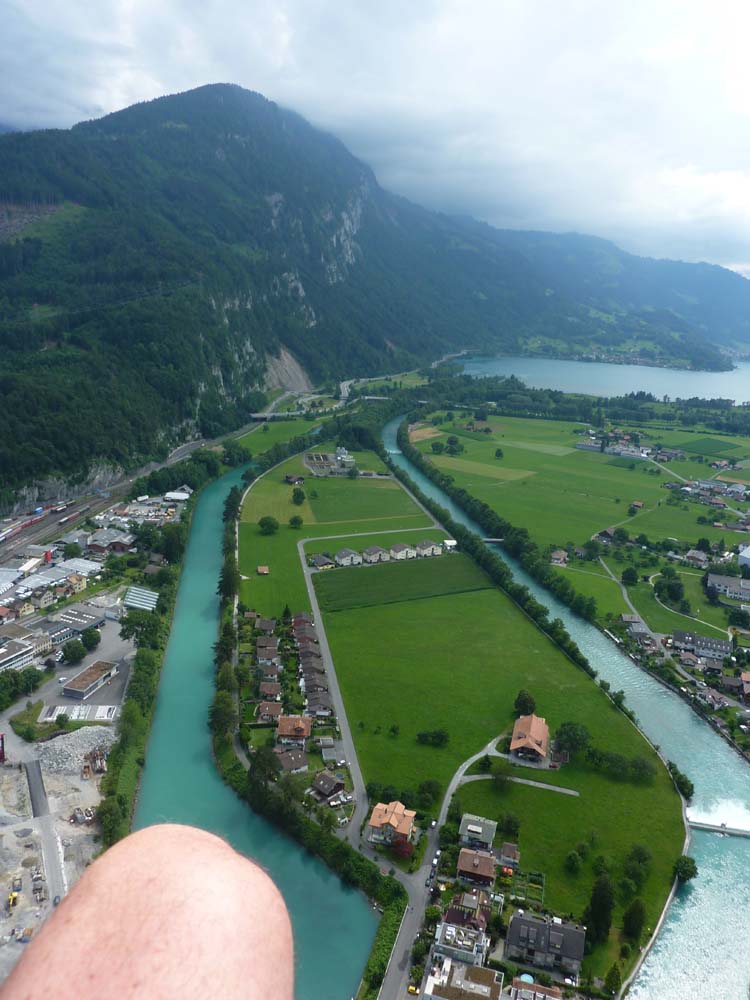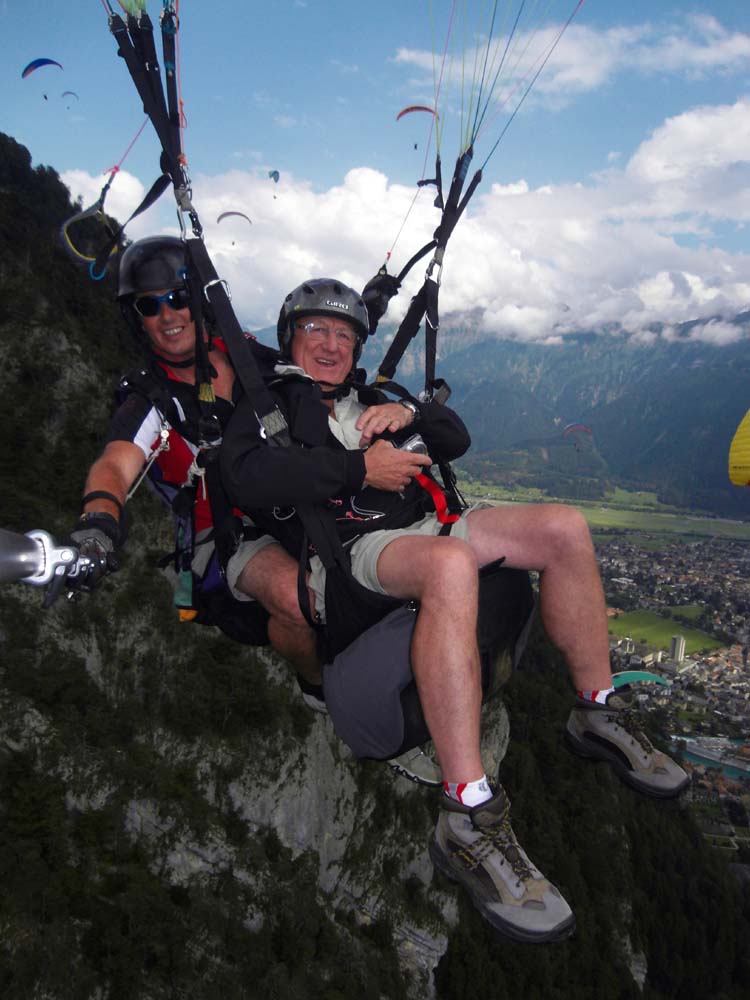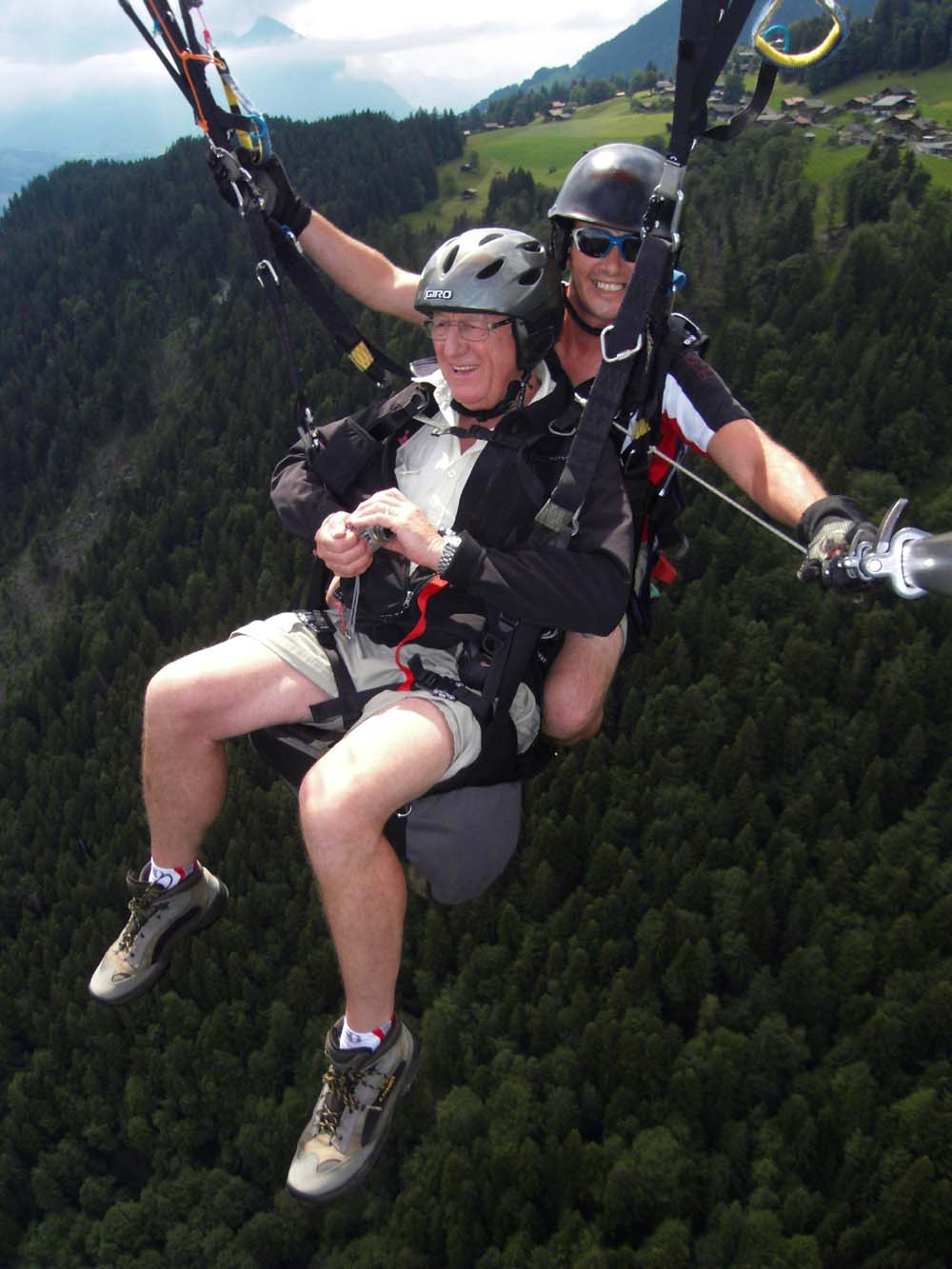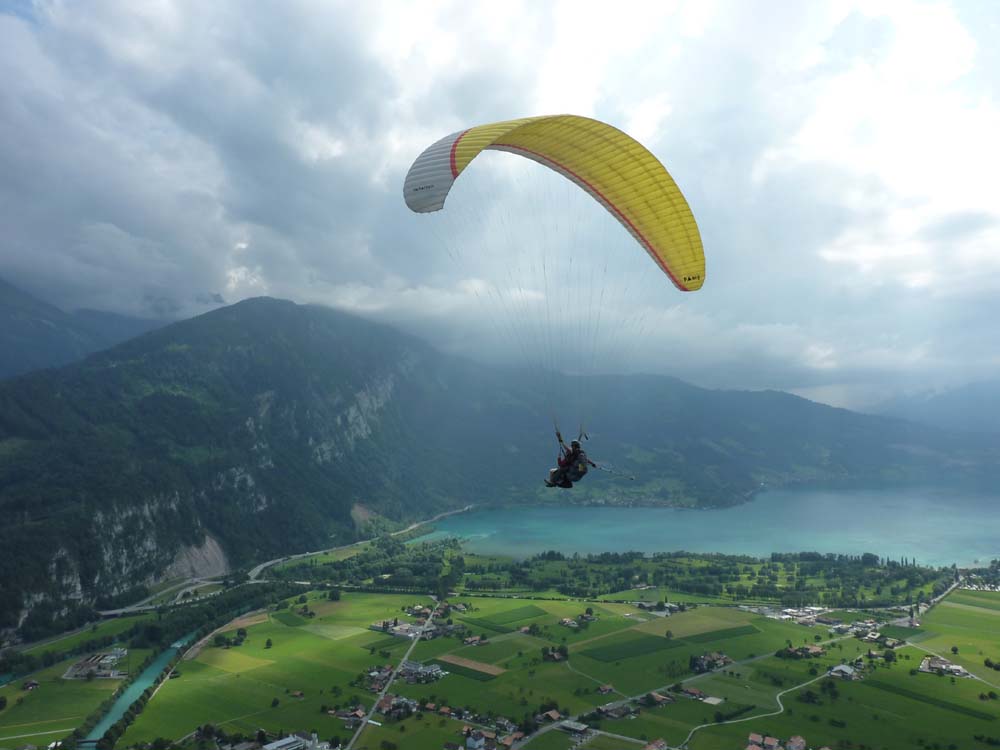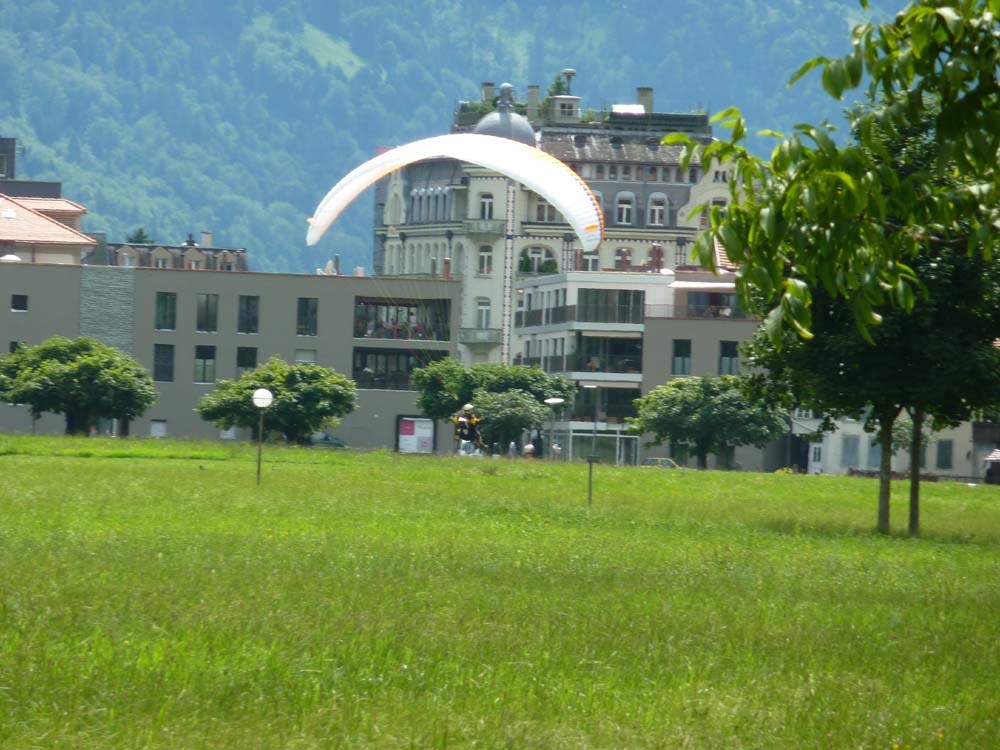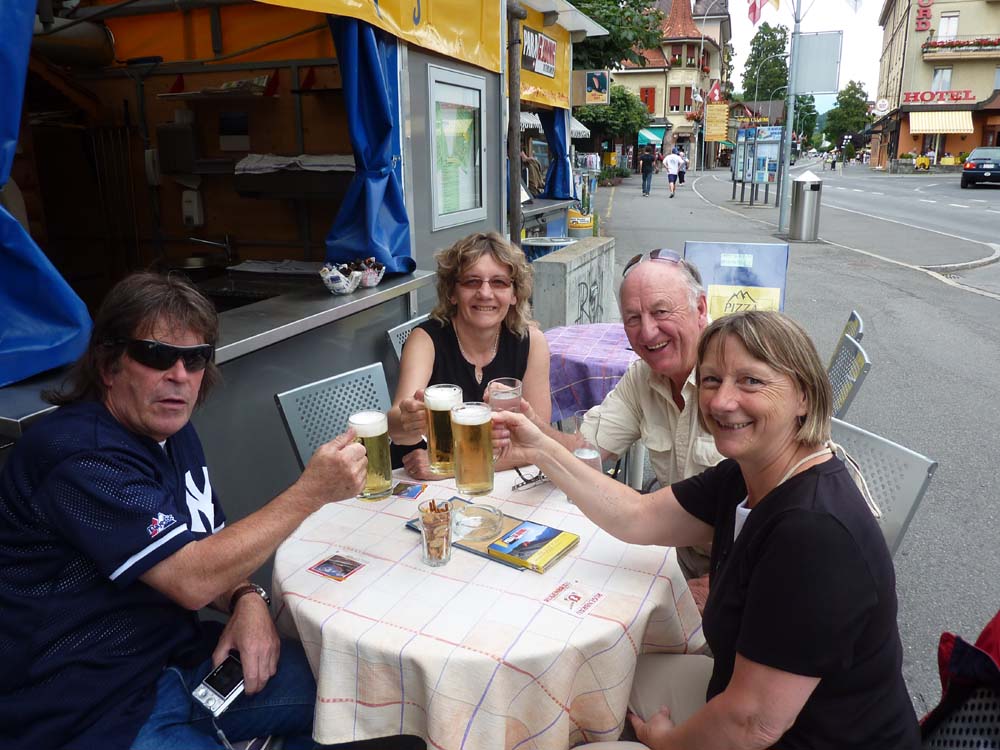 (423)
(Visited 230 times, 1 visits today)
Tags: Harold McNeill, Interlauken, Jack Start, Jungfrajoch, Lynn McNeill
Trackback from your site.