Posts Tagged 'Joy and Noel'
---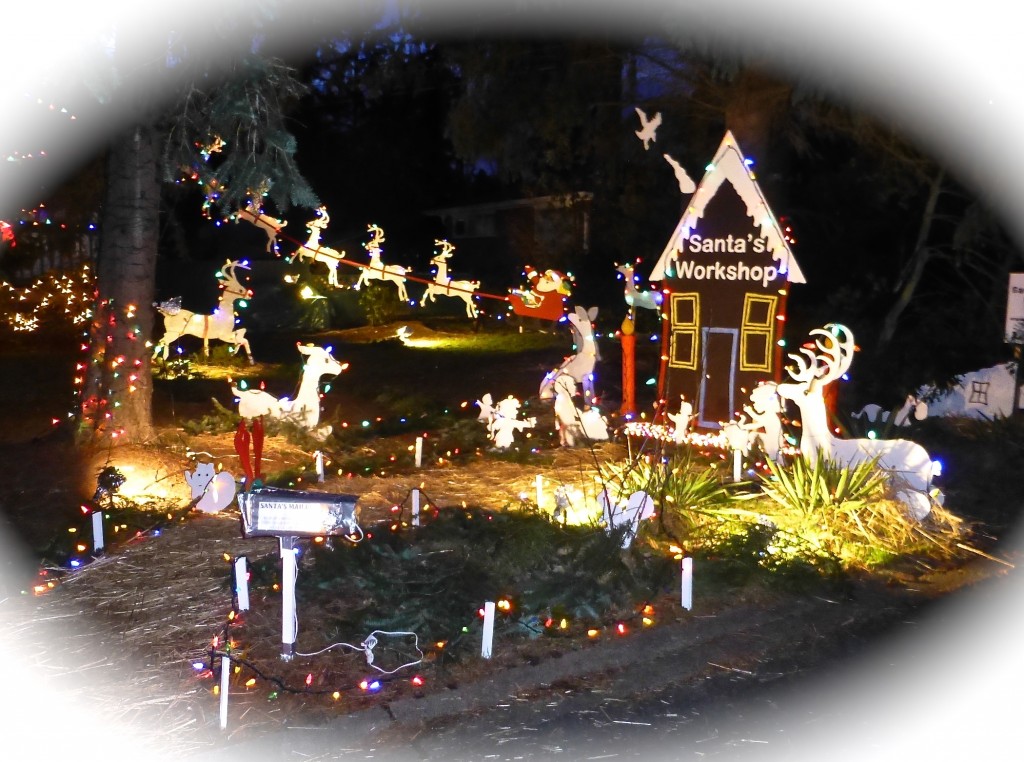 The above scene is from 2016. This year (2020) we have moved  Santa's workshop back to this location in a slightly altered form.
Location: 4402 Leney Place at Viaduct Ave East (off Viewmont, behind the Royal Oak Shopping Centre)
November 23, 2020.  Over the past couple of weeks, we have been busy adding new home crafted decorations on the tree at the corner.  These decorations were made from laser-cut items along with odds and sods from our laser leftovers box.  Lynn McNeill (Santa's helper) is a whiz at whipping these crafts together, then painting the pieces of 1/8th inch plywood (photo below). The ornaments range in size from 6 – 11 inches.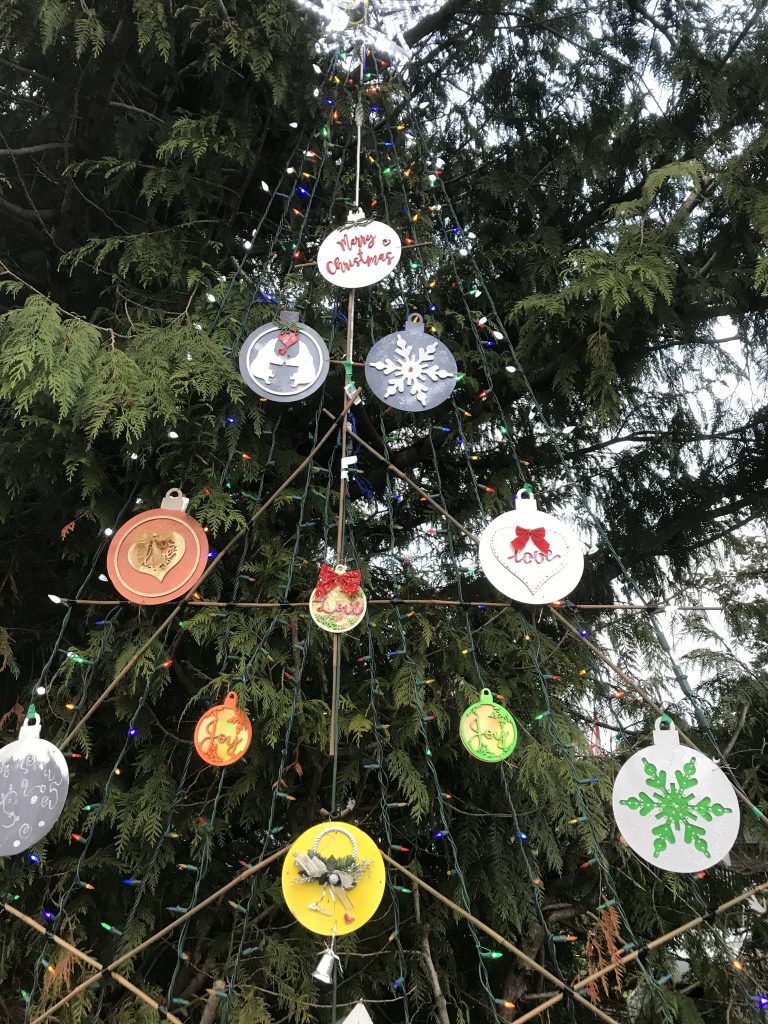 For a full line of art kits produced by the rest of Santa's team at the McTavish Academy of Art (1720 Mctavish Road, North Saanich) link to their web site.
December 14, 2013, 4402 Leney Place, Saanich, B.C.
(A Note from Santa Claus and his wife Angelina)
 Santa Claus and Rudolph: New Plans and Directions?
A message from Mr. and Mrs. Clause
Hello Santa Believers,
The new Santa Workshop and Team Training Area are ready. Just to let you know, Mrs. Clause and I  have stepped back from full-time work but we will be around to manage this new shop while my younger brother, Kris Kringle, takes over delivery duty his new sleigh. Rudolf's oldest son, Rudolph Junior, will now lead the team.  The full story of these changes is posted in the October story below.  Many thanks to all the animals, elves and young people who worked day and night to get things ship-shape for the new season.
In the current shop set up, a small pathway leads to a photo area in front of the Workshop. If you email a copy of your photo to harold@mcneillifestories.com, it will be posted and linked to the blog story. If anyone wishes to leave a note for Kris Kringle, Rudolph, or one of the other deer or workers, please place it in Santa's Mailbox. Answers will be posted in the comments section of this post.  You may also post your comment below.
You are invited to walk up to the front door of the workshop, but please stay within the confines of the path
In the past the McNeill Family have set aside various nights for Carol Singing, Hot Chocolate and Marshmallows Roasting "on an open fire" but due to the current COVID19 lockdown, we are just happy to have you drive by and enjoy the scene.
The display will be open from dusk until 1:00 am daily and on weekends until January 2, 2021.  The tree on the corner will remain lite until the Covid19 lockdown is over.
The best of the season to you and your family.
Santa and Angelina Clause
October 28, 2013: Original Story (continues)
(2562)