Posts Tagged 'Ron Hall'
---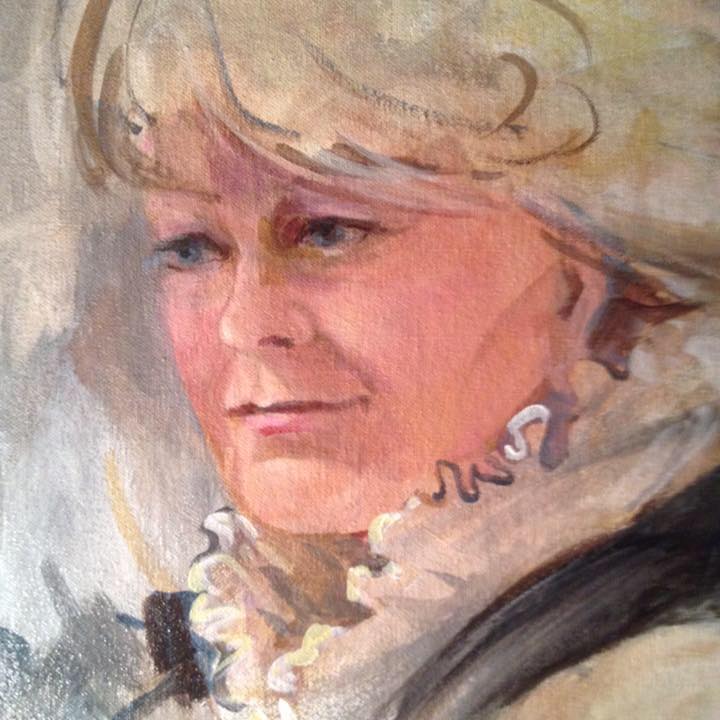 A Favourite Painting of Linda
A very happy birthday to our longtime friend Linda Simonsen as she now joins those of us who now occupy that amazing seventh decade of our lives.  It is a time to reflect upon all the good times we have shared with those who have been near and dear to us over the past several decades. (A Video Link is provided in the footer)
To provide a little perspective on how things have changed since Linda landed at her parents home in 1947, have a peek at the cost of a few key items as well as a few of the major events that took place in Canada in that year.
Average Cost of new home, $6,600.00
Average wage per year, $2,850.00
Cost of a gallon of gas, 15 cents
Average cost of a new car, $1,300.00
A loaf of Bread, 13 cents  
A Man's Sweater, $8.50 
Bulova Watch, $52.50
Two cans of Heinz Cream of Tomato Soup, 23 cents 
Leg O Lamb, 59 cents/pound 
Loaf Marvel Enriched Bread, 13 cents 
Dozen Oranges, 49 cents
And a few events that made the news in that same year.
January 1 – Canadian Citizenship Act 1946 comes into effect.
January 2 – Dominion of Newfoundland (later a province in 1949) switches to driving on the right from the left.
January 27 – The cabinet order deporting Japanese-Canadians to Japan is repealed after widespread protests.
February 13 – Oil is discovered near Leduc, Alberta.
May 14 – The Chinese Immigration Act of 1923 is repealed.
June 15 – The laws limiting Asian immigration to Canada are repealed; Canadians of Asian descent are allowed to vote in federal elections.
July 22 – Two new nuclear reactors go online at the Chalk River research facility.
September 30 – The last group of personnel who had been on active service, for World War II, since September 1, 1939, stood down.[1]
October 1 – New letters patent defining the office and powers of the governor general come into effect.
December 29 – Boss Johnson becomes premier of British Columbia.
Stephen Leacock Award: Harry L. Symons, Ojibway Melody.
The Federal law was changed such that Canadian women no longer lost their citizenship automatically if they married non-Canadians.
Now, sit back, take a few minutes to listen and watch as a few snippets of Linda's life flow by as Joan Baez sings Forever Young, Louis Armstrong, What a Wonderful World, and Randy Newman, You've Got a Friend in Me.
Note: I did not have sufficient space on the server to upload the HD version.  If you wish a copy I can arrange to forward it by other means.   Cheers,  Harold
(129)
---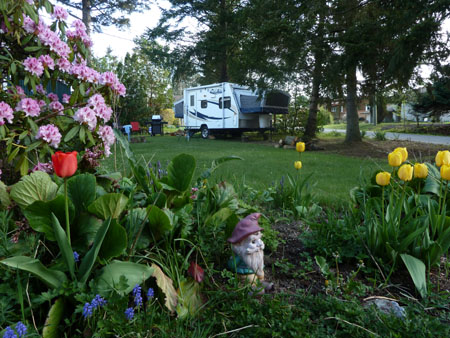 View across the front yard of Leney Place. The story of the Gnome is posted in a footer.
It only took four guys, three chain saws, one chipper, two hours and a bit of bush whacking, to clear a spot as close to home as we could get for our first "Camping Close to Home" experience of the 2012 season.  While driveway camping is "ok", it just doesn't feel the same as being surrounded by trees and a bit of grass especially when you look out from your bed at night.  It struck me this spring that I could do better than the driveway, so checked out the angles, trees and shrubs to find the best use of our smaller property.
After two days work this past week, the trailer was moved in, fireplace set up, BBQ moved from the back deck and we were 'good to go' for our first BBQ of the season.
As those who live in Victoria know, this week-end really kicked in the feeling that summer is finally on its way. Along with our friends Linda, Bjorn, Sandy and Ron (Sandy and Ron over for the week-end from the Lower Mainland to visit the Island Boat Show in the Inner Harbour), we settled in for an evening of wine tasting, hamburgers, potato salad and corn on the cob. Given the weather we have had over the past few months, it was a treat to sit outside by the fire without feeling one was going to develop hypothermia with those frigid winds blowing in off the water.
(407)
---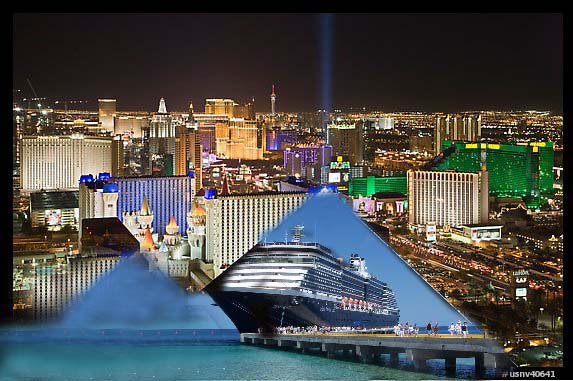 Photo: Holland America was the first cruise ship company to take a crack at the lucrative Las Vegas market with planned trips by the newly refurbised MS Westerdam this coming fall. This was made possible by building a giant canal from San Diego to the heart of the strip in Sin City. As with the Panama Canal this was a major undertaking that will surely become a big hit with the cruise companies.  When they complete the planned extension to Louisiana and the Gulf of Mexico in 2018, it will add a whole new dimension to the world of crusing.
Hello Friends and Friends of Friends.
A short description of the various stops and photographs from this
amazing adventure are now posted below.
(Scroll to "Narrative and Photo Gallery Links" Below)
 L
Left to Right: Anne, Herb, Lynn, Esther, Garth, Patty, Doug, Ron, Sandy,
Gloria, Jim, Bjorn, Linda, Harold (Absent while on leave for a cruise
through the Canadian Rockies, Roslie and John, Lib and Larry)
For the full set of pictures of the Viva Las Vegas pre cruise party held at the McNeill's
on September 16, 2012.  LINK HERE
Looking for a little adventure?  Thinking you might like to extend this coming summer by almost two weeks at the beginning of October?  Well, think no more.
Join these fun loving couples: Esther and Garth Dunn, Patty and Doug Cassels, Linda and Bjorn Simonsen, Ann Skelcher and Herb Craig, Sandy and Ron Hall, Gloria and Jim Arnott, Lib and Larry Lohr, Roslie and John Gold (welcome Visitors from Australia),  Lynn and Harold McNeill, as they climb aboard the recently renovated MS Westerdam for an historic cruise that will take us from Vancouver to San Diego (with a brief stop in Astoria, Oregon), then on to Las Vegas for our final 3 nights.
This 10 night package includes 4 nights cruising, hotels in San Diego (3 nights) and Las Vegas (3 nights), transfers, and flights from San Diego to Las Vegas and return to Vancouver.
Itinerary
30 September: Sail from Vancouver at 4:45 pm
1   October: Astoria, Oregon
2/3 October: At Sea
4-6 October: San Diego
7   October: Fly from San Diego to Las Vega
7-9 October: Las Vegas
10  October: Fly from Las Vegas to Vancouver
We will be staying at the Holiday Inn on the Bay in San Diego and the Excalibur ($10 more) in Las Vegas, (The Luxor and Harrahs are two alternate options you may choose from with this package for no additional charge).
Package price begins at $839.00 for an inside cabin (under $1200 with all taxes and fees) – based on double occupancy (other stateroom categories, as well as single and quad rates, are also available).
Patty and Doug have taken advantage of similar re-positioning cruises before and have found them to be of excellent value, with a great itinerary.
If you would like to join with us this fall for 11 days of fun and laughter, please contact Lynn as soon as possible. (With such a great deal, space is limited, – several other itineraries have already 'Sold Out'.) $250 per person deposit is required to hold your space- refundable up to 90 days before departure.
Contact Lynn by phone, email or Facebook
Office:250 656-5441   Email: lynnmcneill@cruiseshipcenters.com
Harold Contact: harold@mcneillifestories.com
September 17, 2012: Special Bookings:
World Premier of the Musical "Allegiance" a new American Musical at the Old Globe Theatre in San Diego.
(1440)