Posts Tagged 'Shirley Wheeler'
---

Photo (Author Files): This bank was robbed several times over the years.  While all bank robberies have the potential for violence, the robbery in this story had a particularly tragic outcome for an ordinary family.
Bank robbers come in all shapes and sizes
as well as from varied backgrounds
The recent story of the young Calgary woman, a University Student Union President, made National headlines that thrust her into a certain kind of notoriety. Living a secret life, she is alleged to have committed several frauds as well as at least one bank robbery, the one for which she was recently arrested.
While the Oak Bay case is not a carbon copy it follows a similar circumstance, but is one in which the ending was far more tragic.  Again, Detective Sergeant Al Campbell, was the lead investigator, the same Detective Sergeant who arrested one of the FBI's Most Wanted – a multi-millionaire drug trafficker from Indiana who had been tracked down in south Oak Bay. (Link Here)
At one time during the 1970s and early 1980s, Oak Bay might easily have been tagged with the dubious distinction of being the Bank Robbery capital of the British Columbia, if not all of Canada. With a population of barely 15,000, there were several banks along Oak Bay Avenue and a lone bank on Estevan Avenue, banks that acted like catnip to robbers. Each bank was hit at least once and a few, more than once. For staid old Oak Bay, it was big news as bank robberies were still considered to be the most flamboyant and, at times, the most glamorous of crimes.
(5522)
---

Photo (Farm Life): In the early years of living on the farm in Saskatchewan, winter blizzards could arrive suddenly and last for days. Travelling in such such weather was a dangerous affair.
Link to Next Post: A New Beginning
Back to Main Index
Deep Winter, 1941: Northern Saskatchewan
It was just after 10:00 am when the pain struck causing the soon to be mother to double over. She grabbed the kitchen table to keep from falling as the pain slowly eased. Home alone and two miles from the nearest neighbour, ten miles from the village of Glaslyn, and forty-five from the hospital in Edam, she was frightened as she had no idea what time her husband might return. Outside, the bone-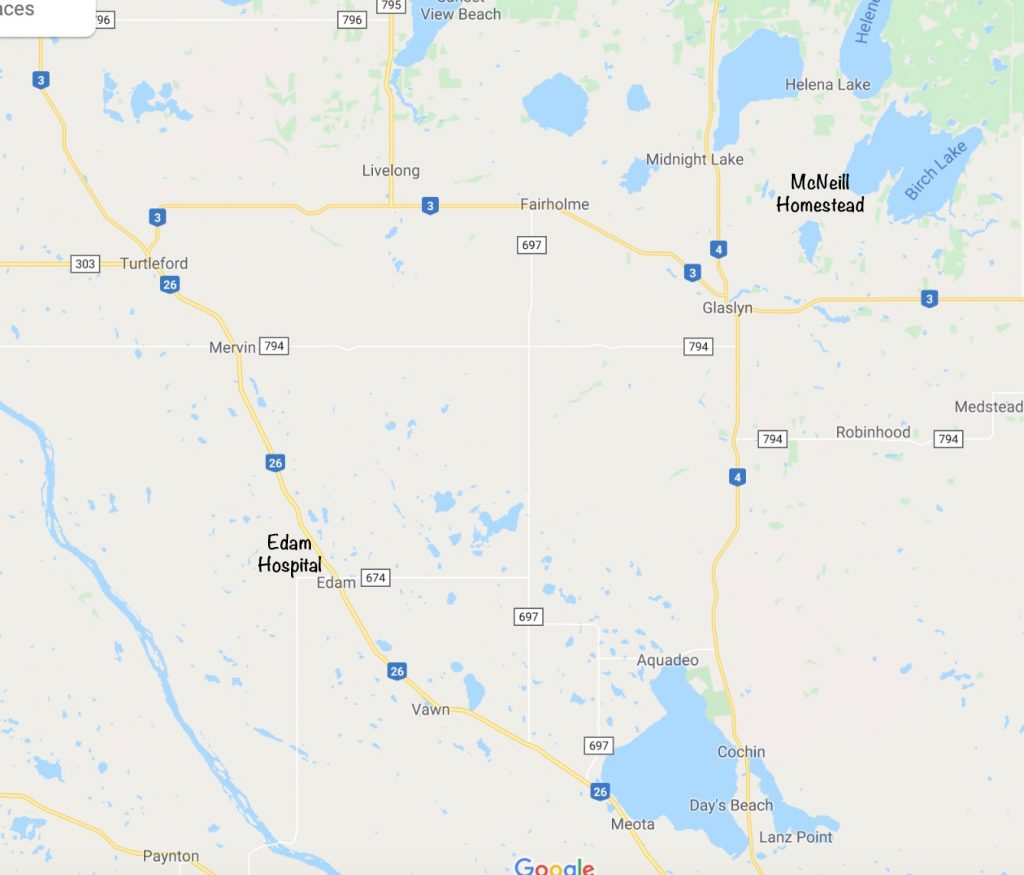 chilling cold of the January blizzard continued to dominate everything in its path.
Map: Open in a new window for full size.
The high winds rolling off the southwest shore of Birch Lake pounded their log cabin and although partially sheltered by a thick of caraganas and grove of poplar, the wind treated these barriers as minor annoyances. Each time a gust hit, it felt like her little home might be shaken from its foundation.
To make matters worse, the wind created a forlorn howling sound as it whipped through the trees around the house. Those sounds seemed to the expectant mother to be among the most lonesome in the world, right up there with wolves howling in the wilderness or a loon calling across a dead calm lake at dusk. What would she do if the baby could not wait?
While the temperature had remained steady near -20F, Laura noted that later in the morning it started to drop and was now nearing -25. Over the past few winters, it was not uncommon to see the temperature drop to -50 or -60F during a cold snap. It was always hard to tell the exact temperature as the mercury froze at -40. Add to that the wind chill and exposed skin would freeze within seconds and breathing super cold air could damage lungs so quickly that, in her condition, walking to a neighbouring farm would be a risky, perhaps deadly proposition. She knew of people who become lost in such storms and froze to death.  No, her best bet was to sit tight and wait for her husband. If the baby came she would just make due. It would be a January blizzard forever etched in her mind.
Years later when telling the story, she still shuddered at the memory:
(3088)