Posts Tagged 'VicPD'
---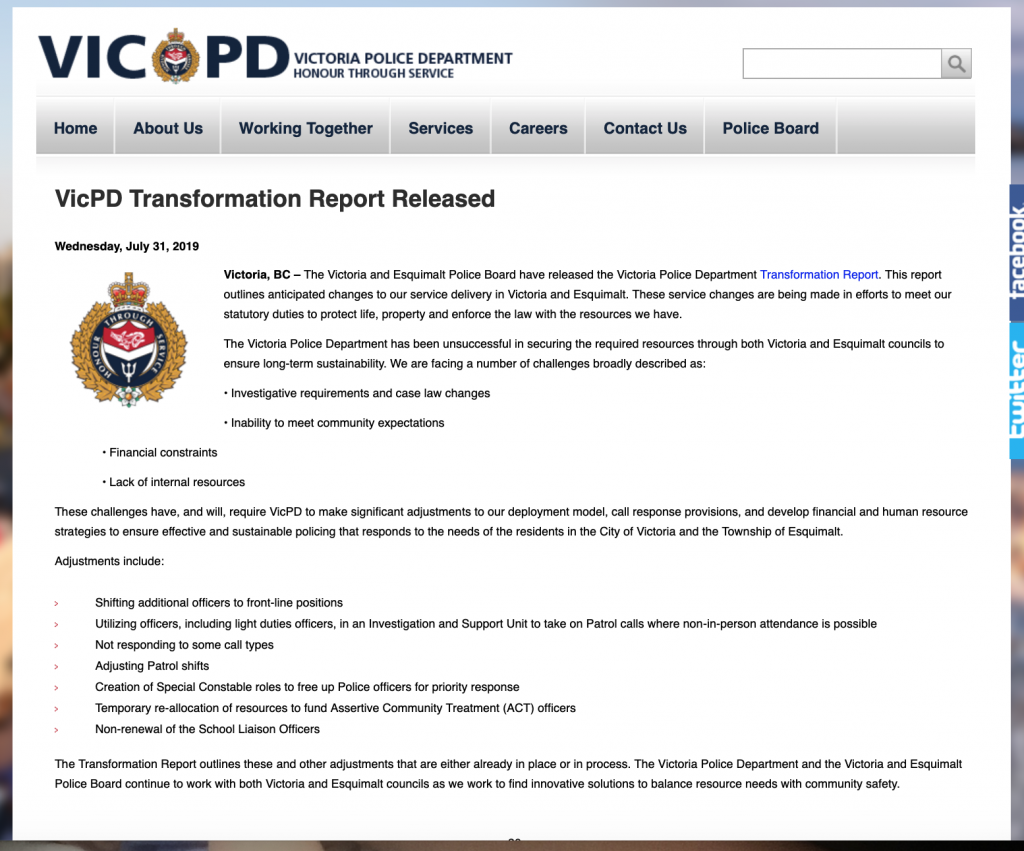 Thank-you Chief Del Manak.
Along with your administrative staff and members, you have now taken ownership of challenges faced by VicPD and our Capital City. Don't ever underestimate how important the step you have taken is in bringing about real change. It's been over two decades since a Victoria Chief Constable pushed back against powerful backroom forces touting amalgamation as the only solution.
Introduction
This post serves to introduce both Chief Manak's Transformation Report, as well as the broader discussion of policing in the CRD as presented in a recent four-part series Changing the way police do business.
While the Chief must cross many hurdles, he has taken the first step by asking his members and the citizens of Victoria to look inwards by defining what must be done if the force is to meet the challenges of the 21st century.
An initial move was made in the late 1980s and 90s, when another force insider, Chief Constable Douglas Richardson, and his immediate predecessor, worked to correct some long-standing deficiencies. Moving to the new police station on Caledonia was one giant step forward. However, following Richardson's retirement in 1999, progress stalled for one simple reason – the voices of amalgamation took over City Hall and the Police Department.
Amalgamation or Bust
(250)
---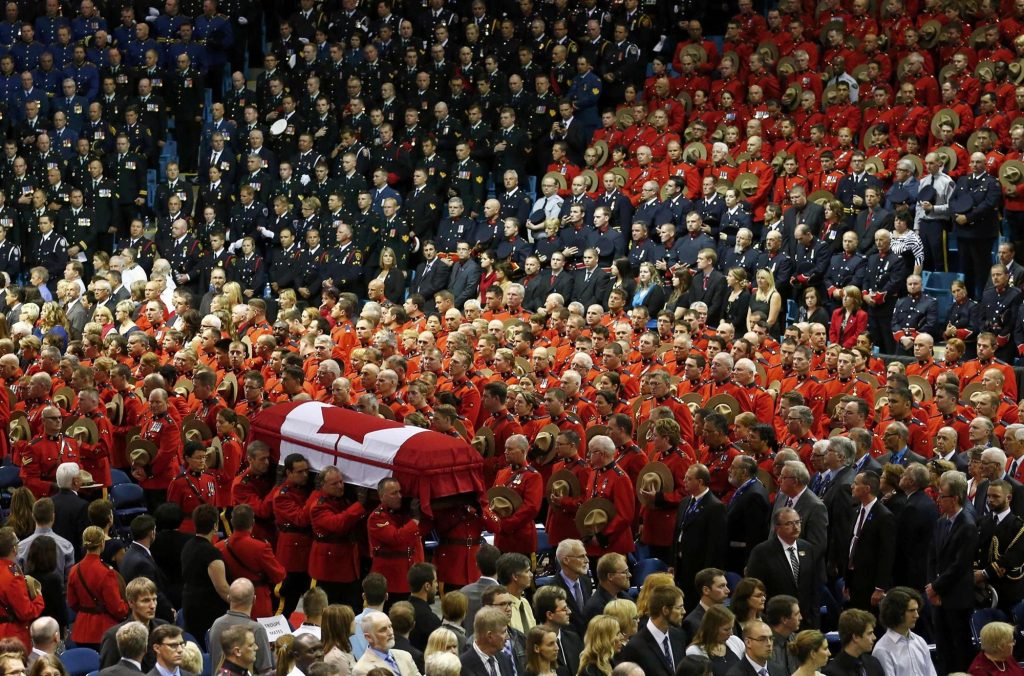 I don't think anything demonstrates the solidarity of police officers more than when attending the funeral of a comrade killed in the line of duty. This photo, taken in Moncton in 2014, captures the essence as officers from across Canada and around the world bid farewell to Constables Fabrice Georges Gevaudan, 45, David Joseph Ross, 32, and Douglas James Larche, 40, killed during a shooting spree.

The shields of Central Saanich, Oak Bay, RCMP, Saanich, and Victoria represent the ideals of comrades in arms.

Part II, Comparing differing police cultures
Part III, The past as a guide to the future
Part IV The integration of police services
Link to CBC Podcast: Policing in the CRD
Contact: Harold@mcneillifestories.com
This series of posts will explore some of the past, present, and possible future directions of policing within the Capital Region. It will include discussions about differing police cultures, how they clash and how they work together; and, of course, thoughts about amalgamation, a topic frequently thrust into the public eye.
The Victoria/Esquimalt joint force will be singled out for additional scrutiny, as over the past sixteen years the debate about that merger is also kept in the public eye. While the administrators of the joint force often use the challenges they face as a bargaining chip, it is also used by others to advance an ideological purpose as in a recent letter penned by the President of the Greater Victoria Chamber of Commerce. (1)
Although the post will deal with sensitive areas of police work and police personality, I steadfastly maintain police officers in the CRD and across Canada, are among the very best in the world.  Corruption is not a part of our police culture and while it was present in the last century, it was rooted out and systems put in place to ensure it did not return.
When Canadian police officers swear their Oath of Office, they take that oath to heart.  What is sometimes lacking is solid, independent oversight of the sort that provides an unbiased assessment of police actions when those actions are called into question be they external or internal.
Also, in press articles, when references are made to 'dysfunction' or 'a broken system' by the press or others, they are overstating their case.  While the challenges to be addressed are difficult, those challenges do not stop our police officers from maintaining an even-handed approach in enforcing the law and helping citizens within our largely peaceful communities.
Part 1:   Police solidarity and the push for amalgamation
(364)
---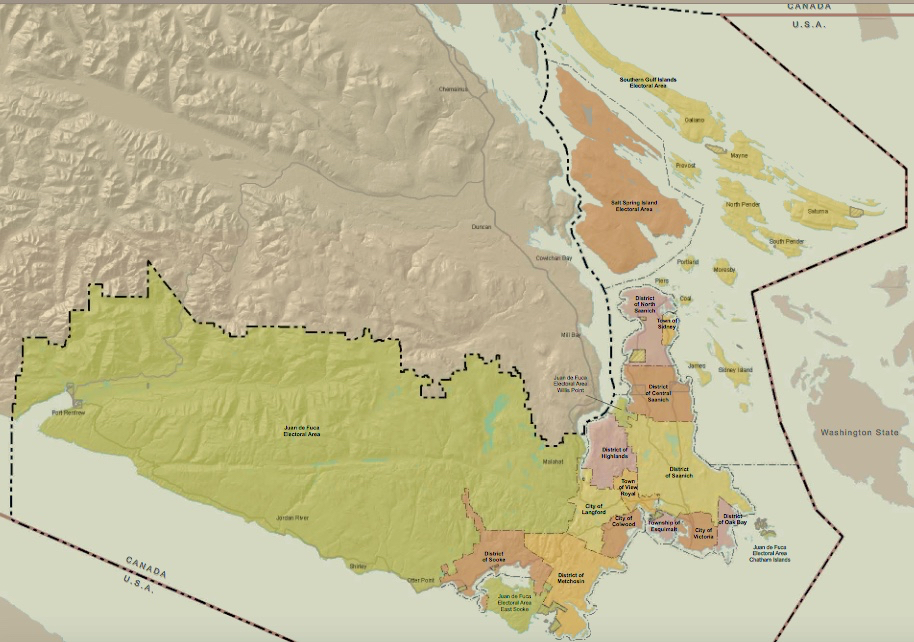 Map One: The Capital Regional District

Contents:
I. Introduction: A Thumbnail Sketch of 'Our City' (a few statistics)
2. Can internal amalgamations save money?  (not likely and let's look at the experience in other areas)
3. Who or what is propelling the push towards amalgamation? (is there widespread community support?)
4. Building on our strengths, a better path to follow (what can provide the best bang for our buck)
Part I. Introduction: A Thumbnail Sketch of 'Our City'
Did you know British Columbia is the only Province in Canada where the cities, towns, municipalities, and unorganized territories, underwent amalgamation over 50 years ago? Over five years beginning in 1965, it was the most extensive series of amalgamations in the history of Canada, and it was unique in that constituent members retained the power to oversee a sizeable portion of their internal affairs. It was the best of both worlds and to this day remains a model for managing the affairs of politically and geographically diverse communities across British Columbia.
                                            Map Two: British Columbia Regional Districts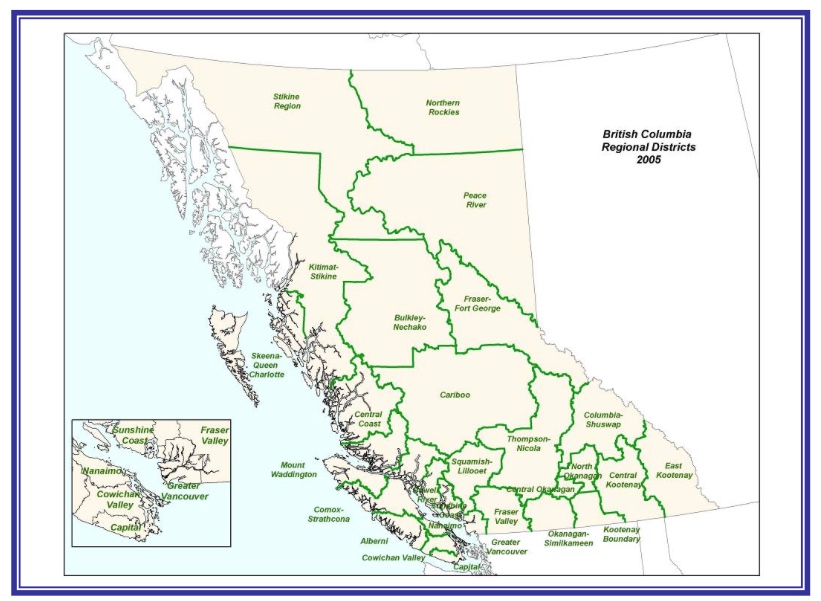 Regional Districts have a combination elected/appointed city structure (1) that is every bit as real as that found in cities like Calgary, Edmonton, Regina, Winnipeg, and Toronto. Did I say Toronto? Well, let's not go there just yet. In Greater Victoria, our city is called the Captial Regional District (CRD), and it's more extensive than you think.
(764)