Posts Tagged 'Joel Sherlock'
---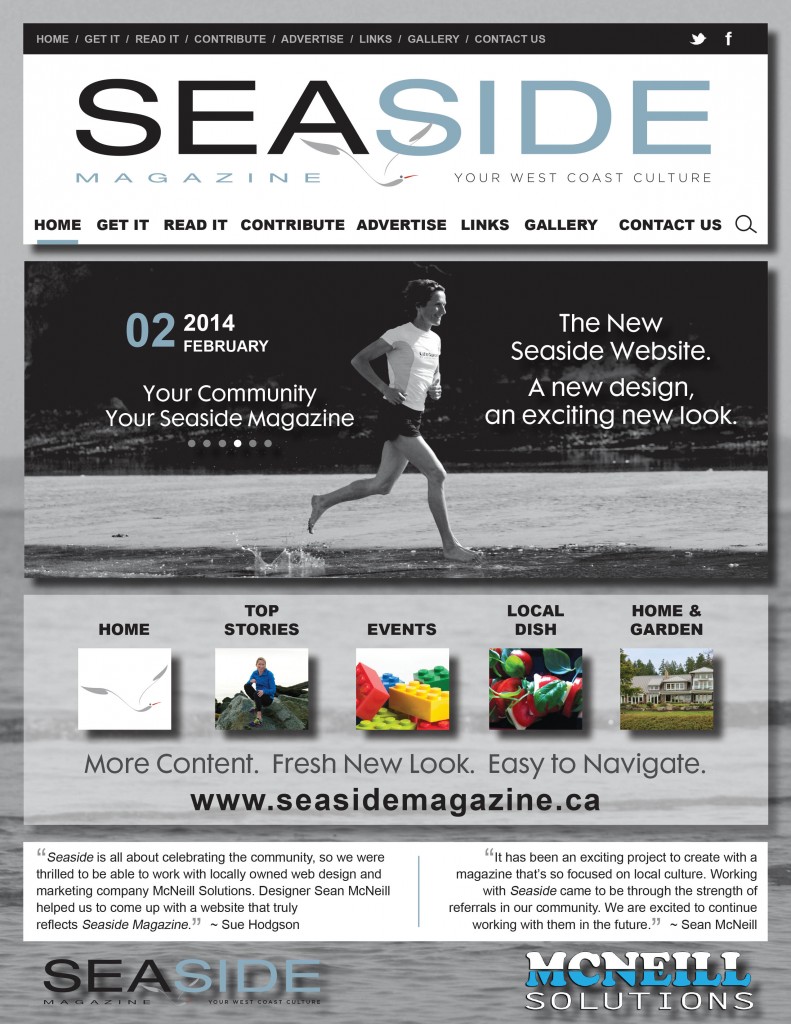 Screenshot of the February Seaside Magazine Web Site
(also, page 7 of the February 2, 2014 Edition)
The Homepage of the Website changes each month to match the cover of the hard copy edition.
Link to Seaside Magazine
Link to Photos of the new Seaside Magazine Reception at Mary Winspear Centre
Link to the Most Recent Update (February 27, 2014)
Congratulations to Sue Hodgson, Publisher of Seaside Magazine on the launch of the new Magazine Website.  The site, designed by Sean McNeill of McNeill Solutions, provides a bold new online presence for the locally owned and published magazine.
Sue Hodgson and her talented staff, Editor in Chief, Allison Smith; Design Assistant, Kelsey Bormann, and Advertising Sales, Marcella MacDonald, have worked to create a dynamic magazine catering to community interests along the West Coast with particular focus on lower Vancouver Island.  Sue speaks to the collaboration between Seaside Magazine and McNeill Solutions:
"Seaside is all about celebrating the community, so we were thrilled to work with locally owned web design and marketing company McNeill Solutions. Designer Sean McNeill helped us to come up with a website that truly reflects Seaside Magazine."
From his side of the equation, Sean states:
"It has been an exciting project to create with a magazine that's so focused on local culture. Working with Seaside came to be through the strength of referrals in our community. We are excited to continue working with them in the future."
Congratulations, Sean, on a job well done and to Sue and staff for their continued pursuit of excellence in the production of a quality magazine.
Harold McNeill
Link here to a January 2013 article on the launch of the Seaside Magazine 
SIC Beauties: A new post being written explores the efforts of a group of young people as they work to enhance their artistic abilities as well as bring a high level of social commitment to their entrepreneurial efforts. It is in this new world that many young people seek to find new ways to interact with each other and with their business contacts.  The photos below include several Young Entrepreneurs who are part of the SIC Beauty Crew.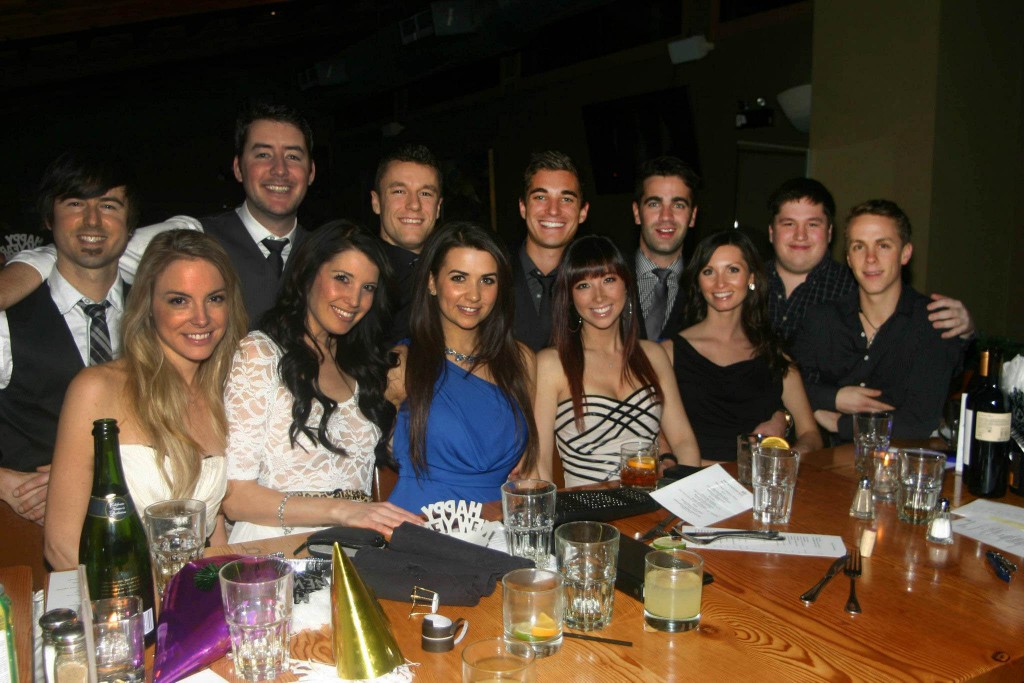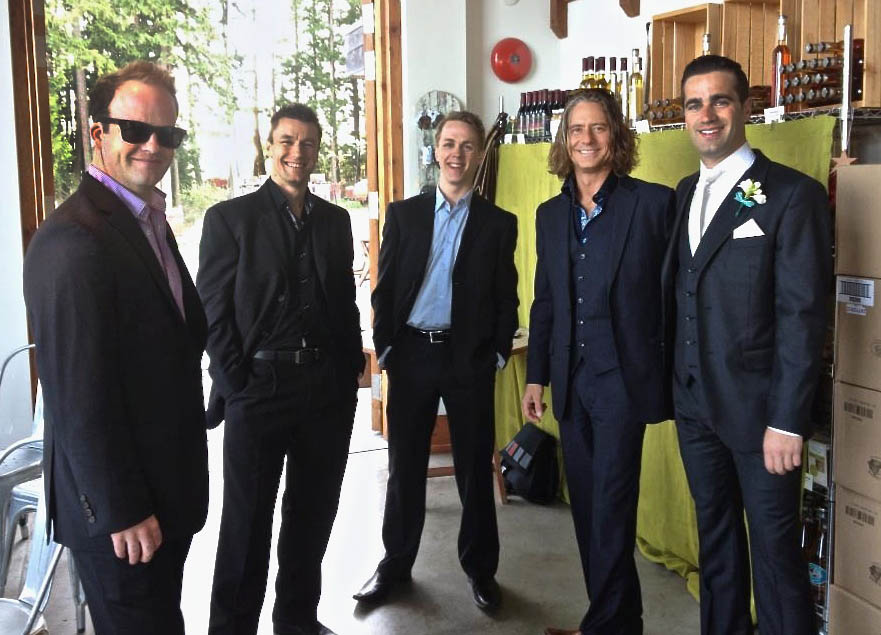 (1159)
---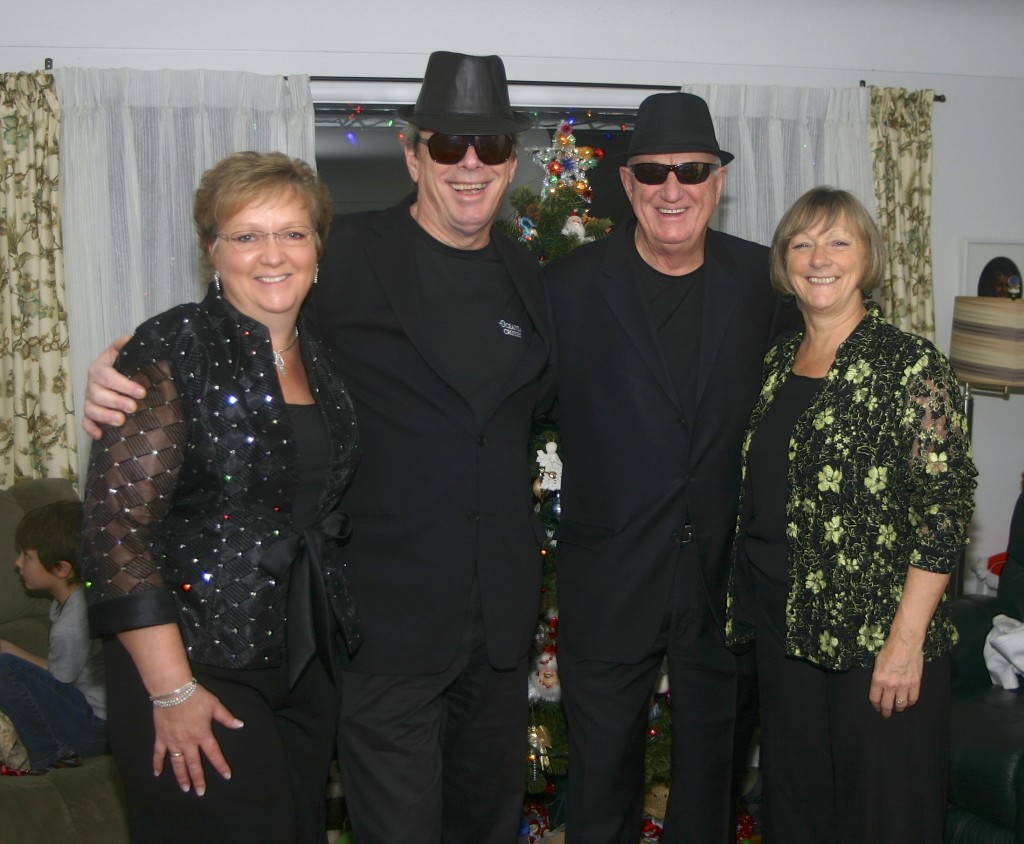 New Years Eve: Esther and Garth, Harold and Lynn ready to head out.
It is truly a joy when the kids volunteer to stay home and let the old folks head out for a night on the town on New Years Eve.  Of course the kids gave us a stern warning about "drinking and driving" and told us that if we felt we have had had to much, to just call home and one of the them would drive out to pick us up.  Thank you to Jay and Jennifer, Kari and Grayson, Christine and Audrey for looking after things on the home front (Link Here). We will check in at the bewitching hour.
All the Best in the New Year, Mom, Dad, Garth and Esther
December 31, 2013: Brentwood Inn, Brentwood Bay, B.C.
As the hours and minutes ticked away towards midnight, Lucas J. Copplestone and Drew Betts continued to work their musical magic. It was not long before the entire Inn was rocking.
It was to be another New Years event where we met more of the parents of the kids you see in the photo below.  It never ceases to amaze how inclusive these young people are. Over the years they are always encouraging their parents not only to attend, but to become fully involved whether it be a local events or on holidays to some other part of the world.  Each is always anxious to introduce his or her parents to the parents of others as they are as proud of their parents as their parents are of them.  Over the past several years it seems our family continues to grow in leaps and bounds.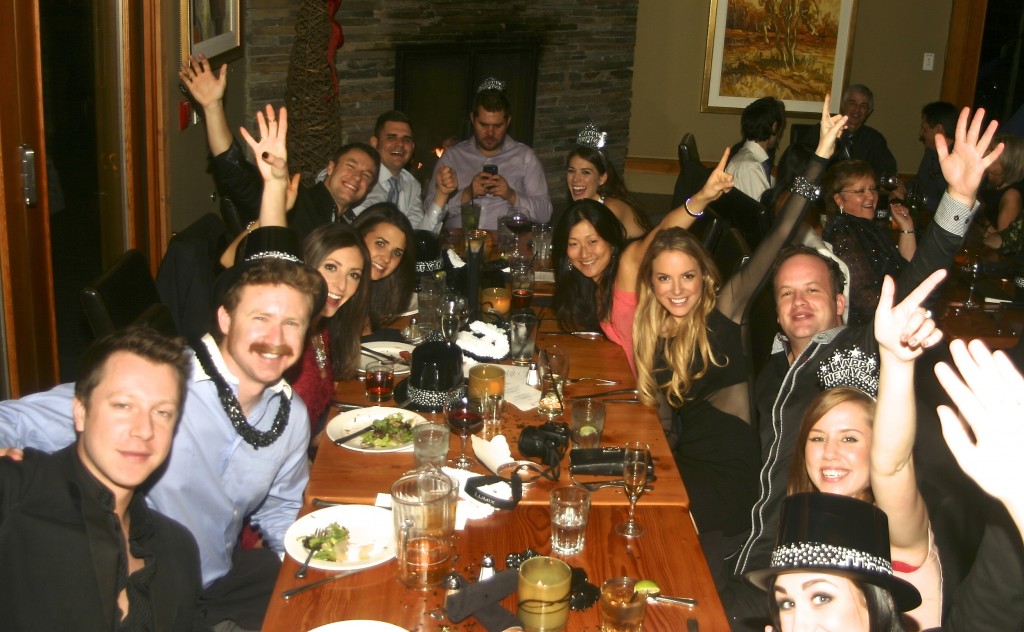 Part of the younger side of the New Years 2013 Crew.
For a full set of New Years 2013 photos: Link Here
For a full set of New Years 2012 Photos: Link Here
(note: the 2012 photos are posted on my personal FB Page)
Other group celebrations from 2012
Purple Day Plane Pull: Link Here
Seaside Magazine Celebration: Link Here
New Orleans, Gulf of Mexico and the Caribbean includes several albums: Link Here
A Celebration at Zajac Ranch includes several albums: Link Here

Of course, there were a good many other celebrations and destinations in 2013, many of which is posted on the McNeill Life Stories Facebook Page and on this Blog
(981)
---
Canadians Invade New Orleans: Seize Navigator of the Sea's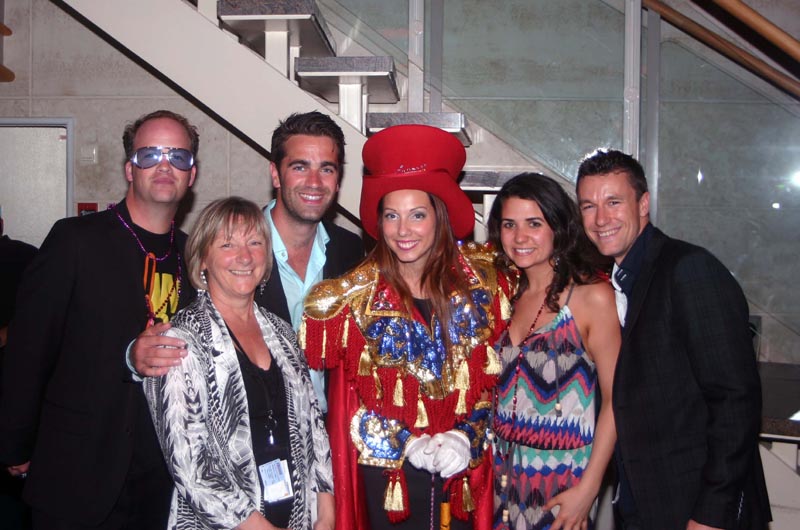 Photo: SIC Beauty members with the Cruise Director: An important thing to do on any cruise is to become friends with the Cruise Director.
This post begins with the second part of our holiday when our twenty-two member travel crew joined forces aboard the Navigator of the Seas.  Rather than provide a traditional look at life aboard the ship, I have worked to provide a flavour of the special times and friendships that emerge when people actively seek out others to share their festivities.
There is little doubt that upon our departing from the Navigator, there will be a good percentage of the passengers and crew on board who will remember the fun-loving Canadians.  While I have drawn attention to some our antics, it was all good clean fun on this special family holiday.  
(1753)