Twenty-First Chromosome Leads to Enlightenment
---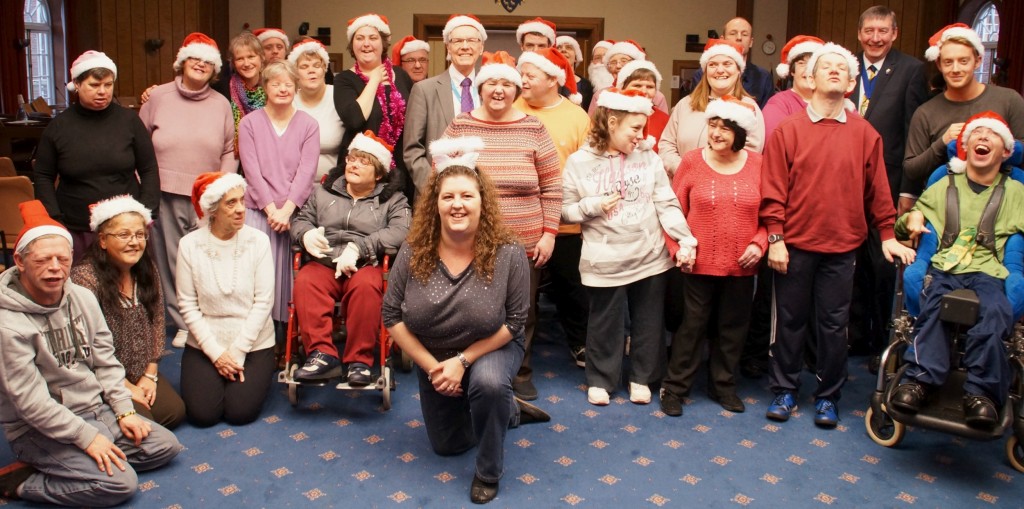 Photo (Web Source): Several young people, a few of whom share a quirky 7th or 21st chromosome, gather for a Christmas Party.  Within the group can been seen a few like our son who have that quirky 7th that is commonly known as Williams Syndrome (I)
Recent Videos:  May 14, 2022. A Quick Look at Williams Syndrome
February 14, 2022. 60 Minutes Australia Discuss Williams Syndrome
A Winning Smile, A Loving Heart (2020 Birthday Video)
Re: Open Letter Penned to Anne Coulter
On October 23, 2012, a young man, John Franklin Stephens, an Olympian, posted a letter to Anne Coulter on the Special Olympics blog. In the letter John chided Anne for her insensitivity by referencing President Barack Obama as a retard. John, a very inquisitive and sensitive man who entered life with a mix-up in his 21st chromosome, inquired of Anne as to why she choose to use the word 'retard' to describe President Obama. John's comments include: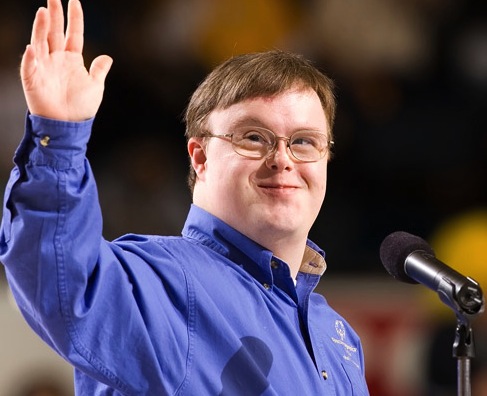 … I thought first of asking whether you meant to describe the President as someone who was bullied as a child by people like you, but rose above it to find a way to succeed in life as many of my fellow Special Olympians have.
Then I wondered if you meant to describe him as someone who has to struggle to be thoughtful about everything he says, as everyone else races from one snarky sound bite too the next.
Finally, I wondered if you meant to degrade him as someone who is likely to receive bad health care, live in low grade housing with very little income, and still manages to see life as a wonderful gift…
… After I saw your tweet, I realized you just wanted to belittle the President by linking him to people like me. You assumed that people would understand and accept that being linked to someone like me is an insult and you assumed you could get away with it and still appear on TV.   Link here for Letter
John's words struck a chord with my wife and me (reference footnote 2) and with the general public. His remarks were shared widely across the internet and in news reports worldwide. When kids were called names in my school years, they would often resort to the singsong mantra: "Sticks and stones may break my bones, but names will never hurt me." Perhaps! These taunts were often passed singly from person to person or within small groups at school or on the street in an earlier age. The coverage, while hurtful, was relatively narrow.
Today, broadcast media and the internet allow such taunts to go viral. Within short order, a single tweet was shared among thousands, perhaps millions, as in the case of the post by Anne Coulter. We have all read stories of the tragic results, and Anne is not the only person responsible for such thoughtless, mean spirited words and actions.
Why are words of a taunt used to describe an individual or groups of people? For many, racism and prejudice play a significant role as individuals and groups seek to demonize those they do not understand or who they might hate for a thousand different reasons. In recent years, the Muslim community has taken the brunt of such prejudice, while at an earlier age, others (e.g. Irish, Italian, Chinese, Japanese, Eastern European, etc.) were vilified. For others who carry on this practice, they may use it to assuage feelings of inadequacy or inferiority they sense within themselves. For ordinary folks like Anne, the taunts are used to gain notoriety and to aid in holding a job that provides an excellent salary and notorious celebrity status.
Take a moment and think about words that have been invoked over the past 100 years to belittle or degrade a defined cultural group or those connected by a common interest or orientation (e.g. race, religion, sexual, disability, etc.):  Nip, Kike, Pongo, Nigger, Kraut, Wop, Bow and Arrow, Nestor, Wagon Burner, Chug, Frog, Spick, Bohunk, Wigger or Wegro (for Irish), Chink, Slant Eye, Pollack, DP (Dumb Pollack), Rag Head, Towel Head, Waki Paki, Dogan, Infidel, Bible Thumper, Carpet Kisser, Christ Killer, Jew, Jesus Freak, Faggot, Dyke, Queer, Pansy, Queen, Retard along with dozens upon dozens of others that also include the most despicable pictures and jokes. Have you ever received one of those vile emails about another culture or about members of our society whose lifestyle is different? For instance, did you hear the one about the Paki (or lesbian or queer)…?
Hateful and hurtful, clearly, yes, but does not use of these words or published material speak more to the character of taunter than the taunted? Anne's use of the word retard speaks volumes about the small world Anne and her listeners occupy and very little about those she (and they) seek to disparage.
As for Anne Coulter, Rush Limbaugh, Glenn Beck and countless others on far-right or left who continue to drawn people in with to their thoughtless, hate-filled, and politically motivated comments to gather viewers, listeners, readers and voters, there is little can be done other than follow the lead of young John Franklin Stephens whose 21st chromosome led him along a path of enlightenment. Is it not wonderful that a young man with some limitations can make a difference on the world stage?
Harold McNeill
Victoria, BC
November, 2012
A Winning Smile, A Loving Heart (2020 Birthday Video)
The Pixie Children
Williams Syndrome: "Is caused by a deletion of about 26 genes from the long arm of chromosome 7. The syndrome was first identified in 1961 by New Zealander J.C.P. Williams and has an estimated prevalence of 1 in 7,500 to 1 in 20,000 births", a relatively rare occurrence at best. (Wikipedia)
I have the distinct privilege of being the step-father to a young man whose quirky 7th chromosome gifted him with a charming and extraordinarily kind character. I would venture to say the young man, now forty, and his group of brothers and sisters around the world, do not have a mean bone in their bodies. These children and adults are always ready, willing and able to lend a hand to someone (anyone) in need and while they may chide others for being 'mean', I have never seen one of them judge others harshly because of mental incapacity, religion, ethnic origin or socio-economic status.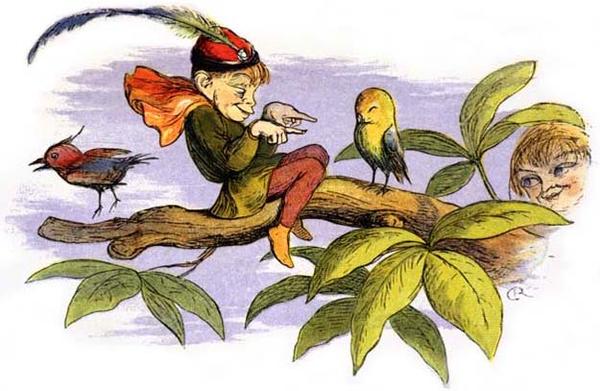 On a literary note, it seems likely those gifted with this extraordinary 7th chromosome, have, in centuries past, lead many to believe they possess a kind of magical or mystical power.
Over the decades these children have come to be known widely as the 'pixie' kids and it seems likely their stature and facial features may have lead to a folklore filled with elves, fairies and other forms of the 'good people' or 'wee folk' as is so often present in English literature. Coincidently, it was in an article by a British Physician that my wife and I first learned about the nature of the syndrome in our own son.
Drawing: Poor little birdie teased by Victorian era illustrator Richard Doyle who depicted an elf with the facial features associated with Williams Syndrome.

Since having become this young man's step-father and having been drawn more deeply into a world of individuals who face life challenges that most of us will never experience and of which few of us have any real understanding, I have found that community to be filled with individuals who are loving, caring and helping, without reservation and without condition.
An intriguing question, and one that as far as I know has yet to been answered, is why individuals with quirky chromosomes at locations such as '7' (as in Williams Syndrome) and '21' (as in Downs) are gifted with a full range of similar personality traits of which most of the mainstream population is not. Well, perhaps the mainstream is likewise gifted, but simply choose to park those traits on a back shelf as being 'inconsistent' with some of their practices.
Think for a moment of how differently our world be if those personality traits were brought to the forefront and shared on a regular basis among the majority of mankind?
Harold
(1413)
(Visited 1,477 times, 1 visits today)
Trackback from your site.