Dmitry Brukhanov – A Young Russian Ambassador
---
Dmitry Brukhanov– A Young Russian Ambassador
Passionate! The first word we use to describe Dmitriy Mikhailovich Brukhanov, our most direct contact with Russia in the XXII Olympiad. This adjective is followed in rapid succession by inspired, eager, animated, excited and enthusiastic. This only begins to describe our Dmitriy.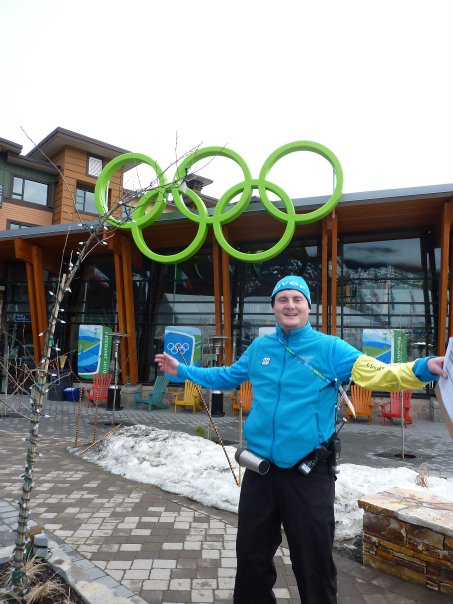 This young man, in his mid- twenties, hails from the historic city of Moscow, a city that has experienced more history than any Canadian city by a factor of many hundreds. For "older" movie buffs, who could forget 'Dr. Zhivago' a Russian love story of epic proportion? Perhaps the 2007 Russian historical movie "1612" will evoke similar feelings within a younger generation.
In a very real sense Dmitriy represents a modern day 'love story' – a love for his country and a love for the athletes of his country. Dmitriy has joined the XXII Olympiad with a single mindedness of purpose that might tend to elude those of us who are less focused on our mission or who live in more affluent nations. Dmitriy is here to learn – to learn as much as he can about the Olympics, the Olympic movement and the participating countries as is humanly possible in a few short weeks. The blazing red and white swirled colors of his homeland, as displayed by the Russian athletes, aptly represent his passion.
While Dmitriy occasionally searches for words to express his thoughts, he speaks clear, precise English with a Russian accent that is most pleasing to our English-only ears. It takes but a few sentences from Dmitriy to sense the passion he brings to his duties at Whistler's Athletes' Village.
Dmitriy often holds 'his' hand over his heart when he speaks of 'his' homeland and 'his' Olympians. Lynn and I are immediately drawn to this young man who wears his 'heart on his sleeve' for his country and for his people, a people who have suffered so much over the centuries.
Take a moment to think back to 1991 when Dmitriy was just a toddler. The country into which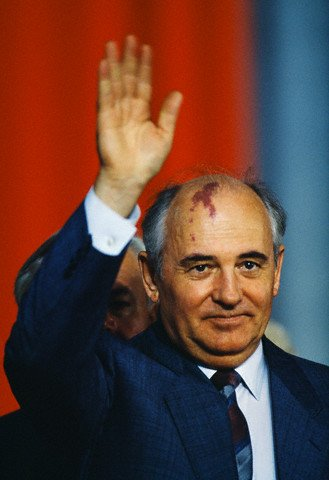 he was born was a much different place. The Chairman of the Communist Party of the Soviet Union was Mikhail Gorbachev, a Russian leader who succeeded Konstantin Chernenko. Mr. Gorbachev was the only Russian (USSR) leader born after the Russian Revolution of 1917.
In modern day, Mikhail Gorbachev shall forever be remembered in history books as the man who presided over the break-up of the Union of Soviet Socialist Russia (USSR), a break-up that was one of the defining political events of the last century. Dmitriy, a graduate of the University of Moscow, shares alumnus status with Mikhail Gorbachev who graduated a generation earlier.
Although Dmitriy was only five at the time when the USSR fractured, he tells us the images of that day in history are still strong – forever etched in his memory. At that singular moment in time he had been on a peaceful summer holiday with his parents at a Black Sea Resort in the Russian State of Georgia.
Dmitriy relates: "Even though I was only five, I sensed something momentous was happening as my parents listened to the news". He continues: "I know now the Berlin Wall was coming down and my home city of Moscow was in chaos. My country was breaking apart". Amid this turmoil and uncertainty, Dmitry recalls his parents were desperate to return home. This desperation turned to fear when all flights from Georgia to Moscow were cancelled. Living in Canada today we cannot imagine how frightful it must it have been for little Dmitriy's parents to be trapped so far from home.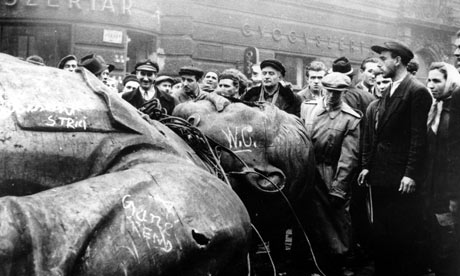 By pure chance, a private plane belonging to the owner of the only MacDonald's outlet in Moscow was being returned to that city and Dmitriy's dad was able to secure passage on the plane for his family. Dmitriy recalls that besides the flight crew, there were only four passengers on that cavernous plane – Dmitriy, his mom and dad, and a lady from the Austrian Consulate who was also fleeing to her home in Moscow. Those events of 1991 will be forever seared into Dmitriy's memory.
For Dmitriy and his parents, the past twenty years have been turbulent times as Russia and Russians continue the long, slow process of rebuilding their country in a rapidly changing world. The population has fallen from a peak of 148 million in 1990 to approximately 140 million today; for much of that time the economy was in a shambles and is only now beginning to stabilize.
In this process of change, the country has endured a seemingly endless war in Afghanistan into which the United States and Canada, along with others now find themselves hopelessly mired. During the Russian offensive in Afghanistan, thousands of young Russians died. As well, civil unrest has created challenges on many other fronts.
While the past twenty years have been turbulent times in Russia, they are times that also present incredible opportunities for young Russians like Dmitriy as the work of rebuilding Russia into a peaceful world leader continues.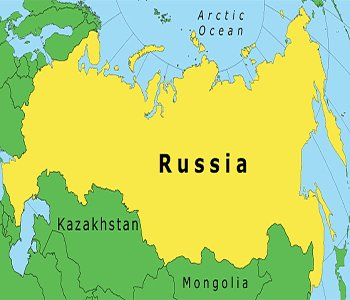 As with Canada, Russia has many natural advantages. It has an immense land mass – just over one ninth of the world's land surface. This is followed by Canada, then the United States and China. Russia, again followed closely by Canada, holds a lion's share of the world's natural resources including oil and fresh water – two commodities that will continue to increase in value over the coming decades. For Canadians it is significant to note that we sit geographically, if not politically, squarely between two world superpowers – Russia and the United States.
As the Russian infrastructure continues to stabilize, all indicators suggest the emerging Russia is again posed to become a world leader along with the emerging powerhouse economies of China, India and Brazil. An earlier post, "A Dangerous World or a Bright Future", explores some of the seismic changes that are reshaping the world of the 21st Century.
A large part of Dmitriy's passion, and there are many parts, arise from the fact that the XXIII Olympiad will be hosted in the Russian city of Sochi in 2014. This will be the first time the new Russian Federation will host an Olympics (the former USSR hosted the 1980 Summer Olympics). There is no doubt in our minds that Dmitriy is destined to play a significant role in presenting Sochi and the new Russia to the world in 2014. We can feel the excitement building as he continues to prepare. The next four years for Dmitriy will be a whirlwind of work that will involve a very steep learning curve as he seeks to achieve all that he so strongly desires.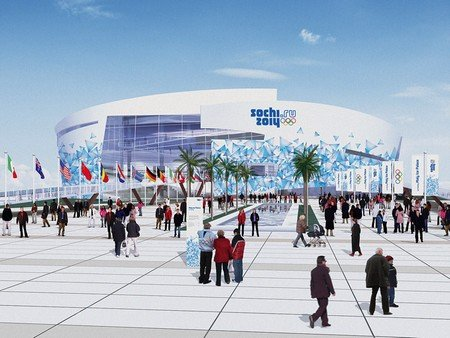 As part of this preparation Dmitriy continues his work at the Athletes' Village until March 25 where he is the Deputy Venue Manager for Event Services. Simultaneously, he continues his work with the Sochi 2014 Organizing Committee. As a member of the Sochi team, Dmitriy was previously assigned as an observer to the 2008 Beijing games. The young man is certainly building a solid background to become a key team player in 2014. While he never sits still for long we find him to be approachable, friendly and always willing to explore new ideas and new ways of doing things. This will be a definite asset as his life continues to unfold.
When asked: "What would you like to say to others about 'Russia'?" Dmitriy does not hesitate: "Our country will go its own way in its own time. I believe Russia has much to offer the world – both in the meaning of hi-art mastery and of everyday life-ways.  I hope Russia will be a place the world will want to know more about and will consider our contributions as a unique legacy to the world."
As you can see from this, Dmitriy has very strong convictions and is not afraid of a challenge. He continues: "I guess I'm kind of a dreamer. I'd love to perform a heroic deed for my country or for mankind. I'm also curious about what people would say about me and my actions, though I don't admit it normally. So far (I think I have) shown myself as an egoist, but I guess my deeds have made more people happy, than otherwise."
When not aspiring to these lofty goals, Dmitriy has diverse interests. He is a fan of Spartac Moscow FC, a very successful football club that is second only to Dynamo Kiev, in having won 12 Soviet Championships.  In quiet times Dmitriy listens to Russian music (Dolphin – a Russian Singer) and periodically attends movies, the most recent being "Revolver, Knocking on Heavens Door and Ameli'.
In High School, Dmitriy was involved in basketball, volleyball and martial arts.  Although he loves travelling and enjoys Canada and British Columbia, he is now very homesick for Russia. We encouraged him to take time off and enjoy some of the sights and sounds of Whistler Village and Vancouver. We tell him there are, after all, a lot of young women eagerly waiting to meet a fine young man like himself. We guess that he will not be available for long.
Our Olympic experience has become so much richer because of people like Dmitriy and many others we have met on the Event Services Team at the Whistler Olympic Village. We are so fortunate to have been a small part of the XXII Olympiad.
Harold and Lynn McNeill
Our Olympic Experience 2010
ps   After the Article was posted Dmitriy told me that the statue of Stalin being torn down was a much stronger image for the Russian people than was the tearing down of the Berlin Wall. I would have added a few photos of that momentus event except for the fact those photos would then lead the article on an updated post.   hdmc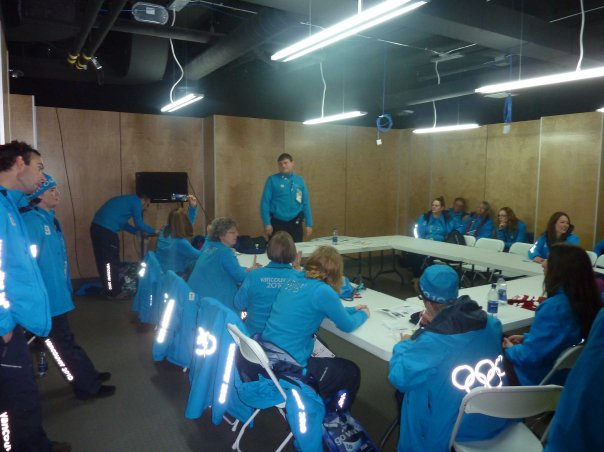 Olympic Village Team Meeting Room.  Lynn with back turned (second in in left row) asking a question of Dimitriy.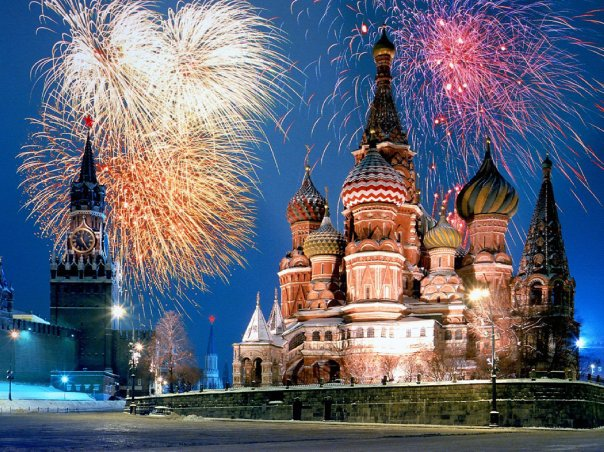 Russian Castle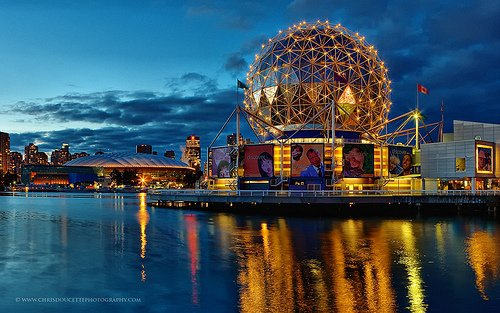 (974)
(Visited 407 times, 1 visits today)
Trackback from your site.