Going Green: A Recycled Idea
---
Above Cartoon:  In Lacombe, Alberta, Betty speaks to Don about her environmental concerns.
Don comes up with an immediate and helpful response. 
Victoria, BC. The "Going Green" comments, posted below, were picked up from an article posted on Facebook by my dear cousin, Elizabeth Dewan-Curtis-Munroe.  It struck a cord as it clearly puts the push to "Go Green" in a historical context. It sometimes seems the current day "Go Green" effort has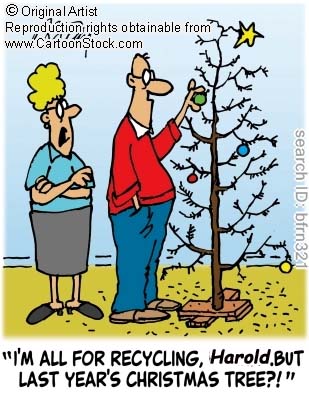 more to do with marketing, business and special interest groups than with actual environmental concerns. 
As an example, on the one hand plastic bags are 'poo-pooed" and people are made to feel guilty when using a plastic bag (as is the gist of the FB post), yet bottled water and trillions of other plastic containers have become the norm. Just think, in a country that holds the lions share of the cleanest drinking water in the world, the citizens consume something in the order of two billion litres of bottle water per year.1
Betty's Facebook re-post, again re-posted below, puts these matters in historical perspective.
Cartoon (Victoria, BC, 2011): An inveterate 'we need to go green' decorator, Harold is spoken to by Lynn about his intent to recycle last year's Christmas Tree.
(1) In Canada, per capita bottled water consumption grew 40% from 1999 to 2004. In 1999, each Canadian consumed approximately 24.4 litres of bottled water. By 2005, it had increased to about 60 litres per person, with sales worth $652.7 million.
Going Green: A Recycled Idea
Author(s) Unknown
Checking out at the grocery store recently, the young cashier suggested I should bring my own grocery bags because plastic bags weren't good for the environment. I apologized and explained, "We didn't have this green thing back in my earlier days." The clerk responded, "That's our problem today. Your generation did not care enough to save our environment for future generations." She was right about one thing — our generation didn't have the green thing in "Our" day. So what did we have back then…?
After some reflection and soul-searching on "Our" day here's what I remembered we did have….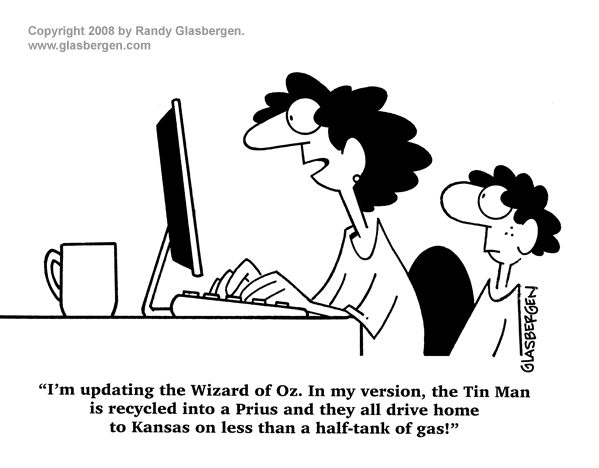 Back then, we returned milk bottles, soda bottles and beer bottles to the store. The store sent them back to the plant to be washed and sterilized and refilled, so it could use the same bottles repeatedly. So they really were recycled. But we didn't have the green thing back in our day.
We walked up stairs, because we didn't have an escalator in every store and office building. We walked to the grocery store and didn't climb into a 300-horsepower machine every time we had to go two blocks. But she was right. We didn't have the green thing in our day.
Back then, we washed the baby's diapers because we didn't have the throw-away kind. We dried clothes on a line, not in an energy gobbling machine burning up 220 volts — wind and solar power really did dry our clothes back in our early days. Kids got hand-me-down clothes from their brothers or sisters, not always brand-new clothing. But that young lady is right. We didn't have the green thing back in our day.
Back then, we had one TV, or radio, in the house — not a TV in every room. And the TV had a small screen the size of a handkerchief (remember them?), not a screen the size of the state of Montana. In the kitchen, we blended and stirred by hand because we didn't have electric machines to do everything for us. When we packaged a fragile item to send in the mail, we used wadded up old newspapers to cushion it, not Styrofoam or plastic bubble wrap. Back then, we didn't fire up an engine and burn gasoline just to cut the lawn. We used a push mower that ran on human power. We exercised by working so we didn't need to go to a health club to run on treadmills that operate on electricity. But she's right. We didn't have the green thing back then.
We drank from a fountain when we were thirsty instead of using a cup or a plastic bottle every time we had a drink of water. We refilled writing pens with ink instead of buying a new pen, and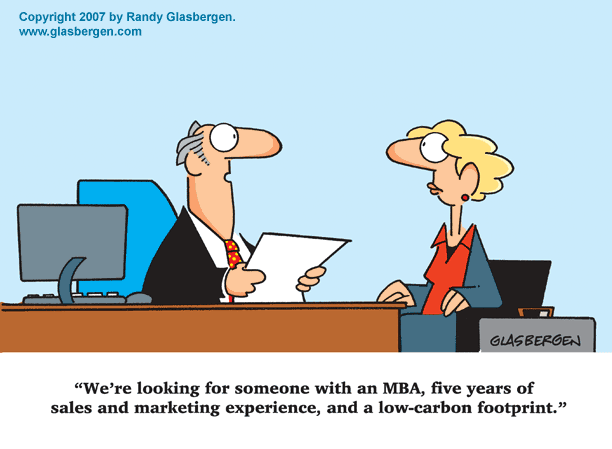 we replaced the razor blades in a razor instead of throwing away the whole razor just because the blade got dull. But we didn't have the green thing back then.
Back then, people took the streetcar or a bus, and kids rode their bikes to school or walked instead of turning their moms into a 24-hour taxi service. We had one electrical outlet in a room, not an entire bank of sockets to power a dozen appliances. And we didn't need a computerized gadget to receive a signal beamed from satellites 2,000 miles out in space in order to find the nearest pizza joint. But isn't it sad the current generation laments how wasteful we old folks were just because we didn't have the green thing back then?
Please pass along this link to others. Perhaps you may have some thoughts of your own.  If you do, please pass them along by posting below or by email or facebook. If you wish, your comments will be added to the list on this post (credited).  If you happen to find any good cartoons or clips, please pass along and they will be added. I find this fun, as it brings back many memories of my growing up in the 1940s a time when we didn't do the 'green thing".
Additions to the Article
Cousin Betty in Lacombe, Alberta: "Because we had to make many items for home use from 'recycled' articles, my Mom would make panties from flour sacks. Ouch! I can tell you, a large number of the gentler sex gave thanks when someone came along with cotton. But, then again, we did not have the green thing back them."
Cousin Helen in Glaslyn, Saskatchewan:  "As kids were were always so happy when Christmas rolled around and Santa dropped off a box of those tissue wrapped Japanese Oranges. That meant for a few weeks we did not have to 'ruffle up' a piece of glossy paper from the Sears or Eatons catelogue when we when to the outdoor bathroom in thirty below weather.  I guess we just weren't green back them."
Friend Maggie in Edmonton, Alberta: "How about Christmas morning. The kids had two or three gifts (often home made) and the stocking had basic stuff like a new pair of socks (that we really appreciated!) and some candy…and not filled with dollar store junk "made in China". But, then again, we were't green back then. Then, young people had fewer c…lothes and not a bathroom filled with bottles of creams, lotions and potions…oh yes, we ate vegetables instead of buying fancy bottles of veggie juices at the supermarket…you know, all the extra energy required for processing the juices and for the packaging and display. Then again, we weren't green back then."
 
Industry Going Green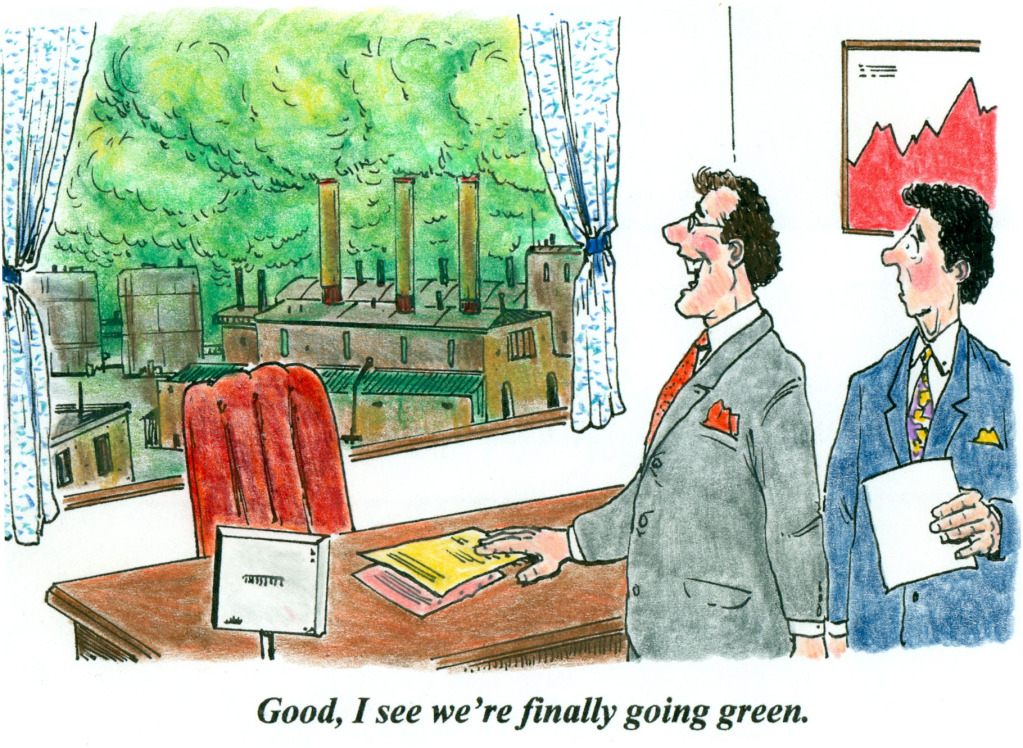 (618)
(Visited 379 times, 1 visits today)
Trackback from your site.