Hindsight and complaints against police
---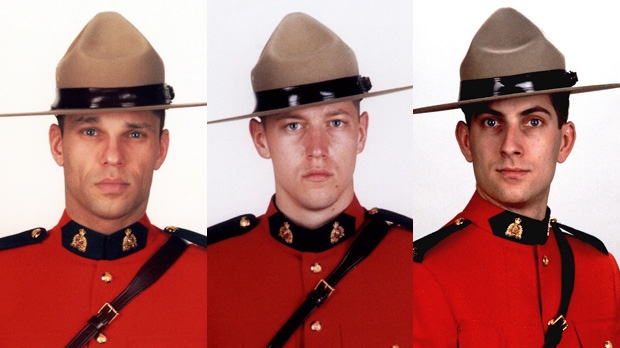 Remembrance
The above RCMP Officers, Constable Georges Gevaudan, Constable James Larche and Constable Joseph Ross, were killed by a suspect who has since been arrested. Two other officers were also wounded, but will survive.
Friday, June 5, 2014: (Moncton, N.B. Reported by all Media)
Only this morning (Friday, June 6, 2014)) did I learn of the tragic events in Moncton. Had I known earlier I would not have posted this story when I did. With a police killing, it's always closer to home, partly because I spent thirty years as a policeman and partly because police officers represent security in our society.
I have no idea what investigators will turn up in the present case, but at this moment, our hearts go out to all those who were left behind and whose lives will be forever changed. Over the coming days they deserve a measure of freedom from being intruded upon by the second guessing that comes with these events. In that regard, the posting of the original story that filled this space will be set aside to some future date as the content of this post and another longer post that will follow, speaks to the issues at hand.
Harold
Original Post, June 2, 2014 Victoria, B.C. (Times Colonist Report).
The full post concerning the tragic deaths of these three officers and of many others over the years, is now posted at:
Living in the Shadow of Mental Illness
(3249)
(Visited 3,233 times, 1 visits today)
Tags: Abduction, Angus David Mitchell, B.C. Mental Health Act, Guns used to Murder, Hindsight, Oak Bay Abduction, Oppal Inquiry, Saanich Medical Centre, Vancouver Police, Victoria Police, Willy Pickton
Trackback from your site.