Hugo, a movie well worth attending
---
On the recommendation of friends Garth and Esther Dunn, Lynn and I trotted out for our semi-regular Friday Night Dinner and Movie Date but instead of Friday we headed out Thursday to the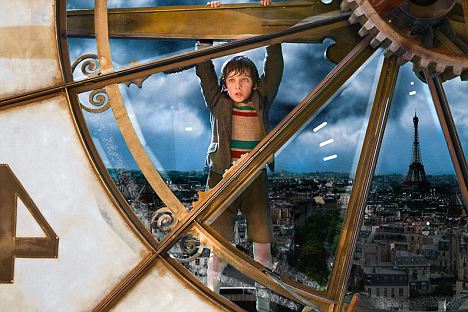 Academy Award Winner Hugo.
The movie did not disappoint as the mixture of fantasy, reality, young, old, love, tragedy and the evolution of life, was juxtaposed with award winning sound, cinematography and visual effects that left us captivated from the opening scenes to the very end of the 127 minute production.
The only part we both still have trouble adjusting to is the 3D effects, although in this movie I think most would appreciate the stunning visual impact.
From a book Hugo Cabret, four thumbs up (with Garth and Esther that makes eight) to Marten Scorsese (another hit), Asa Butterfield (photo above) and Chloe Moretz (two kids in their early teens facing off against adults), Ben Kingsley (a convincing old man who felt his life's work had been lost in a sea of change), Sacha Cohen (actually very well acted by Cohen who is cast in a more serious and touching role) as well as a host of others.  Oscar wins: Cinematography, Art Direction, Sound Direction, Sound Mix, and Visual Effects.
We would be very interested in hearing what a child, say the age of our Grandson Grayson (5), might think of this movie. We think he might be at the same time scared and captivated. With this post you already now know what one older guy (yes, that would be me – move over Ben Kingsley), as well as three youngsters in the throes of their tumultuous 50s think.
(395)
(Visited 143 times, 1 visits today)
Tags: Esther Dunn, Garth Dunn, Hugo
Trackback from your site.