Laura Isabel: Uffda! – A New Beginning – Chapter 4 of 5
---
Laura Isabel: Uffda! – A New Beginning – Chapter 4 of 5
Never one to look back with yearning or regret, Laura married a neighboring farmer, Wilfred Skarsen , and the happy couple started a whole new life with Dianne, who was just approaching her teens. Uncle Lennel (Wilfred's older brother) lived with them while sharing the original family home until, 1982, at the age of 73, Lennel married Emma Adele Shular. Both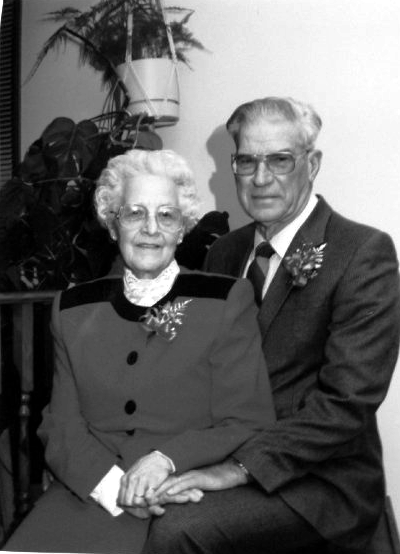 men, who, to that point, remained bachelors, were suddenly the step-fathers to 13 children and countless grandchildren.  Both stepped into those big shoes as if they had been groomed for the roles their entire lives.
Laura's beau, Wilfred, was the sixth of seven sons of Oscar (1880) and Petra (1890) Skarsen (Myhre) whose families began homesteading the Riverhurst area in I939. This enterprising Norwegian-Canadian family – son's, Lennel, Julian, Melvin, Morgan, Percy, Wilfred, Wilbert and, daughter Stella – quickly expanded their interests into mixed farming, fishing, hunting, logging and milling, trapping, carpentry and commercial painting. They were an industrious family group and added much to life in the Cold Lake area.
Laura and Wilfred continued to live on the original Skarsen homestead in Cold Lake, however when Highway 55 was widened in 1981, they moved the entire farm, lock stock, barrel and grainery, 500 yards to the north-west.  This new location, with freshly painted granaries, a new barn and a backdrop of pine and poplar, quickly became a showcase as Laura and Wilfred expanded the gardens and expansive lawns.
Their efforts lead to an Alberta Government "Farm Beautification Award" in 1985, just three years after moving to the new location. Laura also received personal recognition in 1996 when she was awarded the Provincial "Imogene Duce Award" for her activity with the local TOPS Chapter. A few words from that award express the sentiment of any who have come to know Laura:
"Love, caring and understanding – a person possessing an abundance of any one of
these qualities is truly exceptional. We have just such an exceptional lady in our chapter
and she is perhaps even more exclusive because she excels, not just in one but in all three
of these categories…"   (Diana French, Chapter Leader, TOPS AB4003, Riverhurst)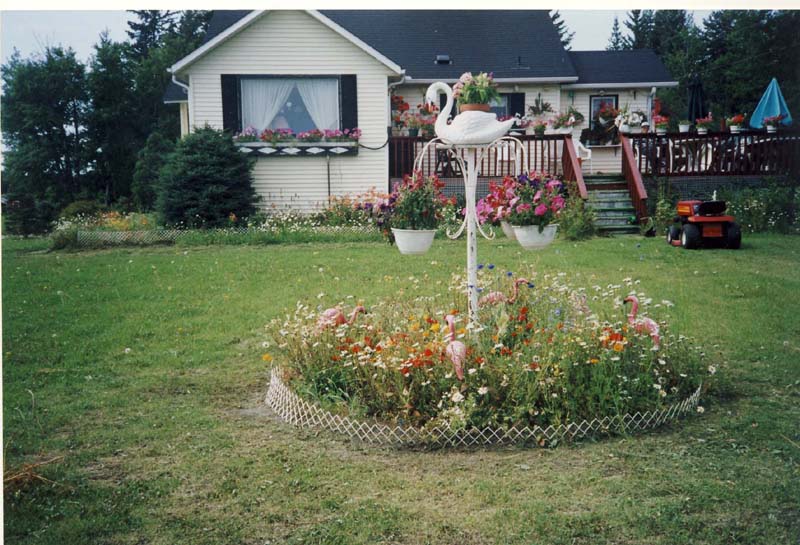 Over the next 35 years Laura, Wilfred and the farm on which they lived, became a central focus in the lives of the families of Harold, Louise, Dianne and their friends. Harold and Lynn were married on the farm in I984 and Greg and Merle in I991.
All the grandchildren and many of the great-grand children have fond memories of grandma's cooking, "grandpa's" lawn tractor and of helping to cultivate row upon row of potatoes, peas, carrots, lettuce and onions.  No family member or neighbour was ever left in need if Laura and Wilfred were able to help in any way.
For many years, Laura served as a Director on the Board of the Riverhurst Hall, a hall that hosted hundreds of family and community events.
Photos
1990s Wilfred and Laura Skarsen along with Harold and Sean in the fields and with the farm equipment.
October 2010
Link to part 2 The Early Years
Link to Part 3 The Young Woman
Link to Part 4 A New Beginning
Link to Part 5 The Final Chapter
(931)
(Visited 219 times, 1 visits today)
Trackback from your site.