Local Powerlifter Breaks Records and Brings Home Gold!
---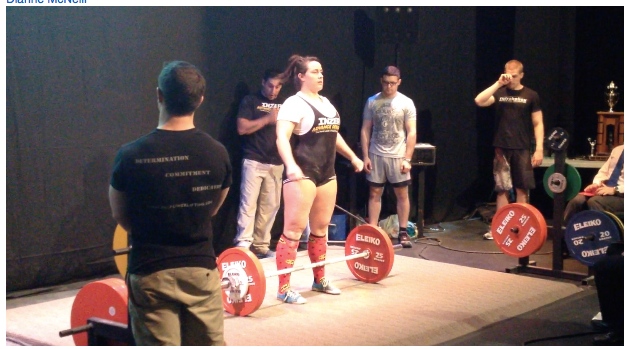 Kaiya prepares for a Record Breaking Lift
Kaiya McPay, a local up and coming Powerlifter, made an extraordinary showing at the BC Powerlifting Association's Provincial Powerlifting Competition in Vancouver, bringing home a Gold Medal and smashing records along the way. Kaiya trains and coaches out of Campbell River's own Crossfit O'Twelve gym.
Powerlifting is an intense and exciting sport testing both physical and psychological strength. Powerlifters train to lift enormous weights and while there are obvious requirements of great strength, precision and technique, it is the overall iron will and correct tactical decisions which are necessary in order to mount the winners' podium. There are three attempts in each of the disciplines, the best lift in each discipline is added together to arrive at a lifter's total for the competition, they are then ranked.   
McPay hit two of the three Back Squats successfully "I missed depth on my second lift due to a slight wardrobe malfunction, but went into the back and with the support of my coach Phil Howe, got my head back in the meet. After sorting out my singlet, I went back in, squatting full depth and then some", McPay laughingly reports, coming in 5 kg short of a provincial record, finishing with 115 kg.
McPay crushed the previous Bench Press record of 72.5 kg., lifting 86 kg. "I really surprised myself, and everyone else, on this one. My nerves started to creep out during warm-up, but thanks to one of the meet Coordinators, Gabe, and all the support backstage, all three lifts went up like a dream, and I felt I could rep out on my last attempt."
She continued to smash records by beating the old Deadlift standard by 17 kilos, lifting 142.5. "My first two attempts were smooth, but my coach and I decided to stay with the small jump on my last attempt, as I was getting pretty emotionally exhausted, and my glutes and hamstrings had had about enough awesome for one day! As I approached the bar, I felt confident, thank goodness, because I had to fight for every last inch of that pull to finish successfully" 
In the final count, her total weight raised was 343.5 kg., beating the old provincial record of 305 kg by a whopping 38.5 kg. "All in all I had a great weekend, with some amazing lifters, and I am overwhelmed and thankful for all the support of everyone at the Meet, CrossFit O`Twelve, Langley`s Hybrid Athletics and Courtenay`s Titanium CrossFit.
This was an amazing showing for an athlete relatively new to the sport of Powerlifting! McPay states she is looking forward to training for the next Meet, and has some serious goals in sight which include qualifying for the National Powerlifting Competition next spring. 
(584)
(Visited 302 times, 1 visits today)
Trackback from your site.