Posts Tagged 'Edna Shirrmacker'
---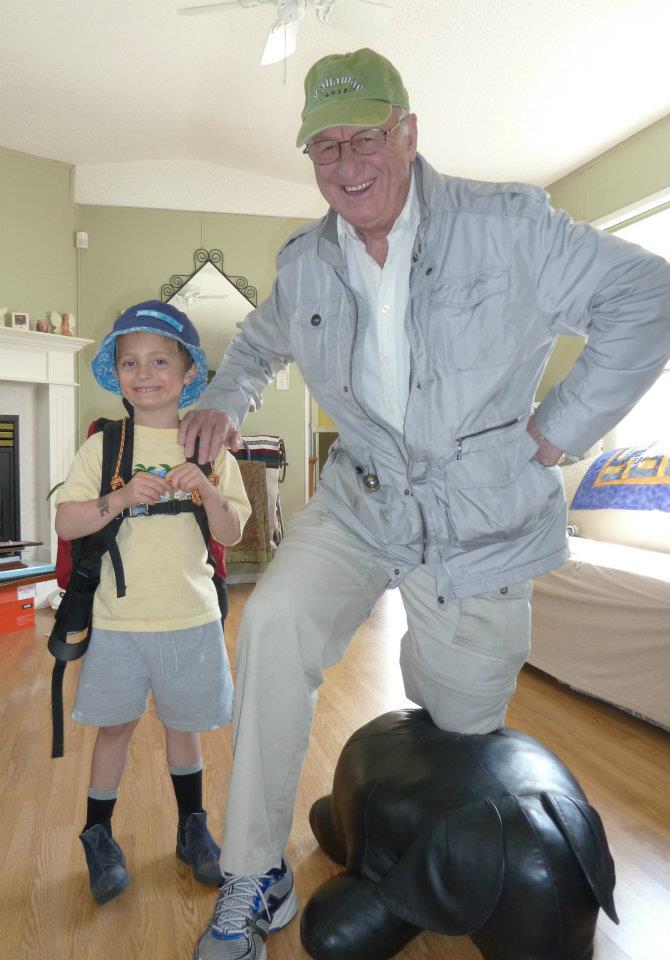 Photo (2012): Five year old Grayson and his Grandpa get set to go hiking in the hills behind his mom's home in Kamloops, BC. It was during the trek the two hatched their summer plans.  Join us for the Journey Begins.
Dear Reader,
The following chronicles were written during the magical summer of 2012 when five-year old Grayson Edward Walker, along with his Grandpa, Harold David McNeill, his Uncle, Jay Wesley McNeill and a family friend, Bjorn Oscar Simonsen, completed an exploratory expedition through British Columbia, Alberta and Saskatchewan. While the trip through British Columbia was relatively peaceful, once they hit the Alberta border, they entered a new and perilous world.
Fighting massive lightening and thunder storms, flooded highways, tens of thousands of monster trucks and flocks of giant, blood sucking mosquitoes hatched in the primordial settling ponds of Fort MacMurray, the intrepid explorers bravely marched across Alberta and into the largely unknown wilderness that is now known as  Saskatchewan, an immense flatland whose name originated from a river the Cree originally called "Kisiskatchewani Sipi".  In that harsh land the group encountered buffalo as big as barns, tractors that were even bigger and giant, round bales of hay that once set rolling in a land that has become known as Tornado Alley North, farms, cities and towns were placed in immanent danger of being wiped off the map.
(2026)