Posts Tagged 'Edward Walker'
---
Good Morning Honey and Happy 40th Birthday!
Well, another shared birthday which, for each of us, is a milestone – you reaching forty as I commence my seventy-fifth. The moment you arrived on my birthday forty years ago, a special bond was created and forever treasured.
It seems like yesterday when your mother gave birth and, while life has presented challenges along the way, meeting those challenges in a positive manner and accepting them as part of the process of growing older has made each of us stronger and our love that much deeper.
When sitting down to start a slideshow capturing those many years, it was difficult to choose a theme and music that expressed it all. I browsed through hundreds of photos and dozens of songs along the way to the final cut while suggestions from family members helped to clear the path.
Our journey began with one slideshow but quickly grew as we reminisced over 40 years of memories and the life we've shared – soon evolving into 4 segments which, along with the attached poem, express the depth of our love for you, your sister, brothers, and families.
We hope you enjoy each moment as much as we have enjoyed creating this tribute to you and the rest of the family.
Love Dad and Lynn
(Grandpa and Nana)
THE WOMAN YOU'VE BECOME
With those big eyes and sweet little smile
Your contentment so grand, the hours you'd while
Alone or with others, it mattered not
The love from within shone forth with each thought
Through the years it continued, this skill to enjoy
A moment, a dream, a specially made toy
Always sharing with others to help them to grow
More than imagined, and more than you know
We've sat on the sidelines and watched o'er the years
Through happiness, struggles, and of course, lots of tears
With each challenge you've managed to rise and excel
Each pitfall and obstacle all handled so well
It's with pride and much love that we watch you soar
Now a wife, a mother, and so very much more
And on this day, one with Dad you share
We send these memories with loving care
And with each tune, — so familiar to some-
We rejoice in the Woman that you've become.
All our love on your 40th Birthday and Always
Lynn and Dad
Happy Birthday, Christine
January 13, 2016
Note: The slideshow was uploaded as HD so, in some instances, may be a little slow in loading.
1. The Adventure Begins: A Wonderful World, Louis Armstrong
2. The Adventure Continues: Precious Memories, J.J. Cale and
Dream a Little Dream of Me, Mama Cass
3. Girls Just Want to Have Fun:  Cyndi Lauper
4. A New Family: I Have a Dream, ABBA
(174)
---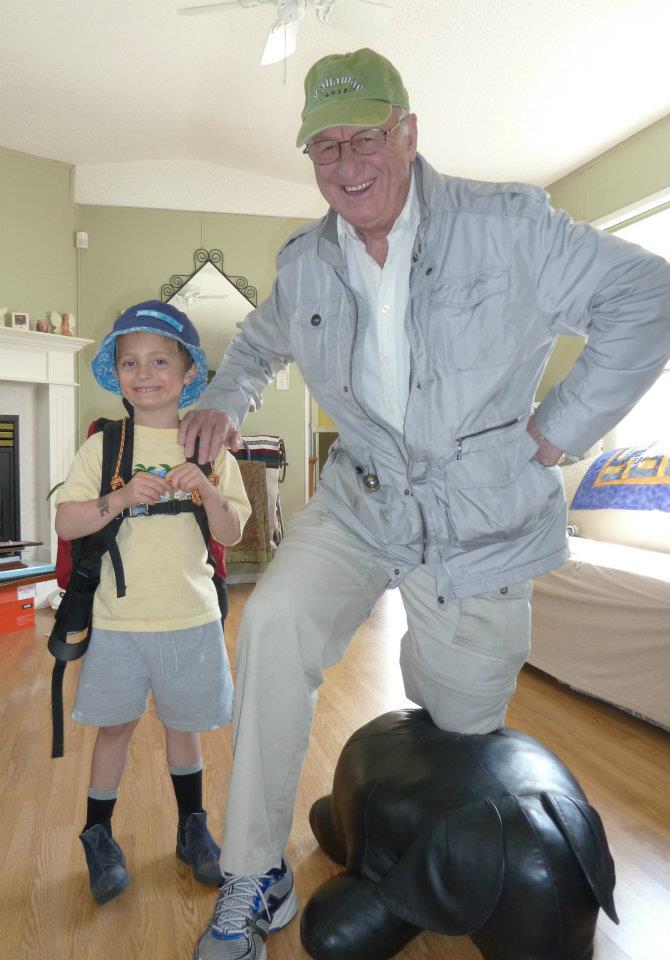 Photo (2012): Five year old Grayson and his Grandpa get set to go hiking in the hills behind his mom's home in Kamloops, BC. It was during the trek the two hatched their summer plans.  Join us for the Journey Begins.
Dear Reader,
The following chronicles were written during the magical summer of 2012 when five-year old Grayson Edward Walker, along with his Grandpa, Harold David McNeill, his Uncle, Jay Wesley McNeill and a family friend, Bjorn Oscar Simonsen, completed an exploratory expedition through British Columbia, Alberta and Saskatchewan. While the trip through British Columbia was relatively peaceful, once they hit the Alberta border, they entered a new and perilous world.
Fighting massive lightening and thunder storms, flooded highways, tens of thousands of monster trucks and flocks of giant, blood sucking mosquitoes hatched in the primordial settling ponds of Fort MacMurray, the intrepid explorers bravely marched across Alberta and into the largely unknown wilderness that is now known as  Saskatchewan, an immense flatland whose name originated from a river the Cree originally called "Kisiskatchewani Sipi".  In that harsh land the group encountered buffalo as big as barns, tractors that were even bigger and giant, round bales of hay that once set rolling in a land that has become known as Tornado Alley North, farms, cities and towns were placed in immanent danger of being wiped off the map.
(2023)