Posts Tagged 'Forde Fjord'
---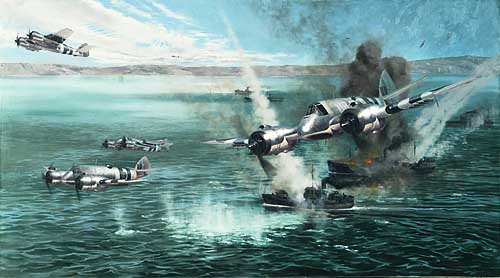 Above: Artists depiction of Beaufighters from the Australian 455 Squadron attacking German Ships in a Norwegian Fjord.
Along with the Australians, the RCAF (Royal Canadian) Squdron 404 (pictured below), RNZAF (Royal New Zealand), Squadron 489 and RAF (English) Squadron 144,
took part in one the the largest Air Battles to ever take place in the skies over Norway. Bert Ramsden was part of battle.
In Memory of Bert Ramsden
1921 – 2014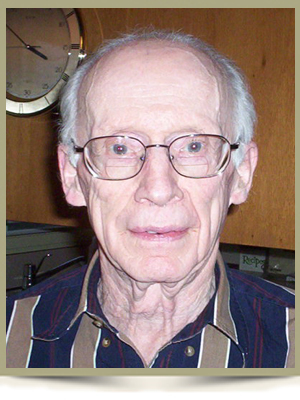 November 3, 2014
Pilot Officer Bert Ramsden, the subject of this story, passed away peacefully at his home in Saanich, British Columbia. The young man who fought in the Second World War shall not be forgotten.
At the age of 93, Bert joins his beloved wife, Marie who predeceased him in 2004, as well as parents, Joseph and Mercy and brothers, Cal (Eleanor) and Cec (Bess).  Born in Castor, Alta., Bert is survived by his son, Don (Nancy); daughter, Karen (Chip); grandchildren, Andrea (Chris), Jennie (Trevor), Jon, Jamie and Jeff and great-grandchild, Zachary.
A memorial service will be held at 1:00 pm on Friday, November 14, 2014  at
St. Aidan's United Church, 3703 St. Aidan's Street in Victoria.  
Below, Pilot Officer Bert Ramsden ties his shoe on the tire of his Beaufighter.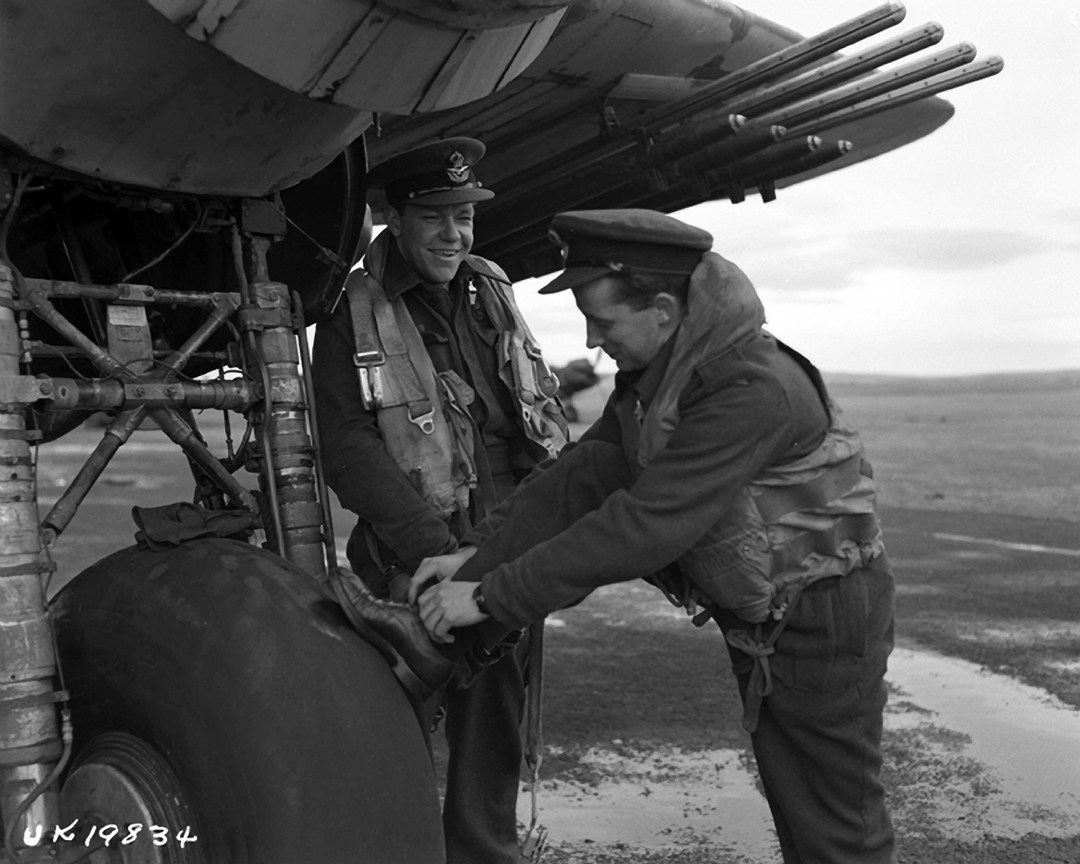 The following story was written after several interviews with Bert first at his home in Saanich and then at various coffee shops along Shelbourne Street during May and June 2014.  At 91, Bert was ever the affable pilot officer who was still more than able to charm the young women at our various coffee stops along the way.
The photos in this post and in the attached photo album were copied mainly from Bert's personal files and from various Web Sites that carried information about Black Friday.  During the period of research and writing, an amazing coincidence became apparent. This coincidence was written up in a separate post that may be linked below the names of those show in the photo below.
Bert was one of the thousands of young men who left their homes, families, farms, businesses and careers to join the Second World War effort in Europe and other parts of the world.  While Bert returned home without injury, many of his comrades in arms were not so lucky and it is on November 11, each year that we celebrate these young men and the sacrifice they made to make our world a better place.  While I say that Bert returned without injury, it is clear he still carried with him, even at the age of 91, a degree of guilt that he walked away when so many of his flying comrades died in the battles in the skies above Norway and elsewhere.
We shall remember Bert.
Harold McNeill
November 9, 2014
Victoria, B.C.
Pilot Officer Bert Ramsden and the Flying 404
RCAF Squadron 404 (Circa Spring, 1945, Banff, Scotland)
Ramsden Photo Files: RCAF 404 Squadron, Bert Ramsden is standing
immediately below and to the right of the "V3".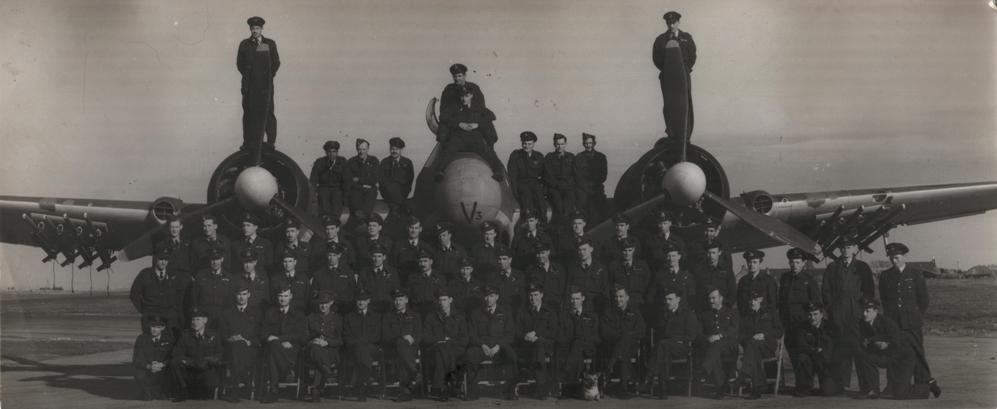 A high-resolution copy of this photo, in which all the faces and printing is clear, can be obtained by leaving a note on this posting or by sending an email to harold@mcneillifestories.com
(double click to open in a larger size)
Top Row on Wings
F/L Stewart (standing), F/O Bondy, P/O Wade, P/O Michael (standing centre), P/O Flynn (below Michael), F/L Foord (standing), F/O Nelson (front of Foord), F/O Gibbard, W/O Gracie, F/O Catrand.
Second Row Down (immediately below wing L/R)
F/S Aube(y), F/S Orser, F/O Mallilieu, F/O Williams, F/Lt Hill, F/O Cook, F/O Burns, P/O Bryce, P/O Ramsden, P/O Elliot, F/O Jones, F/O Bedwell, P/O Wright, P/O Camanella
Second Row Below Wing
F/S Henderson, F/Lt Ball, P/O Landry, F/O Aljoe, F/O Coyne, F/O Tomes, F/Lt Rancourt,
F/L Toon(e), F/Lt Jackson, F/O McKnight, P/O Temple, F/O Lee, F/O Johnson, F/O McCallan,
P/O Moe, F/O Stansak, F/O Miller, F/O Jasper.
Bottom Row (L to R)
F/O Panuk, not named, F/Lt Wilkinson, F/Lt Hill, Capt Chodoroff, S/Ld Inman, F/Lt Bolli, S/L Schoales,
W/C Pierce, S/L Christison, S/L Jones, F/L Watlington, F/L Beacook, F/L Spencer, F/L Corder
F/O Hines, F/O Keele
Missing from Photo
F/O Elbury, P/O Wallace, W/O Rumble (P/O Ramsden's Navigator)
For an Amazing Coincidence regarding placements in the above photo
LINK HERE
Black Friday: An Epic Air Battle of World War II
(12336)