Posts Tagged 'Hans Vanderflugt'
---

Above Photo (Family Archives): CF-AXL moored at a makeshift dock on Touchwood Lake, northeast of LacLaBiche (c1961). The photo was taken on a trip made by Hans Vanderflugt (my instructor) and I while flying out of Cold Lake, AB in the late 50's and early 60's.
Photo Below: Hans and Ruth Vanderflugt
(that photo has somehow delinked from the story)
February 20, 2012. After posting this story on February 2, 2012, a young man, Daniel Mahoney, of Vanair Aviation, in Refugio, Texas, happened to pick it up the link off the Web while searching for background on his stepfather Hans. Dan phoned to tell me, Hans Vanderflugt, co-owner of Vanair, had just been killed in a crash near Colorado a few days before I posted the story (more information in the footer).
This story is dedicated to the memory of Hans, who is survived by his wife, Ruth Hodge Vandervlugt of Refugio, Texas; one son, John Vandervlugt of Round Rock, Texas; one stepson, Billy Michelson of San Antonio, Texas; and a sister, Erna Fentener Van Vlissingen of Amsterdam, Holland.
The following book was recently published about the heroic flying adventures of Hans as he tavelled the world delivering sngle and twin engine aeroplanes.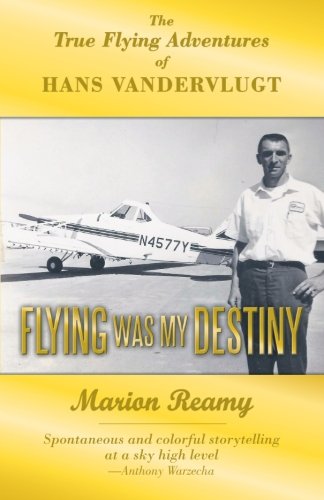 Photo of Hans Vandervlugt (October 2011) on the book cover.
(Note: I misspelt the surname in the original post as that is what I had always listed in my log book.)

1. Bush Flying in Northern Canada
At 6:00 am, I was out of bed and heading to the dock on Beaver Lake, about four miles east of LacLaBiche, Alberta, where Axle, the nickname for the Fairchild 82A, CF-AXL, was moored. The aircraft was one of the final two members of the Fairchild Series1 of bush planes built in the 1930s by Fairchild Aircraft Ltd. Canada, and still in service. Although not slick or fast, it was a workhorse in which we could haul up to 2000 lbs depending on how much fuel we had to carry.
On shorter trips (thirty to forty-five minutes) we only carried sufficient fuel for one or two round trips as each pound of fuel meant a pound less cargo. This particular aircraft had travelled to almost every corner of Northern Central and Western Canada, whereever pioneers were working to access the vast array of natural resources hidden among the millions of acres of wilderness rocks, trees, shrubs and thousands of freshwater lakes, rivers and streams that defined the north.
Production of the 82A was discontinued when the factory switched to cargo supply and bomber aircraft needed to help fight the Second World War. The Bristol Bolingbroke and the C-19 Packard were the most recognized aircraft being poured out of the Fairchild Factory in the 1940s.  Unfortunately, the production of the 82A series was never resumed as the plans and molds were inadvertently destroyed during the company's transition to wartime aircraft.
CF-AXL, the aircraft we flew back in the 1950's and 60's, currently resides in the Canadian Aviation and Space Museum in Ottawa. It was refurbished and moved to the museum in the 1960's shortly after we flew it when working for a company owned by the father of a High School friend, Aaron Pinsky (lead photo in the link – top left (Aaron), bottom centre (Harold and Aaron, two cool dudes).  We completed our flying training at RCAF Station Cold Lake and regularly flew together during the early years.
2. Early Mornings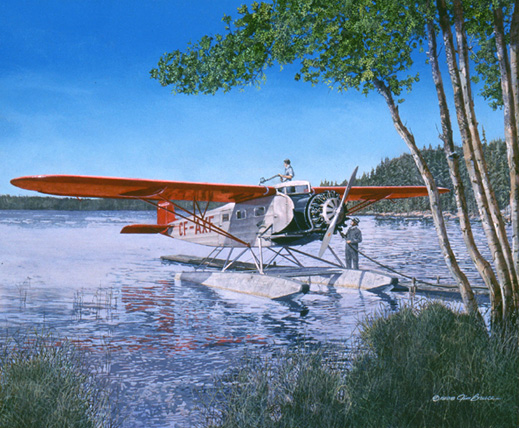 On this morning I was suffering a bit of a headache after hanging out a little too late with friends, the Gatzke's, with whom I lived while attending grade five in LacLaBiche some ten years earlier (Link). On other flights, I had also made friends with several others who put me up while on layovers in LacLaBiche.
Photo (Painting of AXE by Jim Bruce, Aviation Artists, Web Source): This, the only other 82A in service in Canada, is shown being refuelled while moored to a small dock somewhere in Northern Canada. AXE disappeared in 1964 while on a flight in the Northern Arctic. Link to the story.  Note the slide back access to the upper wing from the cockpit. That little door made accessing the fuel tanks much easier (there is also another photo attached to end of story). I can still remember the distinct smell of aviation fuel as we added fuel two or three times a day. We never carried more fuel than necessary as the weight of every extra gallon of fuel had to be subtracted from cargo.
By 6:30 Hans Vanderflugt, the Chief Pilot for Alberta Fish Products and I, had pumped the floats and topped up the gas, both accomplished with an 'arm killer' toggle pumps. Well, stating it was 'Hans and I' was generous as he usually let me do the toggle work while he held the hose. I never complained though as I was more than happy to be getting 'free' flying lessons as I built hours towards my Commercial Licence.  If I had to do a little pumping, then fly twenty minutes, load 2000 pounds of fish, fly another twenty and unload it, it was a small price to pay for this kind of flying time.
Once I had completed the external and internal checks, then started the engine, Hans would cast off, jump into the co-pilots seat. We would taxi into the bay for our first flight of the day.  Today, however, was to be different.
(5542)
---
 More Tim Horton's Timbits
To receive regular notifcations of new posts, link to the

McNeill Life Stories Facebook

page and click 

Like.


LINK HERE

Dear Reader,

Many Canadians consider a Tim Horton's morning coffee to be one the five main food groups.  Yours truly is one of those individuals. I am now at the age where I feel slightly anxious whenever someone, even inadvertently, has the nerve to sit at my favourite table where I usually enjoy my morning cuppa and paper read if none of the other regulars happen to show up.

Each week I will add a few short posts about articles of local, national and international interest, as well as other miscellaneous items that have piqued my interest.  It seems there is never a shortage of items upon which I might wish to pass judgment.

Warning: The contents of this post do not reflect the views of my good wife, who sometimes jerks my chain just in time to modify a post she thinks might offend.  Since Lynn has engrossed herself full time with her travel consulting work, I am now running without the luxury of an Editor and Copy Reader. Any spelling errors and rough grammatical structure you encounter will most certainly be the product of my own hand.

I try to proof and correct but that is never easy when looking at ones own writing which is considered to be without fault and universally interesting. Bear with me, I am trying to overcome my shortcomings but the list is so long it will take years. If you wish to jerk my chain (occasionally!), that is fine.

Harold McNeill
Victoria, British Columbia
Travels from the end of March through April have taken me away from writing posts in this section. Hopefully, by the end of May, things will be back to normal.
June: It seems that other stories and spring/summer commitments will keep me busy until next fall.  Perhaps at that time I will return to regular posts in this section.
September 2012
September 30, 2012  Privacy on Facebook

In recent weeks, there have been many posts on Facebook and other social media sites about privacy. By definition, these sites are public. People post notes and pictures about themselves that lets everyone take a peek into their personal and private lives. What they had for breakfast, how they slept last night (sometimes even with whom), trouble going to the bathroom, a nasty little sore in a tender area, are just a few of the intimate details that periodically appear.
(9824)