Posts Tagged 'Larry Lohr'
---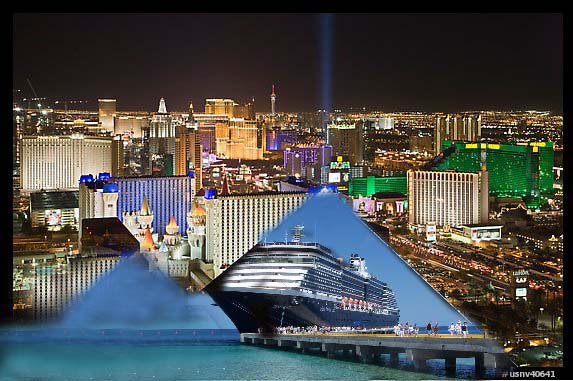 Photo: Holland America was the first cruise ship company to take a crack at the lucrative Las Vegas market with planned trips by the newly refurbised MS Westerdam this coming fall. This was made possible by building a giant canal from San Diego to the heart of the strip in Sin City. As with the Panama Canal this was a major undertaking that will surely become a big hit with the cruise companies.  When they complete the planned extension to Louisiana and the Gulf of Mexico in 2018, it will add a whole new dimension to the world of crusing.
Hello Friends and Friends of Friends.
A short description of the various stops and photographs from this
amazing adventure are now posted below.
(Scroll to "Narrative and Photo Gallery Links" Below)
 L
Left to Right: Anne, Herb, Lynn, Esther, Garth, Patty, Doug, Ron, Sandy,
Gloria, Jim, Bjorn, Linda, Harold (Absent while on leave for a cruise
through the Canadian Rockies, Roslie and John, Lib and Larry)
For the full set of pictures of the Viva Las Vegas pre cruise party held at the McNeill's
on September 16, 2012.  LINK HERE
Looking for a little adventure?  Thinking you might like to extend this coming summer by almost two weeks at the beginning of October?  Well, think no more.
Join these fun loving couples: Esther and Garth Dunn, Patty and Doug Cassels, Linda and Bjorn Simonsen, Ann Skelcher and Herb Craig, Sandy and Ron Hall, Gloria and Jim Arnott, Lib and Larry Lohr, Roslie and John Gold (welcome Visitors from Australia),  Lynn and Harold McNeill, as they climb aboard the recently renovated MS Westerdam for an historic cruise that will take us from Vancouver to San Diego (with a brief stop in Astoria, Oregon), then on to Las Vegas for our final 3 nights.
This 10 night package includes 4 nights cruising, hotels in San Diego (3 nights) and Las Vegas (3 nights), transfers, and flights from San Diego to Las Vegas and return to Vancouver.
Itinerary
30 September: Sail from Vancouver at 4:45 pm
1   October: Astoria, Oregon
2/3 October: At Sea
4-6 October: San Diego
7   October: Fly from San Diego to Las Vega
7-9 October: Las Vegas
10  October: Fly from Las Vegas to Vancouver
We will be staying at the Holiday Inn on the Bay in San Diego and the Excalibur ($10 more) in Las Vegas, (The Luxor and Harrahs are two alternate options you may choose from with this package for no additional charge).
Package price begins at $839.00 for an inside cabin (under $1200 with all taxes and fees) – based on double occupancy (other stateroom categories, as well as single and quad rates, are also available).
Patty and Doug have taken advantage of similar re-positioning cruises before and have found them to be of excellent value, with a great itinerary.
If you would like to join with us this fall for 11 days of fun and laughter, please contact Lynn as soon as possible. (With such a great deal, space is limited, – several other itineraries have already 'Sold Out'.) $250 per person deposit is required to hold your space- refundable up to 90 days before departure.
Contact Lynn by phone, email or Facebook
Office:250 656-5441   Email: lynnmcneill@cruiseshipcenters.com
Harold Contact: harold@mcneillifestories.com
September 17, 2012: Special Bookings:
World Premier of the Musical "Allegiance" a new American Musical at the Old Globe Theatre in San Diego.
(1441)