Posts Tagged 'Oak Bay High School'
---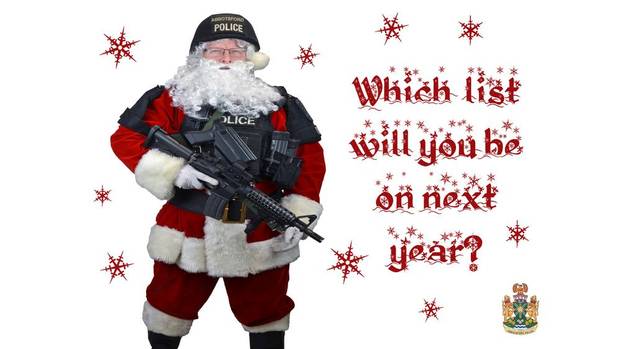 December 11, 2012.  The above "Christmas Card", prepared and circulated by the Abbotsford Police Department (Lower Mainland of British Columbia), will no doubt create considerable controversy. Destined to land in the mailboxes of several serial offenders and organized crime figures who have taken up residence in Abbotsford over the past several years, the card was signed by the Chief Constable and two Inspectors. In my view the card is a rather good example of black humour, police style, however, the fact it was circulated to members of the general public is rather unusual.
(1702)
---
The Case of the $20,000 Teddy Bear

This Teddy Sold for £130,190 on 14th October 2000, even though it was slightly smaller than the $20,000 Teddy that was part of an Oak Bay Heist.
Prologue
As affluence tends to define Oak Bay, at least in the eyes of outsiders, there is no better place to continue this series, than with a case about money, a lot of money, well, a lot of money for several dozen Oak Bay High School students.
Who would expect, that over a few days, early one spring, we would learn of parties at which $100 bills were being used to light cigars, stores where students were paying $500 for sport cards, and, of parents being given $100 bills by their kids, all with few questions being asked. Sound a bit far-fetched? Perhaps, but remember, this was Oak Bay and in Oak Bay, anything could happen.
The case developed, first by the keen observation of a fellow officer, and then, by information which pointed to three groups of students, who, in this story, we call the Uplands, Panhandle, and Rockland Boys. The Robin Hoodesque generosity of the three groups played a key roll in the distribution of tens of thousands of dollars throughout the school. What was going on? Had they opened up a counterfeiting ring in the school shop or had they found a bank vault left open along Oak Bay Ave? Not even close. The truth is even more interesting than fiction.  
(916)