Thank you BC Ferries
---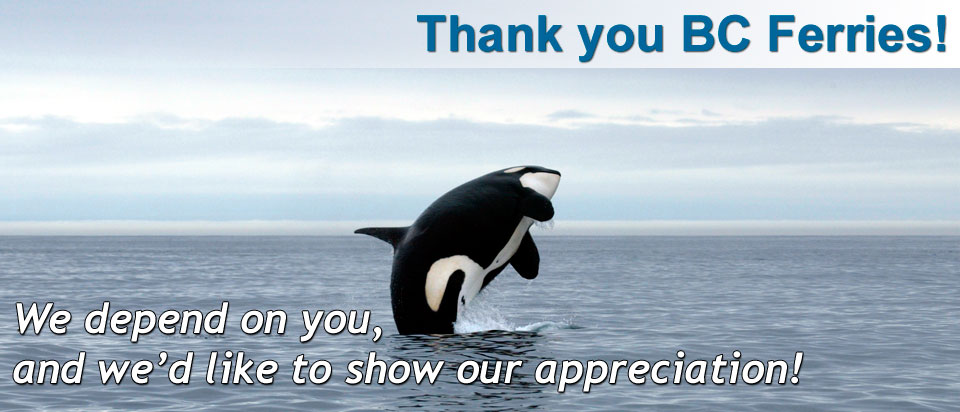 The following letter was first published on Facebook following a rant by an Island resident, Sean Smith of Nanaimo.
After making the post it seems many FB friends also think highly of the service.
November 15, 2014
Victoria, B.C.
Dear Sean Smith,
Re: Your Rant about BC Ferries (Link Here)
I went through your rant point by point and while some of what is said seems superficially reasonable, if one delves in deeper, I think you're wrong on almost every point. Having ridden various coastal ferries thousands of times over the past fifty years, I find the service to be exceptional and would stack it above every other ferry service in the world (e.g. England, NZ, Mediterrean, USA, etc.). Many of the others provide good service, they just don't match BC Ferries.
Compared to others, BC Ferry fares are pretty low (vastly lower in a number of cases) and the service and safety record leaves little to complain about. Part of the reason our fares are kept down is "tourism". Also, tourism is one of the big drivers of the Islands economy. Lose even 10 – 20% of that income and ferry fares would need to go up and the Island economy would also take a huge hit. What is it that helps to drive tourism – advertising, good service, reasonable routes, times, cleanliness, ease of boarding, gift shop, with pretty good food in the cafeteria and excellent food in the dining room.
From my perspective, being able to have a wonderful, relaxing meal with family or friends while sitting by a window looking out across those pristine West Coast waters is worth the price of admission. Go anywhere and try to book a restaurant with that view and see what it will cost you! And, don't forget those amazing shops at the larger terminals like Tsawwassen. All summer long they are filled with tourists and locals, and for anyone caught in a weather or heavy traffic delay, those shops provide wonderful relief from sitting in your car in an open parking lot.
I tell many visitors to BC – just take a round-trip route (whatever direction you choose) and it will be worth every penny. Take your car if you wish and you can do a circle route (Tsawwasssen, Nanaimo, drive to Victoria and return Schwartz Bay – Tsawwassen; or try Schwartz May, Tsawwaassen, Horseshoe Bay, Namaimo and back to Victoria) A great day trip with fine food for breakfast, lunch and dinner. Visitors to this area rave about it and if they are lucky might even get to watch a pod of killer whales.
For locals, if you don't want to pay the cost of a meal, just pack a lunch, settle back and do some computer work or grab a coffee and chat with someone. Granted, the WIFI needs serious attention, but I think that will come with time (and complaints). And on another point of improvement, I think a review of senior staff salaries and bonuses would be in order.
So, Sean and others who complain about BC Ferries, just suck up kids and get on with life. There are plenty of things that need to be improved in BC, but BC Ferries is likely a long way down the list. While efficiencies can always be made, be thankful that you have the best of the best in an exceptional part of the world.
Cheers,
Harold
Comments and Maps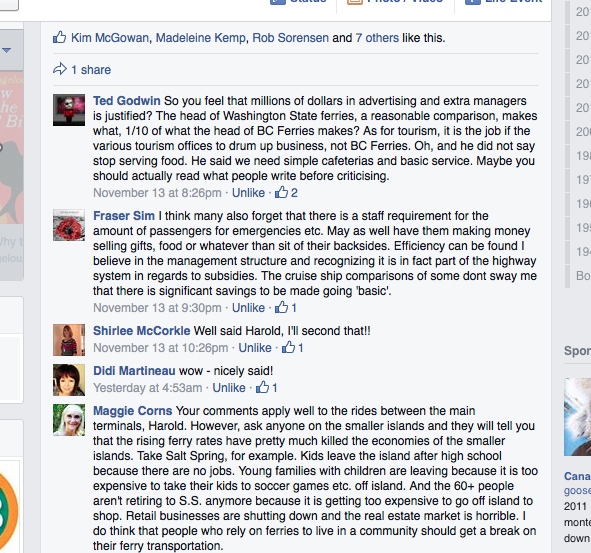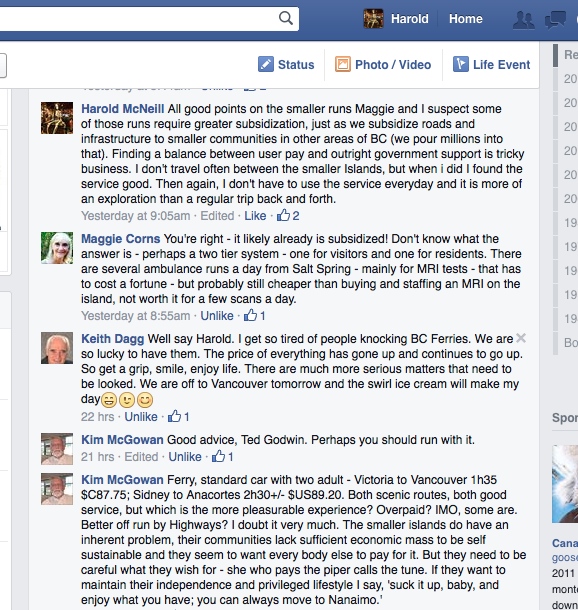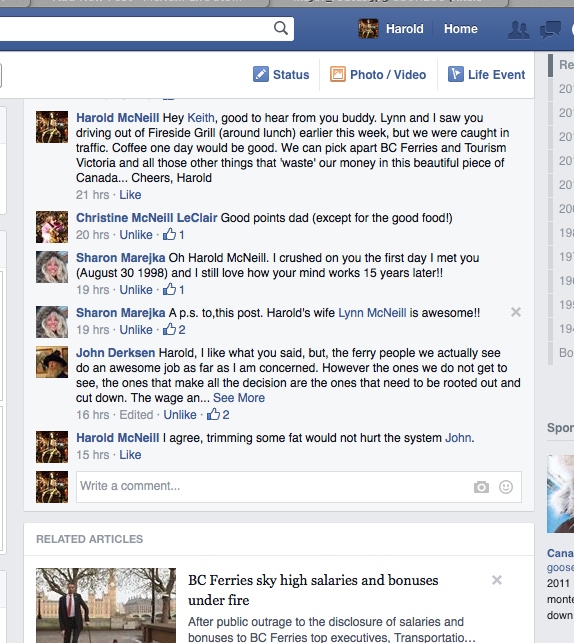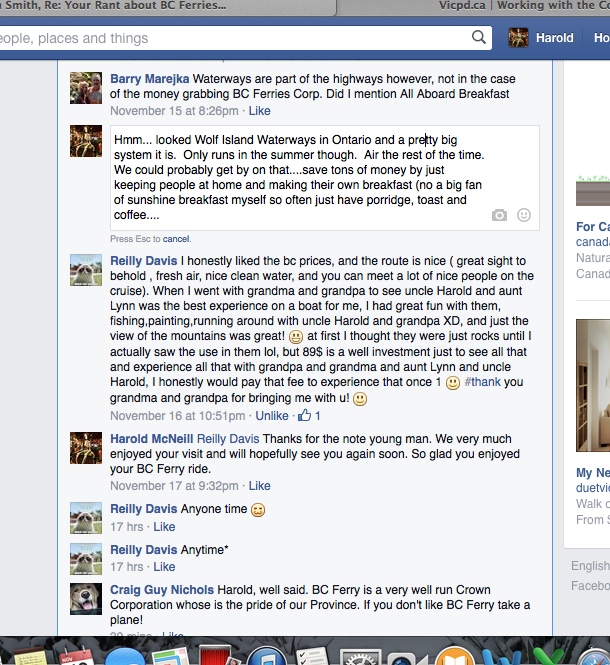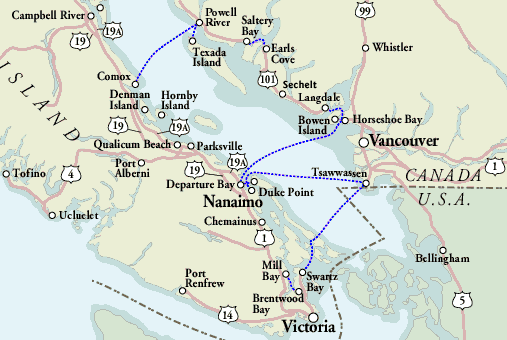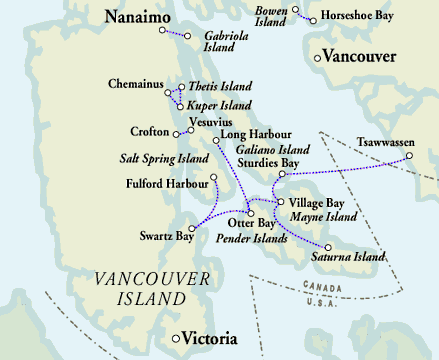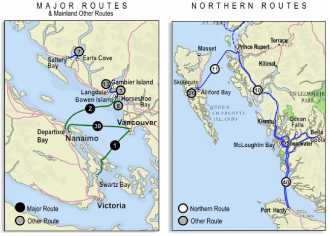 (3891)
(Visited 334 times, 1 visits today)
Trackback from your site.