Black Friday: An Amazing Coincidence
---
To receive regular notifcations of new posts, link to the

McNeill Life Stories Facebook

page and click 

Like.


LINK HERE
An Amazing Coincidence
Following is an observation for the math guru's among you.
While completing the Black Friday story, I first met P/O Bert Ramsden who, in the 404 Squadron photo, is standing immediately below and to the right of the nose cone V3 painted on the Beaufighter. No big deal, he just picked a place to stand and there he stood very near the symmetrical centre of the photo, a modest 1 in 59 chance of occupying that position.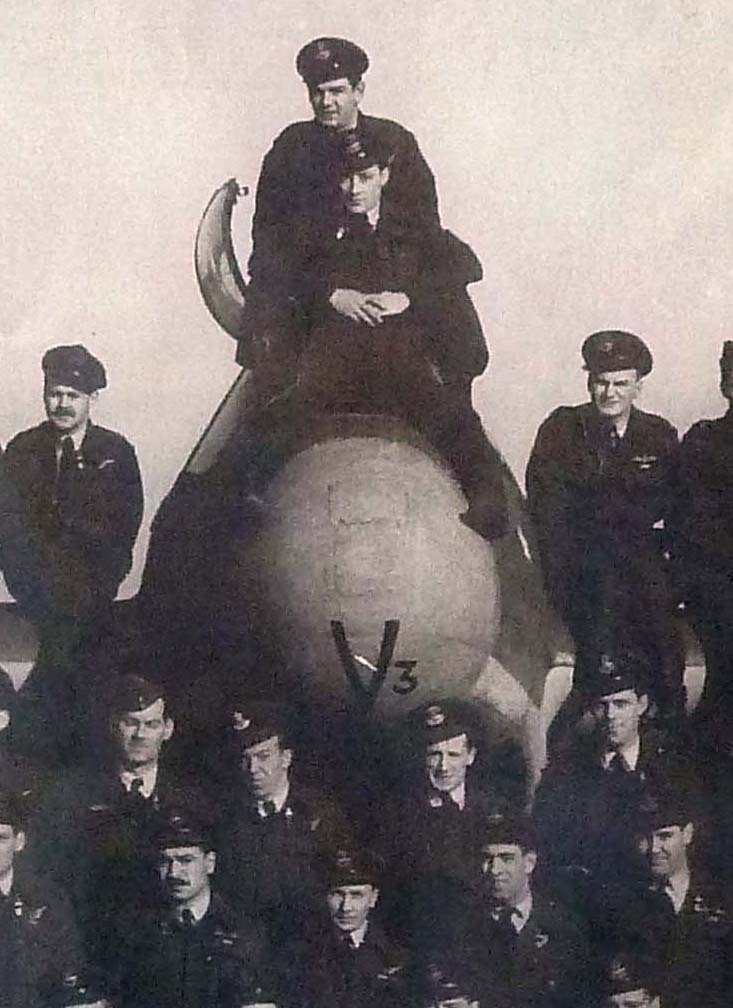 Later, while researching the article, the name of one other member of the squadron air crew still living was found to be P/O Miller Bryce. It was not until I was highlighting names in the photo I discovered P/O Bryce was standing just below and to the left of the V3, shoulder to shoulder with P/O Ramsden.
Now there is nothing unusual about just two members being left alive as that was bound to happen at some point. However, that the final two living members of the 59 members in that squadron photo were randomly standing side by side seemed highly coincidental. This will be further discussed later.
In an email exchange with Don Flynn, the son of P/O Pat Flynn, I was told I had missed his dad's name on the photo name list. He told me his father was sitting directly above Ramsden and Bryce on the nosecone above the V3. Sure enough, I had accidentally missed the name the first time around. Now, of the three members coming to my attention, all are sitting or standing in a symmetrical position around the V3 nosecone!
Photo: Cropped section of the Squadron photo displayed in the introduction.  Link here to the full Squadron Photo. (Lead photo in the Black Friday Story)
During the Black Friday Ceremony held in 2008, in Naustdal, Norway, the two living members (and their families) along with the family of one deceased member, were represented.  Of course, the two living members were P/O Ramsden and P/O Bryce.  The third, represented by his wife and son, was, take a guess, P/O Flynn, the man who completed the Beaufighter nosecone triangle.
I spoke to P/O Ramsden about this coincidence and he was, of course, very surprised. He stated the photo was set up in completely random fashion with no particular position being selected or allotted either by rank or length of service.  He could not remember the significance of the V3 on the nosecone but stated there were a lot of Beaufighters attached to the Squadron and he could only remember one having had a V3 painted on the nose. Others had various other markings.  
The Probabilities
What is the probability of that symmetrical triangle of Ramsden, Bryce and Flynn occurring with 59 squadron members free to choose their placement in the photo?  With completely random positioning one would expect individuals to occupy any one of the 59 available positions.  The calculation would be:
P/O Ramsden 1 X 59 positions
P/O Bryce 1 X 59 positions
P/O Flynn 1 X 59 positions
The probability of the three standing together would be: 1 x 59 x 1 x 59 x 1 x 59 = 1 in 205,379.  A very slim chance, but it did happen as we can see in the photo.  But that does not speak to the probability that the final two living members being side by side in a picture taken 70 years earlier1. To me it seems this would be an extraordinarily rare event and I don't know exactly how to assign that probability. I have therefore given it a modest 1 in 50 chance (reduced from 118 which was used in the original post).  Within that triangle (an isosceles), the new probability would be:
1 x 50 x 1 x 205,379 = 1 in 10,268,950.  Is this possible? It seems so as they are standing in those positions. Still, there is more.
Might that triangle of those three members have occurred in several other parts of the photo? Of course.  To gain that central position would be one of 30 or so possible triangles (I counted the ones that generally place three men in a triangle, therefore there is a 1 in 30 chance on the men being in that triangle. Now we have:
1 x 30 x 1 x 10,268,950 = I in 308,068,500.   Very large odds indeed, but it happened. Both men, it seems won the Loto 649 many times over as the chances of winning a $2,000,000 prize in the 649 runs about 1 chance in 13,983,816. That lottery win chance is about the same as flipping 24 heads in a row on a coin toss.
One Further Item of Chance
Assume there were 30 aircraft (12 had just been added from Dunkirk) with only one having had a V3 painted on the nosecone. It could well have been a "D3" or an "H2" or other marking, so it would not really play a role. But still, the V3 still has symbolic significant as a result of the three members surrounding that V3 are central to our discussion. I have not added in the 1 in 30 chance of that particular aircraft being used in the photo as I am not sure that would be valid entry in the probability calculation. If I had the probability would have jumped to 9 billion in one.
The final probability is therefore left at something in the order of 308 million to 1 those three men would be together in those position and would have been represented at Naustdal.  Pretty high odds in any poker hand.
As mentioned in the article, that chance plays an extremely important role in war seems born out by the remote chance these three men would end up together on that particular day in that triangle in the centre of a photograph bearing the number V3.
As I may have erred in logic or method in this calculation, any suggestion you have for corrections would be appreciated. Your thoughts on this particular coincidence would also be appreciated?
Harold
For the full Bert Ramsden Story:  Link Here
Comments:  Suggestions have been made to change a few of the probabilities. These include:
1 Age of the Squadron members:
A question was asked about the relative ages of the Squadron members? It is clear that older members would be expected to pass away before the younger.  P/O Ramsden was just reaching his 24th birthday when the photo was taken and looking at the face of P/O Bryce, he looks to be about the same age.
By far, the largest percentage of Canadians shipped off to war were young (18-30). Assume the average was 25 (+ or – 3 years). P/0 Ramsden (and likely P/O Bryce) were near that average age, that would make half the men older and half younger.  I was told by a friend the average life span in I921 (Ramsden's birth year) was 62 years, so he and Bryce have now exceeded the span by nearly 30 years.
As most of the men in the squadron were born in the period of 1915 – 1925, one could reasonably expect almost the entire squadron would have passed away between 1977 – 1987.  Ramsden and Bryce (B: 1921) are still here, so they have beat the odds by some considerable length of time.
While a probability of 1 in 30 (less than half the number of squadron members) has now been assigned. This could have been much higher, say 1 in 100, or more. I have used the number to 1 in 30, just to be on the safe side in the calculation.
hdm
(796)
(Visited 542 times, 1 visits today)
Trackback from your site.