---
Laura Isabel: The Young Woman – Chapter 3 of 5
During her teen years, Laura and her family went about the daily routine of cooking meals, working in the garden, mowing hay, looking after the animals, cutting wood and all the chores that were part of early farm life on the prairies. Because they were so close to Birch Lake, the kids had many fond memories of swimming and boating on those hot summer days when they could sneak away from their daily chores.
Always a homebody, Laura traveled for the first time, at age 16, to work on a family farm outside Battleford looking after five kids under the age of four.  She became so homesick after a couple of weeks that her dad traveled to Battleford in his Model T to pick her up. Her next job was working as a cook for a road construction crew as they rebuilt Highway 55 (now Hwy 3) out of Glaslyn.
When Laura was 21, the family suffered a double tragedy when her brother, Leonard, then twenty-five, was drowned in the Shuswap River while trying to save a friend's life after the friend had fallen from a log boom on which they were working.  While the whole family grieved over the loss, their father Bill took the death particularly hard. Later that winter he contracted scarlet fever and, tragically, in the early spring of 1940, he died at the age of 51 just a few months before Laura married Dave McNeill.
Following the death of her son and husband, life for her mother and the family became very difficult.  Shirley was barely two, Helen and Marcia were five and seven and Tonnie had just turned ten. Melvin returned home to help his mom, followed later by Clifford who had served in the military until the end of the Second World War. In order to help make ends meet, Lilly, Helen and Marcia worked on neighbouring farm but the nearly all the money they earned was deducted for room and board and any remaining, which was pitifully little, was deducted from her meager widow's pension of $30 per month.
(844)
---
Laura Isabel: The Early Years – Chapter 2 of 5
Laura was the third of ten children born to Bill (William Skyler -1888) and Lillie Cressie Wheeler (Elliott – 1896).  Siblings included Leonard (1914), Evelyn (1916), Kenneth (1920), Melvin (1922), Clifford (1924), Tonnie (1928), Marcia (1932), Helen (I934) and baby Shirley (1938).
In the early spring of 1924, Bill and Lilly, along with other family members, pulled up stakes and headed out from the Alsask, Saskatchewan, to take up homesteading at Birch Lake, a few miles North-East of Glaslyn. At that time the five children ranged in age from 2 to 10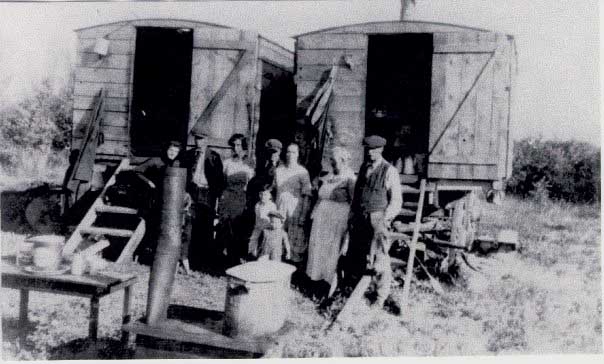 years and Lilly was expecting her fifth. Clifford was born that September. Lilly attributed the distinctive brown birth mark prominently displayed on Clifford's forehead to the fright she suffered when Melvin, then two, almost fell from the caboose while crossing a river enroute to Birch Lake.
Photo: The wagon train ready to head out. Howard (Laura's dad's brother) and Myrtle Wheeler, her mom and dad, Lilly and William, grandparents, and siblings, Kenneth and Evelyn. 
While Bill and Lillie were able to provide their family with a comfortable life (by the standards of a 1920's homesteader)  it did require the labour of all family members. That first summer, after the crops and garden were planted (some of the land was previously broken), Bill set about building a three room log house with sod roof, mud plastered cracks and whitewashed exterior. 
(1429)
---

In Memory of
Laura Isabel Skarsen (McNeill) (Wheeler)
A True Canadian Pioneer
1918 – 2008
Link to Part 1 A New Beginning 
Link to part 2 The Early Years
Link to Part 3 The Young Woman
Link to Part 4 A New Beginning
Link to Part 5 The Final Chapter
Laura Isabel: Prologue – Chapter 1 of 5
It is amazing how much the world changed during Laura's lifetime. Born in a Southern Alberta dust storm, at five years old she was on a wagon train with her parents and grandparents as they headed to Northern Saskatchewan in order to create a new life on a homestead.
She grew into adulthood in the Great Depression as clouds of dust blanketed the prairies and jobless men road freight trains in search of work. The 'great' depression barely ended when the Second World War seized the world in it's powerful grip. It was a character building period that began in the ashes of one world war and ended with the euphoria that accompanied the years following World War II.
(2023)