Christmas Celebration on Leney Place
---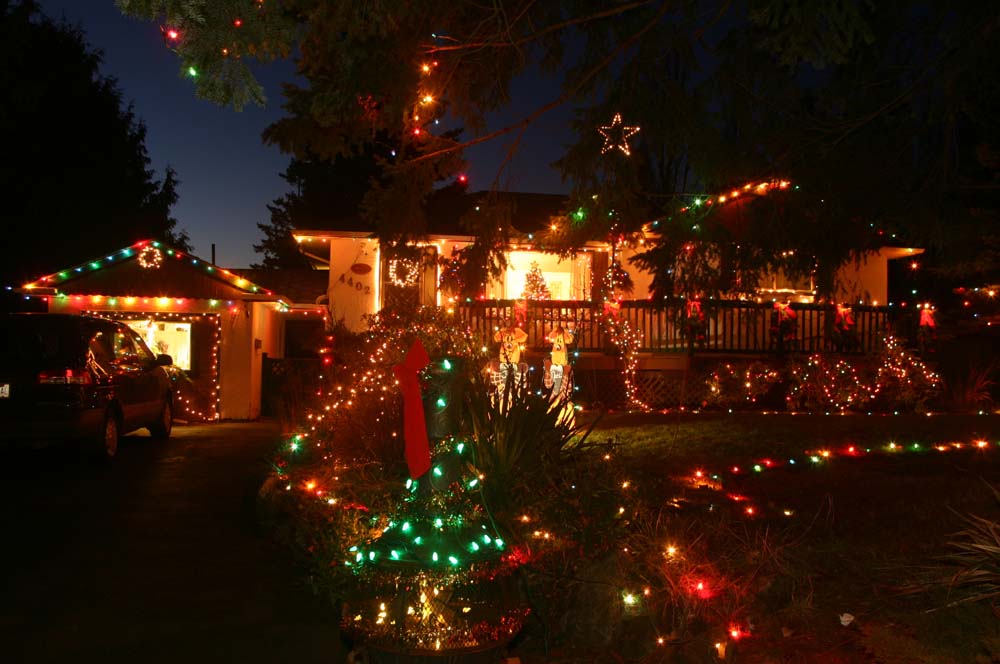 (Link here to 2012 Christmas Wish)
Getting Ready for Christmas
Decorating for Christmas is just plain fun but when friends and neighbors get together to make it a collaborative experience, it gives a whole new meaning to the Season of Joy.
It all began in early December as a result of encouragement coming from Sam and Jacob, two ROMS students, and their dad, who thought it would be a great idea to enter our street in the Times Colonist Lighting Contest. Our two families have been in a bit of a lighting contest for the past couple of years and so decided to combine our efforts. We checked with the other neighbours and after finding everyone was on board, the decorating began in earnest.
As one couple on our street, Glen and Peg, were laid up and could not decorate this year, we got together and had their yard shipshape (Glen and Peg are Vets) in a couple of days. Over past years, many of the Christmas figurines you now see on the street have been made in Grandpa Glen's Workshop. Take a look at the genetically identical deer and snowmen and you will realize we did a bit of "figurine cloning". Even though it was still the early days of cloning, it worked out quite well.
By December 9th, with everything ship shape and with the music playing, we were ready for the judging on December 10th and 11th. Low and behold, when the winners were announced on December 14th, our street was #3 on the Best Street Display, just behind our neighbours in the 1200 block Alan Road and more distant friends in the 1200 Block Marin Park Close in Brentwood Bay.
While we have experienced a considerable build-up of vehicle and foot traffic along our little street, it is a small price to pay for the fun of completing this neighborhood project and seeing the joy that is evident in the eyes of the parents and kids as they walk by and pause to take in the peaceful Christmas scenes nestled in among the trees and shrubs.
Sometime between Christmas and New Year (perhaps the 28th, if the weather looks good) we will be lighting the outdoor fire place and hosting a pot luck dinner for our friends and neighbors.  If you perchance to see us on the street with the fire going, a cuppa 'hot chocolate' in our hands, singing Christmas Carols, please stop and join the festivities. Ah, we do love Christmas.
A Very Merry Christmas and Happy New Year
From the Families of Leney Place
ps  On Thursday Evening (December 29th) we hosted a 'driveway' campfire, marshmellow roast and hot chocolate 'drink-off'.  Over the evening about 35-40 friends, neighbours and folks just driving by stopped to enjoy the final days of the Christmas Season.
The following photos plus others are contained in slideshow at the end of the post.  Those photos may be opened to full size for download.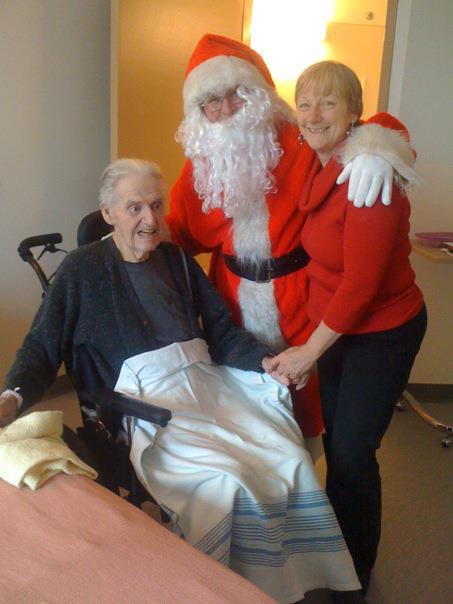 Grandpa Glen, Santa and Lynn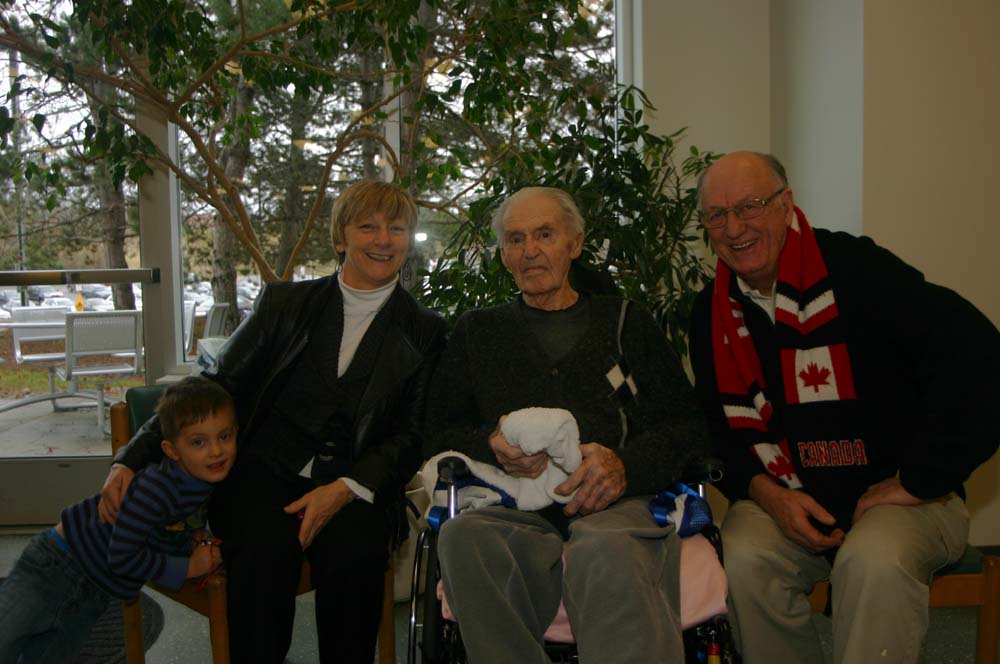 Visiting Grandpa Glen Devins at the Victoria General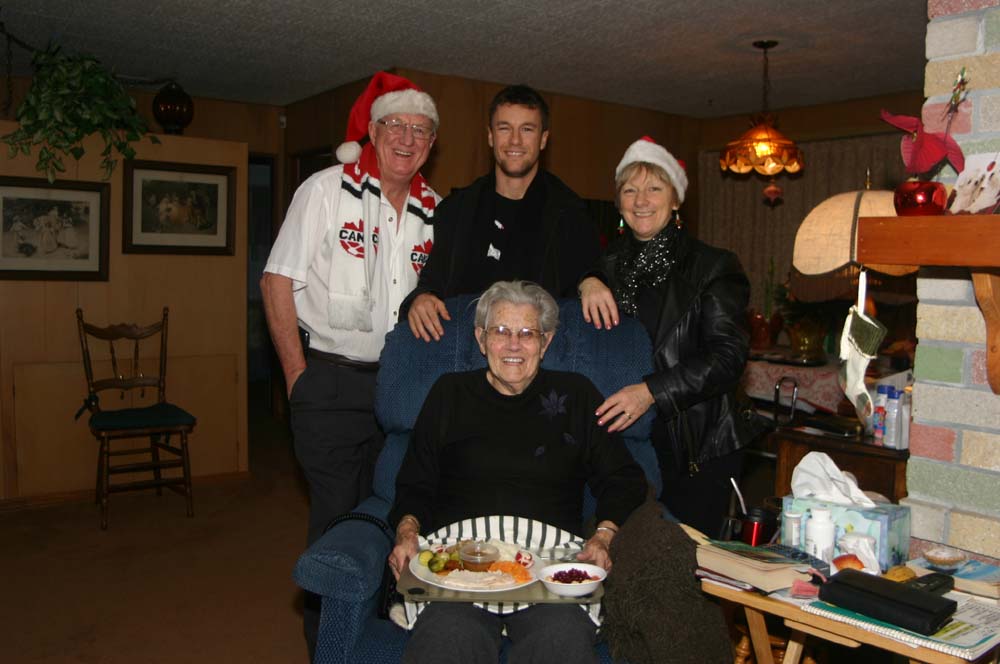 Visiting Grandma Peggy Davins
Grandpa Glen's tour of the hospital.  Can you spot Grayson in this photo (hint, he is hiding)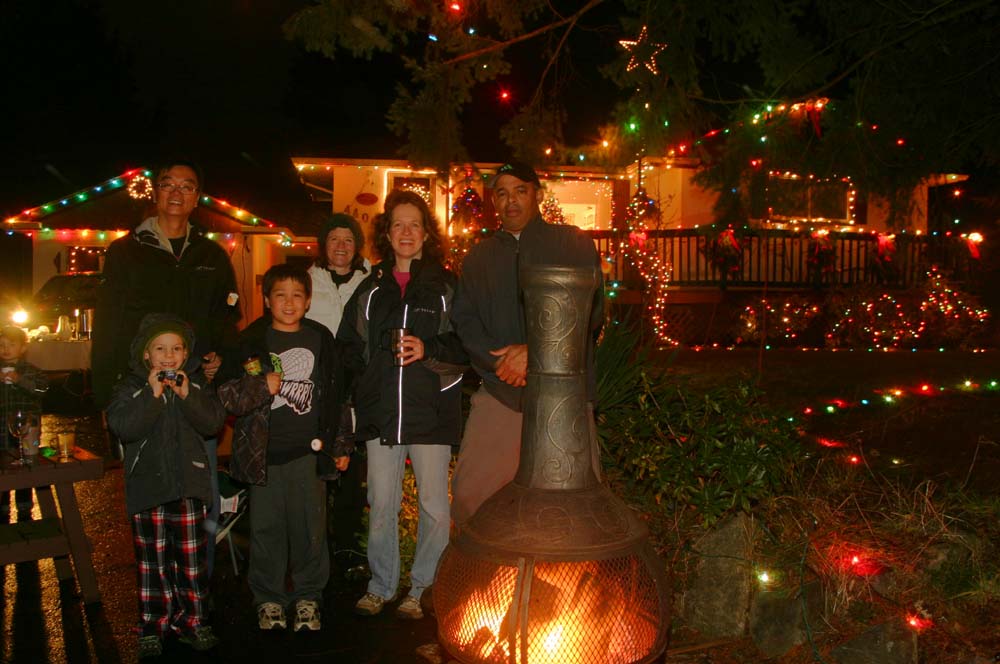 Neighbours warming by the fire.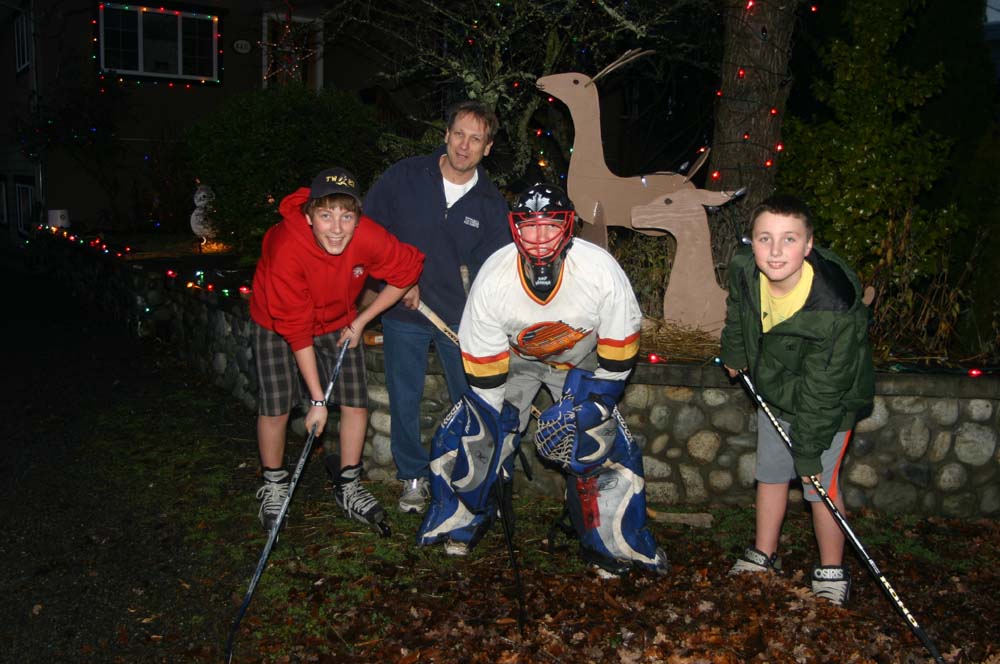 Neighbors Mike, Sam, Jacob and Goalie Friend getting ready for the World Junior Championships in Street Hockey.
Neighbours Erin and Joey warming by the Fire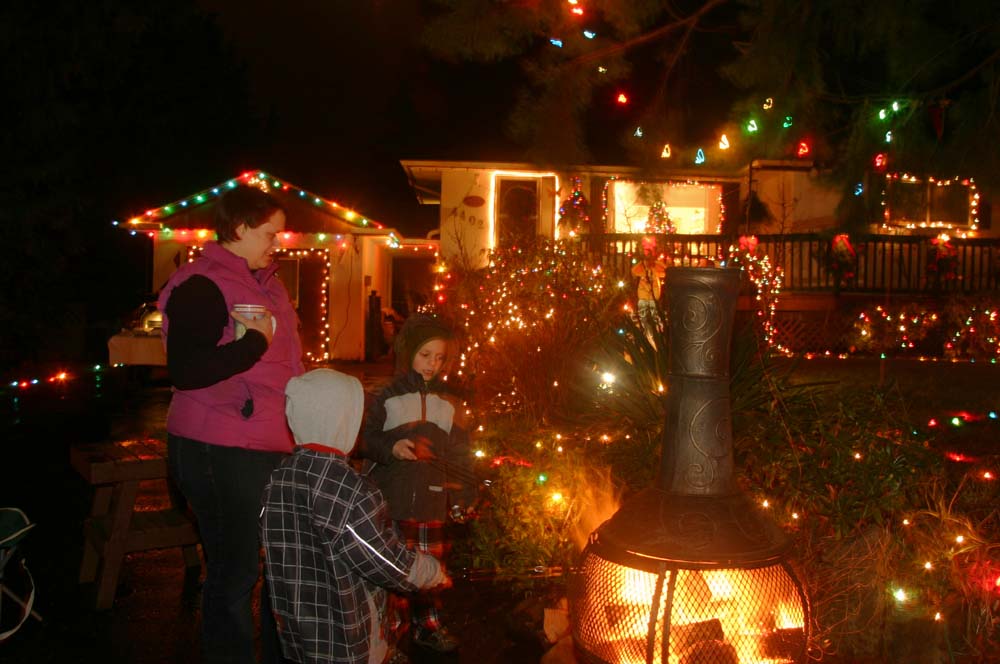 Kari, Grayson and Joey roasting marshmellows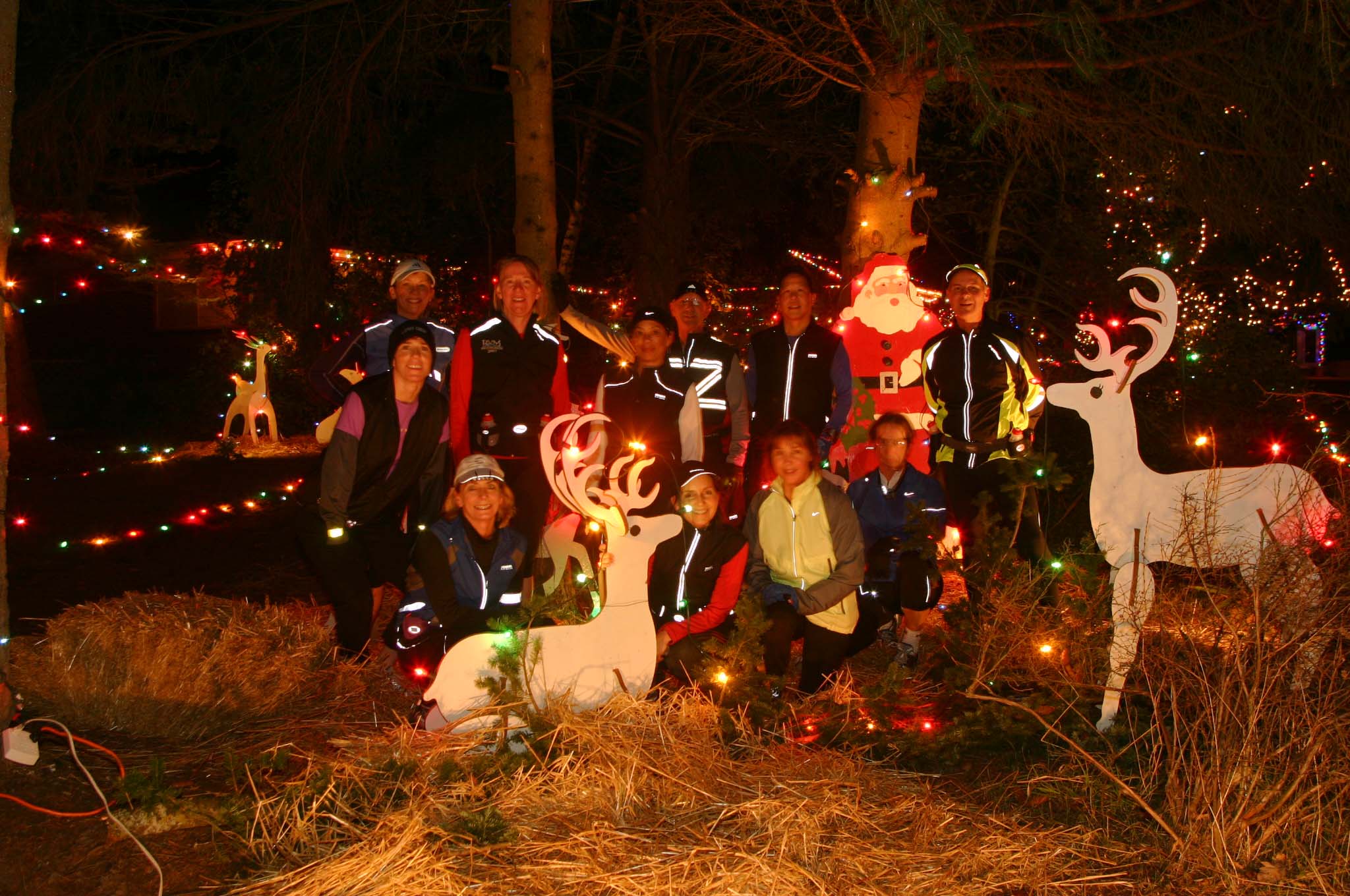 Above Photo: This pack of Royal Oak Runners were captured on Leney Place when they tried to sneak up on Santa Clause and his Reindeer. Fortunately, Santa was able to stop the deer from trampling them. When I came out to negotiate their release, I learned the group was at one time called the Broadmead Village Sneakers but when they discovered there was no pub in Broadmead, they changed their name to the Royal Oak Runners. This was done in order to get a discount at the Bird of Paradise Pub, for, as is the case with every running group, the members need regular rehydration.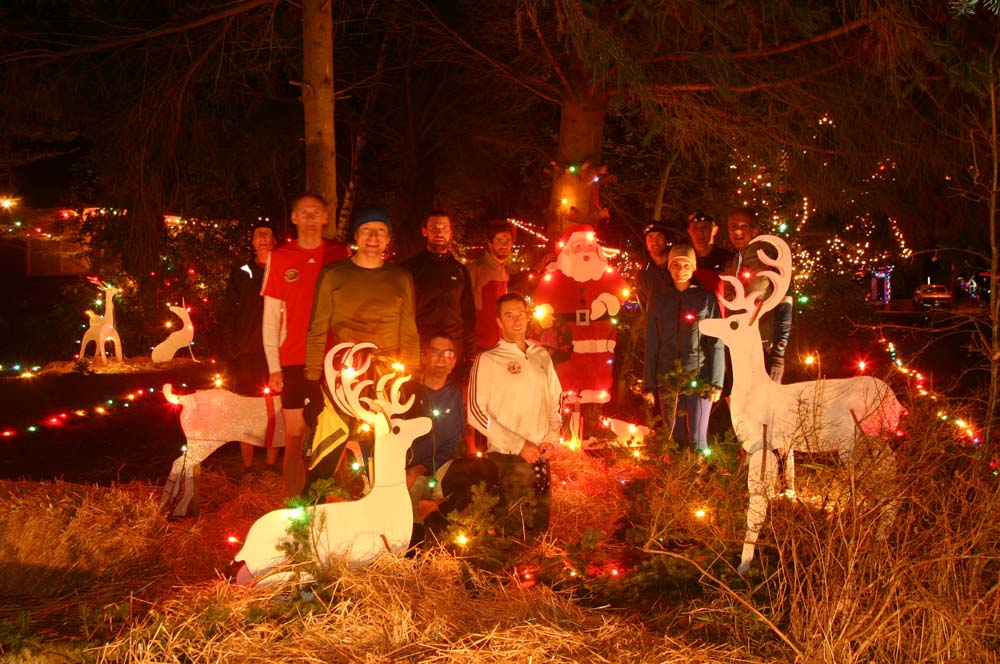 This motely crew called themselves The Prairie Inn Harriers. Somehow they ended up on Leney Place where they were chased down by the Royal Oak Runners. Santa and Rudolph intervened to stop the Harriers from getting hurt in the ensuing dustup. We have learned that running groups (being pack animals) are known to be very territorial.
We also learned it was not unusual for the Harrier men to get lost on their runs. They had recruited a few women to help them find their way but tonight, after a few beer, had taken off on their own. When the Prairie Inn Staff heard a news report that the group seen wandering in the Royal Oak area looking for a watering hole, they sent a woman over to herd them home.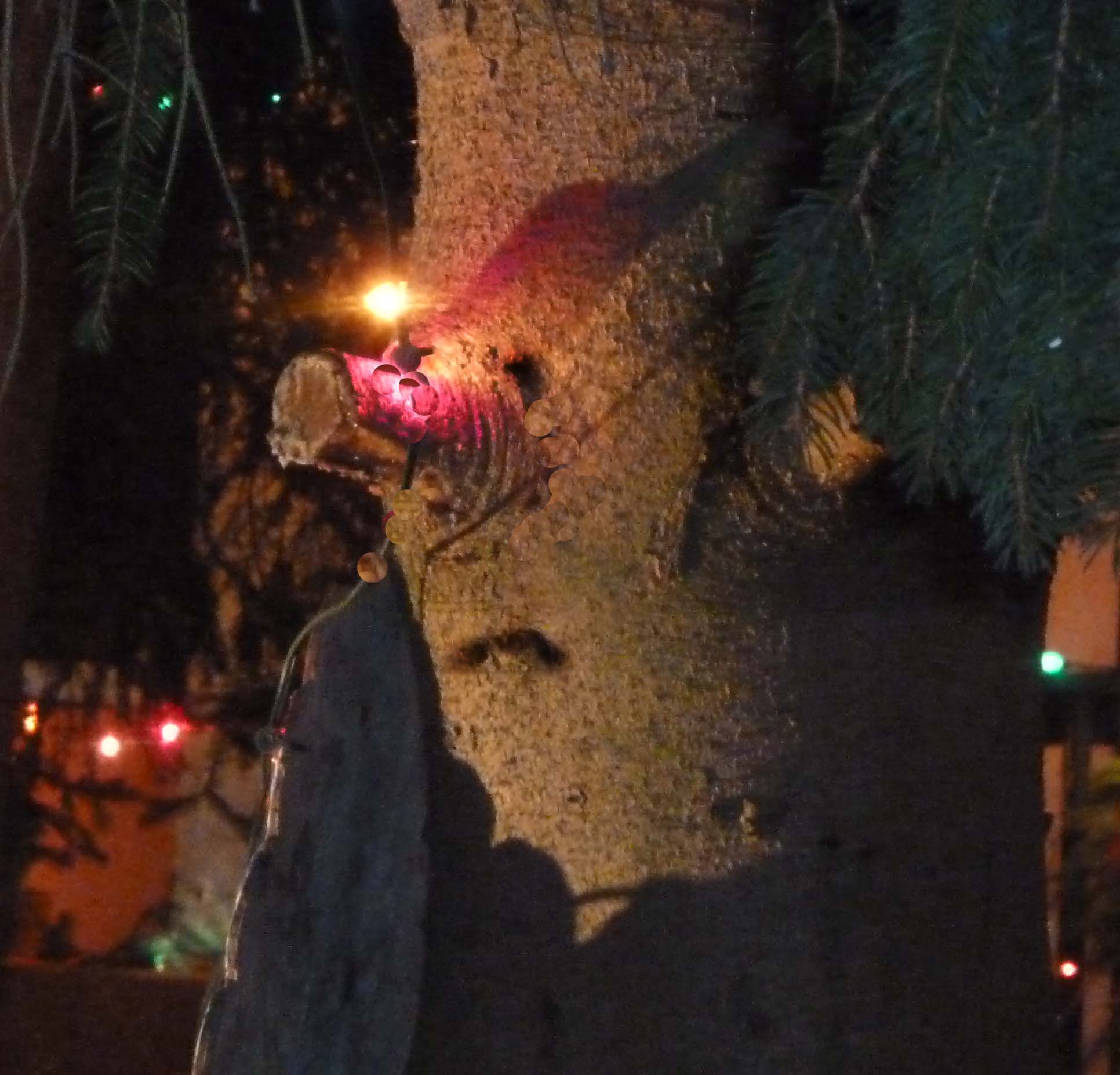 The Ghost of Leney Place. For years neighbours are certain a ghost has been present on Leney Place. There were only a few sightings as the ghost only made appearances late at night during a holiday periods. This Christmas is no different.
I stayed out Sunday waiting and watching and finally caught this picture just before dawn on Monday when I noticed the tree behind Santa starting to shiver in the cold morning air. I am certain I could see a mouth starting to move as if someone or something in the tree was trying to speak, but no words were forthcoming. If you stand quietly the street and look at the tree trunk just above and behind of Santa's head, you will perhaps see the sad outline of a face as the ghost hides in the tree.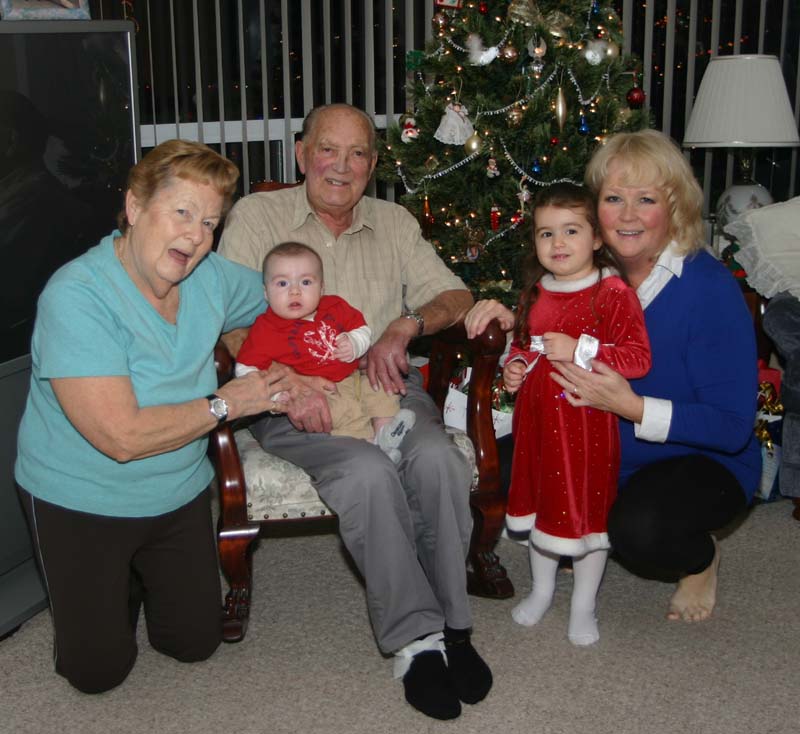 Kids always help to make Christmas a very special time as it is for these two visiting Grandpa and Grandma at the end of our street.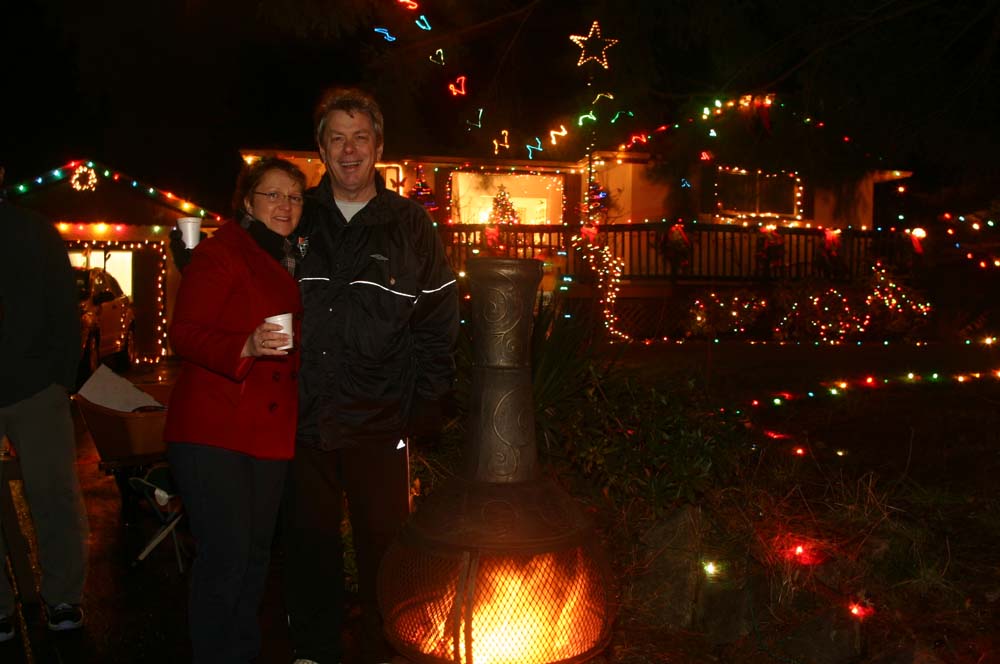 Friends Garth and Esther.  Honestly, the hot chocolate was not spiked…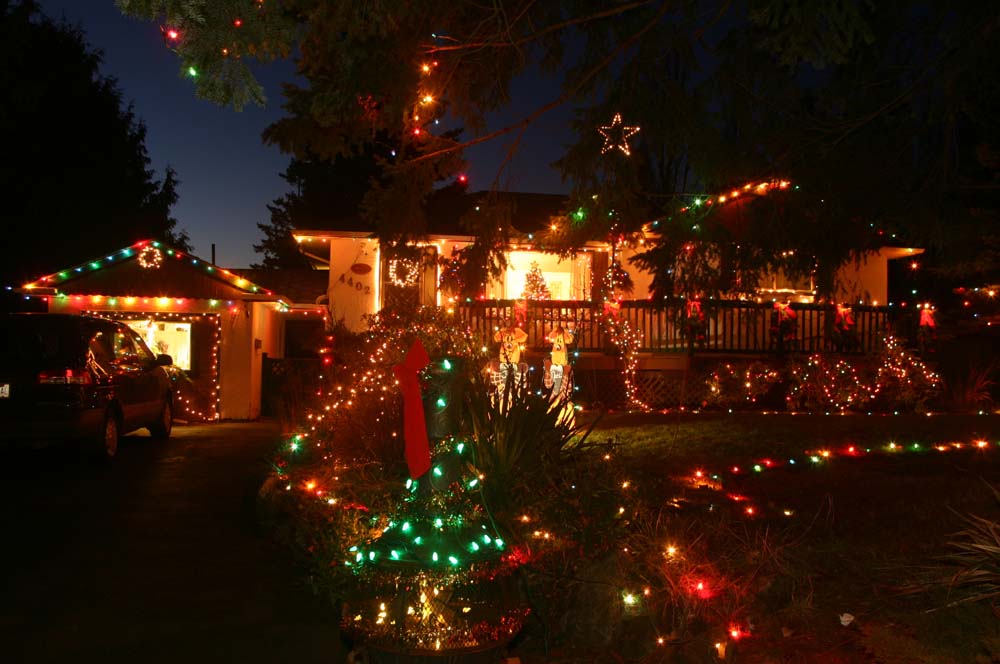 Our Home. Now if we could just get a couple of inches of snow, the scene would be complete.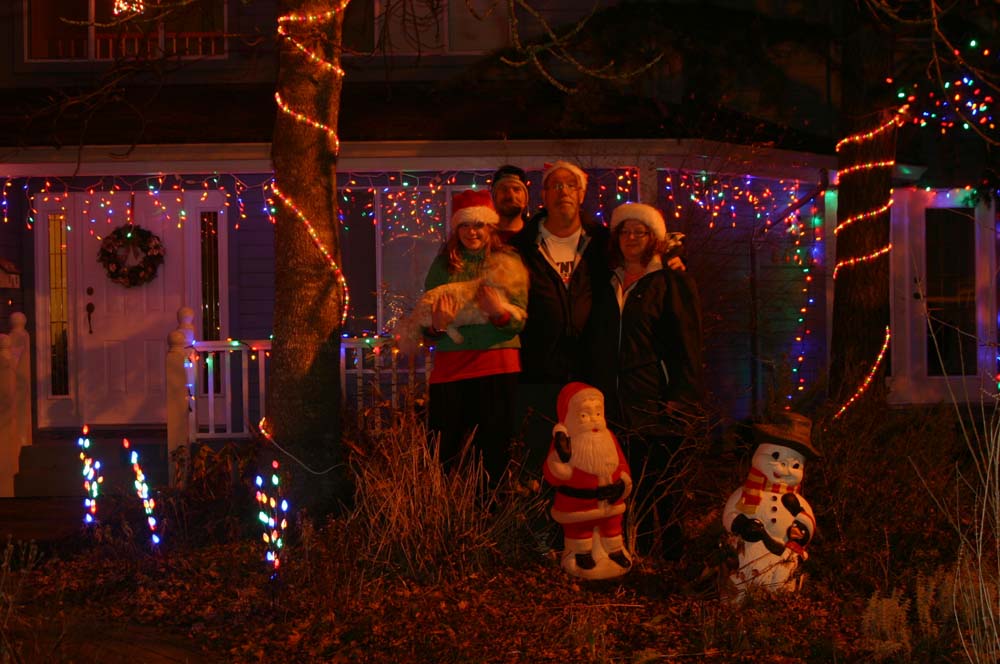 These neighbours anchor the very end of our cul de sac. Their lovely home is shown below.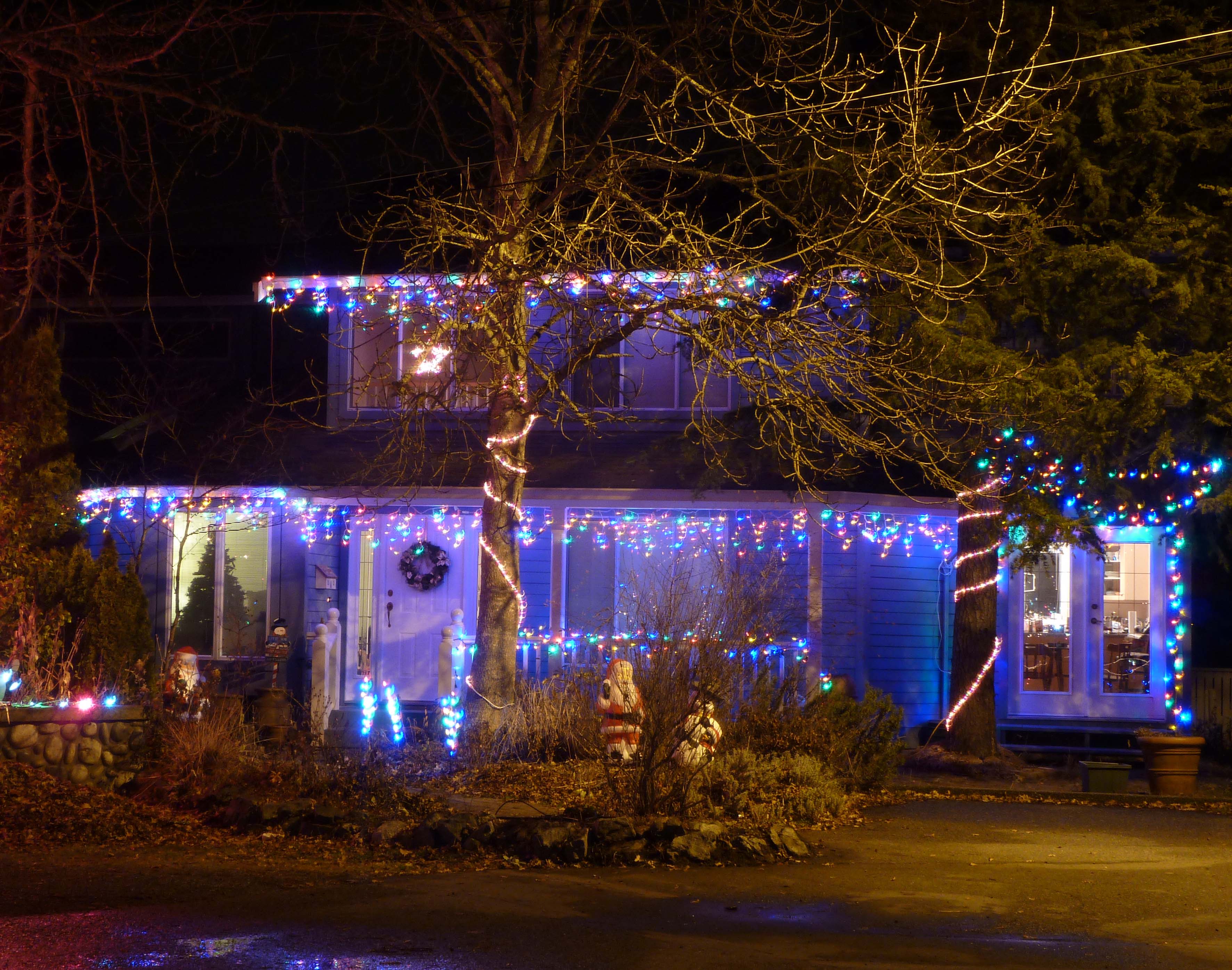 Neighbours Home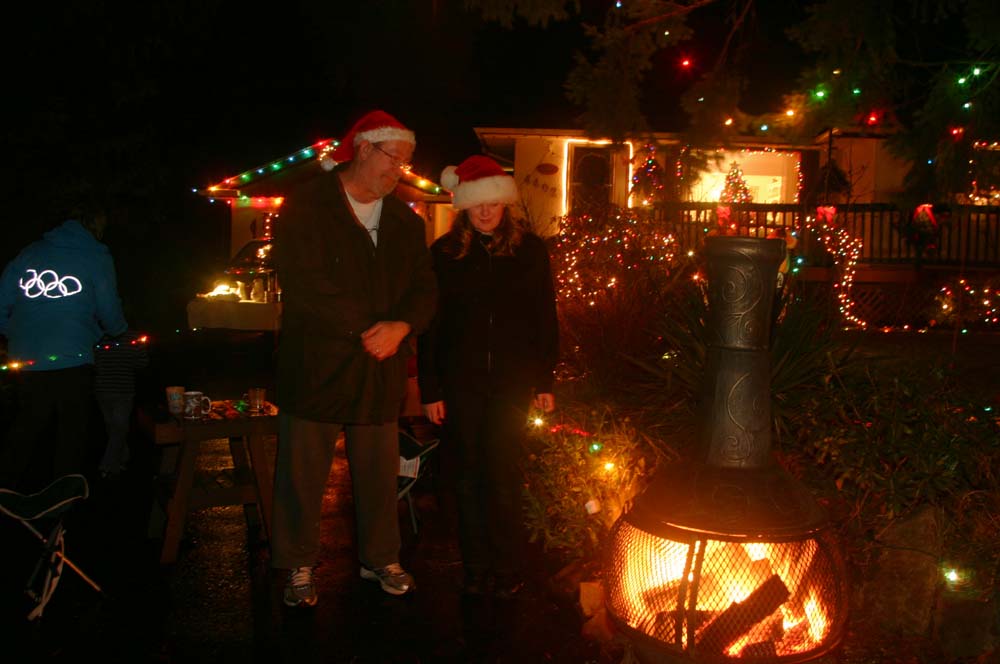 Jeff and Maddy warming by the fire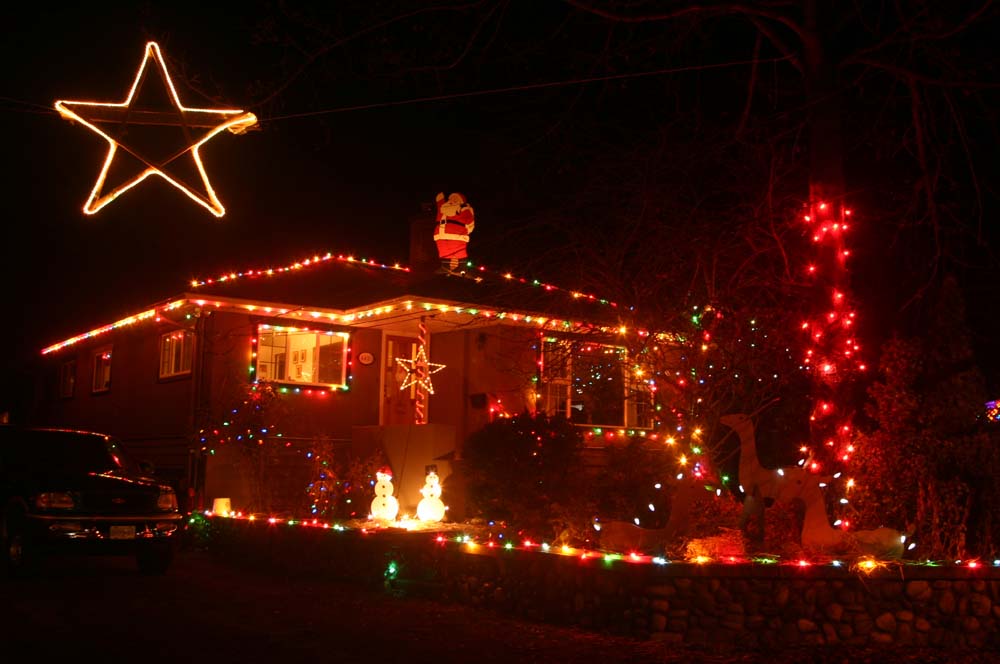 Notice the snowmen and reindeer.  They are genetically related to other parts of the Leney Place family of deer and snowmen families.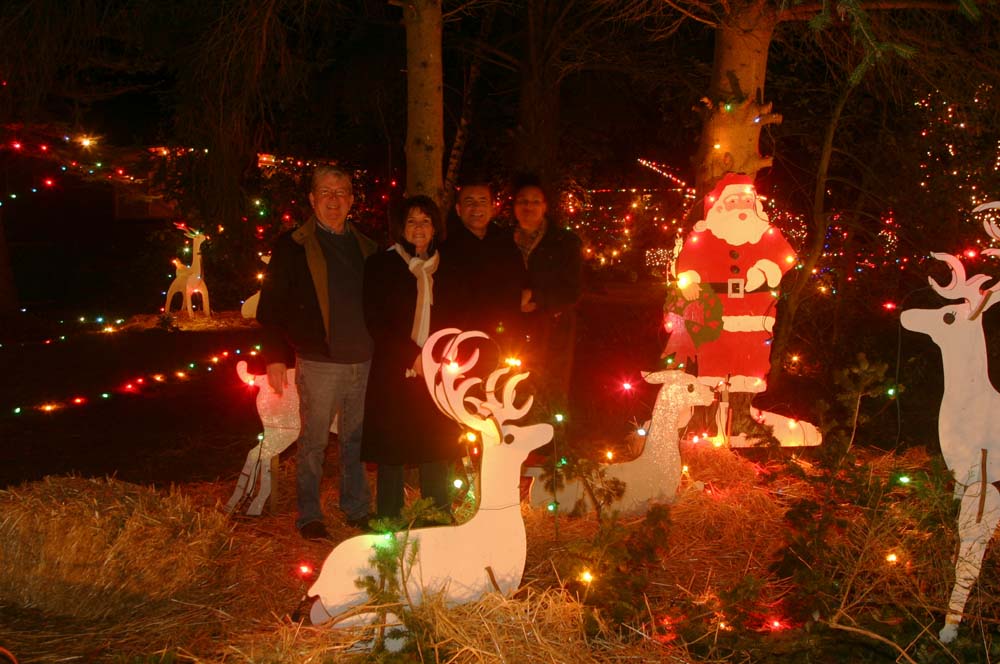 Visiting Friends Terry and Wendy along with their son Dylan and his new bride.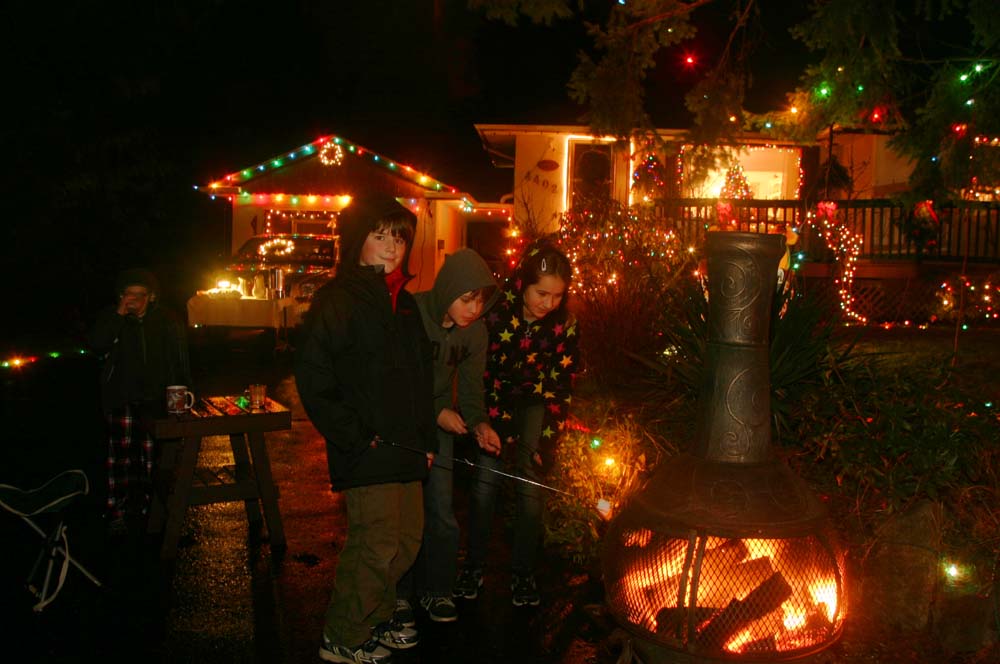 These kids dropped by with their mom while they were on the Christmas Light Tour.  They decided it would be a good idea to roast a few marshmellows.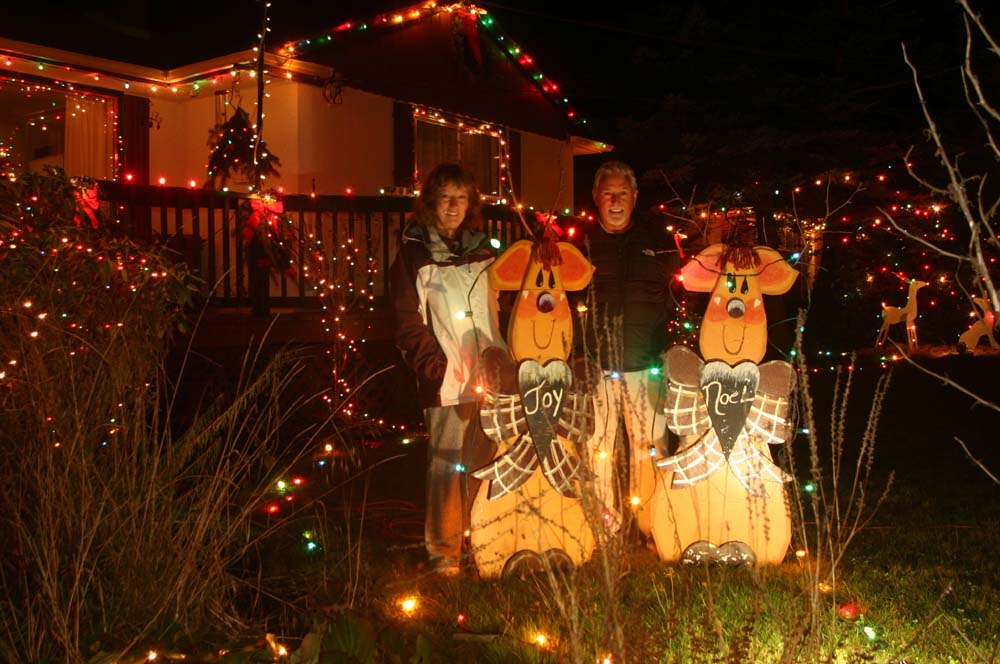 Area Neighbours with our friends of many years, Joy and Noel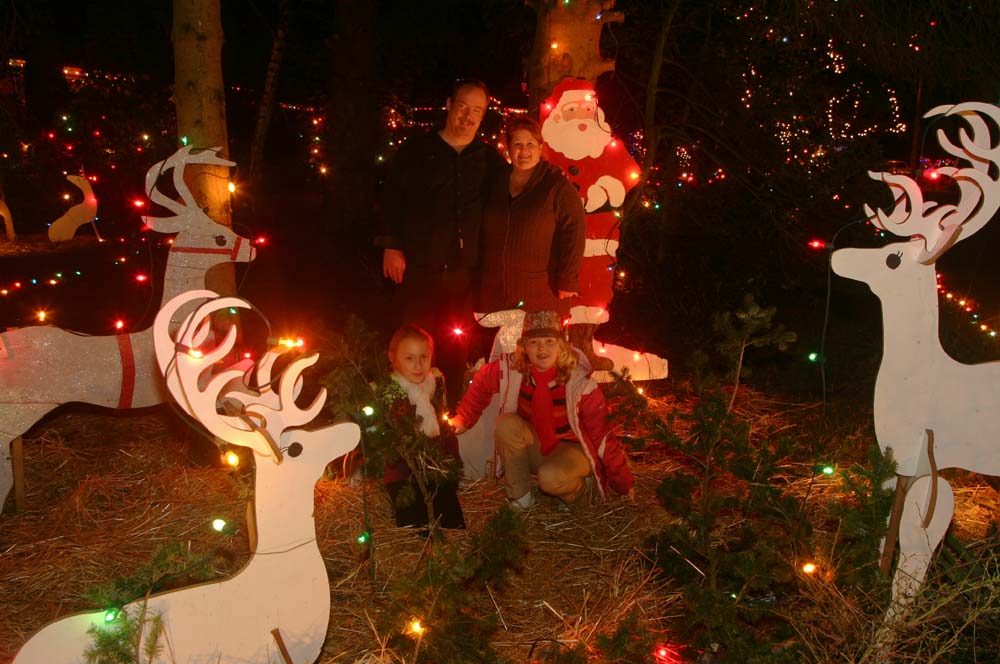 Friends from Christmas's Past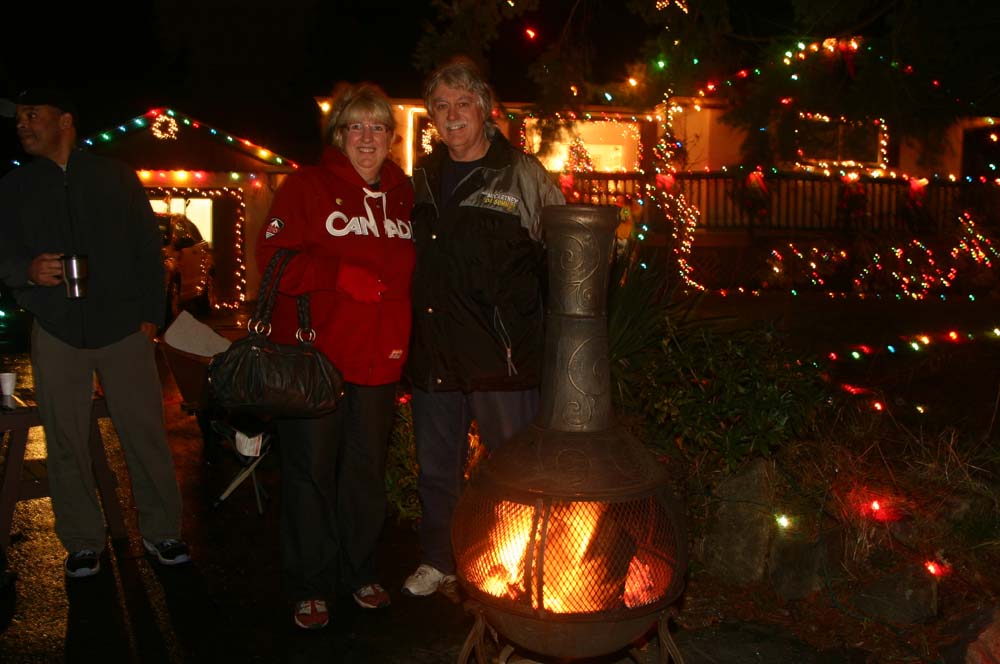 Dan and Trish Beveridge were following Lighting Tour when they came upon 4400 Block Leney Place. They were convinced to pull over and stay for a wee bit of our special hot chocolate. Keep us posted on your dance engagements Dan, Lynn and I love dancing.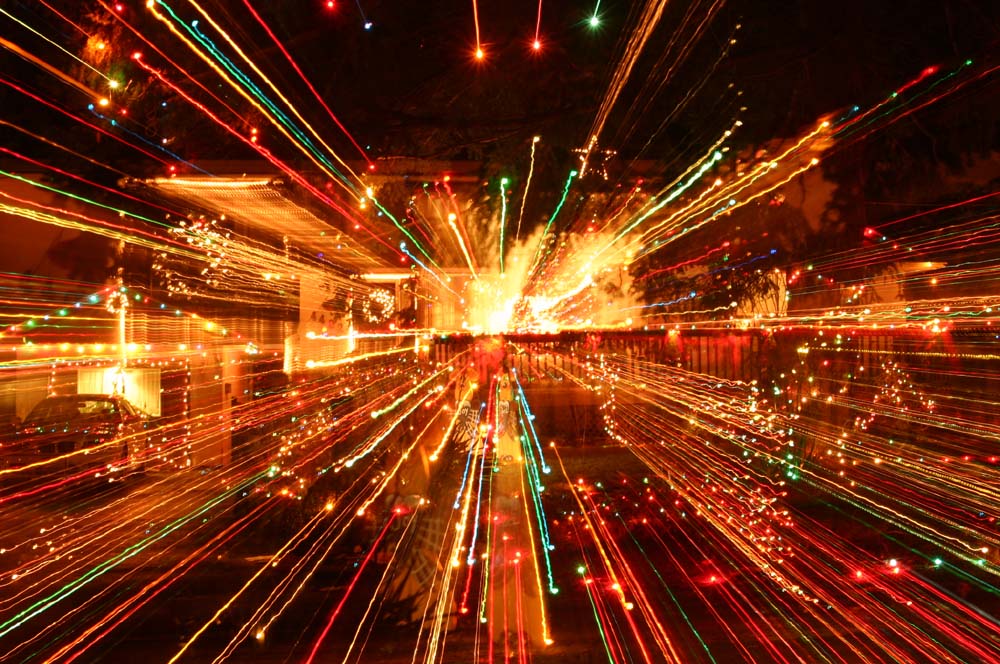 A Splash of Light at 4402 Leney Place
(640)
(Visited 303 times, 1 visits today)
Trackback from your site.