Index to Travel Stories
---

Just give Lynn a call and whether she be in Prague (as above – taking a call) or in the outer reaches of the Wadi Rum, she will attend to your travel needs.
 About Travelynn
Over the past several years, Lynn has attended to our travel planning needs as we set out to explore a small part of the world. Many of the stories, first posted on Facebook, are now being transitioned to this blog section.
Now as an Independent Travel Consultant with the Expedia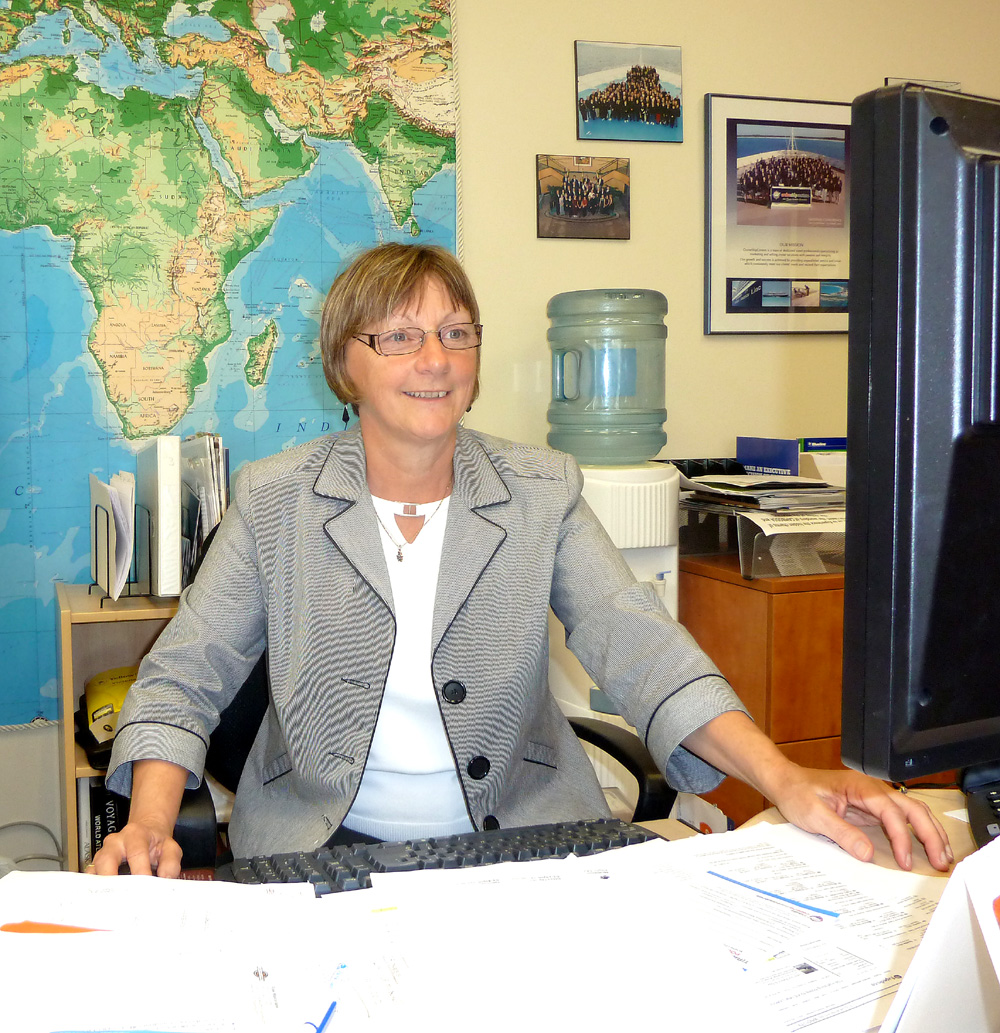 CruiseShipCenters, working from home and the Bevan Street office located in Sidney, British Columbia, Lynn is providing the same excellent service to others that she has long provided to our family, friends and business associates.
Working with one of the leading travel offices on Vancouver Island, Lynn continues to expand her knowledge of the travel industry and everyone who knows her, will agree she always gives 100% to the task at hand and, for those who don't know her, that fact will soon become apparent.
Photo (2012): Lynn working at her Cruise Desk in the Sidney Office.
For background on Lynn link to a short biography at: Life Long Learner
If you need help with your travel plans, be they by land, sea or air, just give Lynn a call at:
Work: 250-656-5441, Toll Free: 1-800-561-2350
Expedia email: lynnmcneill@cruiseshipcenters.com,
Or visit her on the web at:  www.cruiseshipcenters.ca/LynnMcNeill
Harold McNeill
March, 2012
Index and Thumbnails follow
Index and Thumbnails (In Progress)
The following posts provide information and photo's about various travel destinations,
domestic and international, that may be of interest.
Canada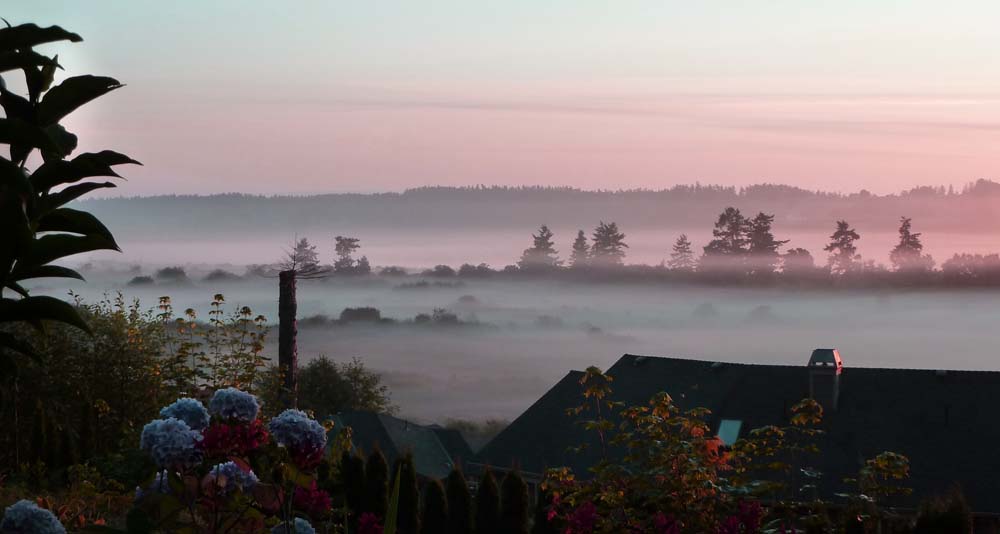 Island View Beach: Camping Close to Home:
Early Morning Fog: Island View Beach is located 10 km north of Victoria, BC, on Highway 17.  Lynn and I camped here for two weeks in the late summer of 2011. This story appeared in the September 2011 issues of the Island RV Guide (p. 37) The Guide is distributed to 16,000 readers on Vancouver Island in British Columbia.
Dining with a Difference.
Setting up for dinner at various locations around Victoria, BC.  This article appeared in the centrefold of the February-March 2012 issue of the Island RV Guide (p. 38 and 39).
Camping Close to Home: 2012 Edition
Guess how we found a compromise in this rather cool start to the 2012 Season
Switzerland

Swiss Family Hanggi:
Friends in Interlauken and a visit with the Hanggi Family who host us in grand style
Top of the World:
Heading to the highest point in Europe where we meet Karen and Knobby Clarke who we later meet in Venice and then again, later, at their home in Invercargil on the South Island of New Zealand (links below)
Soaring with Eagles:
Lynn and Harold take a chance and jump from a cliff high in the alps.
New Zealand

These fascinating sites from the South Island (hdm)
The North Island:
From Auckland traveling up the Eastern shores and back down the West.
The Magic of Rotorua:
Staying with friends in one of the most volcanically active cities in the world.
Gisborne, Living a Dream:
Travel to the far West Coast of the North Island to visit a family from Northern Alberta.
The Relish Tea Room:
Another 'Living Your Dream' story about a family in Mana, just north of Wellington.
Heading to the South Island:
Taking the ferry across Cook Strait during rough weather was just the beginning of the experience.
Into Queenstown:
A beautiful city with enough tourist attractions and back country trekking to keep a person busy for weeks.
High Mountain Pass:
Lakes, beaches, winding roads, forests, glaciers, the South Island provides an endless scenic display.
Invercargill:
To the very tip of the South Island and a wonderful week with friends we met in Switzerland (reference Top of the World, above)
Christchurch:
A city that is the mirror image of Victoria, BC. but having more tropical foliage and a greater sense of history.
Southeast Asia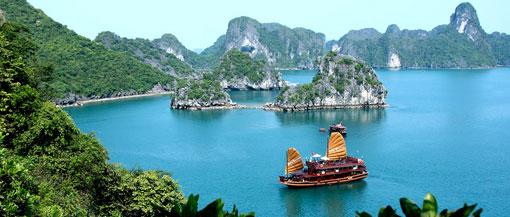 Viet Nam, Cambodia and the Mekong River The land travel begins with 7 days from Hanoi, then by air to Cambodia and a 7-day River Cruise along the southern Mekong River to Ho Chi Minh City. This is an upcoming trip that, unfortunately, we shall have to miss this time around. This post is made as it is a special being hosted by Lynn's office at the Sidney Office Cruise Ship Centre. Two other Expedia agencies in Greater Victoria participating in this exclusive tour. (photo from Web)
United States
Mississippi (New Orleans)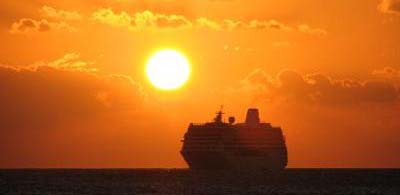 New Orleans, the Gulf of Mexico and Caribbean:   Join the McNeill's, Walker's, LeClair's and friends on a southern adventure coming in February 2012 (above photo, web shot, Westerdam heads into the sunset)
Vancouver, San Diego, Las Vega, Vancouver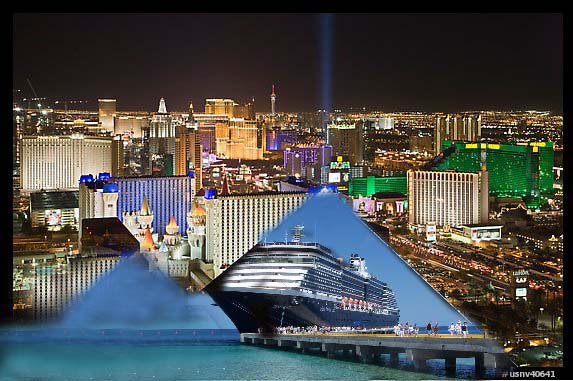 Holland American Docking in Las Vegas, You Bet.   A group of friends are traveling on this repositioning cruise from Vancouver to San Deigo, then to Las Vegas and return to Vancouver (all inclusive)
Hawaiian Land Cruise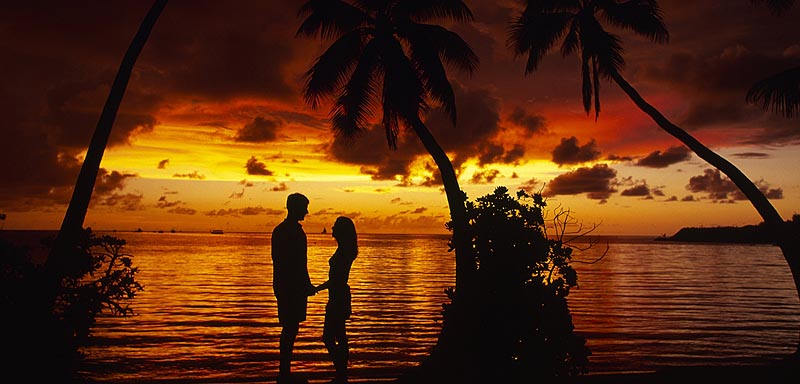 This 14 day land and sea excursion promises an adventure filled holiday while cruising the Hawaiian Islands, then across the Pacific to Vancouver.    Link:   Hawaiian Holiday
 Italy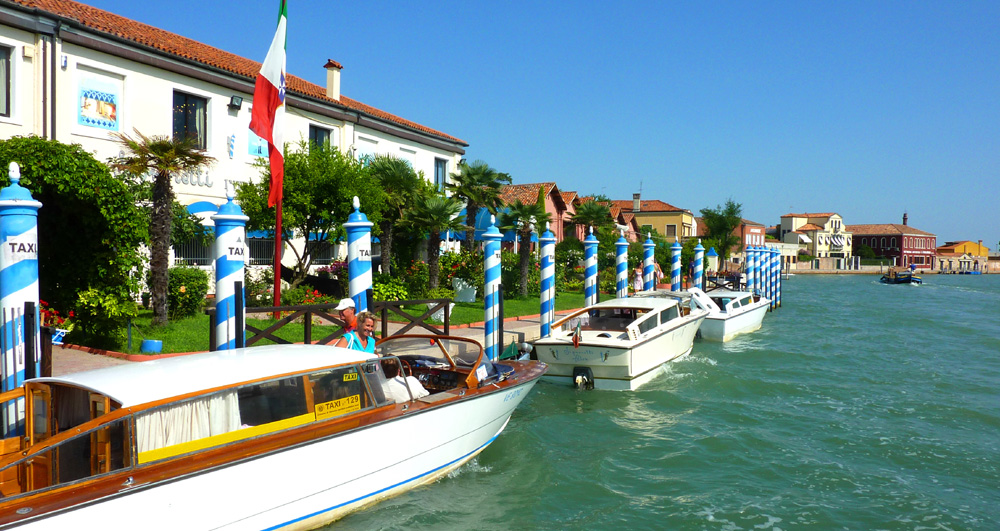 Venice: Biennial Contemporary Arts Exhibition
Hungary, Slovakia, Austria and the Czech Republic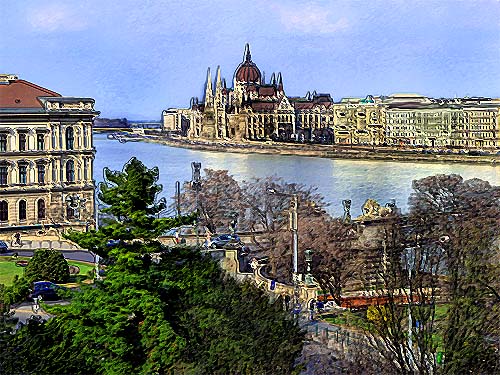 Budapest, looking toward Parliament Buildings across the Danube (hdm)
Budapest: An Historical City in Modern Times
Life Aboard the River Beatrice
Making Friends along the Danube
Catherdrals, Abbey's and Castles
In Progress:  Austria and Germany
Destination Stories being prepared for posting
Australia
Mexico
Australia
England
France
Germany
Slovakia
Croatia
Netherlands
Alaska
Washington State
Oregon
New York
Michigan
Colorado
Florida
(884)
(Visited 395 times, 1 visits today)
Tags: Harold McNeill, Lynn McNeill
Trackback from your site.