Marie Lake: Back to Hauling Logs – Chapter 9 of 11
---

Photo (Cousin Helen Pylypow)  Uncle Denny Dewan with a load of logs.  During the early years many family members gained extra money by logging in the winter. My Dad did that for much of his life.  This story tells about the first experience Louise and I had in hauling logs on our own.
Link to Next Post:  Winter Trip to Cold Lake
Link to Last Post:  On Thin Ice
Link to Family Stories Index
Late Fall, 1948
Dad was behind in his work due to injuries suffered in car accident that summer. As winter was upon us, Louise and I asked if we would be allowed to cut and haul some fire wood, a job dad had usually completed by this time. The snow had arrived early that year and by mid-November, after Louise had turned five, there was nearly two feet on the ground in some places.
When we approached Dad said 'OK' but Mom, of course, was not all that thrilled with the idea. She had previously watched us haul manure for her garden and lumber for our playhouse, so I suppose she figured we could do it even if she did not like the idea of us heading off into the bush with the team of horses for a full day.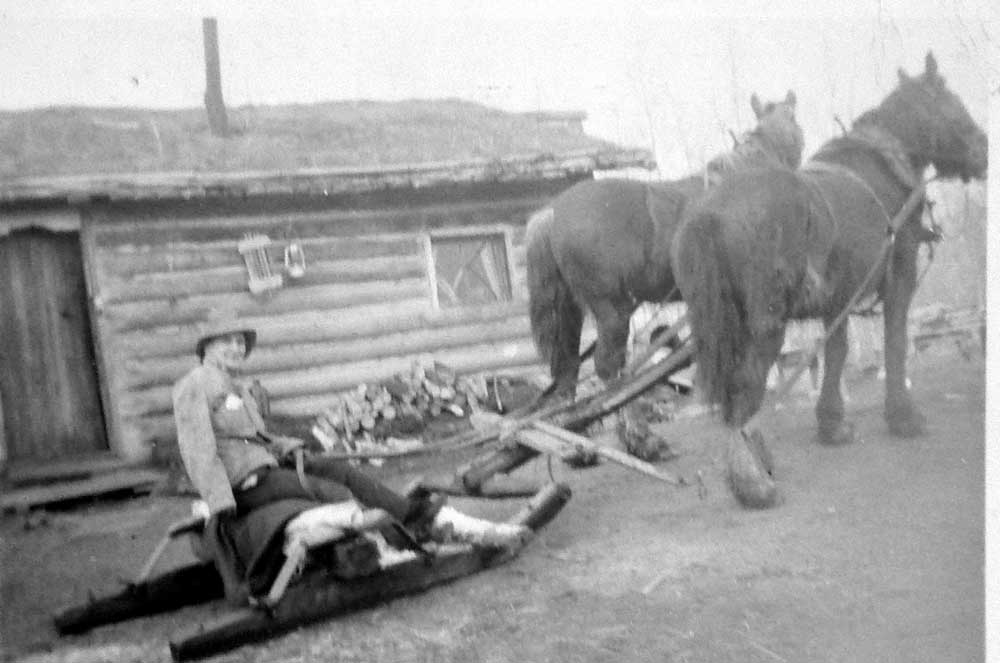 Early the next morning Dad hitched the horses to the sleigh, mom packed a big lunch and we were off into the woods. Riding an empty bobsleigh was difficult. It actually consisted of two 'bob's' – the back hitched to the front with crossed logging chains. When empty, anyone riding had to balance on the front six which was swivelled on a centre pin.
Photo: Family photo from Helen Pylypow, shows family member riding the front bob and balancing feet on the front runner.
On the sleigh Louise and I were riding also had support posts around which we wrapped our arms around.  Now, in two feet of snow you also needed to be careful to keep your feet in line with the runners otherwise one could easily be pulled under the sleigh.
An hour after leaving home we arrived in an area where there was a lot of standing dead poplar. Poplar was a soft wood and easier to cut than fir, jack pine or tamarak. After downing several trees using a 'swede saw', we bucked them into 14 foot lengths, and then stopped for a well deserved lunch. We sat on the bob, talked and marvelled at how our little world expanded with every new adventure.
After lunch, before we started loading the 15 or 20, 20 foot lengths we had cut, we had to turn the sleigh around. Turning was tricky as we had to leave the compacted snow road dad had been using. It meant travelling into two feet of fresh snow that could easily conceal an old stump or fallen tree. If we hooked the front bob on a stump or tree we would be in a real pickle as there was no way we could back up. When that happened to dad, he would have to unhitch the horses and pull the sleigh backwards. I was not sure I could do that, so to make sure it was clear, Louise and I tromped out a circular path we would follow with the sleigh. Once we were sure there were no hidden stumps or trees, Louise waited on the road while I made the turn. Success!
We then loaded and headed for home arriving well before dark. When we pulled into the yard we were pleased as punch. Mom and dad were waiting for us with big smiles. Not a bad day's work for a couple of kids. We waited while mom fetched the old Brownie and snapped the following shot.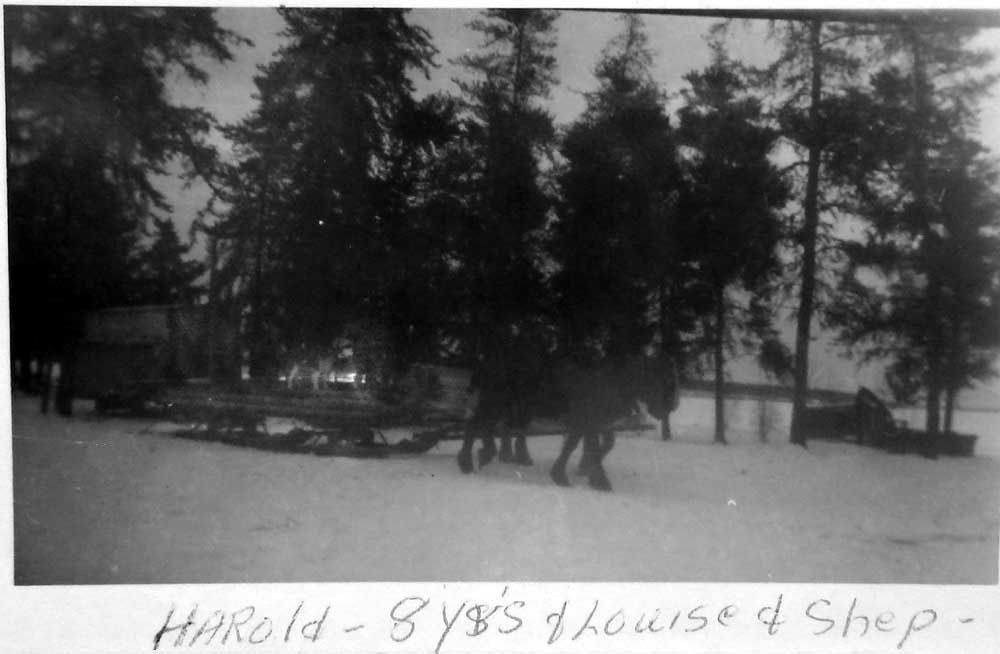 Photo: Mom captioned this photo as she did with many others. Photo is very dark but shows Shep standing on the load with Louise and me standing at the front (mostly in the shadow). Our legs are visible directly in front Shep on the logs. Also note, the playhouse we built with mom is behind the sleigh, furthest in the bush (See Chapter 6). This is the only picture of the playhouse.
Dad unloaded our precious cargo and put the horses in the barn while mom made hot chocolate. Mom must have died a thousand deaths watching her two little kids, particularly Louise, who was just a flyspeck, sitting on the bob behind those huge draft horses, taking off into the wilderness. One swish of one of those, long, course tails and Louise would have been a goner. As for dad, it was just another day of urging his children learn those little 'life lessons' that would serve us well in later life.
Living with these crazy men always made for interesting life experiences. A week after my eighth birthday, in January, 1949, I was offered a new challenge. Some thought it was just plain stupid on the part of my dad. 'Stupid?', 'Smart?' You be the judge.
Harold McNeill
Link to Next Post:  Winter Trip to Cold Lake
Link to Last Post:  On Thin Ice
Link to Family Stories Index
 c1930s:  Helen Pylypow family photos.  A double bob sleigh with load of very large logs in the yard at Midnight Lake. I believe man on the load her dad, my Uncle Denny.
(1541)
(Visited 473 times, 1 visits today)
Trackback from your site.