Remembrance Day 2012
---
November 11, 2012: Remembrance Day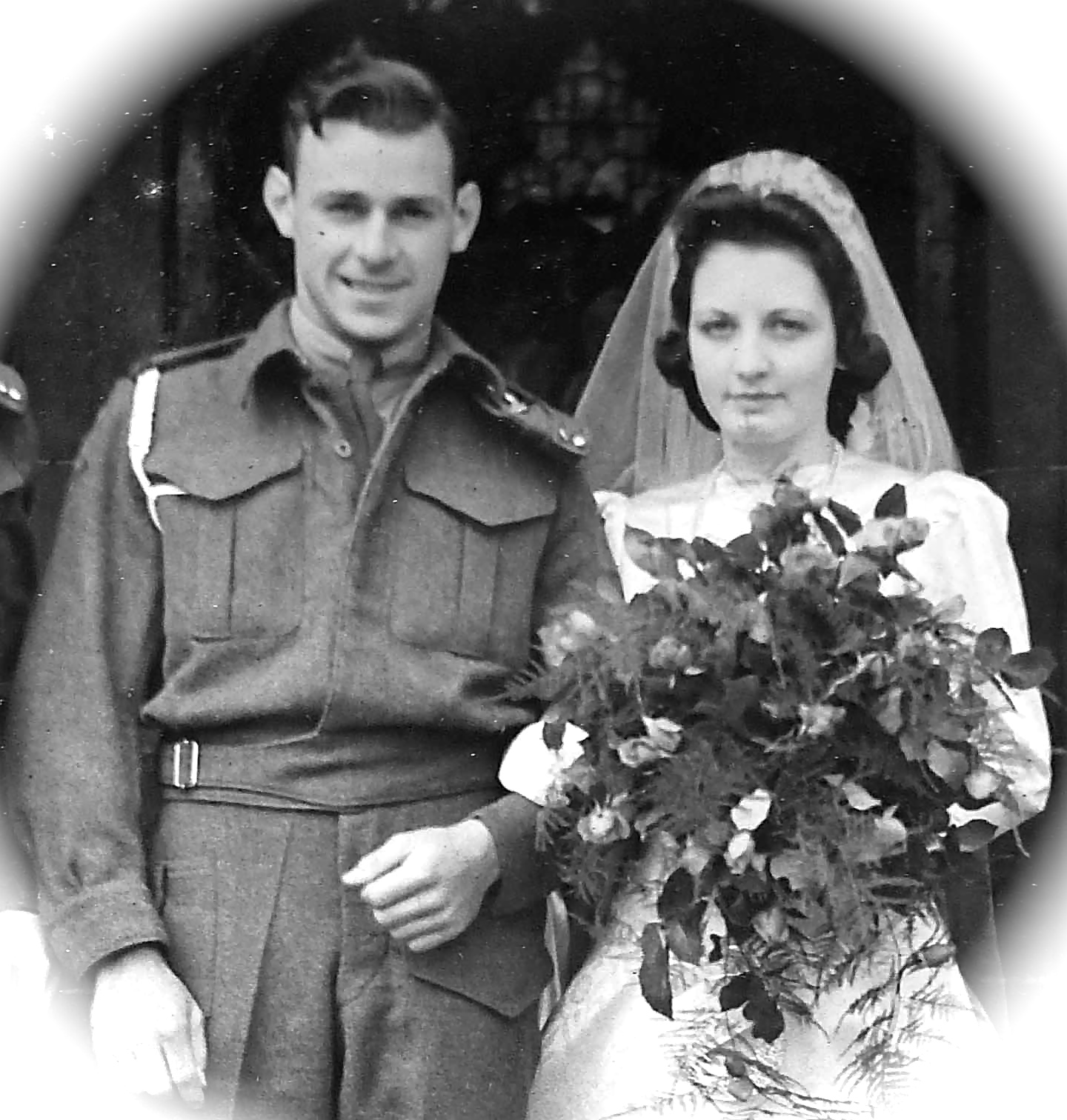 Edna and Earl Davis (Lynn McNeill's mother and father) at their Wedding in August 1943.  Earl met Edna while serving in England and they married shortly after. After spending one night together, Earl shipped out for combat in Italy where he spent the rest of his war years fighting in the Italian Campaign. The couple were not reunited until after the war when Earl returned to Canada and Edna joined him shortly after as one of the hundreds of young war brides. Chapter 1 of Black Friday (see notes below) provides more of the history of the Davis Family as they criss crossed the Atlantic.
Remembrance
Nations have always found many reasons to go to war and although worldwide conflict has decreased significantly since the end of World War 2, conflict between nations and ideologies still take far to many lives. Perhaps within this century, a lasting peace will be attained.
November 11th is set aside as a day too remember the millions of military personnel and civilians (men, woman and children) that have been killed, injured, orphaned, displaced or otherwise had their lives drastically changed as a result of war.
The following articles trace some of the history as well as well as the experience of one soldier, a bomber pilot, Bert Ramsden, now 92 years of age and living in Victoria:
Black Friday in Norway (Link Here)
Chapter 1:   The World at War: Remembering our History includes a bit of the history of Lynn's Mom, a War Bride from England who came to Canada after the war with her Dad who served in the Italian campaign during the closing years of World War 2.
Chapter 2:   Meeting a World War 2 Veteran, Bert Ramsden
Chapter 3:  In The Early Years Bert traces his path through High School and into the Royal Canadian Air Force in 1941.
Chapter 4:  Basic Training in Alberta and Saskatchewan
Chapter 5:  Off to War with Prime Minister Winston Churchill  (as surprise passenger on the ship that took Bert to England)
Chapter 6: Black Friday (An Attack in Norway)
Chapter 7: Allied Losses on Black Friday
Chapter 8: End Notes
(493)
(Visited 172 times, 1 visits today)
Trackback from your site.