Posts Tagged 'Big Kinosoo'
---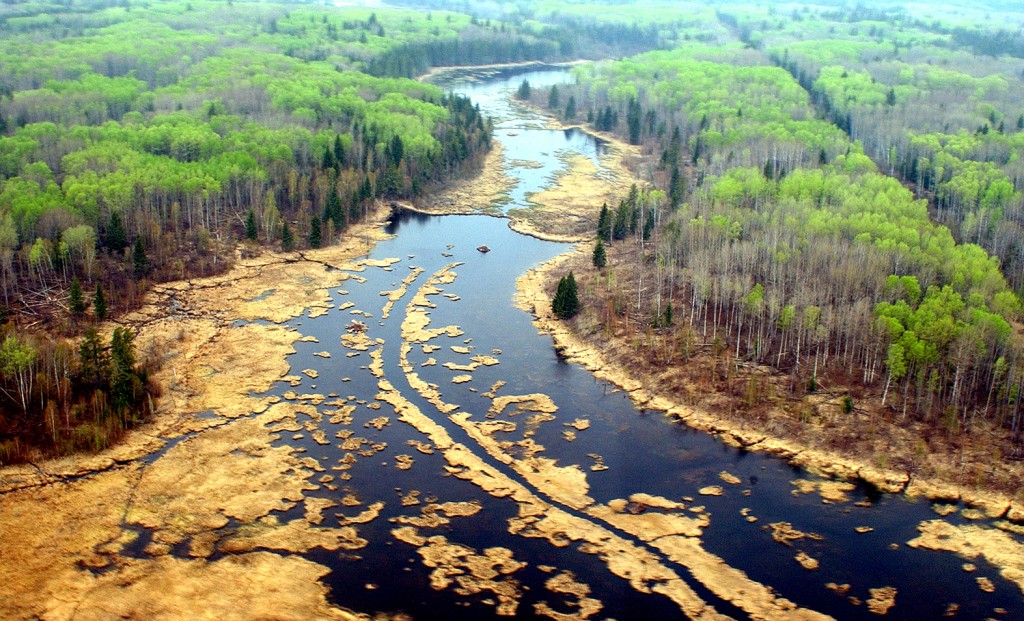 Photo (Web Source) (Headwaters of Martineau River, Northeast Alberta): This photo suggests a time in the past when the Cold Lake area was tropical, a time when the tar sands were being formed and when all manner of pre-histortic fish, animals and birds habitated the area.  Is it possible some species from that pre-historic era can still be found? Could the Big Kinosoo be one of them? If you are from Alberta, particularly from Cold Lake, help is needed in Growing the Kinosoo Legend
Link to Next Post: Origin of the Legend
Link Back to Adventures Index
Link to Part 4, Otter Down in French Bay
Introduction 
My goal in writing this series is simple – to help that legendary fish, the Big Kinosoo who lives deep in the waters of Cold Lake, Alberta, to grow in stature.  While our very own Kinosoo has not yet reached the mythical proportions of the Lock Ness Monster of the Scottish Highlands, Ogopogo of Okanagan fame, or that famous bushman of the Pacific Northwest, the Sasquatch, working together we can change things for the Kinosoo. While anecdotes abound, they are necessary but not sufficient for that fish to reach iconic status. Like the other Great One of Alberta, we want people to become hushed and bow down whenever they hear the name Big Kinosoo.
To do this we must search out new stories, stories that include scientific fact which points toward existence of historic big fish. It would also help have a government or military cover-up, perhaps one that could turned into a full-blown conspiracy. Conspiracies are, after all, nothing more than a few solid facts mixed with a lot of fiction. While our Kinosoo might never become as big as the cover-ups carried out in Area 51 that abuts the Edwards Air Force in Nevada, with new information recently secured from Guy Venne, a man who grew up in Cold Lake, we can make a good start. To ensure our Great One of is given his fair due, we must blend fact and fiction into a credible story just as the other Great One has done.
(1413)
---
These properties are now sold
Link Here for Details  of an additional 96 acres that will be placed on the market been placed on the market as of October 20, 2018
More Cold Lake Posts: For additional historical posts about the Cold Lake Area, go to Homepage Categories and link any any of the categories titled Adventure (for Big Kinosoo, etc), Family Stories 1940 – 1960 (Martineau River, Marie Lake, North Bay, Mink Ranching, etc.), Biography (McNeill and Skarsen families), or Fire Department (History of the US Air Force Base at CFB Cold Lake)  for short stories about life in and around the Cold Lake area during the 1940s to the present day).

View of lot looking West from 13th Street. A temporary fence was
constructed well back from the front property line between 511 (left) and 507 (right), 13th Street.
A temporary 6′ X 8′ wooden garden shed sits on the rear of the property.
(Property Photos courtesy of Stephanie Yochim)
Details of City Lot
509 13th Street,
Cold Lake, Alberta
Legal
Plan 1024203
Block 14
Lot 6A
The subject lot is located in a quiet residential neighbourhood just minutes walking distance from the:
Cold Lake Marina: two blocks East and one block South (waterfront picture in the footer);
Kinosoo Beach: half block West and two blocks North
Heritage Lakeside Trail: two blocks East (the trail runs along the waterfront from the Cold Lake Marina to Kinosoo Beach)
Bibeau Children's Park: one block East (off 5th or 6th Avenue)
This vacant lot is one of the few remaining properties in the central core of the very popular Lakeside City North. For a full street map and list of vacant lots in Cold Lake North: Link Here, then open "Vacant Lots, Cold Lake North, 2011".
For Provincial and general area maps as well as additional photos of the City of Cold Lake and area (as footers in acreage description): Link Here.
The subject property is gently sloping back from the roadway and is in an area of well-kept homes and properties.  Two intersecting alley's at the rear of the property make this lot ideal for the building of a garage and/or pad to accommodate a motor home, other recreational vehicles, boat or a shop. The lot is serviced along 13th Street.
At 43.28 meters long and 14.76 meters wide, the lot is average size for the area and larger than many recently developed lots in other areas of the city.
For details on submitting written Expressions of Interest contact the Executor by email at:   harold@mcneillifestories.com.
Canadian Telephone: 250-889-1033 (Victoria, British Columbia, Canada)
The Expression of Interest is not a binding agreement on either party and is intended only to open dialogue regarding development opportunities and a possible sale/purchase agreement.
Agent contact invited.
Harold McNeill
Estate Executor
Lot Views and Maps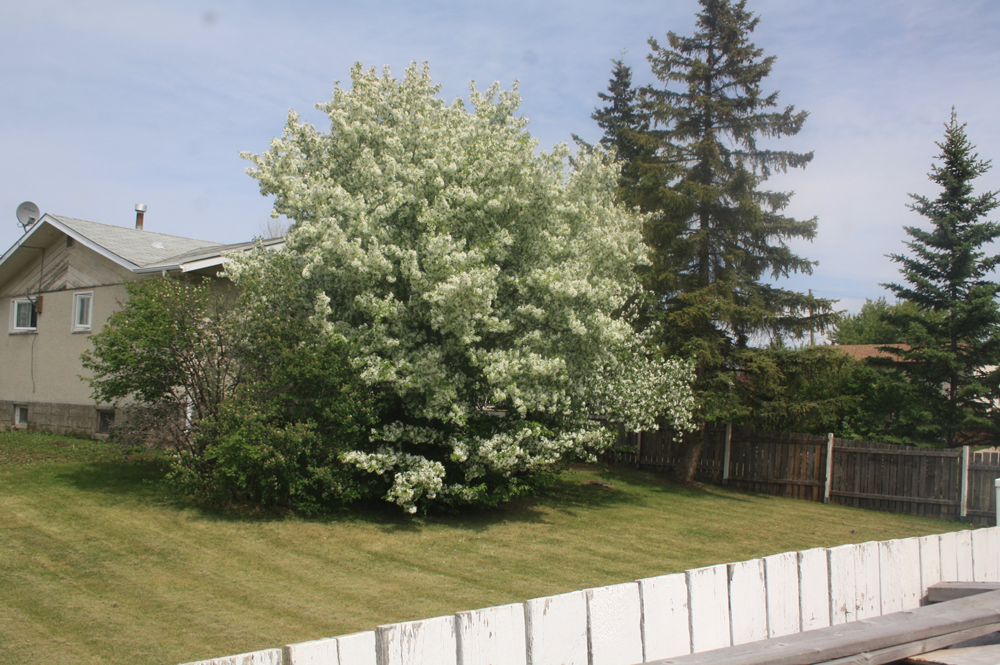 View of back of lot looking North East over the fence from the South property line.
Map #1: General Area. The property is located about halfway down
13th Street, between 5th and 6th Avenue (see also, Map #2)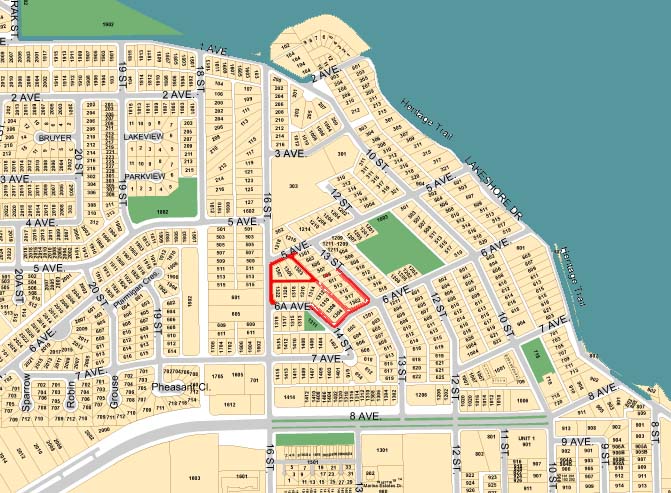 Map #2: Sectional from above map
(Lot yellow, red street and alley)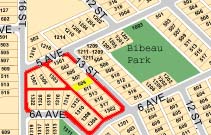 Cold Lake Advert Poster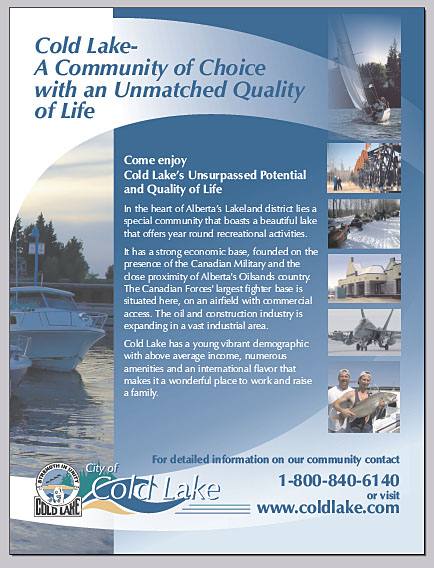 Cold Lake waterfront and the downtown core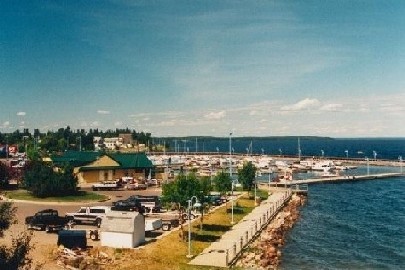 (1215)
---
The Big Kinosoo: Origin of the Legend – Chapter 1 of 6

Photo (Web Source): Fishing on Cold Lake in the Early Years
Link to Next Post: Monster Fish
Link to Last Post: Big Kinosoo: Growing the Legend
Link Back to Adventures Index
Cold Lake, Late 1800s
The following short excerpt is taken from a story by J.B. Minoose1, a friend of our family, Dave and Laura McNeill.  We lived not far from Mr. Minoose and his family while our family was at the Martineau River logging Camp in the mid-1940's. This was followed by two years at North Bay (Smith Place) on the North side of Cold Lake, then two years at Marie Lake which was 15 miles west of North Bay (reference Family Stories 1940 -1965).  The Minoose story appears in Treasured Scales of the Kinosoo, a history of families in Cold Lake edited by Laura Dean Skarsen. Laura Dean Skarsen, was sister-in-law of our step-father, Wilfred Skarsen and our mother Laura Isabel Skarsen (McNeill) (Wheeler).  J.B. Minooses (standing, second from right in photo) spoke of his life in Cold Lake:
(4798)