Posts Tagged 'Cold Lake High School'
---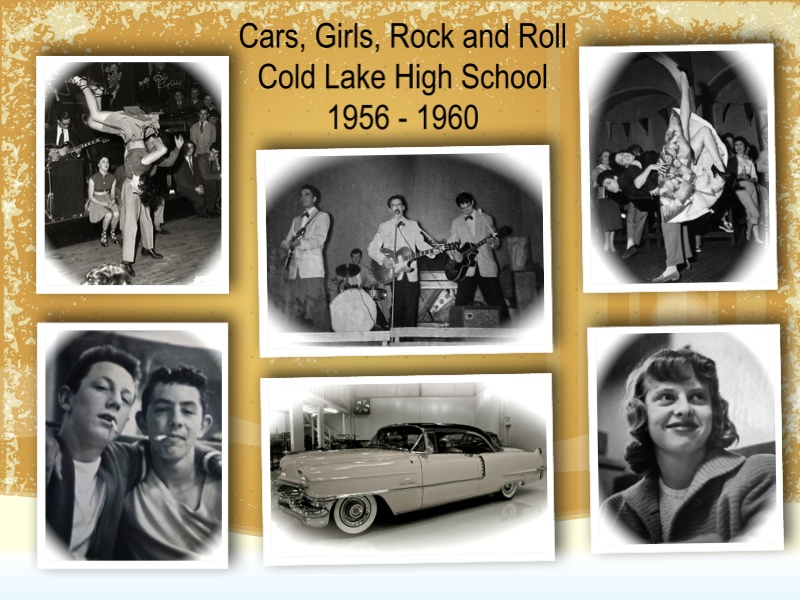 Photo Collage: There was never enough time to do it all. Cars, girls, rock and roll were all part of the freedoms that came in the 1950's.  If was a unique time in the Canada, and we made the best of it. The majority even managed to graduate with distinction. I was one of the non-distincts, however, my sister, Louise McNeill, graduated with a distinct distinction, that being the 1961 Honour Role. This post makes it clear why I failed to do so.

(Photo selection: Jimmy Martineau, Gordie Wusyk, Billy Martineau and drummer in the background, Gary McGlaughlin, playing at the Tropicana Night Club. Below, the Pinsky Cadillac. Harold McNeill and Aaron Pinsky in a "cool" shot at the Roundel Hotel.  Sitting across from us is Dorothy Hartman, an awesome dance partner. We worked out the fine points of the back over flip as shown in the photo top right  (Dance photos from the web).
THIS STORY IS CURRENTLY BEING PROOFED AND UPDATED
Chapter 3: The High School Years
Link Here for Chapter 1 of the High School Years
Link Here for Chapter 2 of the High School Years
Link to Family Stories Index
1. Introduction
Perhaps the best way to pick my way through the final two segments of the Cold Lake High School Years is by selecting random memories. Not to worry, I will be discrete while keeping the history and stories interesting as possible. The post is not meant as a titillating account of a small town as in Peyton Place, but seeks instead to provide an account of how I950's High School kids in a small town at the edge of the wilderness on the Alberta/Saskatchewan border lived and loved.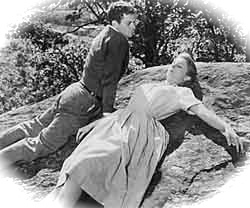 For the most part, private matters between consenting students during our time in Cold Lake High would stay in Cold Lake High. That does not mean I won't pick around the edges.
Peyton Place:  The sizzling movie version of the best-selling book was released in 1957, just in time for our coming of age. While the movie was toned down, it still raised eyebrows and was soundly condemned in many quarters.  By today's standards, it would be relatively tame.
Another thing that will become evident, this story was written from the male perspective. To make any statements about what girls focussed on in the day will be up to them.  Any girls who wish to add to my descriptions, please write a few chapters of your own, they will be added to the post so we can compare and contrast our views of life in the 50's.
Two things defined High School boys back then as today – cars and girls. In my day the two consumed an enormous portion of our limited and highly specialized brain space – girls occupied the left hemisphere, cars the right. As we boys couldn't use both halves at the same time, the balance wavered from day to day. For that matter, our brains stopped working altogether when other parts of our anatomy kicked in.
(2904)
---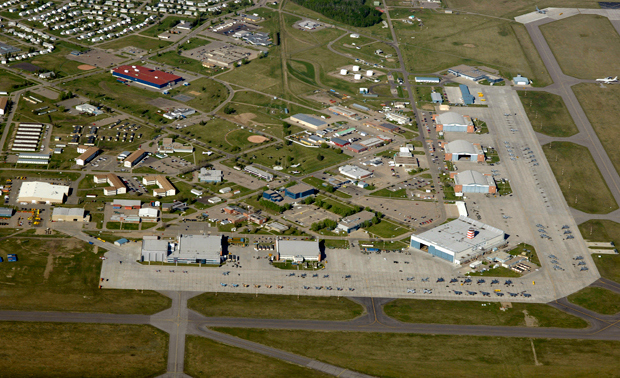 Early in the 1950's the largest RCAF Station ever constructed in Canada was taking shape in Alberta. The small, remote, communities of Cold Lake and Grande Centre, that grew ever so slowly over the first fifty years of the century, would be shaken to their foundations as they struggled to come to terms with a massive influx of workers and their families. Our family was one of the many seeking to find their way.
Chapter 2:  The Silent Generation
(Link to Chapter 2, Cold Lake High 1955 -1960)
Link Here for other Family Stories in this Series
THIS STORY IS CURRENTLY BEING PROOFED AND UPDATED
Dear Reader,
For the several months, I struggled with how to write this post about our return to Cold Lake. To this point, it was easy to tell the stories as they were all generally positive. Even though our family was constantly on the move over the twelve years until this story, everything was relatively stable on the home front. All that changed in 1953 after arriving in Cold Lake and it continued in one form or another until our Dad passed away suddenly in 1965. While I will not dwell on the ugly parts, and there were many, I felt compelled to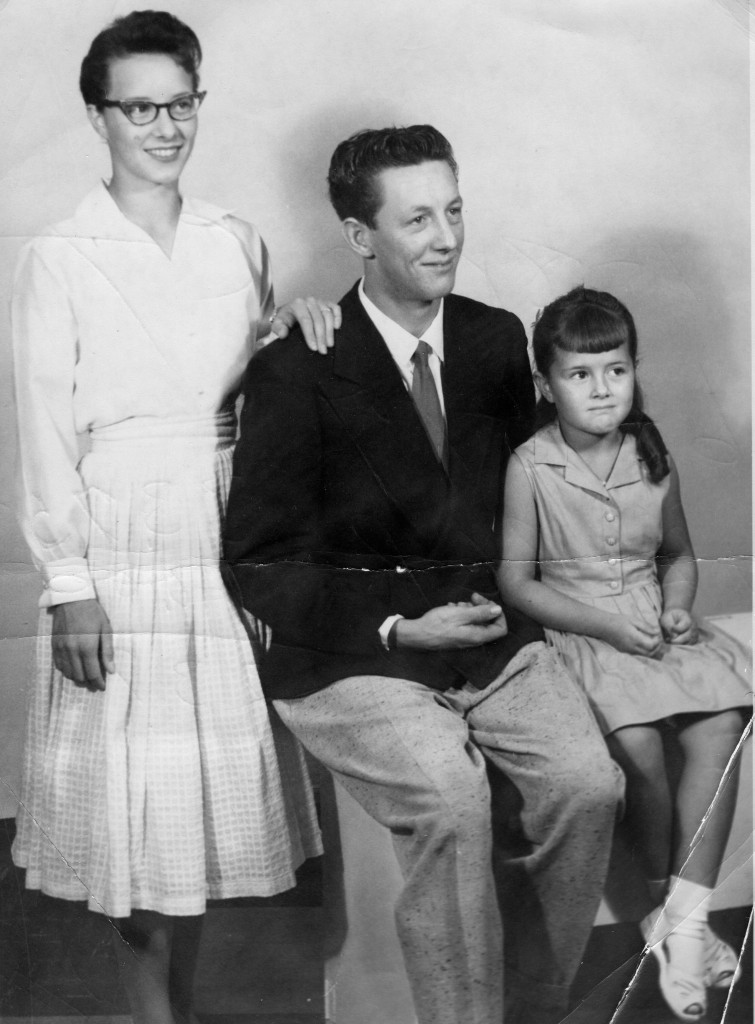 express the feelings that enveloped me during those tumultuous years as a means to better understand myself and, perhaps, as a message to others.
I rather expect at least a few of my school friends shared similar experiences and might even take solace in knowing they were not alone.  The background to this story is alcohol abuse, but it could easily have been any of a dozen other things that cause family units to fracture – drugs, infidelity, mental illness, etc.  Children and teenagers, in particular, are vulnerable when this happens and need to know they are never alone, that even when things get really bad, the future can still hold a great deal of promise.
Indeed, this will become evident in parts of this post and in subsequent posts through the High School years and beyond. A great many positive things can happen even if life on the home front has spiralled into periods of darkness.
Photo: If taken between October and December 1958, I was seventeen, Louise fourteen, and Dianne four.  Louise remembered our ages as she recognized the skirt as one she sewed in her Grade 9 Home Ec class. Look at Louise for a moment. For those who know her daughter Karena, can you see Karina's sassy smile and eyes? Looking at clothes, I also remember the day those grey 'flecked' dress pants arrived by mail order from Sears.  They became my favourite dress up in High School.  And, as for that sweet, innocent little girl on the right, my heart aches for having completely missed knowing her when she was young. 
(3319)
---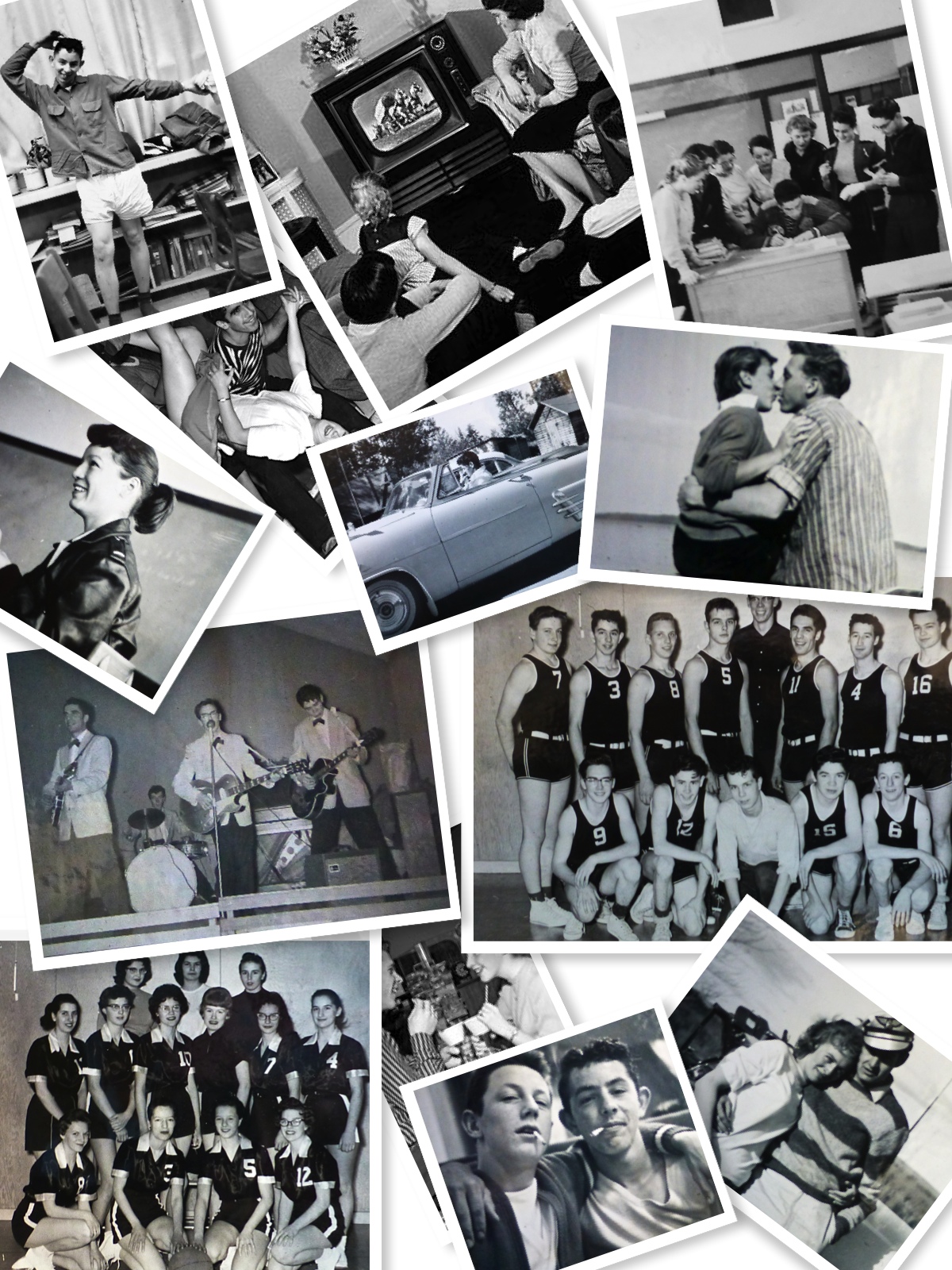 Collage: The above photos provide a small representation of the five years a group of young people spent completing Junior and Senior High in Cold Lake, Alberta. The following story places a context around their world, a world that was becoming vastly different from the one in which their parents and grandparents had spent their teen years.
THIS STORY IS CURRENTLY BEING PROOFED AND UPDATED
Chapter 2: The Silent Generation
September 1, 2014: Sorry for the delay. Chapter 18 along with about 300 photographs of our High School Years through to graduation, will be posted within the next two weeks.
The Silent Generation, a name coined to define those born between 1925 – 1945.  While it was applied to those of us who filed into Grade 8 at Cold Lake Junior (photos in the footer) in September 1954, we were so close to the cusp it seems to have missed the mark. Our small group preceded the Baby Boomers by a few years and in the months following graduation, we helped to add a tidy number of Little Boomers to Canada's rapidly growing population.
The Silent Generation! Really? It seems the Time Magazine reporters who defined our group obviously never traveled to Cold Lake High in the late 50's, nor did they do any first-hand research at those week-end 'retreats' at French Bay, English Bay or Marie Lake. For that matter, all they had to do was drop by one of the week-end parties at the Ruggles, Hill's, Sanregret's, Poirier's or any of a dozen other homes when the parents were away. People called us many things, but 'silent' 'grave' and 'fatalistic' were not the adjectives that flowed past their lips.
(5085)