Posts Tagged 'Jordon River Trailhead'
---
Happy Birthday Kari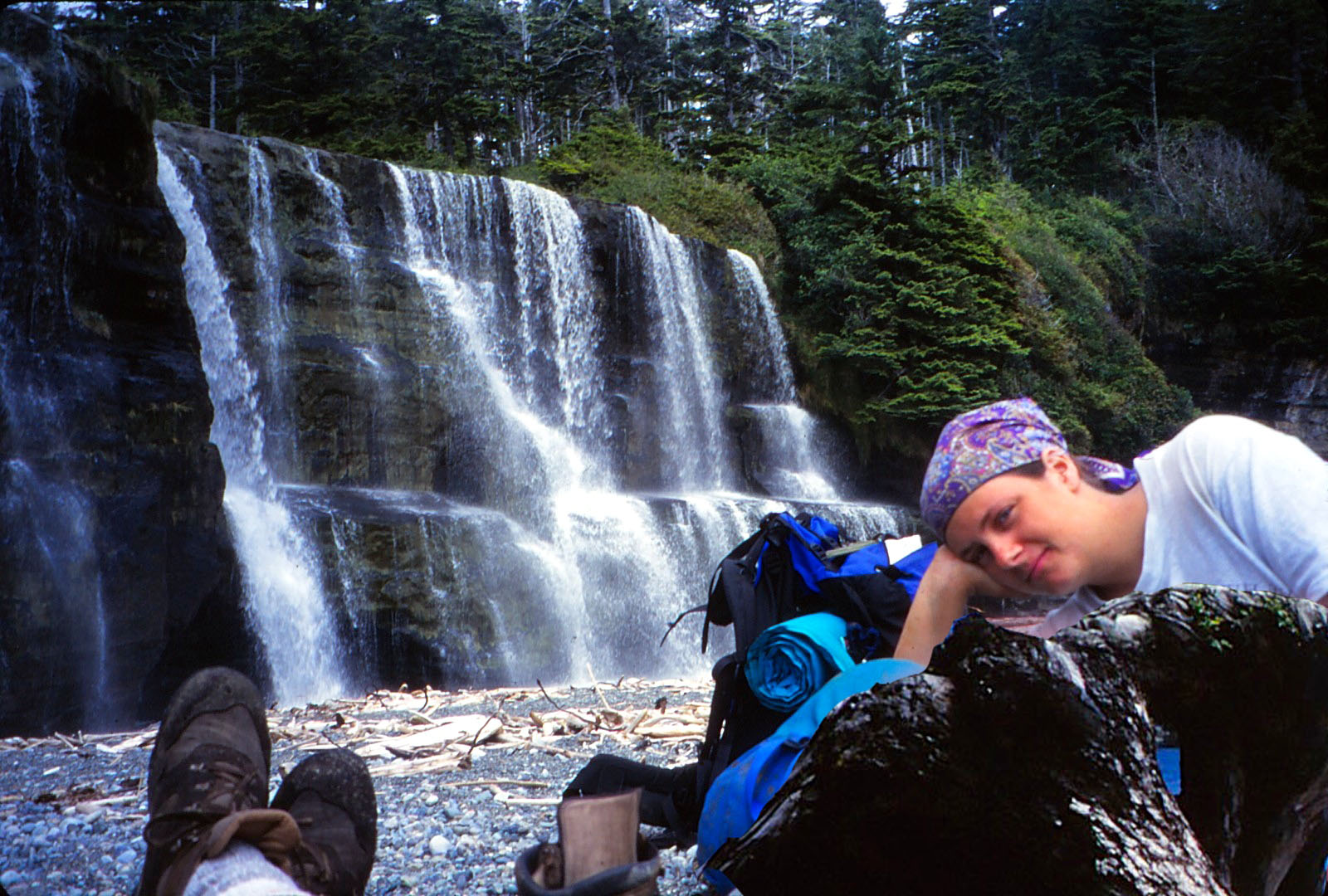 The beautiful Tsusiat Falls where father and daughter took a well-deserved rest.
All that is left of the father is his boots and socks. "Yaa! But you've made it over halfway Dad. That's good isn't it?"    Guess who helped him?
January 1, 2018  (337) (April 17, 387)
Dear Kari,
It's hard to believe twenty years have slipped by since we completed that magical eight-day trek on the West Coast Trail with David and Jenn.  What inspired me to prepare the following slide show and write this post was finding that old slide tray tucked away in one of the storage boxes.  It brought back so many fond memories for me and I bet it will do the same for the three of you.  As I was writing this post I spoke several times to David, as well as to your Uncle Barry and Auntie Agate.
Before getting into the details of the trek, take a few moments and enjoy the slides as they slip by.  I tried to find music that expresses the love a Dad has for his children and, as well, displays the sense of pride that comes from having one of your children lovingly act as a mentor and guide in taking on a difficult challenge.  The three songs were selected after pouring through dozens of father/daughter/son lists posted on the web.
Precious Memories, J.J. Cale
When You Need Me, Bruce Springsteen
Wildflowers, Tom Petty
The photos in this slideshow have also been uploaded link to the
McNeill Life Stories Facebook Page
Opportunities arise but once.
Life provides many opportunities for adventure, but when one declines an opportunity for any reason, it is most often gone forever.  Having achieved a Golden Age in retirement and understanding this, when our oldest daughter Kari phoned and ask if I might like to join her and a cousin from Montreal, David McGregor and his friend, Jenn D'Aoust, in challenging the West Coast Trail, the answer came without a second thought, "yes". Sure I had concerns about my ability to tackle that particular trail, but if my daughter thought I could do it, who was I to argue?
Also, it gave me comfort knowing she was an experienced backpacker, held an Industrial First Aid Certificate (just in case pops packed it in), had tackled that trail twice before and, being an extraordinary backcountry trekker had at one time considered taking up a career in the emerging field of Eco-Tourism.
When this opportunity arose I was nearly two years into retirement, in fair shape and while I hadn't recently attempted any long-distance wilderness hiking, I remember Kari's comforting words: "Don't worry Dad, you can do this and, besides, I've got your back."  Hmmm!  Of course, it was a done deal as when someone, particularly one of your children, offers to share a moment like this, It must be taken as the memories will last for the rest of your life.
(933)