Posts Tagged 'Stuart Murfitt'
---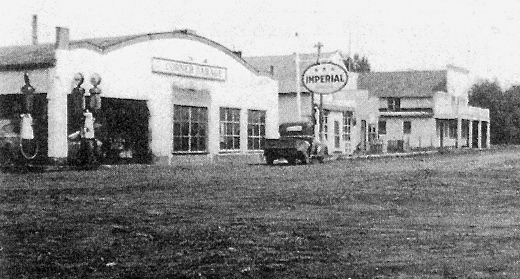 Photo (From Web)  Pibroch, AB, main street as it looked in 1951 when we arrived. During a trip to that area in 2010, the main street had not changed all that much.
Link to Next Post: LacLaBiche
Link to Last Post: Edmonton
Link to Family Stories Index
Chapter 2  The Gypsy Years in Pibroch
January 9, 2015:  This post is brought forward for the accountant we met in San Francisco who looked after the accounts of several Hutterite Colonies in Alberta. He is retired but at one time worked with the Colony in Pibroch that is featured in this post.  If that accountant happens to pick up on this post please leave a message.  Regards,  Harold
1. Introduction:
After bidding a final farewell his youth, the years used up toiling away on a rock farm near Birch Lake, Saskatchewan, Dad was being drawn back to farming. In the spring he had taken over as foreman on the Murfitt spread in Pibroch, Alberta, a mixed farm with 200 head of cattle and about half the 640 acres under cultivation. It provided Dad with an opportunity to reconnect to animals and the land after having spent several years mink ranching, logging and doing construction work.
While horses had given way to tractors during the intervening years, Dad still had plenty of farming skills that made his services eagerly sought after and, as well, Mom would again be working in unison Dad. Taking over the farm kitchen she would work her magic as she cooked for a half dozen full-time farmhands in the off-season and twice that many during the harvest.
For Louise and me, it would be a new school and new friends, something we were becoming accustomed to as we shifted from pillar to post over the past two years. The great news about this move – Louise and I would be reunited with Mom and Dad in a country setting that was reminiscent of our early years. Our time at HA Gray Junior school in Edmonton was rapidly coming to an end as we would be heading North as soon as the school year was complete.
(12879)