Posts Tagged 'Toronto 18'
---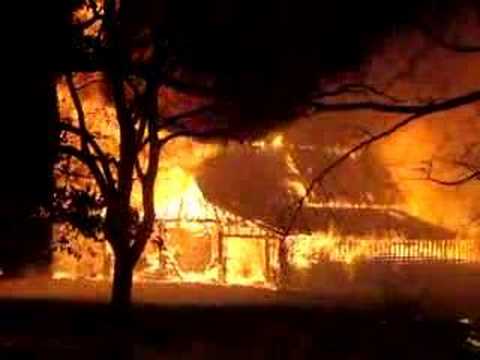 Web Source Photo:  A barn burning in May 1972, was just one event in a series of criminal acts committed by Canada's Security Service in the decade following enactment of the "War Measures Act" after the "October Crisis" of 1970.
March 1, 2016 (8200)
October 1, 2017  (8400)
Concerns about Bill C51 and other terror Bills introduced since the "September Crisis" of 2001, follow a pattern similar to that of 1970 when domestic 'terrorists' challenged the Governments of Canada and Quebec. During that 'crisis' the Federal Government also turned loose Canada's elite Security Service to act in a manner they saw fit.
So began a campaign of harassment, dirty tricks, illegal arrests, criminal acts and dozens of nefarious deeds that went far beyond the original intent of the law. Many at the highest levels of the RCMP and Government were aware of what was happening, but did nothing to reign in the Security Service. It was a decade of illegal police action that led to a break-up of the RCMP Security Service.
 If anyone thinks our National Security Agencies – CSIS, CBSA and the Federal arm of the RCMP is above such tactics today, they would be wrong. There are plenty of examples since September 2001 and it has taken place because there is a wilful lack of oversight and because laws passed since 2001 including proposed laws such as Bill C51, support what might otherwise be illegal in Criminal Law or, at the very least, violations of personal privacy.  In the United States, because of ongoing controversy, the Patriot Act (passed a week after September 1, 2001) was allowed to lapse on June 1, 2015. Whether it will be renewed or not remains an open question.

(Detective-Sergeant Harold McNeill, Retired)
Note: If you wish to skip the background discussion surrounding police, security services and terror, go straight to section #4 for the summary of events that followed invocation of the War Measures Act in 1970.
Note:  Part 11 is now complete.  Link here to: Conspiracy to Bomb the B.C. Legislature: The Grand Illusion as just one example of what happens when the security service is given free reign to act in a manner they see fit.  That manner often acts more in favour of the Government and Security Service interests rather than in favour of the general good.  As an example, after the judge overturned the jury conviction one of her final statements regarding the RCMP action in the case read: "They were clearly overzealous and acted on the assumption that there were no limits to what was acceptable when investigating terrorism," the judge stated. "Within their ranks there were warnings given and ignored."
Link here to Part III: Conspiracy to Rob the BC Ferry Terminal at Swartz Bay:  Part III provides the details of a traditional conspiracy investigated by traditional police agencies without having to resort to the manufacture of evidence in order to build the case.
Part 1
(8916)