A Celebration of the Life of June Allison Beaddie (1922 – 2014)
---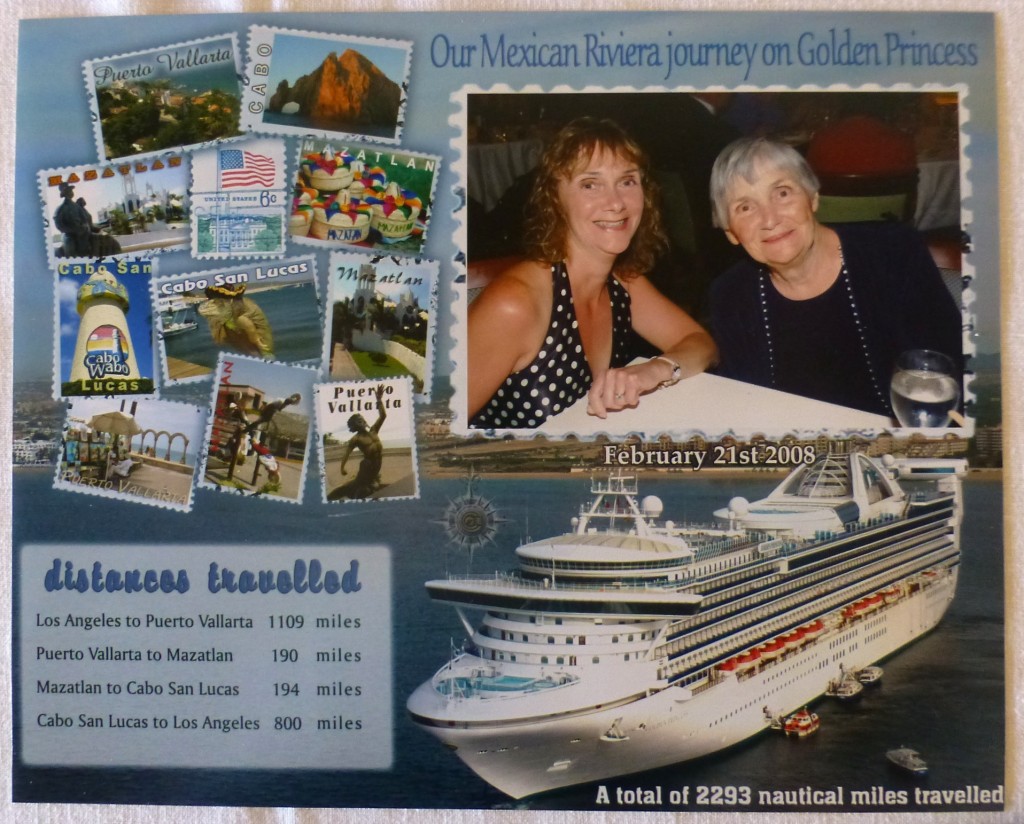 February, 2008: Maggie (Corns)(nee Mathews) and her mother June (Beaddie) (Matthews) (nee Heather), share a special moment aboard the Golden Princess.
January 4, 2012:  This post is brought forward for those to two entertaining young woman from England with whom we shared so many laughs.  This post provides some background on recent death of the mother of a dear friend, but it is the last part, and your interest in Colin Firth, which came up in our conversations. Perhaps we shall meet again one day.
What an inspirational day as Lynn and I as travelled to Salt Spring Island, that little gem in Georgia Strait just off the southeast coast of Vancouver Island. We were there to celebrate the life of the mother of our one time next-door neighbour and long time friend Maggie and the grandmother of Maggie's five children – Alison, Jon, Megan, Dan, Ben. The second youngest, Jon, our son Sean's school and sports buddy, could not attend as he is currently on course in Singapore while completing a two year stint as an Emergency Room physician in Perth, Australia.
We were most fortunate to have met June a few months earlier when the family, absent Ben on that occasion, were visiting Victoria just before Jon left for Australia.  At ninety-two, June was clearly a going concern until the very end and from the stories we have heard or read, she was truly an inspiration.
At the funeral we learned that June, travelled a life path very similar to that of our own mother, Laura Isabel (Skarsen) (McNeill) (nee Wheeler) with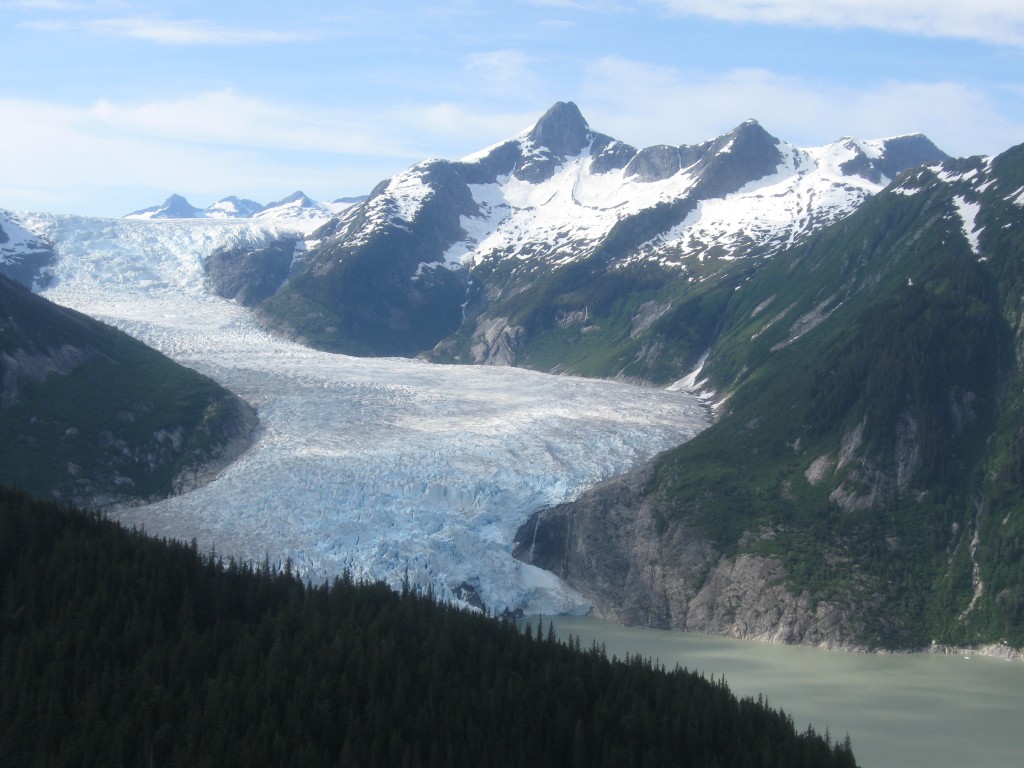 both having married and lived several years in the wilderness – my mom in Northeastern Alberta, and June, in remote areas of Northwest B.C. This included a stint of early married life at the very foot of the remote Taku Glacier (photo left) near Juneau, Alaska. Given it was 1951 and the north was barely opening, that  was first class isolation.
Both June and our mom lost their first husbands while still young – June's husband and Maggie's father, Robert John Matthews, died in 1962 and my dad, David Benjamin McNeill, in 1965. Both women were then in their early forties.
A few years later both remarried and after long marriages to their second husbands, both men passed away. As was the standard for pioneer woman of that era, the woman pulled up their socks and continued on with extremely productive and fulfilling lives while living and maintaining their own homes – June on Salt Spring Island and my mother in Cold Lake, Alberta.
On Salt Spring, life around June's little home at Vesuvius Bay was a 'beehive' of activity, as she prepared honey, tended a large garden, pruned her fruit trees, canned everything she could get her hands on, remained active in church and community affairs and tended the rock upon which the family continued to build their lives. The two woman having lived full and independent lives into their ninth decade, passed away after suffering serious, short term medical setbacks.
During our visit, we also learned that Lynn and Maggie, who are close to the same age, shared a similar pre-teen experience when each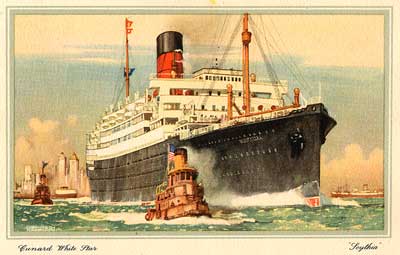 travelled on one of the stately Cunard Ocean Liners that plied the stormy Atlantic between Canada and England. Lynn was four when she and her family travelled from from Canada while on their way to Germany. Maggie, ten and on a different Cunnad Liner, travelled to England with her mother when the two visited family members after the death of Maggie's father, Robert Matthews.
Photo: Cunard Liner, RMS Scythia, (pictured here in a 1938 Post Card) carried Canadian troops to and from Europe. Lynn still has the passenger manifest that lists the names of her family.
Maggie reminisced on the reason she and her mother went by ocean liner – her mother was deathly afraid of flying.  As luck would have it, in the wee hours of the morning when halfway across the Atlantic, the fire alarms began sounding. In their bedclothes and with blankets wrapped around them, everyone scrambled to their muster station. Maggie's mom, a woman who could easily be roused to panic, commented: "We're all going to drown, I knew we should have flown…"  As it turned out it was a false alarm, but just to make certain all was OK, June kept Maggie at the muster station until all others had gone back to bed. The crew finally managed to convince June all was OK. Oh, that could so be our own mother.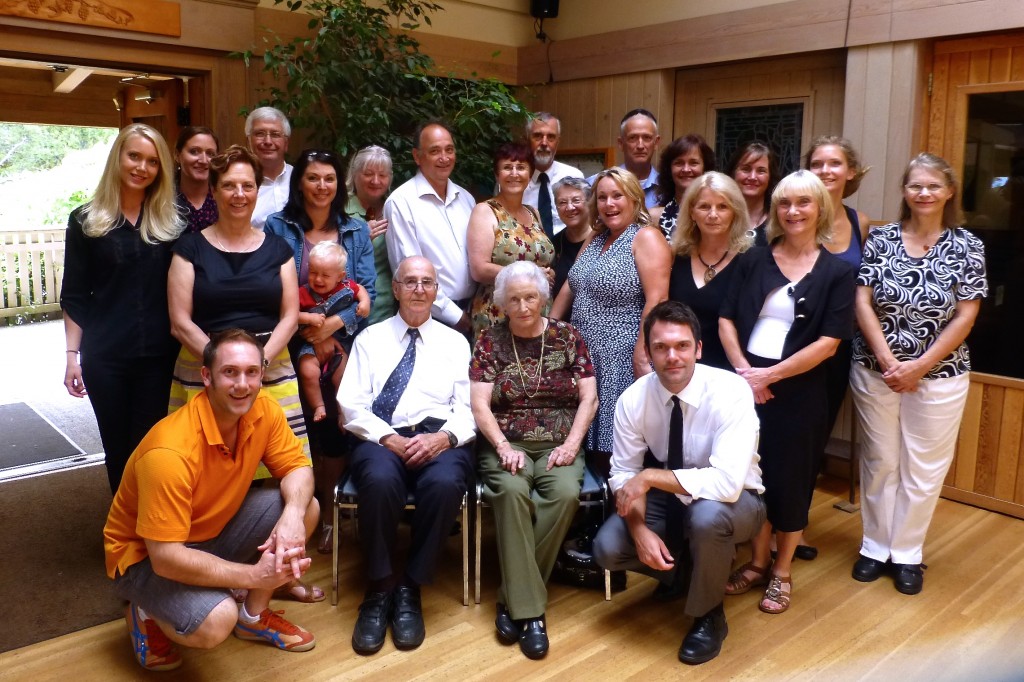 After the service, we had plenty of time to met several of June and Maggie's friends and relatives who travelled from near and far.There was a good sprinkling from Edmonton as that is were Maggie lived with her long time husband and their children until Roy passed away after a decades long battle with a degenerative illness. At one time, as a young married couple, Maggie and Roy lived in St. Paul, Alberta, where Roy began his medical career as a GP before moving to Victoria, where we became friends and neighbours.
Photo:  Maggie, four of her children and extended family members at the service for her mother, June Beaddie. (photo below for download)
It was also a great opportunity for Lynn and me to have a long chat with each of the four children. Ranging in age from their early twenties to forties, the kids are a delight and it must be great comfort to Maggie to have those children surrounding her at this difficult moment in life.
We learned Alison, the youngest (below, on right by her mother),  was only a toddler when we first met her wandering along our street as she clearly wished to see the world. She is now nursing in Westlock, AB, a small town not more than twenty minutes from where my family lived on a farm at Pibroch in the late 1940's.  A few women with whom Alison nurses are members of the same Hutterite Colony that purchased the very farm on which our family lived in 1949 and 1950.
Megan (standing on left side of mer mom), the third youngest, became a teenybopper when we were neighbours. She started her career as a PE teacher, but has since transitioned to her own business as a dance and fitness instructor in Edmonton.  Her brother Dan (on right), the second oldest, is working in a specialized high tech area that has something to do with magnetic levitation transport. We spoke of the amazing trains in China, but it seems he is working in an area well beyond that. It also appears Dan and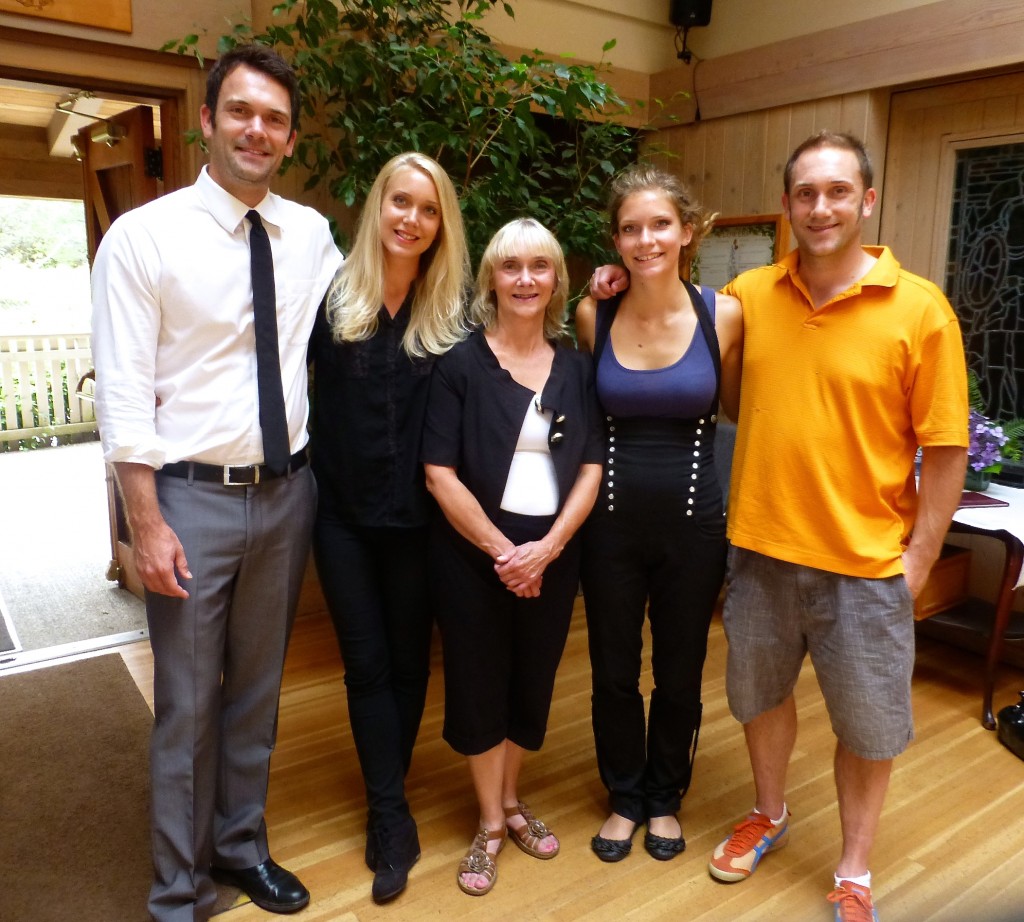 his wife are following in his mom and dad's footsteps as they currently have three children under five. Whether they will reach for that Fermat prime or not remains to be seen.
A decade or more back the oldest son, Ben (on left and tall like his dad) flew off to California to seek fame and fortune. He currently lives in Los Angeles were he works in property development, volunteers regularly in various East Los Angeles communities and is an aspiring actor. He may find the chance meeting we had on the way home as of interest. As for the youngest boy and fourth child, I have already spoken of Dr. Jon and have included below a short note he wrote about his grandma.
Photo:  A proud mother stands surrounded and supported by four of her five children.
It seems one can pack a lot of visiting into five or six hours as during that time Lynn and I managed to meet many of the family and friends who came to celebrate the life of June Allison Beaddie.  Each of those fine people had interesting lives and experiences, ranging from a teacher/mayoralty candidate in Port Alberni to another living in Cali, Columbia. Their stories could most certainly fill many pages of this post about Maggie's mother, her extended family and friends.  To bring this post to a close, I will relate that interesting chance meeting Lynn and I had while returning to Victoria. It speaks to those we hold dear and how they help us to maintain focus in our lives.
As we boarded the last evening, we noticed a couple in their mid-50's walking on with a ton of luggage. While it was a beautiful evening with glassy calm water, the stiff breeze crossing the open deck made it downright chilly as the ferry made way at something less than flank speed towards Schwartz Bay. Of course, always tuned to interests of our newest family member, we noted the couple had a small poodle, cute as a button and not much larger than our very own Lexi, an eighteen month old Shihtzu. Ah, far to cold for that little puppy out on an open deck…. Heavens, she could catch her death of cold! We inquired if the couple might be heading to Victoria or to the Airport and wondered if we could give them a lift?
After loading their luggage and introductions made, I had the distinct feeling of having previously met the woman, something that seems to happen to me occasionally!  Well, it turned out Lynn and I both knew of her, quite well in fact. She did not know us and had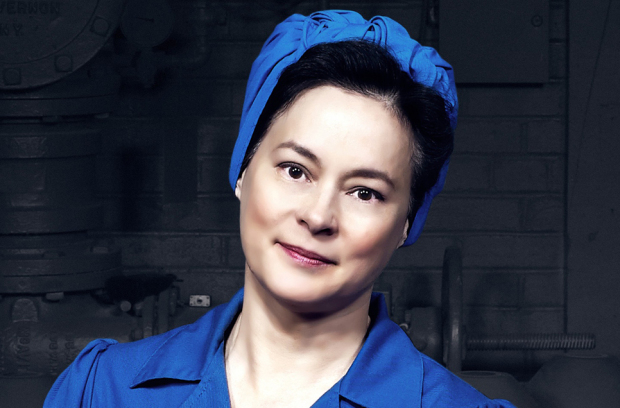 never met us, so, why was she so familiar?
The explanation was simple actually, we had regularly watched her in a 2012-2013 made for TV series, the Bomb Girls. The young woman was Meg Tilly who played Lorna Corbette, the endearing matron at Victory Munitions whose life took so many twists and turns during the series.
Photo (Web Source). Lorna Corbett as she prepares for work at Victory Munitions. The Bomb Girls effectively presented the challenges faced by woman before emancipation had truly taken hold in Canada. Our mothers faced many of the same challenges during their lives. 
Meg and her husband, screen and fiction writer Don Calame, were flying out to meet with Meg's two sisters for a family getaway. While our a meeting was less than an hour, that afforded us plenty of time to talk about family, dogs and life in general. It was another of those great interludes that life has to offer if one just takes a few minutes to chat with friends or strangers when a moment presents itself. One can have a very good conversation and can learn a lot in a very short period of time..
Later, on checking her biography, I found the young woman had a long list of credits for movies and T.V. productions dating back to the early 1980s. She had also been the recipient of a number of acting awards including an Academy Award as Best Supporting Actress for her role in Agnes of God.  Of note for Lynn – in the late 1980's Ms. Tilly began a five-year relationship with one of Lynn's all time favourites, Colin Firth and while living in a remote area of Maple Ridge, British Columbia, the couple became the proud parents of a little boy who is now twenty-one.
Now, how does this all fit together with the passing of Maggie's mother? While Meg Tilly is a celebrity widely recognized for her acting and writing skills, it did not long to realize that she is a woman who counts as more important having a nucleus of family and friends who know her, not just as an actress and writer, but as someone who loves and is loved by those near to her. Acting and writing is just something she happens to do well and that in turn leads to wide public recognition.
When looking at the long and well-lived lives of the mothers mentioned in this storey, they were just as much celebrities in their own right as those we watch on the television or the big screen or have some other talent that has allowed them to become widely known and (for the majority) respected by the general public.  The lives of public people are not better, nor worse, just more public. I fear for some celebrities it is a mixed blessing.
While the death of a family member often brings deep sorrow, it also provides an opportunity for family and friends to reconnect in support of one another as each prepares for the transition to a new life without someone who was deeply loved.  However, when that someone has managed to pack in a lifetime of bringing joy and love to others, as did Maggie's mom, June, our Mom, Laura and Lynn's mom, Edna, and all the other mom's that have lived a full life, we cannot help but be thankful for our extreme good fortune in having been able to call these celebrities our very own.
And now it is Maggie's turn to assume stewardship of the family rock that her mother, father and stepfather so carefully nurtured over all these many decades.
Love to everyone,
Harold and Lynn
Photos for this story are posted on an open Facebook Page at:  McNeill Life Stories Facebook
Excerpt from Comments by June's Grandson, Jon Corns
Grandma was a master of life.  She enjoyed and appreciated the simple things in life which is why I want to keep this simple.  It's impossible to capture 92 years of life in a single page.  Whether it was family, friends, church, her garden, or social clubs, grandma enjoyed life to the fullest. If there is a secret as to how to live your life, I think she found it.
On a personal level, I always enjoyed going to grandma's house on Salt Spring, a relaxing and joyful mini paradise, a perfect reflection of her own personality. She truly was the Salt of the Earth who will be dearly missed by all who had the good fortune to know her.
Ironically, my recent medical course in Singapore, and my work schedule in Australia, are preventing me from attending grandma's funeral, but are a result of the successes grandma helped me to achieve.  I sincerely wish I were with you all today on Salt Spring to celebrate grandma's life.  I wouldn't be where I am today without grandma's love, financial and emotional support and encouragement.  Every patient I see, I see as a result of her love and support.  Although we have lost a wonderful woman and grandma, I feel her love lives on through each and every patient I see.  For this I am truly grateful, and for this I will always remember my grandma.
Much love,
Jon.
Photo (taken at Church): Members of Maggie Corns family and friends.
The sister of June Beattie is seated centre with her husband.
(Note: Double click the following photos twice to get full size for download)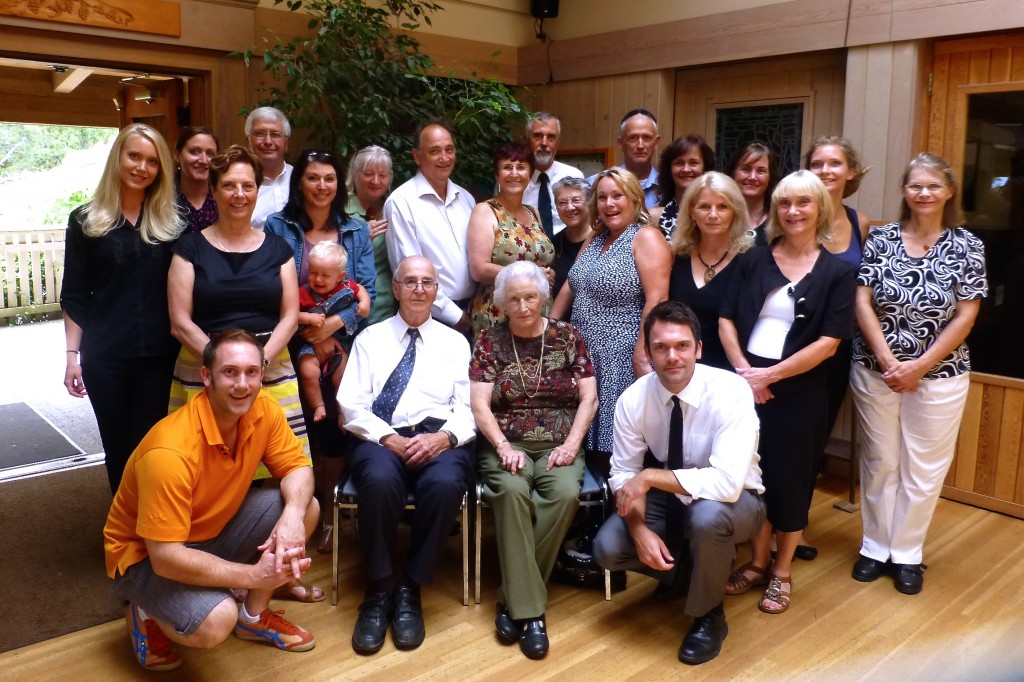 Photo (at church) Maggie with four of her children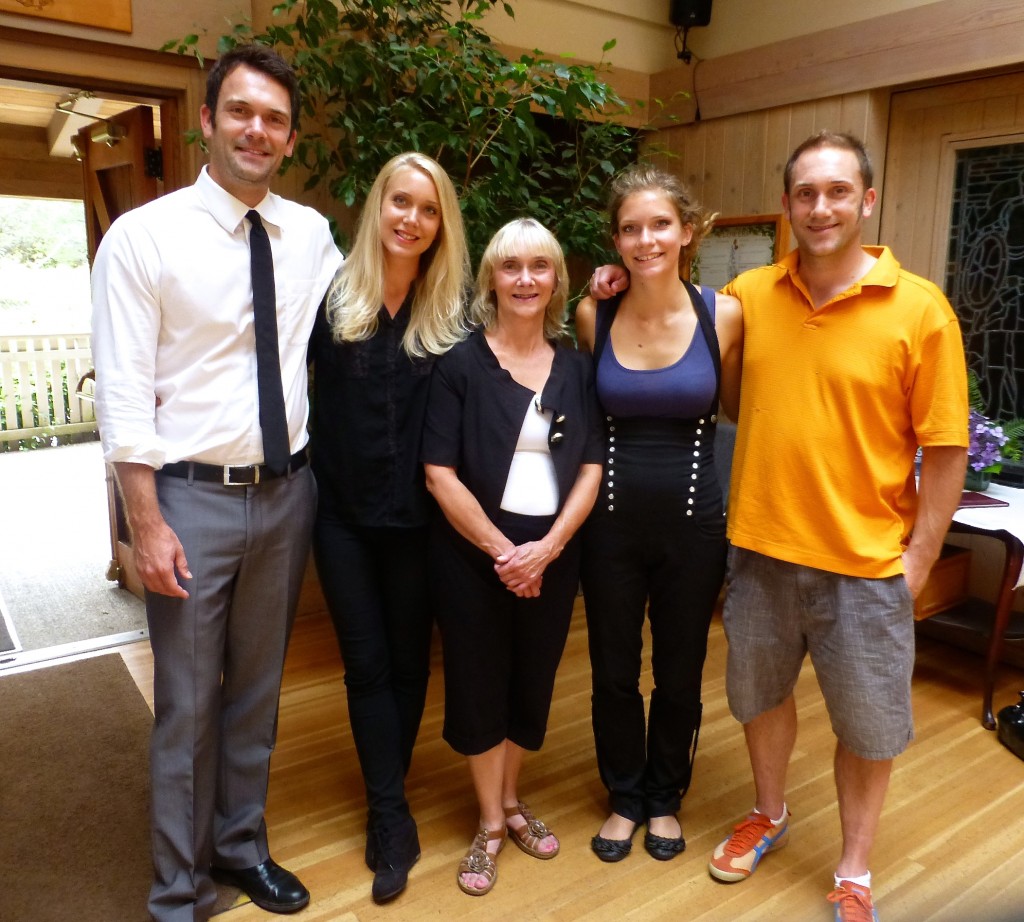 Photo (Web Source):  The sun sets on Vesuvius Bay, near the final resting place of June Beaddie (1922 – 2014)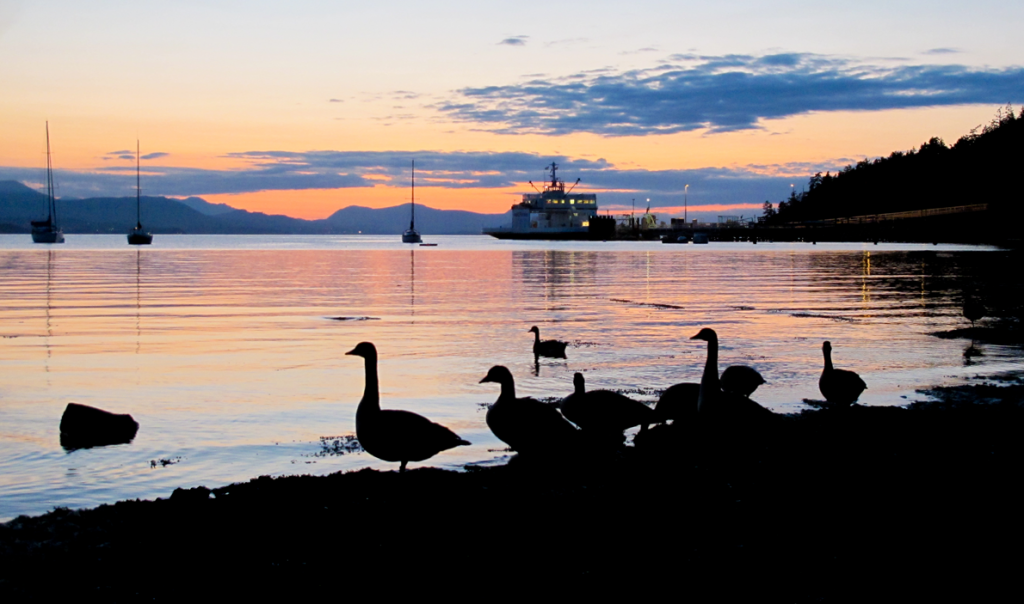 (1370)
(Visited 749 times, 1 visits today)
Tags: Alison Corns, All Saints by the Sea, Anglican Parish of Salt Spring, Arthur Beaddie, Ben Corns, Bomb Girls, Cunard Cruise Lines, Dan Corns, David Storm, Don Calame, Guy Heather, Harold McNeill, Jon Corns, June Beaddie, Lorna Corbett, Lynn McNeill, Maggie Corns, Margaret Heather, Meg Tilly, Megan Corns, Patti Ripon, Reverend Richard Stetson, RMC Scythia, Robert John Matthews, Salt Spring Island, Taku Glacier, Vesuvius Bay, Victory Munitions
Trackback from your site.