Marie Lake: A Final Farewell – Chapter 11 of 11
---

Photo (by Mom): Mr. Goodrich (L), Louise, Dad (C) and I prepare for lunch while Dad and Mr. Goodrich were doing some work along the lake. It would be our last summer in that idyllic setting.
Link to Next Post: Old School House (The start of Part IV)
Link to Last Post: Winter Trip to Cold Lake
Link to Family Stories Index
Early Spring, 1949
On the final day, as we were about to leave in the boat, a small seaplane circled lazily overhead. Then, to our surprise, it landed in front of our home and taxied in. While I had seen a few seaplanes around Cold Lake, none had ever landed at Marie Lake and I had never been close to one.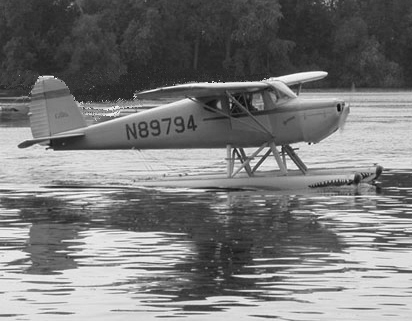 The pilot of the small two-seater, Don Hamilton, (see photo in the footer) said he was just passing by and decided on the spur of the moment to land and say hello. Dad and mom knew him from their time in and around Cold Lake as Don used to work with Charlie Pinsky, a local fish buyer to whom dad had often sold fish.
Photo: This Cessna 140 on floats is similar to that flown by Don Hamilton.  His aeroplane, of course, had Canadian call letters (CF-???)
Everyone stood around the dock chatting for a few minutes and dad told Don we were just moving. When Mr. Hamilton was ready to go he asked Dad if it would be OK if I flew with him back to Cold Lake. Of course, neither dad nor mom had any objections.
I suppose, in a way, the anticipation of taking my first aeroplane ride helped to overcome at least some of the deep anguish I felt about leaving Marie Lake. It had only been two years, but they were two years that had left a deep and lasting impression on my very being; Mom and dad, Mr. Goodrich, the dual wheeled wagon, wolves in the wilderness, my pet mink, the smell of fresh sawdust at the mill, hauling rotting manure and logs with Louise, building the playhouse; the anguish Louise and I felt when we thought we had lost our mother, then our father, and the joy of learning they would live, can only be experienced.
Photo: An early spring picnic on the shores of Marie Lake below Mr. Goodrich's cabin. Mr. Goodrich and Louise work over the fire while Dad and I look on. A few short weeks after this picnic we left Marie Lake for a whole new way of life.
As I climbed aboard the aeroplane, I looked at Shep sitting beside Louise on the dock with his head cocked and ears flopping forward.  I mouthed: "See ya soon good buddy." His knowing look as he turned away said this would be our final farewell. Mr. Goodrich, with tears in his eyes, waved, then turned and with Shep close by his side, walked off the dock toward his bachelor cabin and away from the two children and the family with whom he had shared so much of his life and love over the previous two years.
Harold McNeill
Link to Next Post: Old School House (The start of Part IV)
Link to Last Post: Winter Trip to Cold Lake
Link to Family Stories Index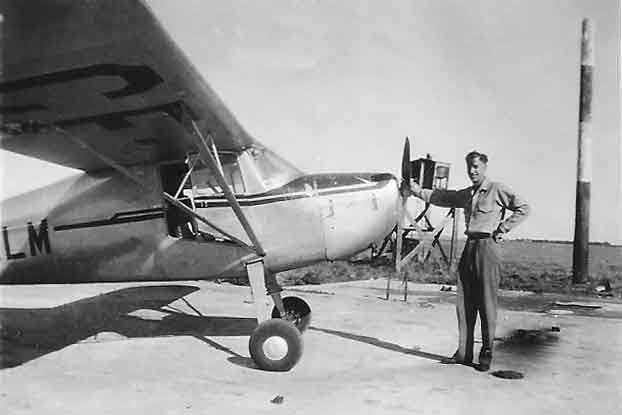 Photo (from Web, Summer, 2014):  Don Hamilton and his first aeroplane, a Cessna 120 taken at some airport.  It was this aeroplane, on floats of course, in which I took my very first aeroplane ride. This was to be the first of many aeroplanes Don would own on his way to building an Edmonton based company called Flying Firemen.  In later years, Aaron Pinsky and I used to fly various planes owned by Don as we hauled fish and fishermen around lakes in Northern Alberta and Saskatchewan.
Don Hamilton arrives in Cold Lake (Link):
In 1948 Don heard of an opportunity transporting fish from lakes to nearby processing plants in Northern Alberta. He ended up in Cold Lake where he quickly earned the reputation of being a pilot willing to help in any situation. To this end, Don was involved in numerous search and rescue missions in the North and flying polio patients from Cold Lake to the hospital in Edmonton.
In 1949 Don saw the opportunity for flying passengers between Cold Lake and Edmonton on a routine basis. Using a Cessna 195 and a 12 passenger Anson purchased from Canadian Pacific Airlines Don started the "Cold Lake Air Service".
In 1950 Don was approached by the Department of Transport to fly personnel around Alberta to locate a site for a new military base. Don suggested the Cold Lake area as being a suitable choice and based on Don's recommendation the Cold Lake air base was built. The airline turned out to be a great success flying passengers working on the construction of the base between Edmonton.
It operated until 1954 when Don headed further north to help with the construction of the Distant Early Warning Radar Line ("DEW Line") in the Arctic and later flew as an executive pilot for Chevron Standard flying Anson, Lockheed Loadstar and Beaver aircraft.
Don Hamilton can readily be called a pioneer Ice Pilot. His over fifty-year career spans a historical period of development in the Canadian North. Don flew a wide variety of aircraft, from Fleet Canucks to AT-6's to DC-3's to Gulfstreams and from Piper J-3's to Cessna 206's – from wheels to skis to floats. From growing up in southern Canada to living on the Arctic frontier, Don not only lived history, he helped create it.
(1846)
(Visited 563 times, 1 visits today)
Trackback from your site.