Posts Tagged 'Egmong B.C.'
---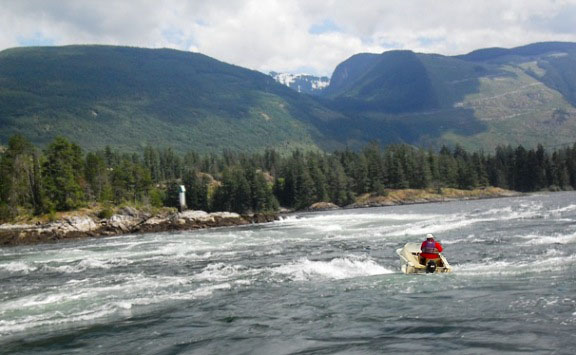 Photo (Web Source, with a few Photoshop adjustments).  In the mind's eye Graham Hill makes his first
attempt at running the Skookumchuck Narrows.  Gery Lemon preferred to stay on dry land.  (December 2017)
Dear Graham and Gery,
While this post was written a month earlier, with the slideshow now complete it is time to go live. Rather than putting the slideshow at the end, it will be used as an introduction in an attempt to capture the spirit of the trip.
It was an amazing time, one I shall always cherish as it seems demands of life have conspired against finding that one-on-one time that only a trip like this can provide. Graham, you are an exceptional man, an easy conversationalist and your depth of knowledge on so many subjects are inspiring. Also, as you will no doubt agree, we have not only been gifted with the most amazing life partners, we also have a string of children, grandchildren and many friends who bring endless joy to our lives as we have moved along each successive stage. We could not have scripted our lives for a better result.
As for the following travel story, while I did not take any notes I hope that most of the family facts about your earlier life are correct and as for the make-believe stuff, that is simply a couple of old guys who remain daydream believers.
In preparing the final slideshow, the two of you will notice that I have plucked a dozen photographs from your respective Facebook pages to add flavour. Later, I will post all the photos on the open-access McNeill Life Stories Facebook Page so individual copies can be accessed at leisure.
In closing, many thanks to Herb Craig and Ann Skeltcher for their overnight hospitality on that lonely stretch of highway that leads to the hinterlands of the Sechelt Peninsula. There is nothing like good friends, a hot meal, glass of wine and a warm bed to take away the sting out of a hard day on the trail.
Your friend,
Harold
(January 16, 2016)
Individual photos of the Christmas Adventure now posted.
Another event involving Gery and Graham may be linked here: Gery Lemon Achieves New Milestone
Blog Post of Another Recent Event Harold and Graham attended: Wow! Another Slideshow
Introduction
Forever Young –  Music by Joan Baez
1. A Narrow Escape
(1305)