Posts Tagged 'Machu Picchu'
---
A long day, a hard life.
A South American Adventure The introductory Post
Peru, A Different Perspective: Includes Slideshow
Peru and the Inca: Back to the Future Inca Agricultural Research
The Falkland Islands: Our Perceptions of the Islands.
This post seeks to compare everyday life in rural and small-town Peru to our lives in Canada. While I think people in Peru are generally happy with their lives (in terms of family, friends, and neighbours), life does look to be far more difficult than in Canada. It makes me wonder why, in Canada, we seem to complain about the least little thing when our standard of living and level of privilege appears to be considerably higher than in Peru.
1. To what extent does luck play a role in our lives?
A man about my age (late 70s), pushed what looked to be a backbreaking load along a street in Aguas Calientes (I), the last small town before Machu Picchu. He stopped and leaned over breathing hard. After resting a few moments, he straightened, stretched, and with gritty determination grabbed the handles of his wheelbarrow and continued.
As we passed, our eyes met, he nodded and we smiled. While he was obviously weary, the smile and sparkling eyes suggested a happy man. As he continued along his uphill path, I continued down taking more photos of life in small-town Peru.  A few minutes later, I met another man pushing a similar barrow full of goods (photo in the footer), and he too wore a happy smile accented with sparkling eyes. We also exchanged smiles and passing nods. It looked to be a tough life for the two men their later years.
Later that day, while passing through another small town, a group of townspeople (photo taken from our bus as we drove through) was cleaning (or rebuilding) a drainage ditch. We are told by our guide that everyone in small towns sprinkled across rural Peru, have a standing obligation to help build, then keep public works systems clean and functioning.  It looked to be a tough way to spend the weekend, but there is also the aspect of a community working together to make life better for everyone.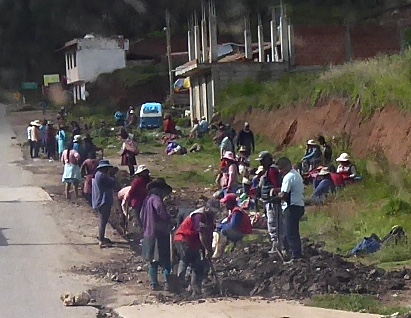 This photo shows only one part of a large group of people spread over two or three blocks on the edge of their village. They were working to build or repair a drainage system, an essential part of these high mountain communities (we were outside Cuzco at about 12,500 feet at the time). 
The photo below, along with a slideshow) provides a glimpse of a group of women, ancestors of the Inca, who, with the help of a National Geographic grant, started a weaving business a few years back. They now have a thriving operation that caters to an increasing number of tourists passing through their village of Chinchero, a community of about 20,000 Quechua (catch ur ah) speakers, located on a 12,500-foot plateau a few miles northeast of Cuzco.
While they work exceptionally hard (by our standards at least), their efforts provide only a modest living for their families. A full outline of their business venture is described in a National Geographic article of some years back. Such is the working life for many ordinary men and women in Peru and other South American countries.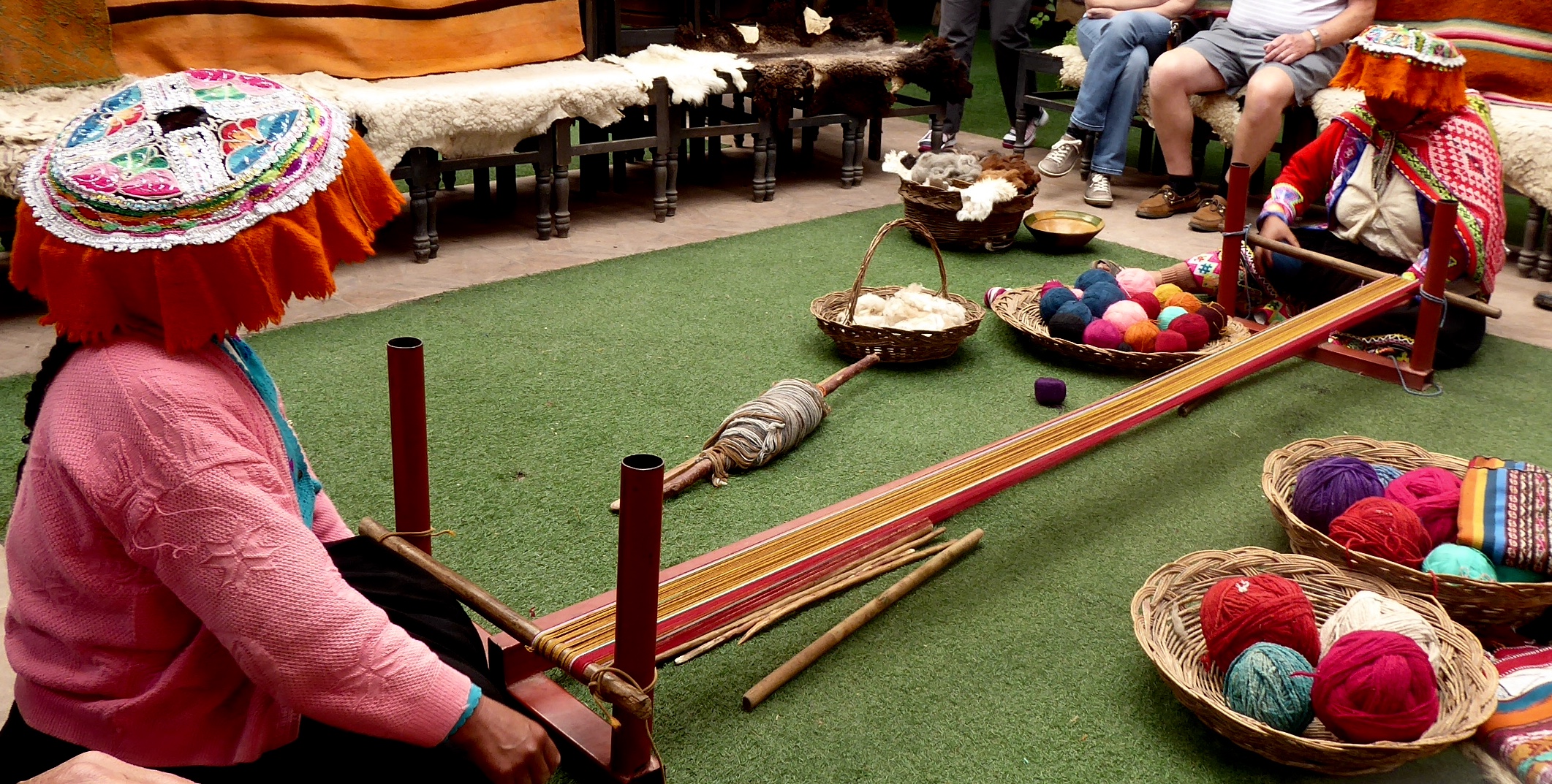 These women may work several weeks creating one table cloth or a day creating three or four little belts that are sold for $2.00 each.. They may sell one or two belts per day and a table runner every week or so. It may be weeks before they sell one of their intricately woven table cloths. Every part of the weaving process uses natural products of Peru including the dyes which are handmade on site. (Chinchero Cultural Centre)
WEAVERS SLIDESHOW
Think about this. If we were dealt different cards in life, we could be any one of these men or women, and they could be us.  Whether we carry a heavy load in the third world, or we lay back watching a big screen TV in Canada (a smartphone tucked by our side) a good part of the reason we are where we are, is based on the luck of our birth.
(268)
---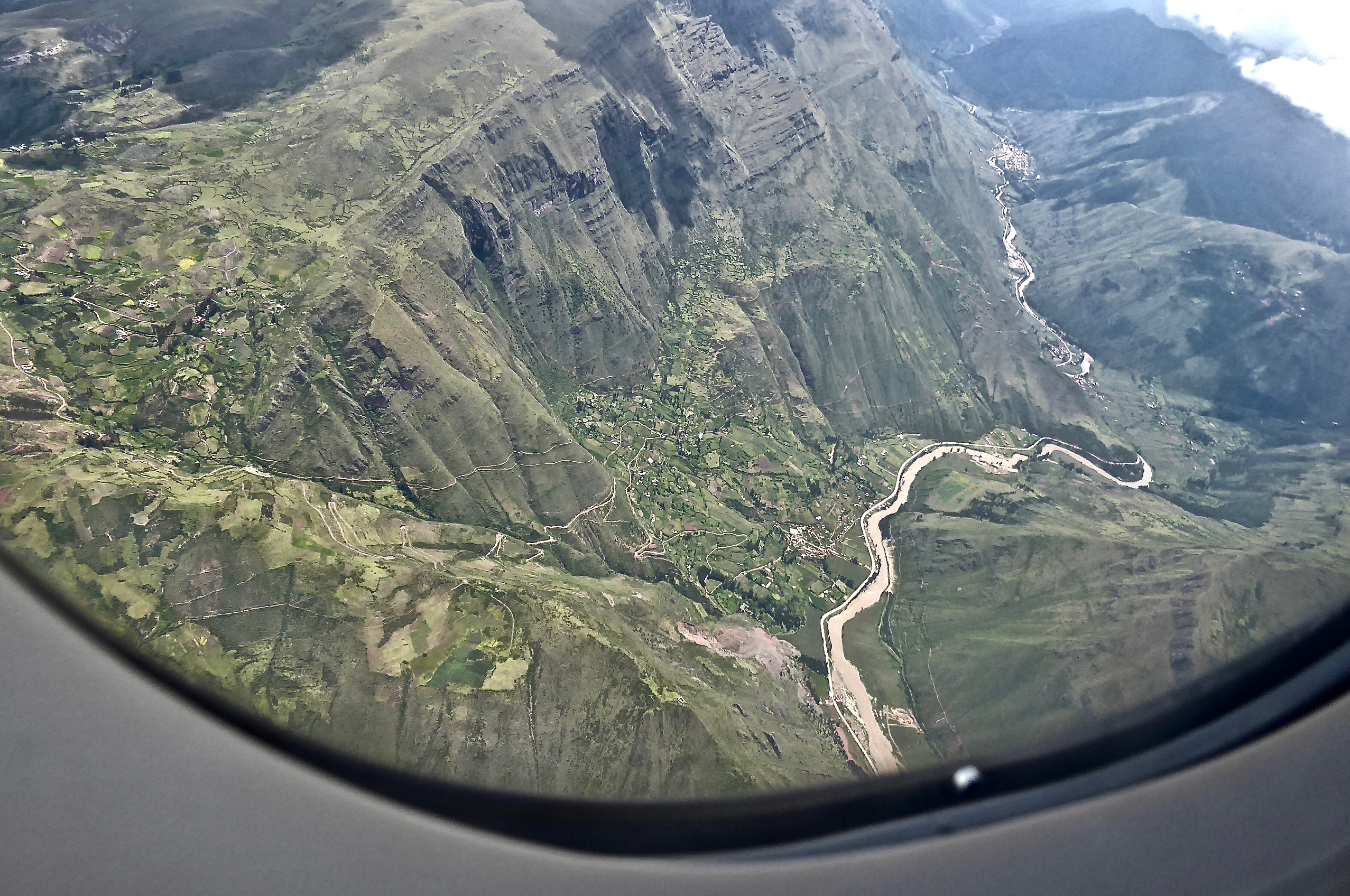 (Click to open to full size)
(A 12-minute slideshow can be linked in the footer)
This photo, taken while en route to Cusco, along with several others in the slideshow linked below, was taken through the windows of buses, trains, and aircraft as we traveled around Peru.  As you can see in the above photo, the rivers, roads, and towns very clearly come into view (click photo to open to full size)
Surprisingly, with a little touchup work to remove some of the reflections, the photos provide some insight into the travel challenges faced by Peruvians as they go about their daily lives. 
South America Post Links
A South American Adventure Introductory Post
Peru and the Inca: Back to the Future Inca Agricultural Research
South America: A Long Day, a Hard Iife  Comparisons to Canada
The Falkland Islands: Our Perceptions of the Islands.
Peru, a view through the glass of planes, trains, and buses.
As we flew to Cusco, the religious centre of the Inka (original spelling) culture and the gateway to Machu Picchu, breaks in the clouds presented our first opportunity to view Peru from a 32,000-foot perspective.  The enhanced introductory photos that serve as the lead in this slideshow, reveal the rugged terrain where people most certainly live and work at the top of the world.  That world ranges from sea level to 16,700 feet.  Eight of the ten highest mines in the world are located in Peru, with the town of La Rinconada, 30,000 residents, sitting at the 16,700-foot level, the highest town in the world.
The majority of staple crops in Peru are cultivated from 1,000 meters (3200 feet) to 3,900 meters (almost 13,000 feet) with several hundred varieties of potatoes being developed and are shipped around the world. Quinoa, another staple of Peru, is grown from about 2,300 metres (7500 feet) to 3,900 metres (13,000 feet).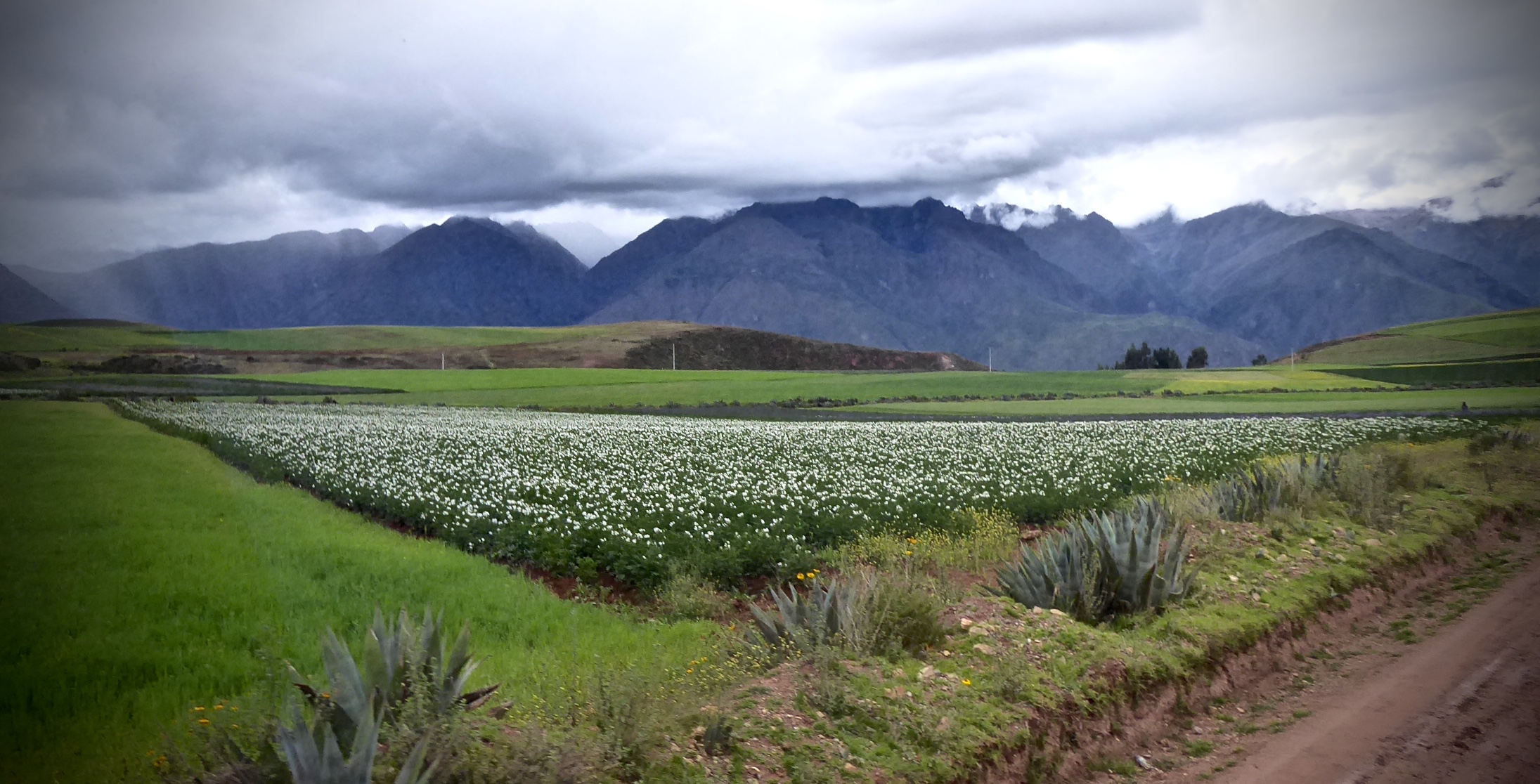 Maize, another principle crop, is commonly grown to the 3,500 meters (11,500 feet) in favourable conditions.  It was the ingenuity of the ancestors of the Peruvian people (the Inca's and others) in developing crop strains that grew well under adverse conditions, that allowed them to feed the people with less than 2% of land in the country suitable for agricultural use.
"The highest altitude in the Andes at which people have resided permanently is 17,100 feet (shepherds in southern Peru) and, as temporary workers, 18,500 to 19,000 feet (Carrasco Mine, in the Atacama Desert, Chile)."  (The Mountain People).
In several of the lead photos, you can discern the switchback network leading from one community to the next and when traveling by bus, we seldom covered more than a few kilometers with entering a network of switchbacks.  In one photo, I happened to capture an open pit mine and in another a dust cloud that appears to be from another mine.
Later, when travelling by bus, a perplexing question arose – why were so many towns completely devoid of people.  I'm not just talking about only a few people on the streets, often there was not a single a sole to be seen.  Perhaps everyone left for work before we arrived (late morning) and never came home until late in the afternoon (after we left)?
"The daily life of the residents of Peru's cities varies with social class. Relatively few of the poorer residents have good jobs within the formal Peruvian economy; often they must work two or three jobs, and they have less leisure time than other Peruvians. Such people make up the majority of the population in squatter settlements that surround the major urban areas."  (Daily Life and Social Customs)
On landing in Cusco, we had our first taste of life at 11,500 feet, and after walking a short distance from the aircraft to the departure lounge, we begin to feel the effects. It would be good to have the next two days to acclimatize.
Video:  A View Through The Glass
(86)