Harlan: A Tragic History – Chapter 2 of 6
---

Photo (Frog Lake Memorial):  One man who died was the John Delany, the Grandfather of my Aunt Hazel (wife of my mom's brother Melvin Wheeler), all part of the interesting history of our family.
Link to Next Post: Snakes
Link to Last Post: Old School House (First of Part IV)
Link to Family Stories Index
Early Spring, 1949
While our home a Marie Lake, Alberta, (20 miles north of Cold Lake) was nestled within the pristine beauty of the lakes and evergreen forests dotting Northwestern Alberta, Harlan District was spread out along fields and poplar forests that gently rose from the northern banks of the North Saskatchewan River.  Situated just inside the Saskatchewan side of the border with Alberta, the community was less than ninety miles south-southeast of Cold Lake. Today it remains a small farming community not much changed from that time Louise and I lived there for a few months in 1949.
During the spring and summer, as our cousins Betty and Stan (my dad's sisters kids), along with Louise and I, explored the grassy fields and poplar covered woodlands around Uncle Warren's farm in Harlan District, we were oblivious to a significant piece of Canadian History that played out just over sixty years earlier on the very roads and trails upon which we walked and played – The Frog Lake Massacre of 1887.   Calling it a massacre was certainly wrong as the more appropriate name should have been "An attempted genocide at Frog Lake".
That attempt at genocide was caused by the deliberate starvation of the aboriginal people through federal government policies designed to subjugate the original inhabitants of that area.  While the Indian Agent in Frog Lake was the administrator of the local bands, it was Sir John A. MacDonald and his government who were the architects of the policy.
At the time the four of us were playing in the fields, we know that a member of our own family, Aunt Hazel Wheeler (nee Martineau), the wife of mom's brother, Melvin Wheeler, actually traced her family history directly back to those tragic events that played in the Harlan District in the fall of 1887.
The farm, on which we were living with Uncle Warren and Aunt Liz Harwood (nee McNeill), was twenty-five miles southeast of Frog Lake, thirteen miles from Onion Lake and five miles west of Fort Pitt. The district became the epicenter of a rebellion fomented by a charismatic Métis leader, Louis Riel who resented the injustices being heaped upon the Cree and other tribes by the Federal Government. Riel was able to bring the diverse Indian Nations together in common purpose and that led to the rebellion.
In his book, The Frog Lake Massacre, Bill Gallaher writes: "Superintendent Crozier and a contingent of policemen aided by a small volunteer force from Prince Albert, had confronted Louis Riel and his rebels, some of them Cree, at a place called Duck Lake, a few miles east of Fort Carlton. After the ensuing battle, 14 men lay dead."  (p. 102).
News of the confrontation quickly spread to the tribes in the Frog and Onion Lake area where activist leaders, including Wandering Spirit, Man Who Speaks Another Tongue and others, gained a substantial following. Much of their anger was focused on one man, Thomas Quinn.
Quinn, appointed by Ottawa as the Indian Agent at Frog Lake, was an arrogant, stingy Scotsman, who held the responsibility on enforcing Federal Government policy regarding the distribution of food supplies.  The bands were in desperate straights as they had been forced out of their traditional hunting grounds and left completely dependant upon government handouts.
Quinn took his directions to heart by forcing the largely peaceful Indian bands, to bow to his every whim before he would release any of the food and other supplies agreed upon in the treaties. The tribes became more and more desperate as their land base continued to shrink under the onslaught of the white settlers and it was not long before their traditional food supplies all but disappeared. Pleas for relief emanating from moderate leaders, including Chief Big Bear, fell upon deaf ears at Fort Battleford and Ottawa.
Activist leaders, having heard of Louis Riel's initial successes in confronting the government forces, convinced a significant number of warriors to stand fight rather than continue to bow to the dictatorial Indian Agent, Thomas Quinn.
The stage was set:
"The air in the room was hot and close, thick with pipe smoke and body odour. All of the whites in Frog Lake had gathered in John and Theresa Delaney's house to discuss Dicken's message (a message from Inspector Dickens of the NWMP suggesting all the white settlers at Frog Lake, evacuate the community immediately and head to Fort Pitt), viewed by some as an emergency. It was near midnight and Teresa served tea and coffee strong enough to make sleep a far off country." (Gallaher, p. 103)
"I noticed, as I'm sure others did, that he didn't mention the Indians dislike of Quinn – they always called him "Dog Agent" or "The Bully" behind his back – and that perhaps he should go too."  (Gallaher, p. 105)
Early the following morning the group was taken hostage by the rebel's, then under the leadership of Wandering Spirit.  While being forced back to the Cree village, Quinn suddenly stopped and refused to follow instructions. Wandering Spirit stepped in front of the belligerent man, "You have a hard head and I wonder if there is anything in it? He raised his rifle and shot Quinn through a head not so hard that a bullet couldn't split it open…"  (Gallaher, p. 106) check page?
The sudden, violent killing of the "Dog Agent", Quinn, left the remaining hostages scrambling for their lives,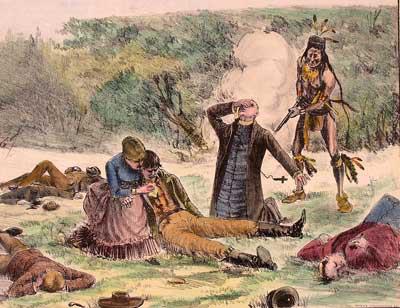 "My mind was churning madly. We hadn't taken more than a few steps when John Delany cried, "I'm shot!" He reeled several feet away like a drunkard, then staggered back and collapsed at Theresa's feet.  Oh, my God! Theresa cried. "Father, Father!" She was calling one of the priests; Father Fafard came running to her side and dropped to his knees. Delany lived only long enough to hear the priest administer consolation and say, "You are safe with God, my brother." These words had just passed Fafard's lips when Man Who Speaks Another Tongue shot him in the face.  He fell across Delany's corpse." (p. 128)
The uprising had passed the point of no return as the rebellious leaders and their followers headed toward Fort Pitt to confront the government forces. It was not many days before the miserable weather, a lack of weapons, food, and other supplies lead to the collapse of the resistance but not before many more had died in skirmishes in the valleys and hills surrounding Harlan, Fort Pitt and Frenchman's Bute.
The eight Indians, considered to be ring leaders, were arrested and taken to Fort Battleford for trial, the outcome was never in doubt. After being convicted they were hanged on a makeshift gallows within the Fort.
Chief Big Bear, the moderate leader of the Cree, who was present for the hangings, was then put on trial in the belief that he, as the leader, ultimately responsible for the rebellion. After being convicted he spoke eloguently in defence of his people,
"Your Lordship, I am Big Bear, Chief of the Cree's.  The Northwest was mine. It belonged to me and to my tribe. For many, many years, I ruled it well. Now I am old and ugly; my heart is on the ground. From now on white men with handsome faces will rule this land.
But when the whites were few, I gave them my hand in friendship. No man can ever be witness to any act of violence by Big Bear to any white man. Never did I take the wife man's horse. Never did I order any one of my people to one act of violence against the white man. I ask for a pardon and help for my tribe. They are hiding in the hills and trees now, afraid to come to the white man's government.
When the cold moon comes the old and feeble ones, who have done no wrong will perish. The game is scarce. Because I am Big Bear, Chief of the Cree's, because I have always been a friend of the white man because I have always tried to do good for my tribe, I plead with you now; send help and a pardon to my people. Give them help! Now! I have spoken!"
Big Bear was then sentenced to three years hard labour to be served at the Stoney Mountain Penitentiary in Manitoba. He was taken away in shackles and leg irons and put on a train heading to Stoney Mountain – a proud leader to the very end.
Eighty years later, the following passage, written by our Aunt Hazel about her parents and Grandparents, appears in "The Treasured Scales of the Kinosoo", a book of life stories of those who settled the Cold Lake area:
"Father (referring to her father) was transferred to Onion Lake in 1901, as a Hudson's Bay Company Agent. He met and married Margaret Delaney. Margaret was the daughter of a native mother and an Irish father. Her father (Aunt Hazel's Grandfather), John Delany, was killed in the Frog Lake Massacre and she was raised by nuns at Onion Lake. Father was part French and part Scottish and he used to tell us that we were a little bit of everything and not much of anything." (p. 4)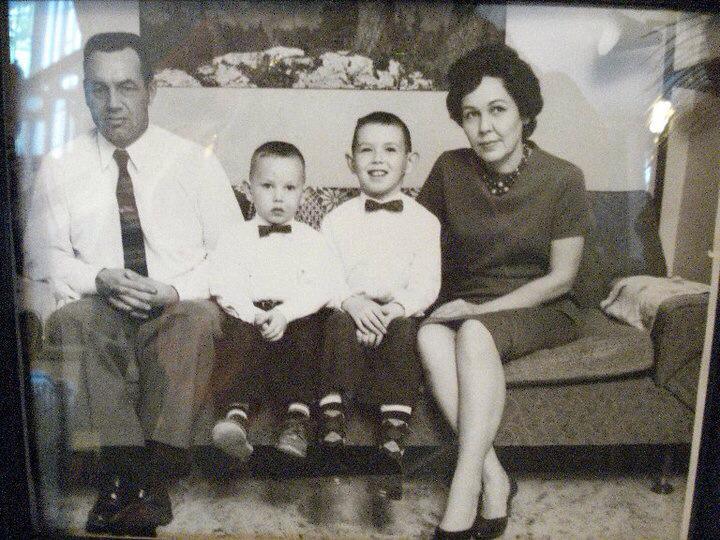 Aunt Hazel's was one of thirteen children in the Martineau family. It was a grand family that also included five adopted children saved from the orphanage after the death of their parents.  It is little wonder that Aunt Hazel's mother was known as 'Grandma Martineau' to everyone in the Cold Lake area. She was well into her eighties when she passed away (reference picture of Grandma Martineau sitting on the logs at the Martineau Camp in Chapter 3 of that series).
Photo (Family Files).  Aunt Hazel and Uncle Melvin Wheeler sitting with their two sons, Timmy and Randy at their home in Cold Lake.
The following additional quotes from Aunt Hazel's notes are added as they relate to other events and people in those early years of our family travels throughout the northwest.
"Johnny Cardinal operated the ferry on the North Saskatchewan River near Frog Lake at the time of the Massacre." (p. 5).  (The Cardinal's were another well know Cold Lake family).
"A group of surveyors worked north of Cold Lake prior to 1910, setting their base camp at an unnamed river which flowed into Cold Lake. They depended upon Adrian (Adrian Martineau, one of Aunt Hazel's brothers) for their food supplies. On one occasion the supply wagon bogged down due to heavy rains at Onion Lake. When the needed supplies finally arrived the head surveyor announced that he named the river at their base camp Martineau to remind Adrian of the time when he and his men almost starved." (p. 5)
Adrian passed away in 1944, the year we moved to Cold Lake and lived on the banks of the Martineau River very near the area where the surveyors had almost starved in 1910.
In the summer of 2010, our oldest son, Jay McNeill, and I visited many of the historical sites that stretched from Frog Lake and Onion Lake to Fort Pitt and Fort Battleford. Our visit included a stops at the grave sites of the eight settlers killed at Frog Lake, and the eight Indian leaders hanged and then buried on a sidehill below Fort Battleford.  Considering, Fort Battleford is a National Historic Site, it is a national disgrace that men, the leaders who attempted to help their people, have been relegated to weed infested, rocky sidehill several hundred feet people the Fort.  They were heroes and their history has been largely cast aside in favour of a different narrative of those times.
The graves below Fort Battleford are located no more than a few hundred yards from the spot where our mother, Laura Skarsen (McNeill, nee Wheeler) at five years of age, and with her parents and grandparents, camped in 1924 while their wagon train was on a five day layover when travelling from Sibbald, in southern Alberta, to the Birch Lake, Saskatchewan, to begin new lives homesteading in that area.
Harold McNeill
July, 2010
Link to Next Post: Snakes
Link to Last Post: Old School House (First of Part IV)
Link to Family Stories Index
Link here to photo's of Frog Lake adventure: LINK HERE
September 19, 2012.  The following information was plucked from a Genealogy site:
Also, a note by Phylis Wicker Glicker
Hazel Martineau [Wheeler] daughter of Adrien Louis Napoleon Martineau b. Oct. 18, 1875, St. Boniface, Manitoba, Canada, and Margaret Delaney b. Nov. 30, 1885, Frog Lake, Alberta, Canada. Adrien is the son of Herman Martineau b. Brittany France mar. (1) Annie Macbeth (2) Angeline LaBelle. Herman Martineau is the son of Ovit Martineau b. Brittany, France.
I have just begun researching the Delaneys and Martineau"s so I don't have much. But I would love to hear from you and share what I have. I was married once to Frank Martineau, grandson of Adrien Louis Napoleon Martineau and would love to learn about Margaret Delaney's family for mine and my children's sake.
Email: pwicker@telus.net
Harold Comment:  I am not sure if this is correct, but it seems to fit with the details I have previously researched.
(3852)
(Visited 3,918 times, 1 visits today)
Tags: Father Leon Adelard Fafard, Father Felix Marchand, Farm Instructor John Delaney, Indian Agent John Delaney, John Alexander Gowanlock, William Campbell Gilchrist, George Dill, Charles Gouin, John Williscroft, Prisoners, Theresa Delaney, Prisoner, Theresa Gownanlock, Uncle Melvin Wheeler, Aunt Hazel Wheeler, Big Bear, Sir John A MacDonald, Hazel Martineau, Hazel Wheeler, Melvin Wheeler
Trackback from your site.