Southeast Asia: A Magical Journey
---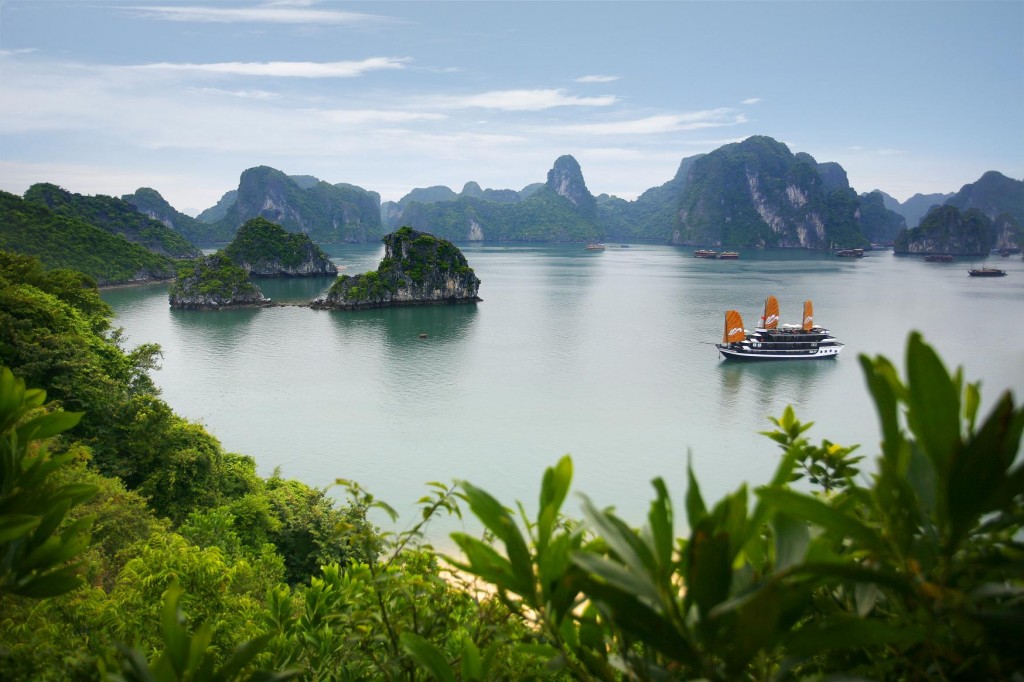 Photo (Web Stock): Ha Long Bay is 120 km long, 1553 Km2 and
contains 1969 Islands formed from limestone karsts,
many of which are filled with expansive caves. 
EXCLUSIVE ESCORTED TOUR TO VIETNAM, CAMBODIA
AND THE RICHES OF THE MEKONG RIVER
Expedia CruiseShipCenters, Sidney, British Columbia, invites you to join an exclusive Escorted Cruise to Vietnam, Cambodia and the riches of the Mekong River.
Note: Photos in this blog post taken from the Web.
From September 18 – October 3, 2012, you will be hosted, first on a seven day land tour beginning in Hanoi and then on a seven day river cruise, beginning in Siem Reap, then meanders along the Mekong River to Ho Chi Minh City (Saigon). On both arms of the tour you will be hosted on several side tours during which you will be exposed to the best the two countries have to offer. A three day pre-tour extension of Hong Kong is also available from September 15-18. (Tour details provided at the end of this article.)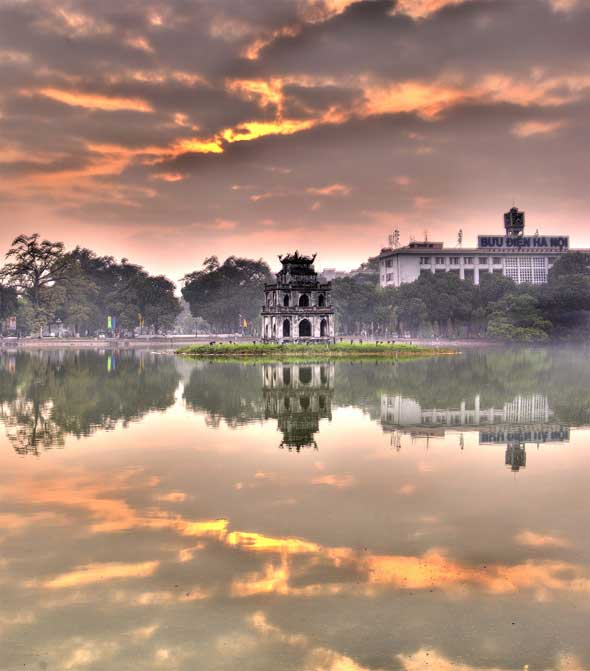 Photo (Web Source) The city of Hanoi, your arrival point, is also know as the City of Lakes. Breathtaking scenes will greet you at every turn.
For those of us who lived through the decade and a half of the Viet Nam War (1959 – 1975) and who watched or participated in the anti-war protests that grew to gigantic proportions throughout the United States and around the world, will long remember that iconic moment when an Air America helicopter plucked one final load of desperate individuals from the roof of the US Embassy in Saigon (photo in footer).
Today, North and South Viet Nam are one and, along with Cambodia and other countries in the area, have risen from the ashes of the war to become the vibrant, welcoming tourist destinations they are today. With lush tropical vegetation, incomparable historic scenes such as the Ha Long Bay and Temples of Anghor. These modern cities provide an endless array of food, entertainment, architecture and sense of history, that will fill your days from dawn till dusk and into the wee hours of the morning.
In 2011, Ann Henderson, along with her husband Jeff, made the amazing trek.  Ann penned the following notes about their experience:
Timeless Wonders of Vietnam, Cambodia and the Mekong River
Tour Notes by Ann Henderson
Ha Long Bay
Journey through the countryside enroute to Ha Long Bay, peeking into the unchanging daily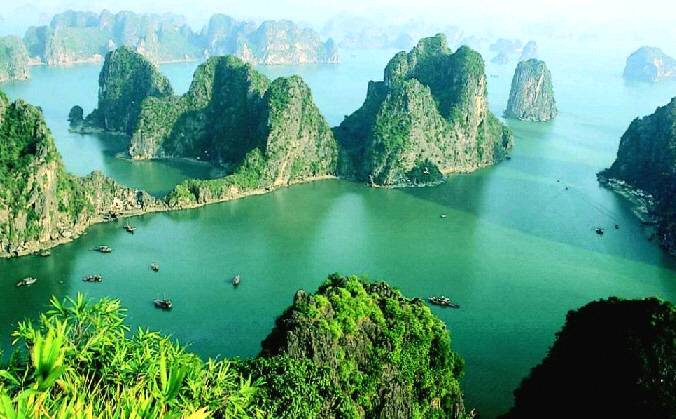 routine of life.  Ha Long Bay is mystical, mysterious and, at times, spiritual.  A UNESCO World Heritage Site in the Gulf of Tonkin, words cannot begin to do justice to the marvels you witness from sunrise to sunset.  The misty morning greets you as islands, outcroppings and caves slowly reveal themselves to you inch by inch.
During the day, you can climb to the top of the island which had teased you earlier in the morning, for some of the most stunning views you'll ever witness.  Or kayak in the bay along the maze of jagged isles or by the colorful floating fishing villages.  During the evening stand in awe as the evening sun reflects onto the water from pale pink to a blood orange ball as it descends behind the mysterious isle.  The constant refrain is "It's so beautiful, I cannot believe I am really here".
Siem Reap
A short flight takes you to Siem Reap – home to many truly amazing architectural marvels.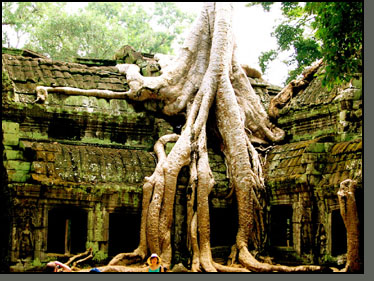 Sights that many will never see.  The Temples of Angkor – Angkor Wat, Angkor Thom, Banteay Srei along with Ta Prohm Temple.
We are reminded of the power of the jungle – witnessing tree roots embrace the crumbling structures.  After sightseeing during the day, why not, as in years gone by, take an elephant ride to view the sunset or take a tuk-tuk into town – a hot spot for wining, dining and shopping!
Once aboard your luxurious River Boat you quickly adapt to the relaxing pace.  Enjoy the amazing service from crew who cannot seem to do enough for you while the world of the Mekong passes by.  Ornate temples, small floating villages and lush fertile farms.  You'll see children happily playing at the shoreline waving to you while water buffalo bask in the river.  Everyday and every mile is a new and different experience as you journey towards Ho Ch Minh City.
Phnom Penh
Phnom Penh – there have been many descriptions but the best is captivating.  It is a unique city
rich in charm and emotionally chilling to the bone.  Since the terror reign of Pol Pot, Phnom Penh has been left with the "Killing Fields and Tuol Sleng S21 Detention Centre as grim reminders to the world of the atrocities this country lived and witnessed.  An entire generation disappeared.
Photo (Web Source): The architecture you will find in South-East Asia is unlike any you will find in North America and Europe.
Most guides today refer to themselves as survivors.  Their stories,  like the city are unique.  Today this city is renovating the old French colonial building and creating construction towards a new and modern city.  A visit to the Foreign Correspondence Club is a must.  Dine on the  great food or go shopping at the Central Market or the Russian Market.  Both are very large and you can haggle for just about everything from t-shirts to gemstones!
Ho Chi Minh City
Finally, Ho Chi Minh City or Saigon – a Grand Dame!  A cocktail of old and new – a city of 9 million, mapped and surrounded by wide lush boulevards, rich in history with ancient alleys, nooks and crannies and modern skyscrapers looking down on all.  Truly a magical journey.
Ann Henderson
September 2011
Tour Details
How can you become part of this exciting adventure?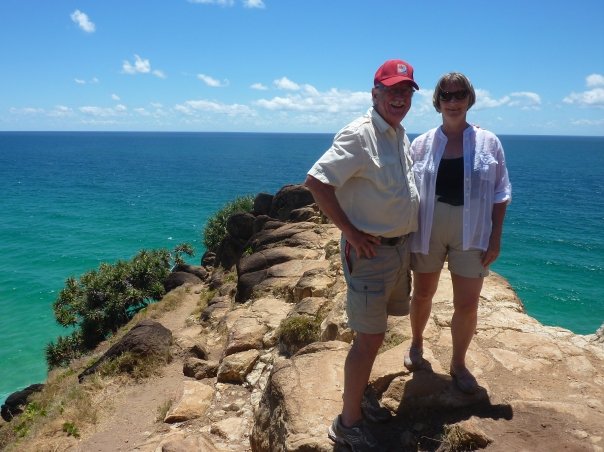 As Lynn and I are jumping on board our first River Tour of Eastern Europe at the end of March with our friends Garth and Esther Dunn, we are still working out the details of how we might join this amazing land and river tour this coming September. There are so many wonderful destinations and so little time. We encourage you to take a closer look.
Photo: Lynn and Harold in travel mode on Fraser Island, another World Heritage Site, off the East Central Coast of Queensland, Australia
If you have an interest in joining this Land and River Tour, check in with Lynn on her Cruise Desk at: Lynn's Cruise Desk  or give her a call at:
Office 250-656-5441
Cell:     250-883-1033
Land Portion
September 18 – 24: (Hanoi, Ha Long Bay, Siem Reap, Angkor Wat and the departure city, Ho Chi Minh City (Saigon))
2 nights Hotel Accommodation in Hanoi
Overnight stay onboard a luxurious traditional wooden junk I Ha Lang Bay – Kayak around the limestone outcroppings of the 'lair of dragons'
3 Nights hotel accommodation in Siem Reap with buffet breakfast
Visits to the Temples of Angkor Wat – a UNESCO World Heritage Site
2 Nights Hotel Accommodation in Ho Chi Minh City (Saigon) know as "Paris of the Orient" with Buffet Breakfast
All Transfers and Gratuities included
Cruise Portion
September 24 – October 3: Cruise: AMA Waterways Lotus – New Ship with maximum of 124 passengers
(Siem Reap, Kampong Chhnang – Kampong Tralach-Oudong; Chong Koh – Phnom Penh; Pehnom Penh; Phnom Penh – Border Crossing into Viet Nam – Tan Chau, Vietnam; Tan Chau – Sa Dec; Sa Dec – Xeo Quyt -Cai Be; Ho Chi Minh City – Disembark – Overnight Ho Chi Minh
7 Nights Deluxe Cruise Accommodation
Daily Private Shore Excursions
All Meals included during Cruise
Unlimited local beer, wine and soft drinks with dinner aboard ship
Bottled water in stateroom – replenished daily
Prepaid Gratuities
Welcome Dinner and Farewell Cocktail Party
Your ship, the newly launched, MS AMALotus, is a sister ship of the
La Marguerite (pictured below).
This group will be the first to board the new AMALotus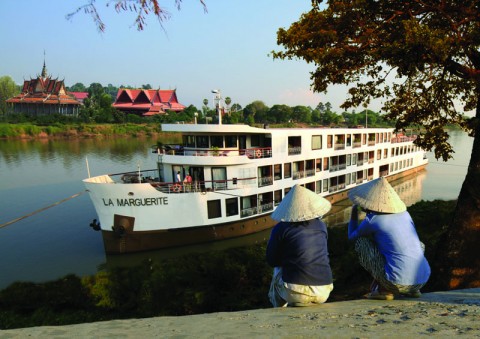 Pricing
Category C:  $4,399.00
Category B:  $4,699.00
Category A:  $4,999.99
Category JS  $5,299.00
Category GS $5,899.00
Price includes 7 nights cruise with Pre Paid Gratuities and Shore Excursions.  7 Nights Land vacation with some meals and tours, taxes and flights between Hanoi and Siem Rap.  All hotels are 5 Star Properties. Price is based per person on double occupancy.
Air Fare from Canada is not included.
Pre-Tour Extension
Hong Kong – September 15 – 18, 2012
Photo (Web Source): A long history of being under the governorship of the United Kingdom, Hong Kong is a mix of old and new that is coming to terms with being repatriated to China. It you are a shop-a-holic at heart, Hong Kong provides a never-ending array of bargains.
Airport/Hotel by private vehicle
3 nights accommodation at the 5 star Centrally located Langham Hotel in Howloon
Daily breakfast at the hotel
One half-day Hong Kong Island tour by private vehicle
All gratuities
Pricing: $885 per person.
Self Directed Tour Extension
At the end of your cruise at Ho Chi Minh (a few scenes below), a city of 7,000,000 million, you may wish to wile away just a few more days before returning home. If you think this might fit with your plans, just delay your return flight a few days and head out to explore more of the city and surrounding area at your leisure.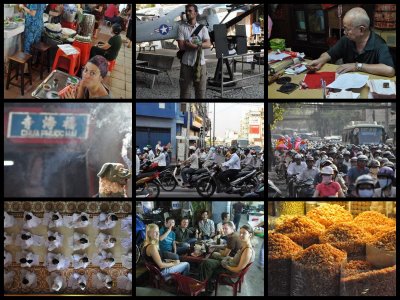 Ho Chi Minh City Peoples Temple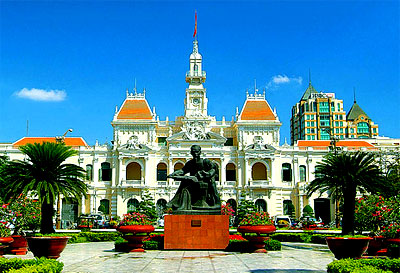 Southeast Asia Area Map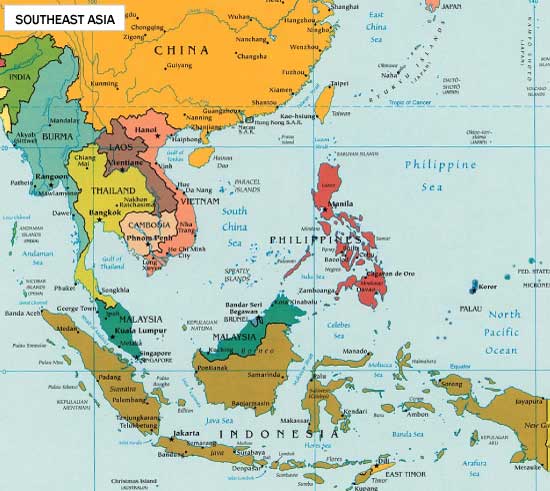 Tour Route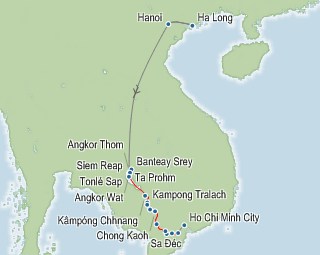 Angkor Temple – Too Amazing to Miss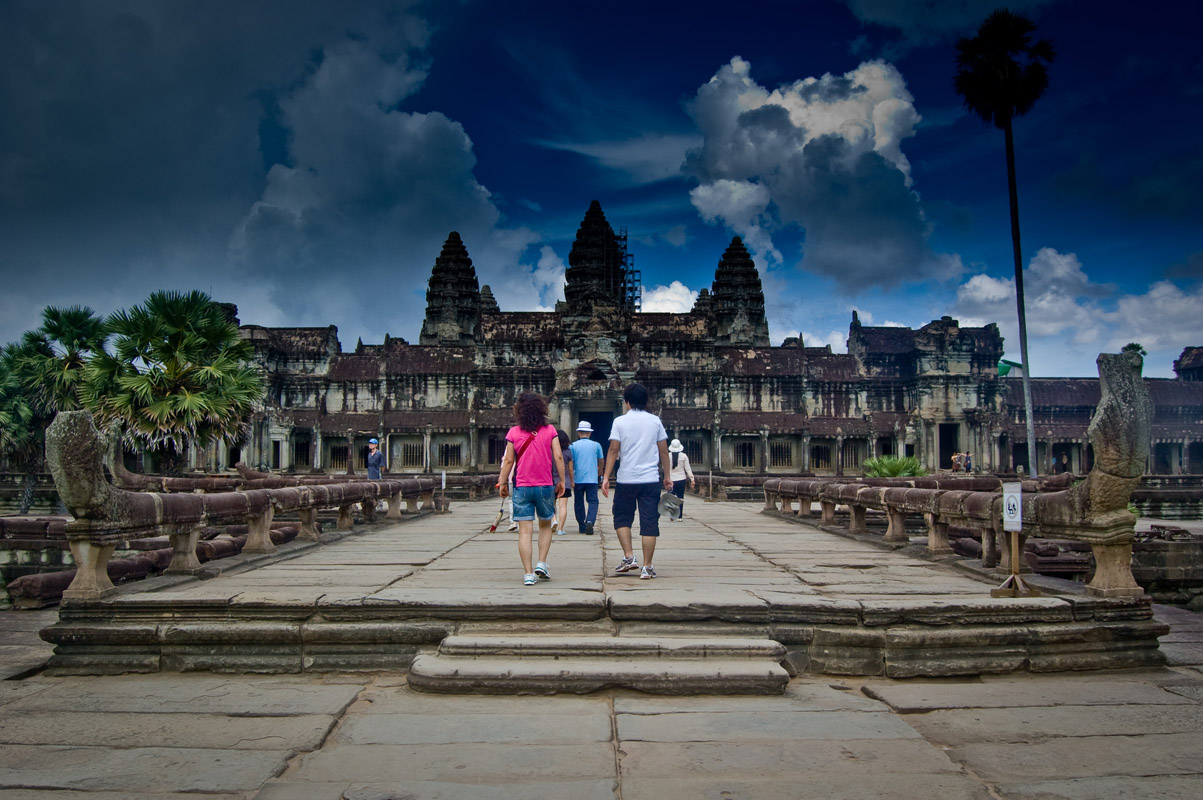 The photo below captures that Iconic moment of April 29, 1975
as the last helicopter leaves the rooftop of US Embassy in Saigon.
The next day would be the first day of transforming Southeast Asia those
amazinng tourist destinations they have become today.
(The Embassy site has been restored as a tourist attraction)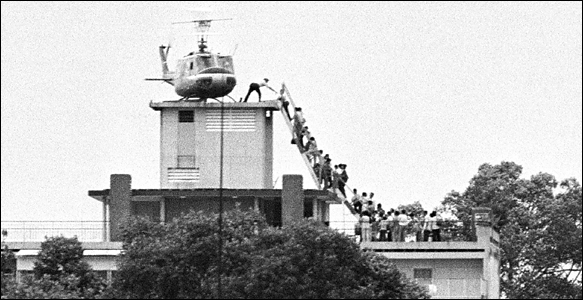 (774)
(Visited 437 times, 1 visits today)
Tags: Ann Henderson, Cambodia, Esther Dunn, Garth Dunn, Ha Long Bay, Hanoi, Harold McNeill, Ho Chi Minh, Hong Kong, Lynn McNeill, Mekong River, Phnom Penh, Saigon, Seim Reap, Temples of Anghor, Viet Nam
Trackback from your site.