---
The article was reprinted along with photographs in February/April 2011 issue of the Island RV Guide (p. 38ff)
Dining with a Difference stakes a claim at Clover Point in Victoria, British Columbia
In our third month of outdoor exploration, Lynn and I continue to search for novel ways to experience our city. While "Dinner and a Movie" proved to be a lot of fun during the winter (see Movie Reviews), we wanted to keep to the outdoors as September is such a special time of the year.
In Victoria, and indeed across Canada, beginning in September there is a period of time referred to for centuries as Indian Summer. In the prairies, it came after the first frosts began to darken the tops and vines of garden plants, and the trees slowly displayed their fall colours. I remember my first days of school as lazy and warm, perhaps a time to escape for a few days or weeks to help with the fall harvest. The evening chill and frost was a sure sign that the bitter cold days of winter were patiently waiting to attack with their penetrating winds.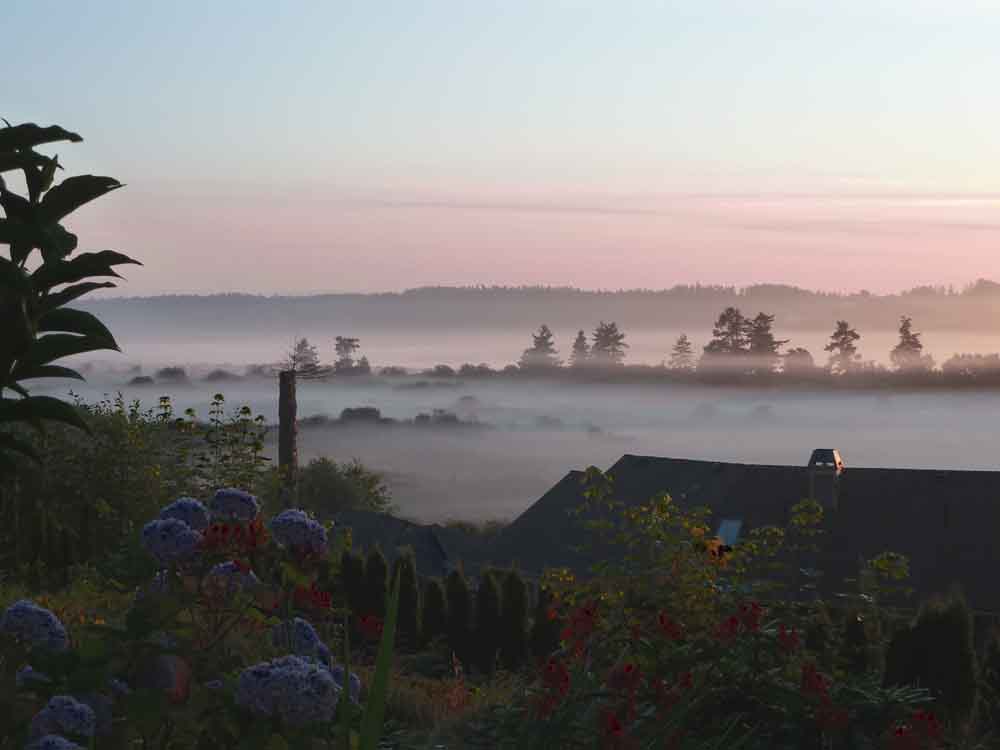 Here on the coast, it is a time when banks of fog drift across the coastal waters (see Island View Post) and envelop our Island paradise. The drifting fog slowly fills the low lying valleys well before dawn and can often take until noon to burn off. Looking across the Strait of Juan de Fuca, the base of the Olympic Mountains is often buried to half their depth.
Photo: Early morning fog drifts in over Island View Beach.
In past times, one could hear the forlorn sound of a foghorn. It was a sound that reminded me of my first winter in Victoria in the fall of 1963 while living in James Bay. Most recently, Lynn and I awoke in a forested area at Kemp Lake (west of Sooke) to the sound of a foghorn somewhere in our midst. Perhaps it was Shearingham Point? This surprised me as I thought all horns had been silenced in favour of satellite navigation systems.
As for finding new ways to incorporate a September evening walk along the waterfront, we decided to try dining at a few of our favourite spots?  Accompanied by our good friends, Linda and Bjorn Simonsen,we headed down to a wonderful Victoria waterfront walk around Clover Point. 
(947)
---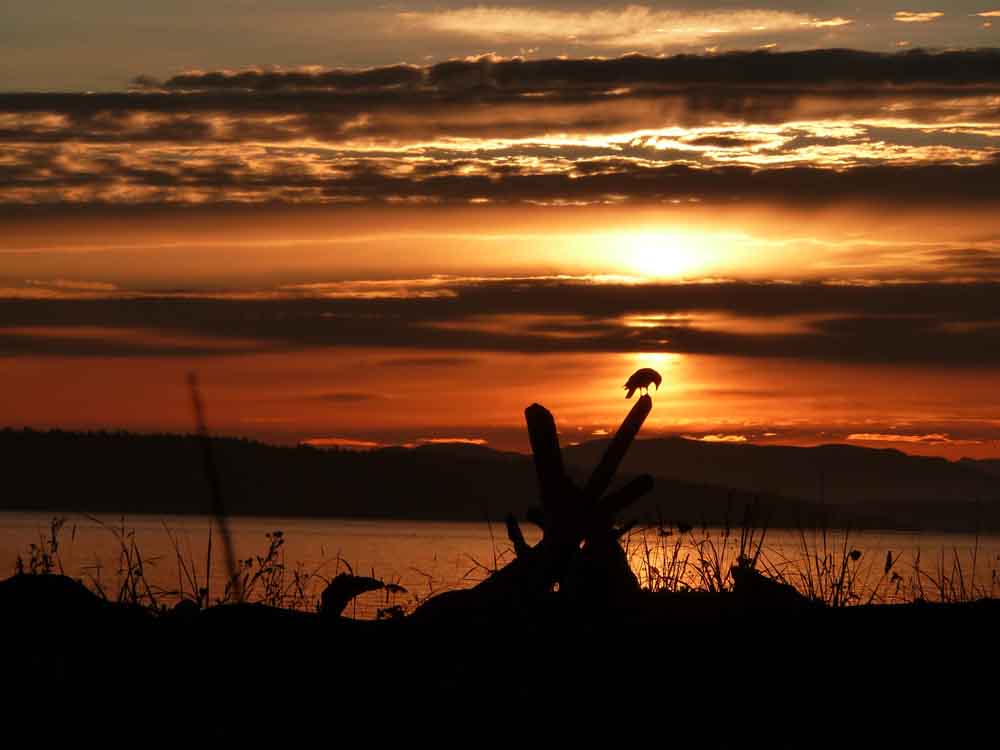 Crow at Sunrise (more in series footer)
The article was reprinted along with photographs in September/October 2011 issue of the Island RV Guide (p. 37ff)
 Keeping with our plan to camp away the summer, we drove north along Pat Bay Highway (#17), intending to camp at McDonald National Park, five minutes north of Sidney. While on route we decided to stop at Island View Beach and have a peak at the final resting place Lynn's Mom's ashes (story previously posted on FB).  While we have often visited the Island View, we had not realized the Capital Regional District (CRD) had established a Campground just north of the public picnic area. It was a serendipitous find and we ended up camping right next to the beach for ten days.  McDonald Park will have to wait until another day.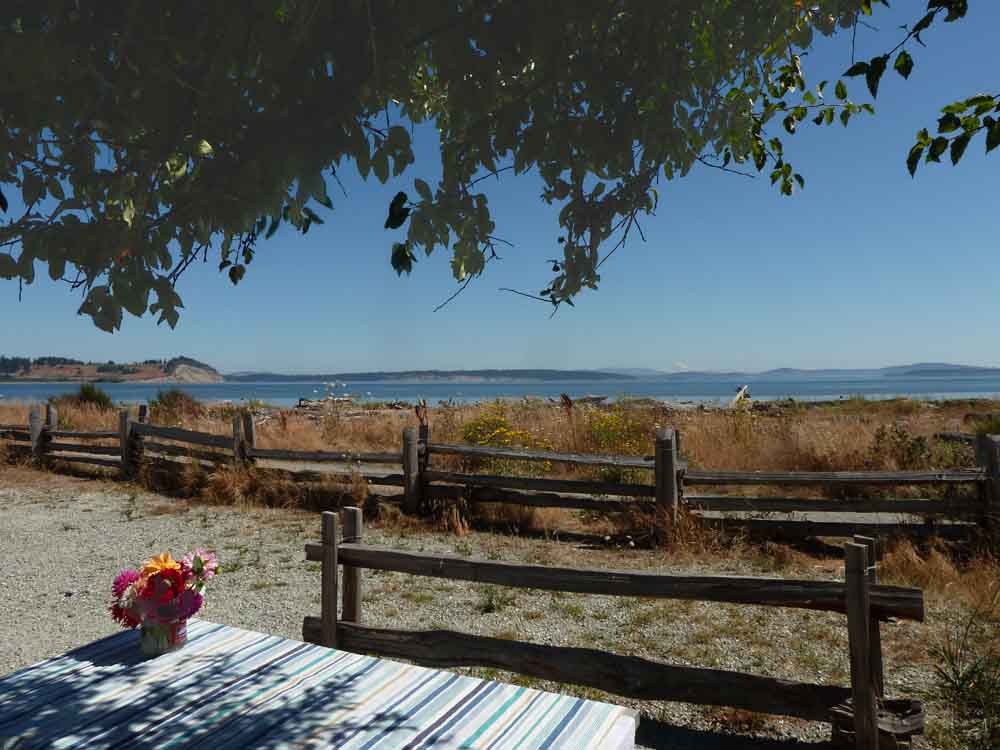 Since setting out on our summer trek on June 28, we have travelled just over 5000 km, camped at fifteen or more sites across the Interior, and on Vancouver Island as far north as Campbell River and Elk Falls. While each of the many camping areas offers a unique experience, Island View Beach clearly ranks with the very best.
While services at the site (now in its second year of operation) are limited, that only adds to the 'get-a-way' flavour. Not only does one get to camp next to the incredibly beautiful driftwood and sand covered beach, there is an ever changing view of James Island (a short distance across Cordova Channel) and numerous other Islands that extend all the way to the Washington State shoreline.
The ever stately, snow covered, Mount Baker, a mountain well known to residents of the region, stands majestically in the distance. With the amount of white still displayed on the west and south slopes, this late August, one can only imagine how deep the winter's pack must have been just a few months back.
(1811)