---

This Big Kinosoo Graphic is copied and modifited from the original on the cover of "Treasured Scales of the Kinosoo" a biographical/pictoral history of pioneer familes who settled in Cold Lake during the last century. The book was edited by Laura Dean Skarsen.
Link to Next Post:   The Rush is on.
Link to Last Post: The Big Kinosoo
Link Back to Adventures Index
Monster Freshwater Fish of Canada
It was not until I moved from Victoria to Vancouver in 1965 to complete training at the Vancouver Police Academy, that I first realized the Big Kinosoo might not be the only large fish to ply the fresh water lakes and rivers of Canada.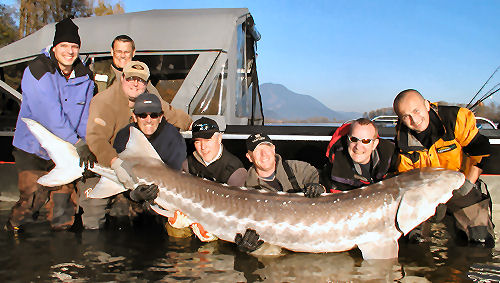 One day I happened to be reading an article in one of the Vancouver papers about a group of fisherman having caught a giant fish in the Fraser River somewhere near Chilliwack.  The fish, a White Sturgeon, weighed in at close to 1000 lbs (453 kgs) and took several hours to land.
My thoughts raced back to Cold Lake and the big Kinosoo. I also recalled there was a river north of Edmonton, the Sturgeon River, and wondered if it might contain or might have once contained similar giants.
I did no further research at that time as my life was headed in other directions and it was not until long after I retired that my thoughts again returned to the Big Kinosoo. The web provided a wonderful search tool and, sure enough, I was able to come up with number of photos of giant fish that can be found right here in Canada.
(2650)
(Visited 1,199 times, 1 visits today)
---

Photo (Farm Life): In the early years of living on the farm in Saskatchewan, winter blizzards could arrive suddenly and last for days. Travelling in such such weather was a dangerous affair.
Link to Next Post: A New Beginning
Back to Main Index
Deep Winter, 1941: Northern Saskatchewan
It was just after 10:00 am when the pain struck causing the soon to be mother to double over. She grabbed the kitchen table to keep from falling as the pain slowly eased. Home alone and two miles from the nearest neighbour, ten miles from the village of Glaslyn, and forty-five from the hospital in Edam, she was frightened as she had no idea what time her husband might return. Outside, the bone-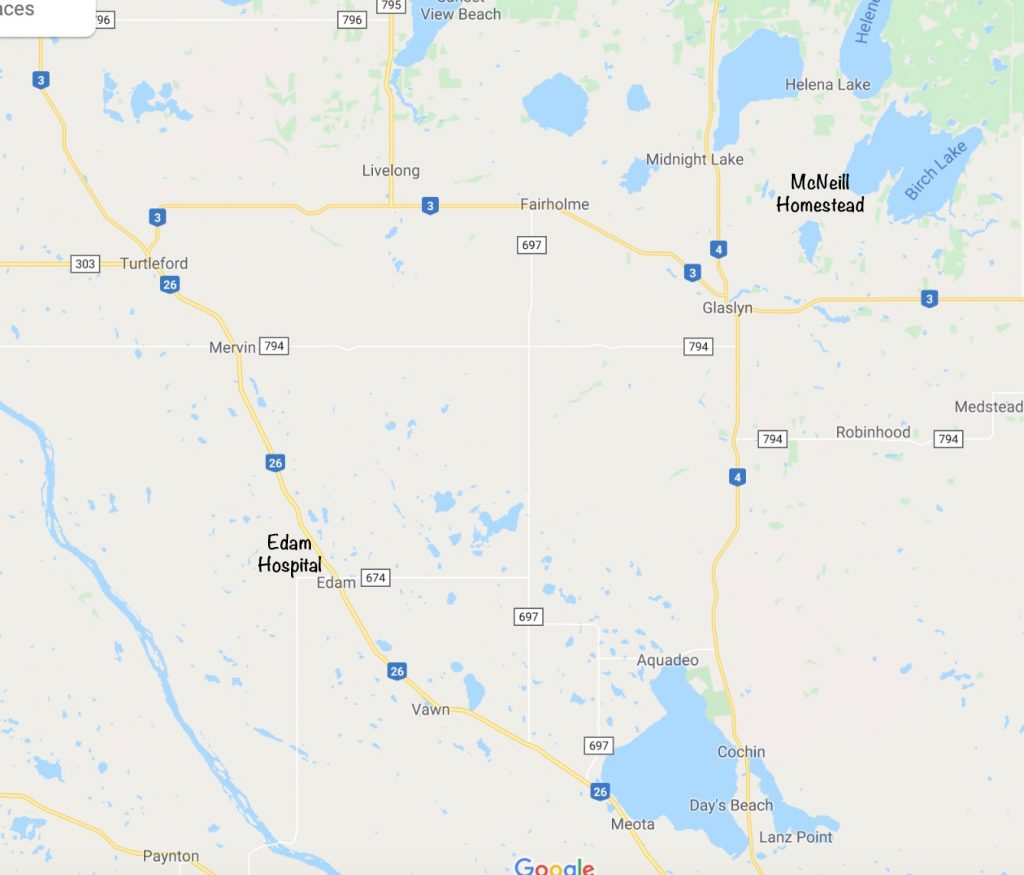 chilling cold of the January blizzard continued to dominate everything in its path.
Map: Open in a new window for full size.
The high winds rolling off the southwest shore of Birch Lake pounded their log cabin and although partially sheltered by a thick of caraganas and grove of poplar, the wind treated these barriers as minor annoyances. Each time a gust hit, it felt like her little home might be shaken from its foundation.
To make matters worse, the wind created a forlorn howling sound as it whipped through the trees around the house. Those sounds seemed to the expectant mother to be among the most lonesome in the world, right up there with wolves howling in the wilderness or a loon calling across a dead calm lake at dusk. What would she do if the baby could not wait?
While the temperature had remained steady near -20F, Laura noted that later in the morning it started to drop and was now nearing -25. Over the past few winters, it was not uncommon to see the temperature drop to -50 or -60F during a cold snap. It was always hard to tell the exact temperature as the mercury froze at -40. Add to that the wind chill and exposed skin would freeze within seconds and breathing super cold air could damage lungs so quickly that, in her condition, walking to a neighbouring farm would be a risky, perhaps deadly proposition. She knew of people who become lost in such storms and froze to death.  No, her best bet was to sit tight and wait for her husband. If the baby came she would just make due. It would be a January blizzard forever etched in her mind.
Years later when telling the story, she still shuddered at the memory:
(3124)
(Visited 893 times, 1 visits today)
---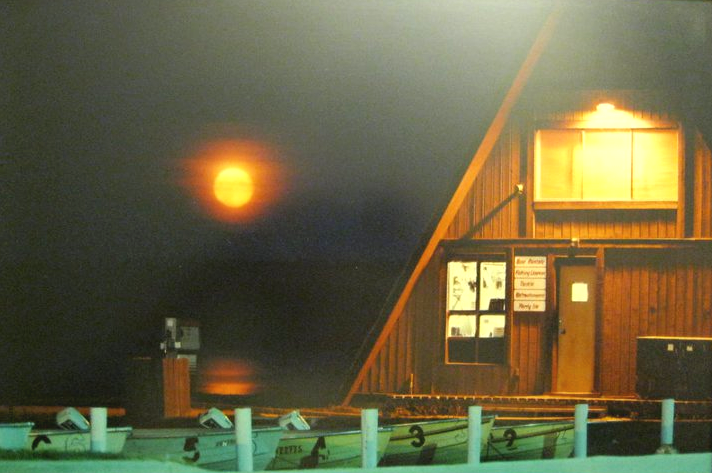 Photo: Copy of framed photo in the dining room at the home of my sister Louise and her husband Frank Yochim. This is Franks Cold Lake Marina as it looked in the late 1960s after being moved to the Main Dock. For thirty years my brother-in-law, along with members of the family operated the Marina and following his retirement, his son Lorin Yochim took over for several years before heading out to explore the world.
Link to Next Post:  DHC-3 Fish Attack.
Link to Last Post:  Monster Fish
Link Back to Adventures Index
Big Kinosoo:   First Half of the 1900s
Photos: Mr. Labatt, left, and Mr. Z.A. Lefebvre, with three monster trout caught in Cold Lake between 1915 and 1918. It is not hard to imagine there were, and still are, fish larger than these in Cold Lake.  Pictures were copied from "Treasured Scales of the Kinosoo", a compilation of the history of Cold Lake by Laura Dean Skarsen.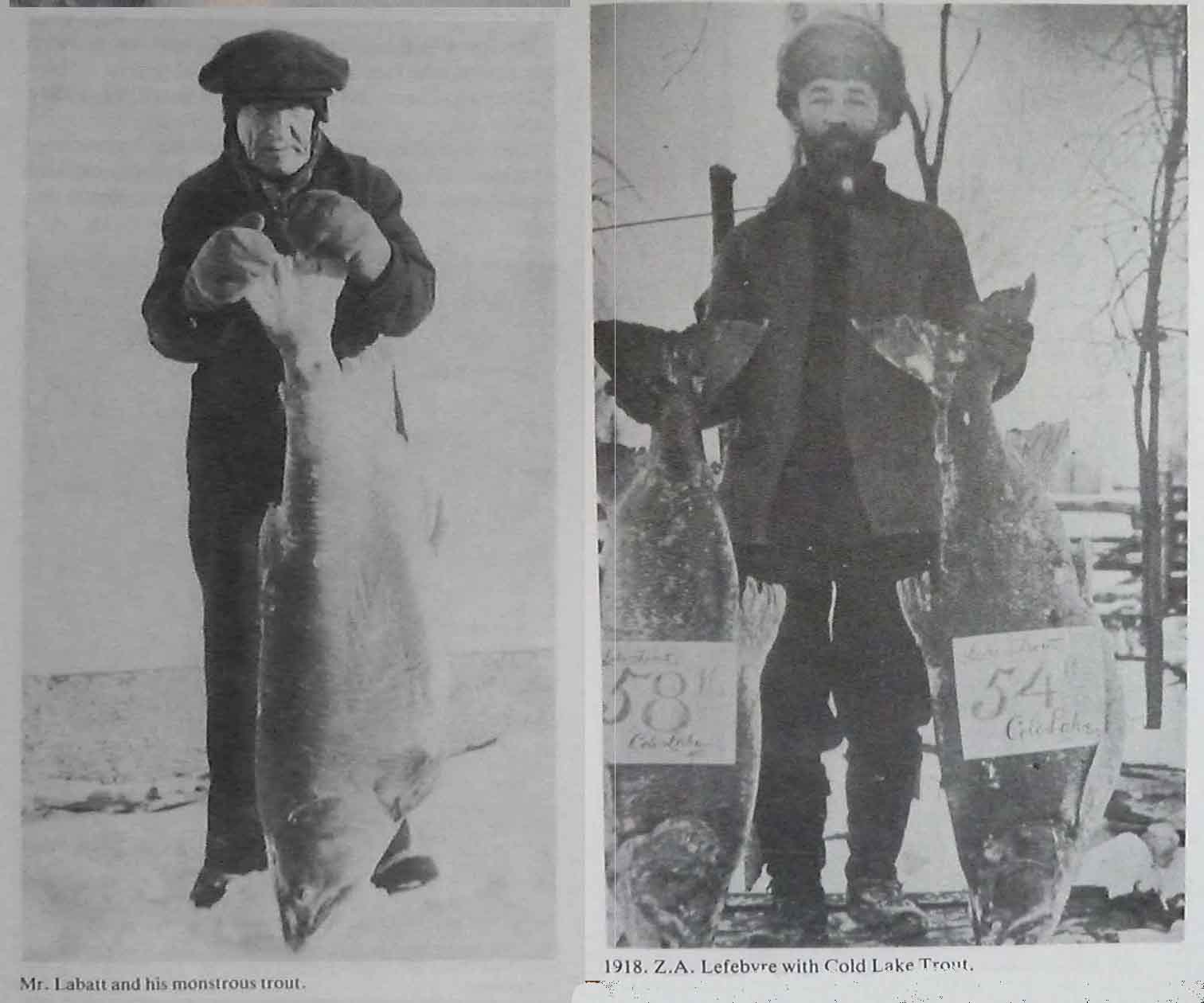 The Rush is On
Many who arrived in Cold Lake early in the 20th Century to take up the search for the Big Kinosoo, decided to stay. Many became trappers, loggers, farmers, cattlemen, while others opened businesses in order to raise money to continue their search for the big fish. In their search they caught many other big fish, but never the Big Kinosoo. He was, by all accounts, one very elusive fish. By the middle of the century, many new residents were taking jobs building the new Canadian Forces Air Base west of town. Still later, hundreds of these workers accepted more permanent positions when the base became operational.
(1259)
(Visited 767 times, 1 visits today)